Today I was digging holes looking for rusty nails, shotgun pellets and the odd little yellow nuggy should my trusty lab find any … Mine Lab that is! Anyway, I came across a target on a mullock heap that had a strong signal and marked an 'X' on the spot to dig. This spot hasn't had a lot of traffic for quite some time and therefore there were a lot of shrubs surrounding my 'X', making it difficult to swing a pick. Now I'm not a greenie but neither am I destructive and didn't want to remove any plants unnecessarily. So to get into position to dig, I put my left leg in, my right leg out, bent my head down low and pushed my butt out high … now I was ready to dig. I scraped some dirt and checked the signal again. DAMN, it had moved! Aha, surface crap. No big deal, I'll just reposition myself and check again. So I put my left leg in, my right leg out … well you get the idea, and checked the signal again. Well damn me, this time I lost the signal altogether! What the hell is going on?

I stood up and at the same time lifted my detector about 200mm off the ground, and whaddya know, the signal returned! Now this was starting to give me the poops. How can the signal be stronger OFF the ground than ON it? Then it dawned on me, the signal was coming from above, not below. Yup there it was, a length of fencing wire hanging off one of the shrubs and every time I was doing the hokey pokey amongst the bushes, I was moving the wire as well.

I kept that wire hoping for the day that I meet the bloke who placed it there because I know where it really belongs!

Ringpull

Contributor





Number of posts

: 69


Registration date :

2011-12-26



That was remarkably well written.  It was a great yarn too!  Fence Wire always looks like a vine or twig when it rusts and becomes textured and pitted.

Back in January of 2009, I went with a good friend to a property I'd been to several times before.  It was a private property at Sally's Flat, right near Hill End. After turning on the detector and doing an Auto Tune, my GPX detector went crazy whenever I swung it to the left.  Only to the left.  It refused to stabilize and I was baffled as to why.  I thought it was broken and spent all morning and part of the afternoon trying to resolve the problem, even changing the coil over.  I later packed up and drove to some crown land that was located an hour and a half away.  Upon setting up at the new location, I was pleasantly surprised to discover my detector was perfectly stable.  I took a moment to run over a list of what hand changed between the two locations and then it dawned on me that I was wearing a very broad bladed knife called a Muella 'El Gran Duque' when I was on the private property - but I had to remove it when I got back into my car to drive (for obvious legal reasons).  Why wear it on the property while detecting? I didn't know if it'd fall down a mine shaft and have to MacGuyver my way out of there or if there were packs of roving pigs or dogs around.  It turned out that using a larger detector coil (15x12 Mono) with such a large metal item on my belt was throwing out my ground balance and interfering with the detector.  I never made the same mistake again.  But boy was I puzzled not to be able to detect on this property for hours.  Wasted half a day there.

nero_design

Contributor Plus





Number of posts

: 2068


Registration date :

2008-11-18



That would have been in the days when Sally was still flat chested? For those that haven't been there, some wag had added 'Chested' under the road sign 'Sallys Flat' at the location. Unfortunately that sign has been replaced.

Perhaps she's now the proud owner of some augmentation?

Ringpull

Contributor





Number of posts

: 69


Registration date :

2011-12-26



Ringpull wrote:That would have been in the days when Sally was still flat chested? ...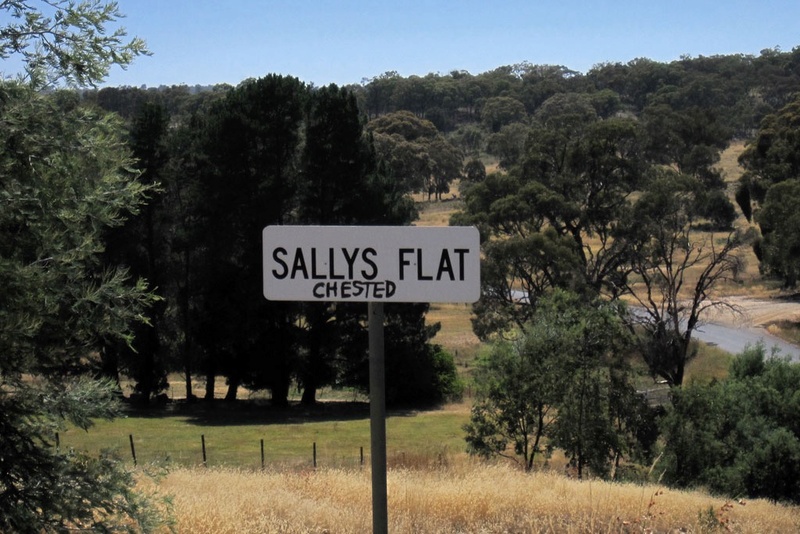 Same trip, by the way.

nero_design

Contributor Plus





Number of posts

: 2068


Registration date :

2008-11-18



---
Permissions in this forum:
You
cannot
reply to topics in this forum