2nd loop of the double loop bungee cord was on it last legs ( 1st loop long gone) this is the loop that connects to the shaft.

Cut the loop off, got a 15mm of Jaycar Shrink tube, made a loop and fitted it thru the tube, heated the Shrink tube over a gas stove burner, tried the loop out under pressure and it let go, Tried again with more heat, but the additional heat burnt the shock cord. In the end I just tied a loop knot and it went well for my walk in the bush yesterday finding bullets and leadshot.

Have purchased some heavy duty shrink tube from Jaycar and when next at Bunnings will buy the 6mm shock cord and ensure that I insulate the shock cord from heat when the I heat up the 15mm to shrink to make the loop, one at each end of a 50cm cable so I have a spare just in case of breakages when detecting.

https://www.bunnings.com.au/grunt-6mm-x-20m-black-shock-cord_p4310535


Last edited by PeterInSa on Fri Dec 11, 2020 5:20 pm; edited 1 time in total

PeterInSa

Seasoned Contributor





Number of posts

: 172


Registration date :

2018-11-05



Peter,
You won't have as much grief from over heating if you get yourself a paint stripper to shrink your wrap.
Gas is far to hot/severe.
https://www.ebay.com.au/itm/203183750177
davsgold and PeterInSa like this post
Re (You won't have as much grief from over heating if you get yourself a paint stripper to shrink your wrap)

In the past I have used one of SWMBO cast off hair dryers, but I had put it in a good place and could not find it.

PeterInSa

Seasoned Contributor





Number of posts

: 172


Registration date :

2018-11-05



Just my finding, the Grunt 6mm cord had a little to much stretch, it did do the job. But there is a better cord at Bunnings on a bulk role, still 6mm but stronger. Very close or better than the original cord.
I looped mine with a zip tie, because I was in the field and held together.

peterinaust

Seasoned Contributor





Number of posts

: 164


Age

: 72


Registration date :

2012-01-21



PeterInSa wrote:2nd loop of the double loop bungee cord was on it last legs ( 1st loop long gone) this is the loop that connects to the shaft.

Cut the loop off, got a 15mm of Jaycar Shrink tube, made a loop and fitted it thru the tube, heated the Shrink tube over a gas stove burner, tried the loop out under pressure and it let go, Tried again with more heat, but the additional heat burnt the shock cord. In the end I just tied a loop knot and it went well for my walk in the bush yesterday finding bullets and leadshot.

Have purchased some heavy duty shrink tube from Jaycar and when next at Bunnings will buy the 6mm shock cord and ensure that I insulate the shock cord from heat when the I heat up the 15mm to shrink to make the loop, one at each end of a 50cm cable so I have a spare just in case of breakages when detecting.

https://www.bunnings.com.au/grunt-6mm-x-20m-black-shock-cord_p4310535


Yes this stuff at jaycar, heat shrink tube with glue inside the tube is perfect and sets like a rock, shrinks at 4:1 ratio and comes in various sizes, this is just one of them.
https://www.jaycar.com.au/heatshrink-tubing-with-glue-lining-4-1-12mm/p/WH5643

davsgold

Contributor Plus





Number of posts

: 6193


Registration date :

2008-10-25



Hi guys ,
          Dose anyone know where to buy decent hooks for the bungy ?.

         Cheers Charlie

charliec

Contributor





Number of posts

: 55


Registration date :

2010-07-13



Try Clark Rubber. They have all sorts of fittings that could do the job.

Reg Wilson

Contributor Plus





Number of posts

: 537


Age

: 73


Registration date :

2012-05-14



This is the 12mm  Bungee i have rigged up for the`45 .  I bent the hooks over to attach the quick release carabiner clips. The gold clip attaches to my jacket and the other end with the loop attaches to another carabiner affixed to the bolt in the middle of the shaft for quick release. It is strong and does the job well. The 2 knots are where i shortened the length to suit my  needs .
I got the bungee from Bunnings, but can`t remember what brand it is.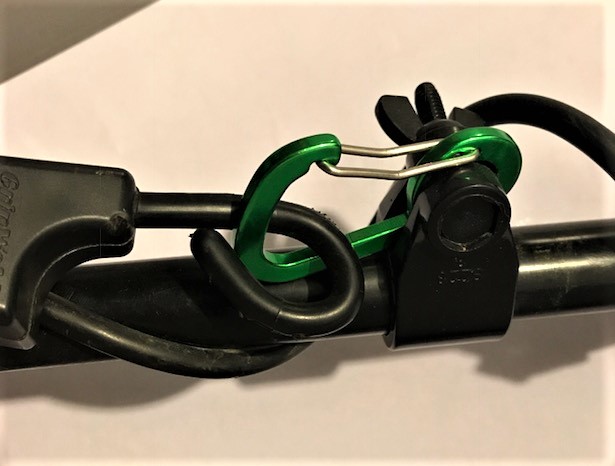 soldier of fortune

Contributor





Number of posts

: 53


Registration date :

2020-05-17



---
Permissions in this forum:
You
cannot
reply to topics in this forum