Page 3 of 3 •
1, 2, 3
Minermike wrote:

My Bitcoin is with  my exchanger  in Sydney ,  they are holding it  at no cost .   So as long as I have got my password  for their web site  ,  I have control of it  
Remember when the Bitcoins stored at the exchange at Mt Gox were hacked?  
https://www.wired.com/2014/03/bitcoin-exchange/
https://www.theguardian.com/technology/2017/jul/11/gox-bitcoin-exchange-mark-karpeles-on-trial-japan-embezzlement-loss-of-millions
You know what they did to restore the balance to all those who had their bitcoin stolen?  The Management of the exchange went to each of the accounts that were not hacked and skimmed all their bitcoins to make up for some of the massive losses.  Everyone complained about it and there was outrage but nobody could stop it.


You might get your bitcoins hacked (literally hundreds of millions have been hacked, if not billions).

Some jerk at an exchange might take half your bitcoins to prop up their losses (see Mt Gox Incident).

There's NOBODY you can complain to since Bitcoin has no central representative.

There's no way to liability on a dishonest trader.

If it's worth something.  People will try to steal it from you.  There's already stories of people being tortured to death for their passwords and at least one killing on the streets of the US over a crypto wallet.
http://fortune.com/2017/09/29/cryptocurrency-exchanges-hackings-chaos/

Cryptocurrency Exchanges Are Increasingly Roiled by Hackings and Chaos
Fortune Magazine: Some quotes from the article link above:
NO REGULATION, NO SECURITY
"In the past 15 months, Bitfinex, one of the world's largest cryptocurrency exchanges, was fined by a U.S. regulator, lost $72 million worth of bitcoins to hackers and was cut off by Wells Fargo, one of America's biggest banks."
ANOTHER VICTIM:
"Wasyluk's project lost 750 bitcoins, currently worth about $3 million, and he believes he stands little chance of recovering any money.
"It really was kind of a kneecapping of the project," said Wasyluk of the collapse three years ago. "If you are starting an exchange and you lose clients' money, you or your company should be 100 percent accountable for that loss. And right now there is nothing like that in place.""
SCAMS EVIDENT:
"Some of the freewheeling exchanges are plagued with poor security and lack investor protections common in more regulated financial markets, Reuters found. Some Chinese exchanges have falsely inflated their trading volume to lure new customers, according to former employees."
MT GOX HACK:
"Nearly 25,000 customers of Mt. Gox, once the world's largest bitcoin exchange, are still waiting for compensation more than three years after its collapse into bankruptcy in Japan. The exchange said it lost about 650,000 bitcoins. Claims approved by the bankruptcy trustee total more than $400 million."

WILD WEST DIGITAL THIEVES:
"In July 2017, a federal judge in Florida ordered Paul Vernon, the operator of a collapsed U.S. exchange called Cryptsy, to pay $8.2 million to customers after he failed to respond to a class-action lawsuit. The judge ruled that 11,325 bitcoins had been stolen but did not identify the thief. "This is no different than bank robbers in the Old West," said David C. Silver, one of the plaintiffs' attorneys. "Cryptocurrency is just a new front." Vernon could not be reached for comment."
FLASH CRASHES: No Safeguards in Place:
So-called "flash crashes" – when cryptocurrencies suddenly plummet in value – are also a threat. Unlike regulated U.S. stock exchanges, cryptocurrency exchanges aren't required to have circuit breakers in place to halt trading during wild price swings. Digital coin exchanges are also frequently under assault by hackers, resulting in down times that can sideline traders at critical moments.
FLASH CRASH costs Bitcoin owners MILLION:
On May 7, traders on a U.S. exchange called Kraken lost more than $5 million when it came under attack and couldn't be accessed, according to a class-action lawsuit filed in Florida. During the incident, the suit alleges, the exchange's price of a cryptocurrency called ether fell more than 70% and the traders' leveraged positions were liquidated. They received no compensation. The exchange declined to comment on the lawsuit. In a court filing, it asked for the case to be dismissed and said the claims should be decided by arbitration.
Another two flash crashes occurred this year on the U.S. exchange GDAX. The exchange said it compensated traders who lost money"
CANT CASH OUT?
"Boycotts by banks can make it impossible at times for exchanges to process wire transfers that allow customers to buy or sell cryptocurrencies with traditional currencies, such as dollars or euros. In March, Wells Fargo stopped processing wire transfers for an exchange called Bitfinex, leaving customers unable to transfer U.S. dollars out of their accounts, except through special arrangement with the exchange's lawyer. Wells Fargo declined to comment."
COMMODITY - People are sitting on most of the Bitcoin.
"Most of the cryptocurrencies right now are more commodities than currency," said Dan Schulman, chief executive of payments company PayPal. "You trade them based on what you think will happen to their value. They're not really accepted by many merchants as a currency."  Most Bitcoin owners are just sitting on the imaginary currency, treating is as though it were scarce, like gold.  As a result, almost none of it is in circulation, making it useless and perpetuating the Bubble.
CAN'T CASH OUT?
"Poloniex, a U.S. exchange, has allowed some customers to trade cryptocurrencies and withdraw up to $2,000 worth of digital coins a day by providing only a name, an email address and a country, Reuters found."

nero_design

Contributor Plus





Number of posts

: 2042


Registration date :

2008-11-18



I do not have much crypto coins , so I am O.K. with them being at the exchanger . If I had a lot , then I would do some thing different . What about all the shares that I have lost money on ? Gold mines and other companies .

Minermike

Contributor Plus





Number of posts

: 1509


Age

: 75


Registration date :

2011-07-25



Minermike wrote:I do  not have much crypto  coins , so I am O.K.  with them being at the exchanger .   If  I had a lot  , then I would  do some thing different .   What about all the shares that I have lost money on ?   Gold mines and other companies .
Investing is always a gamble.  That's why investment companies always recommend you diversify investment portfolios and put some of it in a "safe" investment such as precious metals (Bullion).  Invest in a gold mine if you have reason to believe it will be successful but always remember that humans are dishonest and it doesn't take much to wind up investors into believing they can become rich with no effort.  Gold and Silver mines are usually hazardous investments.  I seem to remember that everyone who bough shares in Telstra lost their money at one time.  Telstra was considered the ultimate 'fat cow' and I know one person who's mother sold everything the family owned to buy Telstra shares and they lost everything.  They seem a bit more stable today though.
Bitcoin is no different to other investments because people believe (right or wrong) that it's worth something.  What puzzles me is why the people selling bitcoin keep claiming "it's just like GOLD!" when it's nothing at all like gold.  Bitcoin "mining" is nothing like gold mining.  And Bitcoin investing is only secure if other people keep hoarding it and telling themselves that it's valuable.  The moment people stop thinking of Bitcoin as being currency or a store of value, it will be worthless.  That's the worry most people seem to have and it's not unreasonable either.
If there continues to be Bitcoin hacking, Bitcoin theft and no regulation to control it, then people will stop seeing it as form of value or even currency.  Right now, it's hard to do anything with bitcoin because most people are simply sitting on it, waiting for it to go up in "value".  A survey taken last week showed that most Bitcoin owners wouldn't sell until their Bitcoins became worth more than $190,000 each.   That will take around 10 years.  So Bitcoin, which was created to make online transactions possible and anonymous - is not being used for the purpose of its creation.  Sadly, this is forcing people to use other forms of Cryptocurrency instead of Bitcoin, which in turn is being "Hoarded".
Right now, the transaction fees for Bitcoin are crippling. It's NO LONGER useful for small purchases any more.

nero_design

Contributor Plus





Number of posts

: 2042


Registration date :

2008-11-18



Remember Poseidon stock market crash early 70's, it is going to fade into obscurity when you wake up one morning to the Biteidon crash.












Very good...
But getting some itsybitsy bit of bitcoin might be better odds
THAN A LOTTO ticket
Adrians ss word.

Alan WA

Contributor Plus





Number of posts

: 346


Registration date :

2009-04-25



Lot of other cypto currencies cannot be bought unless you pay in Bitcoin . Why are they installing all these ATM's for Bitcoin in Australia ? You can buy aero plane tickets in Japan. I also heard of an island near Bali that only uses Bitcoin. These are some uses of Bitcoin . You can buy physical gold with Bitcoin in Brisbane .

Minermike

Contributor Plus





Number of posts

: 1509


Age

: 75


Registration date :

2011-07-25




WF2.0

Good Contributor





Number of posts

: 98


Registration date :

2016-07-14



Did I hear correctly on tv the other night that bitcoin is not legal currency in Australia yet??

adrian ss

Contributor Plus





Number of posts

: 2573


Age

: 73


Registration date :

2015-07-03



They are too busy with gay marriage and duel citizenship !!!

Minermike

Contributor Plus





Number of posts

: 1509


Age

: 75


Registration date :

2011-07-25



Bitcoin continues to climb.  As of the moment I'm typing, the Value of 1x Bitcoins is
AUD $14,404.52
...about USD $10,953.3799
The Bitcoins used to buy the first pizzas and have the delivered back in 2010 are now worth over AUD$144,125,059.00   That's right, over one hundred million dollars ... almost $145M.
The unchecked increase in value of almost US$1,000 in a single day (as of last night) is touted as irrefutable proof of a bubble by all financial experts.
But something VERY interesting is how Bitcoin compares to other bubbles that ultimately collapsed:
The Chart above shows a comparison with several tech bubbles and even the infamous Tulip Mania insanity - which shares a near mirror in activity and representation to Bitcoin's out-of-control ascension.  The longer you look at this chart, the more interesting it gets.  Financial investors are noting the similar and even identical mania surrounding Bitcoin.  They say that every new generation gets drawn in by a similar bubble.  The last one was the Housing Bubble and before that was the Dot Com bubble.  But the Tulip Bubble was the most interesting because everything about it is identical to what we are witnessing with Bitcoin right now.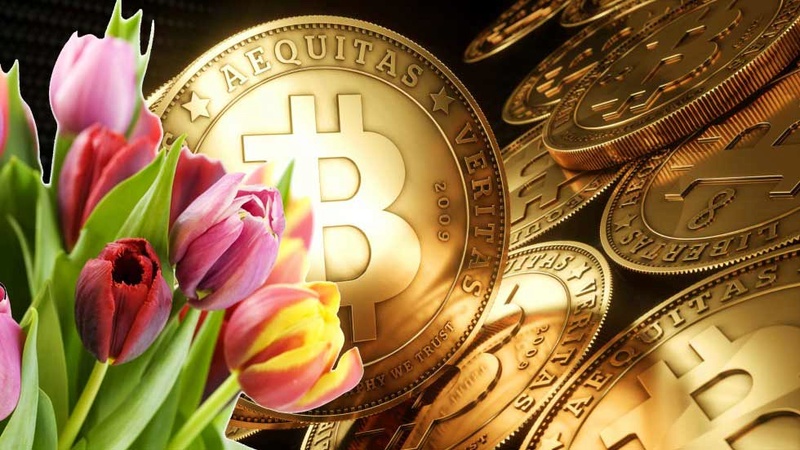 For those unfamiliar with Tulip Fever (Tulip Mania):
https://www.youtube.com/watch?v=CWu7lIpNvCs
Also:  
https://www.cnbc.com/2017/07/20/bitcoin-bubble-dwarfs-tulip-mania-from-400-years-ago-elliott-wave.htmlBITCOIN and TAX
It's not just free money.  You pay a tax for such instant newfound "cash". The IRS and the ATO are going after profits now via several ways. One is that the credits and profits are useless until cashed or used to purchase something... which immediately shows up on the Tax Audits.  You can't just magically withdraw $1000 in cash from an ATM without it connecting to you in some way.  The whole point of Bitcoin was to make transactions anonymous ONLINE... BUT it was never intended to be a store of wealth that could be withdrawn in large amounts.  Buying gold bullion isn't taxable until you sell it.  Using Bitcoin to buy Gold Bullion (if you find someone who accepts it) will likewise only be a problem when you go to sell it.
The trigger amount is $10K and even the IRS in America are using that as the magic number for triggering a trace.  Presently, the IRS are checking Coinbase's records to see who is moving amounts of $20K or more...They are using the same laws that require the reporting of $500 or more from Lottery Wins and will be locking up people who don't comply.  Once they have your blockchain address and tie it to your SSN, they roll it into yearly filings.  That's what the IRS is going after right now.  
The problem to be wary of right now is the "Mania Phase" of any Bubble.  The Mania Phase (which is covered briefly in the video below comparing Bitcoin Mania to the Tulip Mania) is where people start investing because they are frightened they might miss out of making money quickly.  These are the people who buy late and therfore pay much more.  The worst time to be buying into a highly volatile commodity is when it's out of control... and that's exactly what Bitcoin is right now.  The newspapers today even referred to it as "Bitcoin goes Nuclear". This is the time that people tend to become careless.  They'll sell their homes (which has already happened) to gather enough capital to buy into Bitcoin.  As the experts have noted:  You can predict an Arc in terms of increase in perceived value but you can never determine when the collapse will happen.  Since Bitcoin isn't stable and is also being sold down to fractions of 0.0000001 of a Bitcoin, it's becoming useless as a tool for purchase.  And here's where the problem lies: The only thing of use is the Blockchain but people are mistaking Bitcoin as a valuable commodity.  It's not.  Physically or technically.   And people are buying Bitcoin to get rich, because they are confusing the use of the Blockchain with Bitcoin value.  There are now over 400 Crypto Currencies available on the market today.  Of course, Bitcoin users need you to invest in Bitcoin to continue with it's perceived value. This is why the Bitcoin Users are
When bitcoin first started, individuals (known as miners) would lend computing power to bitcoin's blockchain network to help verify payments and were rewarded with small payments in bitcoin for their services. These miners soon figured out that GPUs from AMD and Nvidia were well suited to the type of math used to verify payments and bought them in droves.
As bitcoin, and other cryptocurrencies, exploded in price and popularity, it looked as if AMD and Nvidia's share prices would mirror bitcoin's rise. Both companies have said that cryptocurrency miners have made it hard for retailers to keep their products in stock, and the graphics card business has been booming because of it.  You used to be able to mine Bitcoin on a home computer.  Now you need special chips and far more processing power and the rigs for Bitcoin Mining are costing thousands of dollars more than the home Miner can afford to pay.  Countries like China and Korea have multi-million dollar Bitcoin Rigs that simply crunch data all day long. The algorithms are much much harder to crack and more powerful computing power is required.  The amount of electricity powering all those number crunching data-mining machines around the world is unbelievable.  Arguably it is even considered damaging to the environment.  As the Bitcoin mining process becomes harder and more complicated, shares in AMD and Nvidia are just today starting to waver and drop.
http://markets.businessinsider.com/news/stocks/nvidia-stock-price-amd-are-safe-for-now-but-a-bomb-is-coming-barclays-says-2017-10-1003007367?
https://www.youtube.com/watch?v=hjxdOdVCDI8
Since nobody can hold Bitcoins in their hands (other than fake or computer generated images for illustrative purposes), we're seeing a lot of people bragging that they "made it big" with Cryptocurrency... which is much the same as wearing a fake Rolex to the country club luncheon.  Most people will doubt their claims because 96% of the world's Bitcoins are owned and hoarded by just a handful of so-called "Whales".  When they buy and sell or hoard, the price moves.  The remaining fractions of Bitcoin are being broken down into increments of up to a millionth of a Bitcoin.  That's what "investors" are buying from places like Coinbase (who sell and buy Bitcoins).
For a real-time price on Bitcoin:
https://www.coindesk.com/calculator
To buy Bitcoins and other CryptoCurrency (not that I recommend it):
https://www.coinbase.com
For a LIVE view of what Bitcoin is doing:
http://markets.businessinsider.com/currencies/BTC-USD?_ga=2.159959413.956284211.1510482744-690470572.1506060053

nero_design

Contributor Plus





Number of posts

: 2042


Registration date :

2008-11-18



Page 3 of 3 •
1, 2, 3
---
Permissions in this forum:
You
cannot
reply to topics in this forum