Hi all, looking for some tips for Silver soldering copper tube to a brass fitting, tried it many years ago and ended up with a leaky messy join???
Captn
Hello Captain,
Silver soldering is a simple process if you follow the basic rules.
Clean joint
Correct flux applied very sparingly
Correct flame if using oxy/acetylene
Heat applied correctly.
There is a heap of instructions on Google, below are a couple of examples.
You'll be an expert in no time.
http://www.kembla.com.au/assets/Uploads/general-PDFs/Brazing-Manual.pdf
www.harrisproductsgroup.com/~/.../GuidetoBrazingandSoldering.ashx
https://www.youtube.com/watch?v=kIKQ-FL96uU
Hi Captain
I use to do this as my job. Boilermaker welder. You will need Silver Soldering Flux (Liquid form) Good quality silver soilder 85 to 90% silver. It come in thin stick form from most welding suppliers. This is where you can get the flux from. Also try Bunnings in there tool section. Cost ?????
Now make sure that the areas that you want to solder is
VERY CLEAN,
You can use steel wool or emery cloth or even fine sand paper. The secret of silver soldering is
very clean
joints. Now put a small amout of flux on each joint to be soldered. Only put the flux exactly where you want the Silver solder to run to, as the silver solder will follow the flux line. Now fit the two flux coated joints together as neatly as possible so they won't move. With a mild, but a very hot heat (Flame not to server) If you can not tone down your flame, then move it further away from your joints. You can use one of those portable heating torches with a attacable bottles that you can buy in Bunnings. When you see that your flux looks like it is showing a sticky like texture when heating, melt a small amount of solder on to the flux. The melted solder will sit on top of the flux until the whole joins reaches the melting point of the solder and then your solder will just flow around your join. Presto one soldered joint. The flux can then be cleaned of by putting it in water while still hot.
I hope this helps
wombat
G'day Captain Zero,

I am a qualified Refrig Mechanic and you can actually purchase silver solder sticks that have the flux as a coating on the stick (Blue in Colour) this would be a better way to go.  When heating the copper/Brass fitting, you will need to apply more heat to the Brass fitting and once you have the correct Temp just touch the end of the stick on the area to solder the copper/Brass, you will see the solder flow freely and Bob is you uncle non leaking joint will occur. Just apply enough to the joint so it looks neat, as the solder will flow into the Brass where the copper tube fits into it.  
Hope this helps you.  If you have any queries just shoot me a PM.  As Nightjar & Wombat said make sure you clean the copper tube/Brass fitting where they join, I only use a fine emry cloth, which does the job fine.

Cheers.

Mike.
Nightjar, Wombat, Mike54 Thankyou for your expert advice I am full of confidence now and I will acquire the necessary's and dive in, the join is fairly tight fit and I have attached a diagram in case you can find any floors in my design.
Captn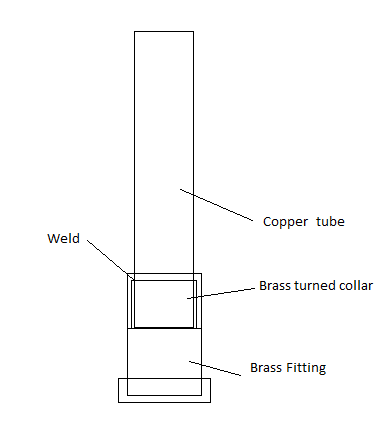 Hi Captn
If you get stuck you can get a sharkbite fitting very simple to go from copper pipe to any brass fitting.You can get them most hardware places now.

deutran

Contributor Plus





Number of posts

: 1804


Age

: 58


Registration date :

2009-09-26



Similar topics
---
Permissions in this forum:
You
cannot
reply to topics in this forum