Hi Team,
Regularly spend months each year camping out in the bush. Usually, I look at night sky using a set of binoculars and one of the mobile phone star apps/charts to locate major stars/events. Thinking of upgrading to a telescope – however, the current smorgasbord of viewing options and models make this difficult for the beginner. Something the size of the Hubble Space Telescope would be too big (and besides, I would also need to carry a rather long ladder to reach the eyepiece). Does anyone have any recommendations or ideas for a unit that is small, robust, easy to set up and move about (perhaps a Dobsonian or Schmidt-Cassegrain 8 inch ??). Thanks in advance.

De
A set of 7 x 50 Binoculars give you a great view of the night sky. An 8 inch dobsonian will give you good bang for your dollars but are not really very small and require constant mirror alignments. A 12 inch f5 Dob with a collapsible tube assembly is not too large to transport and will blow you brain when you take your first peek through it at the orion nebla. A cassegrain is a good way to go for portability and are physically small compared to an equiv Refractor.
An 8 inch f8 Cassegrain with Go To mount is a nice scope.10 inch is better, Larger and they start to get a tad heavy. (require a solid mount).
Refractors can handle higher magnification than equiv reflector/cassegrain .
Magnification is not everything when you realise that even a 200 inch scope cannot resolve stars into a disc, they are simply too far away.
A low power scope 40x to 100x with a fast focal ratio f 4 to f 6 will produce nice bright images at the eyepiece.
If you want to take astro pics through the scope then you will need a motorised EQ mount to track the stars.....For me stars are boring, I like to look at planets , nebula, comets and galaxies. Galaxies do not appear exciting unless you have a light bucket and or a good camera set up.

Just an opinion, not gospel.




adrian ss

Contributor Plus





Number of posts

: 3052


Age

: 74


Registration date :

2015-07-03



pablop and Mike54 like this post
I knew this would be right up your alley Adrian great reply.Hi country girl hope all is well.

deutran

Contributor Plus





Number of posts

: 1730


Age

: 57


Registration date :

2009-09-26



Thanks, Adrian – an excellent review! Will follow up and hopefully will be looking skyward very soon.

Cheers De

Don't be drawn into purchasing a cheap small scope that brags to have 500 magnification.
The higher the mag the dimmer, fuzzier and less contrasty the image will be.
Imagine a big slice of toast and a teaspoon of butter. Spread that butter over a slice of bread 6 x 6 inches and it might cover the bread fine but if you use a much larger piece of bread with the same dollop of butter and you will find that it spreads thinly.

Same thing happens with light when you magnify it too much. Higher the mag the thinner the image.
So; For a bright image you need a scope that can produce an 'Exit Pupil Diam" of between 5 and 7 mm. You can calculate diam by dividing the optic system magnification into the objective lens diameter in mm. Result is exit pupil. diam. Eg: 7 x 50 (7 magnification x 50mm ) objective lens diameter binoculars are often referred to as night binoculars with an exit pupil of 7mm.
The human eye pupil can open to approx 7mm max at night therefore having an exit pupil larger than that, say 10mm is wasting light, image will not appear brighter than that produced by an exit pupil diam of 7mm.

Here is some fun reading.
https://www.bestbinocularsreviews.com/blog/exit-pupil-06/



adrian ss

Contributor Plus





Number of posts

: 3052


Age

: 74


Registration date :

2015-07-03



De, Adrian has provided some good advice. I made my own 8" Newtonian telescope and equatorial mount about 40 years ago, due to an interest in astronomy, taking many years to finish grinding the mirror due to many factors. It is a "monster" in terms of setting up and using it, just forget it regarding portability.
So I then purchased a Schmitt Cassegrain 20mm (SC20) with an electrical tracking drive. Much more portable and easier to use, fitting of cameras and the like, but after moving to city life and the associated poor light conditions, changing jobs that meant lots of travel, my interests waned. I now have my interests in that area largely met by a couple of internet sites and use binoculars and camera technology for personal activities.
In fact, following the internet sites tended to further discourage getting out either of the scopes as I find that what I would like to see and do with a scope is way out of practical reach in terms of cost, size, complexity, etc.

So definitely get some good binoculars 7 or 8x50 and explore the skies with them and star charts, as you will be amazed at what you will find, and don't get anything too big as you likely won't want to cart it out into the bush.

pablop

Contributor Plus





Number of posts

: 393


Registration date :

2015-01-17



Most of the goldfields seem to be in dark-sky locations (presumably a few towns like Kalgoorlie and Bendigo etc are excluded) but you get some clear views of the night skies out there away from the light pollution. If buying a telescope, I've often bought equipment from "BINTEL" in Sydney.  BINTEL (which is a postal abbreviation of "
BIN
ocular &
TEL
escope shop" are one of my nearest dealers but there are differentsuppliers all over Australia. Their website has a fairly good range to choose from.
https://www.bintel.com.au
.  There's also https://www.opticscentral.com.au and https://skywatcheraustralia.com.au/ and http://www.andrewscom.com.au/
I guess it depends on what sort of things you might like to see.  Viewing the moon and the planets is easy enough with moderately low magnification and darker apertures.  Some of the computerized telescopes (eg Celestron NEXTAR models) are very good value for what they offer.  My wife and I stayed out near Sofala on a nearby property and the owner had a rather large 12 inch Celestron telescope which was amazing to look through. You can see the owner and my wife in the shot below during the setup phase.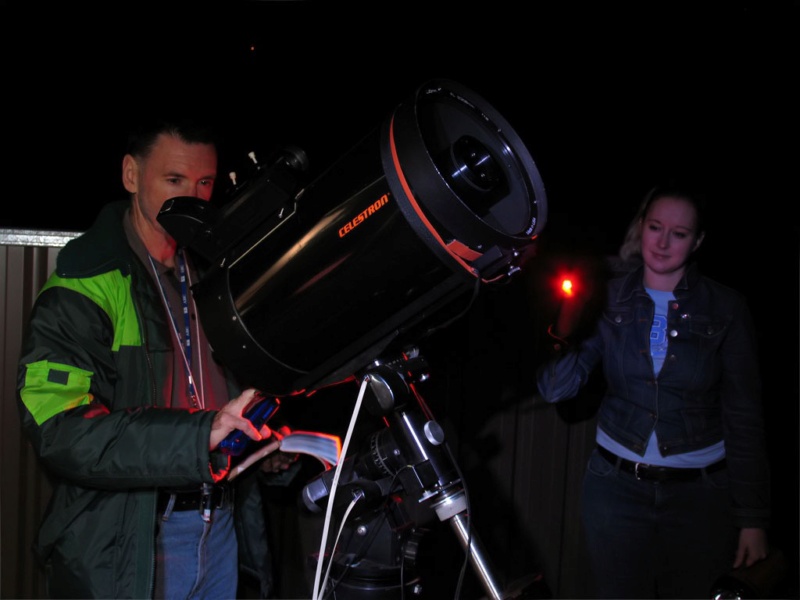 One of the local telescope setups that was out at Wattle Flat a few years back.
Obviously a system like that is barely portable and less than convenient.  If you're just wanting to do some astrophotography, an inexpensive setup with a mirrorless camera and an inexpensive, bright, wide lens (eg Canon EOS M200 + EF-M 22mm f/2 STM lens) will enable you to see what's going in in the sky in under 10 or 20 second and you'll probably get to take some nice pictures home with you afterwards.  The price of Meade telescope in Australia has gone up in price in recent years but they do some interesting packages like the Meade ETX90 Observer Telescope, which has a focal length of 1250mm and a 30,000 object listing in the database of the built-in computer.  The problem is that when you get stronger magnification so see things more distant, your apertures tend to get smaller so there's less light coming through to your eye.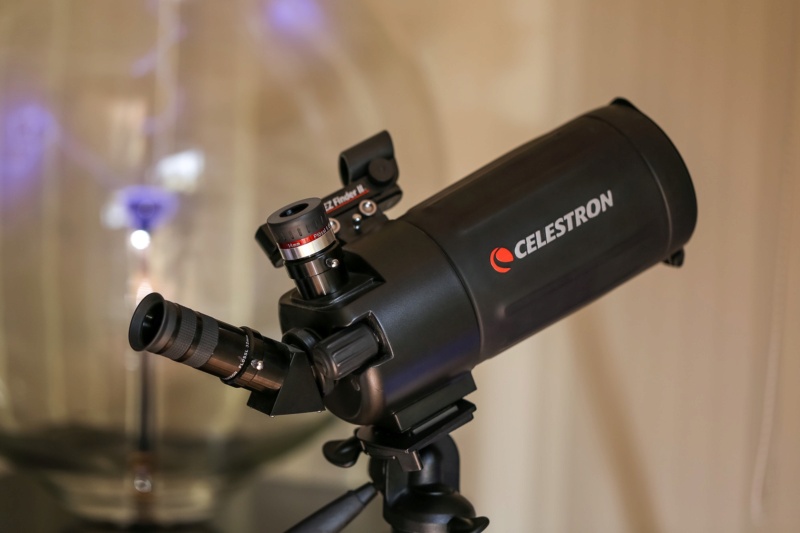 My Celestron spotting scope... which is sort of acceptable, but could be brighter.
The first time I saw the Orion nebula it was completely by accident.  I was scanning the heavens and came across it without even knowing what constellations I was looking at.   It had a greenish hue to my eyes (green is the most visible wavelength) but it was fascinating to see.  I was using an older Celestron Maksutov (C90) spotting scope that I bought on sale from one of the old Australian Geographic stores.  It has a 1200mm focal length so there's plenty of better options available today.  
Just like camera lenses, there isn't really a single telescope that does everything.  So you'll need to decide on something that will suit your own personal needs.  But there's plenty of portable and moderately lightweight telescopes on the market today.  Don't be afraid to Google your nearest store and ask the staff for an opinion.  Most staff at telescope and optics shops tend to be members of astronomy and astrophotography groups so they can offer your their own perspectives and are usually happy to do so.

nero_design

Contributor Plus





Number of posts

: 2069


Registration date :

2008-11-18



pablop, adrian ss, Mike54 and moredeep like this post


This might give you a rough idea of what you can see through various size telescopes.
https://www.ozscopes.com.au/what-can-you-expect-to-see-with-a-telescope.html


I

adrian ss

Contributor Plus





Number of posts

: 3052


Age

: 74


Registration date :

2015-07-03



---
Permissions in this forum:
You
cannot
reply to topics in this forum