Is Betelgeuse getting ready to explode?
Is it going Nova?  
If it does go bang then it will be quite a  sight in our sky.
If it goes off today our time then we will see it in 640 years. If it goes off today Betelgeuse then we will see it pretty soon .  
THE UNPRECEDENTED FADING OF BETELGEUSE--UPDATE: Last year, Betelgeuse was the 10th brightest star in the sky. This year, it has plummeted to 24th. Astronomers from Villanova have just released a new update on the status of the fading red supergiant: "Betelgeuse is now ~1.0 magnitude fainter relative to observations made at the start of 2019/20 observing season. Our most recent observation on 30.15 UT, January 2020 is V = +1.614 +/-0.012 mag." Whether Betelgeuse is shrinking, dimmed by a giant sunspot, shrouded in an outburst of stardust, or about to explode, is anyone's guess. Stay tuned.
Gold is thought to have been produced in supernova nucleosynthesis, and from the collision of neutron stars, and to have been present in the dust from which the Solar System formed. Because the Earth was molten when it was formed, almost all of the gold present in the early Earth probably sank into the planetary core.
Some useless information
.
The sun is 1.4 million klm in diam.
Betelgeuse is 1.23 billion klm in diam
Antares is 1.2 billion klm in diam
Andromeda Galaxy is 220,000 light years in diameter. One light year is approx 6 trillion miles = 9.6 trillion klm....Andromeda is a speck of dust in the universe amongst bazillions of other specks of dust. Each of these specks of dust contain multi millions of stars and there is a lot of empty space between these specks of dust and stars.
There is more empty space between the atoms of a diamond than there is diamond atoms. If you could shrink down to the size of a diamond atom inside a diamond crystal you would not be able to see the nearest other diamond atom coz it would be too far away.
Isn't that exciting hmmmmm.
We on Earth as human beings think we are big and important in the grand scheme of things...Chuckle, chuckle, chuckle. The grand scheme of things was here loooooooongggg before we and any other life ever existed

adrian ss

Contributor Plus





Number of posts

: 2590


Age

: 73


Registration date :

2015-07-03



Far from being off topic Adrian,more gold coming our way,you little rippa
cheers moredeep

moredeep

Management




Number of posts

: 715


Age

: 59


Registration date :

2018-05-23



Betelgeuse, Betelgeuse, Betelgeuse.

Axtyr.

Axtyr

Contributor Plus





Number of posts

: 590


Registration date :

2014-01-20



Mmmm  thats interesting , thou I do wonder at why these astronomer's are so good at observing these types of events ,yet still cant accurately predict these Meteors that fly past the earth the last couple of years ,like that one a year or so ago ,they only detected 2 days out , ( it was like holy schite ,what the hell was that ..
) but I also wonder if they'd tell us , if one was to crash into earth any way .

hugh62

Contributor Plus





Number of posts

: 352


Age

: 58


Registration date :

2014-02-09



Meteors whack into the earth every day mostly at the poles and into the ocean.
When they come at you from the direction of the sun they are not easy to spot until they are on top of you.
Also there is a lot of sky to patrol and not many spotters with reliable equipment. Once you have spotted one on approach to Earth the orbit has to be determined in order to know if it is on a collision path with us.
The brightness variation of stars like Betelgeuse or Antares for example is fairly easy to monitor with a half decent back yard telescope and a bit of observing time.
Some Meteor detection and lots of other cool stuff can be found here:
https://www.spaceweather.com/

adrian ss

Contributor Plus





Number of posts

: 2590


Age

: 73


Registration date :

2015-07-03



Betelgeuse is going more ape sh..t
This info from
https://www.spaceweather.com/
THE CONTINUING MYSTERY OF BETELGEUSE: For months, astronomers have been keeping a wary eye on Betelgeuse, the bright red star in Orion's shoulder. What's attracting their attention? All of a sudden, Betelgeuse isn't bright anymore. Its luminosity has "fallen off a cliff"--a sign that the star could be on the verge of going supernova.
"The most recent measurements put the visual magnitude of Betelgeuse at about +1.66, the dimmest its been in our 25 years of photometry," says Edward Guinan of Villanova University.
Betelgeuse is a highly evolved red supergiant--the type of star that could collapse and explode at any moment. Indeed, the dimming of Betelgeuse could be explained if the star has suddenly contracted to about 92% of its previous radius. But that's not the only possibility. Betelgeuse might be dimmed by a giant starspot--or maybe it is shrouded by an outburst of stardust from its own cool outer layers--or something else entirely. No one knows.
Answers might be forthcoming on Feb. 21st. Astronomers have long known that Betelgeuse is a variable star. It pulsates with many periods, as shown in this Fourier analysis of Betelgeuse's light curve: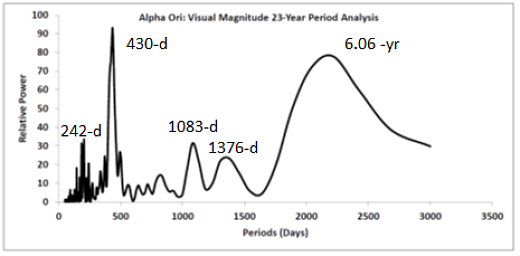 "This shows a dominant (probable pulsation) period of P = 430 days," note Guinan and colleague Richard Wasatonic in a recent Astronomical Telegram. Given this result, "the minimum brightness is expected on 21 (+/-7d) February 2020."
If Betelegeuse starts to bounce back on Feb. 21st, this whole episode might just be a deeper-than-average pulsation, and perhaps the supernova watch can be called off. However, notes Guinan, "even if the 430-day period is still working, this would indicate a minimum brightness near 0.9 mag--much brighter than the current value near 1.6 mag. So something very unusual is going on."
Stay tuned for updates as Feb. 21st approaches.

adrian ss

Contributor Plus





Number of posts

: 2590


Age

: 73


Registration date :

2015-07-03



Betelgeuse before & after.  
Jan 2019
Dec 2019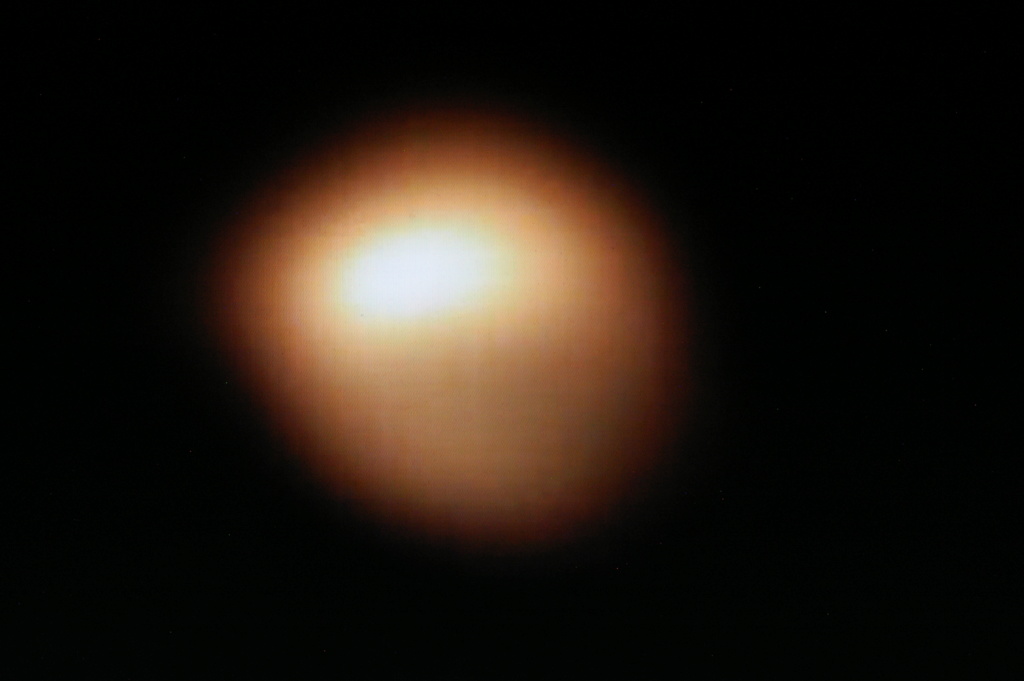 This image from
https://www.eso.org/public/images/eso2003d/
This image, obtained with the VISIR instrument on ESO's Very Large Telescope, shows the infrared light being emitted by the dust surrounding Betelgeuse in December 2019. The clouds of dust, which resemble flames in this dramatic image, are formed when the star sheds its material back into space. The black disc obscures the star's centre and much of its surroundings, which are very bright and must be masked to allow the fainter dust plumes to be seen. The orange dot in the middle is the SPHERE image of Betelgeuse's surface, which has a size close to that of Jupiter's orbit.
Credit:
ESO/P. Kervella/M. Montargès et al., Acknowledgement: Eric Pantin

adrian ss

Contributor Plus





Number of posts

: 2590


Age

: 73


Registration date :

2015-07-03



Bummer!
So now they reckon ole Beetljiuce aint exploding.
I guess the reality is that they, whoever "They" are, do not have a clue when it will happen.

So, how long does a star like Betelgeuse take to explode?...... A really, really, really long time for the star to grow and then die, less than a quarter of a second for its core to collapse, "It is a really really big star" few hours for the shock-wave to reach the surface of the star, a few months to brighten, and then just a few years to fade away......Give or take a.100,000 years or so. or so for all of this to happen.
Who knows? It may have exploded already and the light from this exp is still travelling through the depths of space and has yet to reach Earth.
Don't worry, little stars like our sun don't explode....although it could/ will get bigger n cooler and engulf the planets out as far as Mars or even further but not for a while yet and so the climate change pessimists don't have to worry about that. We will all be long gone before that ever happens.....Even if we did reach zero carbon emission world wide.
If Betelgeuse does go up in smoke it will be an amazing but harmless sight in our skys
Betelgeuse is supposedly only 10,000,000 years old....Our sun is believed to be approx 5 billion years old.
I think that the age of betlelgeuse is a tad debatable. This star is only 640 light years from Earth which is like, in our back yard folks.
Why is it so large and yet so young while the sun is just an itty bitty star and very old.
That would mean that Betelgeuse came in to being long after the demise of our dinosaurs.


adrian ss

Contributor Plus





Number of posts

: 2590


Age

: 73


Registration date :

2015-07-03



---
Permissions in this forum:
You
cannot
reply to topics in this forum