Dear Members, Its been awhile since I've been on this forum, so sorry for the delay. A few months ago I acquired a 47 acre property about 400ks nth of Brisbane. It lies besides the Bruce Highway. I was eager to run my old Gp3500 over it to see weather some of that good yellow stuff existed, as I knew that within 1-2ks of the property small  amounts of gold were found back in the early 1900's.   Well within seconds I was picking up loud signals on rocks above the ground & also the same type of rocks every where just beneath the surface. I think the rock maybe Andesite- composed  mainly of plagioclase with other minerals such as hornblende, pyroxene, , biotite & quartz feldspar. Biotite is s'posed to contain Iron, magnesium, aluminium which is probably why the detector picks up signals?  The rock is quite heavy & breaks or flakes off easily whence hit together. I don't have a Dolly pot yet, & have never used Hydrocloric acid. Before I get serious my main question was- if any one believes that this type of rock may contain gold. An interesting fact is that the local government spent around 100 million $s building a new highway so to reduce accidents in this region. I am wondering if they dumped a lot of the subsurface material onto my property which contains these rocks & possible gold that would have been hidden under the old highway for so over 70 years. Any how your expert opinions would be muchly appreciated.
Cheers David

YibiDavid

Good Contributor





Number of posts

: 110


Age

: 67


Registration date :

2008-10-31



Trying to get photo of rocks downloaded, but not working so far. The mentioned rocks are light greyish blue with small dark spots in it, David

YibiDavid

Good Contributor





Number of posts

: 110


Age

: 67


Registration date :

2008-10-31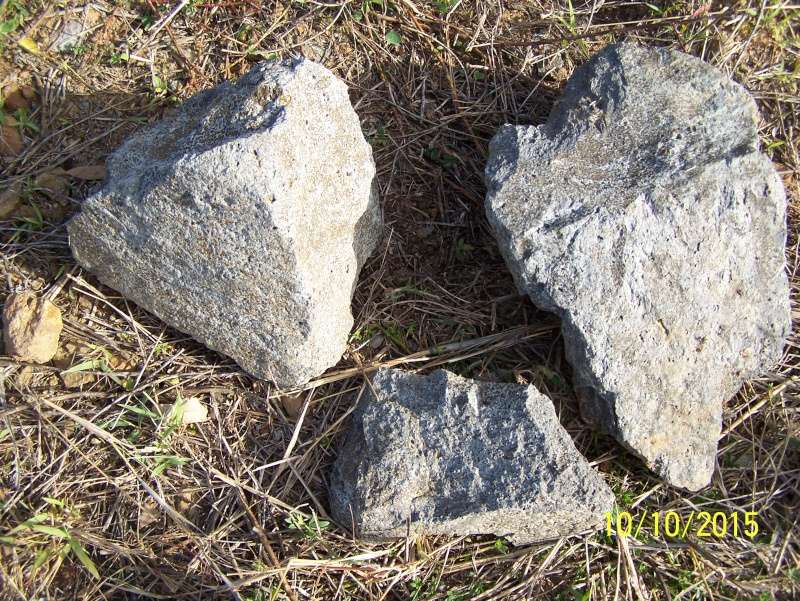 Well members I've got the photo downloaded ( pleased with myself) These were about 1-2kgs in weight, I left them at the property & brought  back a few smaller specimens around half a kilo & 15cms, which seemed to have some gold coloured speckles in it? Also could some one suggest where I might obtain a Dolly pot. Keenly  waiting to hear your remarks, thanks David

YibiDavid

Good Contributor





Number of posts

: 110


Age

: 67


Registration date :

2008-10-31



Here are the smaller samples which seem to have something gold specks ( maybe) in them . Cheers David

YibiDavid

Good Contributor





Number of posts

: 110


Age

: 67


Registration date :

2008-10-31



G'day there David ,well I'm certainly no expert and I've got no experience of that particular area ,but i'll give my opinion of what I would do .  
 * I would be dollying up samples and panning off , ( thou I'd be mindful of the fact that the material carted in originally could of come in from miles away )
 * with the 3500 ( I used to have one too ) I'd be running a DD and playing around with settings as much as possible and try and filter out as much as possible ( ground noise ) and examine the rock that gave the most sharpest of signals .
 * research ,research ,research ,till it starts to drive you mad .
 *  Being more in a hard rock / fine gold area ?? maybe contemplating buying a sdc2300 ??!!
        Personally I don't think any of that rock in your photo's contains any Gold ,hard to say just looking at photo's ,more probably pyrite's .As far as dolly pots goes ,just as easy to get some one to knock one up for you ,( there's a section on here about them ) or deafinitly  worth checking up Armstrong industries .rock crusher made in WA.  
                    But any way having said all that ,and the fact the area does have some history of Gold mining I'd personally certainly be investigating it further ,mindful of the fact that you also may have to crush a lot of rock for very marginal returns  
 .

hugh62

Contributor Plus





Number of posts

: 354


Age

: 59


Registration date :

2014-02-09



Hi Hugh62- Thanks kindly for your reply & your comments. I will go over those rocks using a DD coil, this should cut out any unwanted sounds like iron etc ( don't know why I didn't think of that). Will consider buying a sdc2300 when I can afford one. About to check out the Amstrong Industries website you recommended. A rock crusher would be the go as there are heaps of rocks on the property hopefully worth crushing & panning in large amounts. A good rock crusher is always good to have on stand by. Will let you know of my outcome when able to obtain the gear, cheers & good " teckting" to all- David

YibiDavid

Good Contributor





Number of posts

: 110


Age

: 67


Registration date :

2008-10-31



Hi Hugh, hard to ID the rocks from the images, possibly igneous, however the little voids do look like voids left behind when iron pyrite cube crystals oxidise and weather away.
Any gold flecks in the rocks maybe pyrite.

But if in doubt dolly and pan, and check out a geology map of the spot where the rocks came from. That may allow you to work out what you have

Tributer

Contributor Plus





Number of posts

: 1007


Registration date :

2008-10-27



Hi Tributer,
               I'm pretty convinced that the rocks are Andesite. The area is reknowned for it. I have read that decomposed Andesite disclosed gold " Quote"  within the vicinity. Obviously those rocks aren't decomposed however as I've already mentioned it easily can be broken.Very interesting that Pyrite crystals might be associated with them ( which usually is a good sign! ) As Hugh61 mentioned a "Rock crusher" would be useful- however on the Amstrong website their smallest crusher is retailing for a mere $5000- what da! so that's out for a while, need to go over the property with my DD coil as I used  the mono last time ,  there were signals going off non stop. As I'm located in Brisbane at the moment detecting will have to wait as the property is almost 5 hours from here! Anyhow thanks again for both your responses, will get back when I find out more

YibiDavid

Good Contributor





Number of posts

: 110


Age

: 67


Registration date :

2008-10-31



Back Again,
I went over the 2 small samples that I brought back with the 11" DD coil & no sounds at all to report unfortunately. Because there was no response by my detector doesn't always mean the rock is void of any gold, as we know there possibly could be very fine gold or " Flour Gold" present ( I'm being very optimistic) I have researched the area concerned the best I could- as I mentioned earlier, crushed Andesite especially from decomposing rock had disclosed Gold- how much is the $64 question. As Hugh61 had mentioned & I tend to agree with him, the area is a " Hard Rock/ & fine gold area, so I haven't given up hope yet. When I finally get back up there, I will try my larger 14" DD old coilteck coil & see if I can get any positive responses. The rock crushing process will have to wait till I get financially better. So bye for now- yibidavid

YibiDavid

Good Contributor





Number of posts

: 110


Age

: 67


Registration date :

2008-10-31



---
Permissions in this forum:
You
cannot
reply to topics in this forum