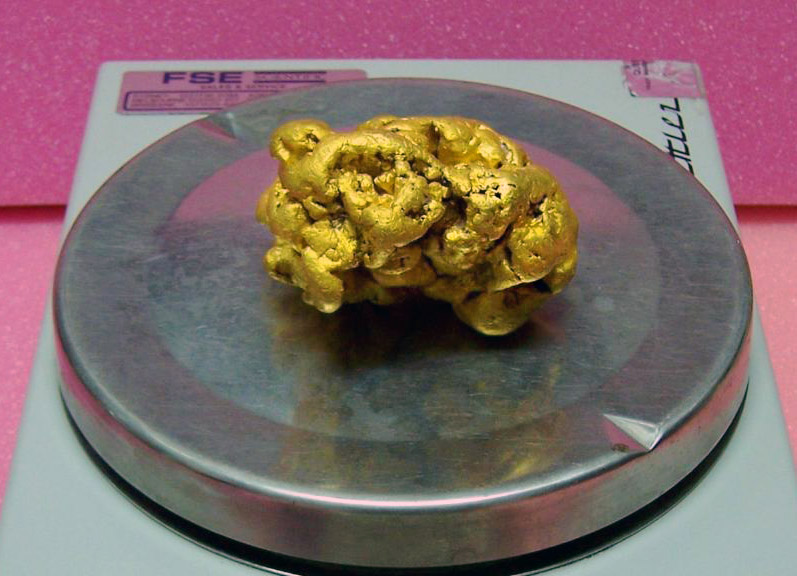 Man finds enormous gold nugget in North Queensland
http://www.news.com.au/national/northern-territory/man-finds-enormous-gold-nugget-in-north-queensland/news-story/60f83fde4079674d986321d2f8f4a5db
"A LUCKY Townsville man has found a huge nugget of gold buried in the Queensland bush, directly beneath a double rainbow
AN enormous gold nugget has been found by a man in North Queensland. The prospector found the 1.1763kg gold nugget in a field in the Charters Towers region worth about $63,814. One gram of gold is worth about $54.25.
The nugget was 15cm below the ground and discovered using a Minelab GPX 5000 detector. "When I found the first nugget I was super stoked because that was my biggest ever," the Queenslander said, who wishes to remain anonymous.
"I would have been really happy with just that but after I'd calmed down, I went back to the same spot, restarted my detector and after just two or three swings I found the big one.   "It's fair to say I was emotionally overwhelmed at that time," he said. The man had been searching a particular area for a while that day and was ready to leave.
"But I gave it another quarter of an hour and then with five minutes left I got this fairly good signal — not too loud but I was confident it was gold — so I started digging. "At first, I didn't know just how big the nugget was because the scales I had with me only went up to 500 grams.
"It wasn't until later when I got home I found out I'd broken the kilo mark. "It was beneath some vegetation so it was a bit of a challenge to get to, but now I'm thinking maybe those roots are keeping some other big nuggets safe ready to be found another time."
Driving back to camp the day before, he saw a double rainbow for the first time in his life. Ignoring the adage that gold is found at the end of rainbows, he identified the section of ground beneath the highest point of the arc and decided that was where he would look the next day. He named his find Arcus Nugget because of the role nature played in its discovery. Arcus is Latin for rainbow. "I said to myself that's where we're going to find gold tomorrow but I never thought it would be so much." He is now negotiating to sell the nugget privately.
Minelab's Townsville dealer Peter Cragg was amazed to see the nugget. "It's a fantastic story and goes to show that there are still big nuggets out there ready to be found if you have the right equipment and can spot the terrain," he said. "He found more than a kilo of gold in an area which has certainly had detectors go over it before. It makes you think what might still be out there."
The prospector declined to identify the exact location where the nugget was found."

nero_design

Contributor Plus





Number of posts

: 2042


Registration date :

2008-11-18



Good on the prospector well done

bloodgold2

Seasoned Contributor





Number of posts

: 155


Registration date :

2017-04-02



Very nice nugget there Nero and a big congrats to the prospector.
Thanks for sharing this with the forum.
Cheers.
Mike.
_________________
Live long and prosper.  

Mike54

Management




Number of posts

: 404


Age

: 65


Registration date :

2017-06-16



stonker
that's how we roll in FNQ congrats to the finder

joe82

Contributor Plus





Number of posts

: 1001


Age

: 37


Registration date :

2013-07-02



I hate rainbows as they are alway on my home .
Peter how did you miss that one

Detrackozi

Contributor Plus





Number of posts

: 1097


Registration date :

2008-10-27



WOW! That is a dream find indeed.
High fives all round for that one!

You can see Peter struggling with the weight!

Coiltek Manufacturing

Good Contributor





Number of posts

: 100


Registration date :

2008-11-19



Splendid indeed!, one would be very pleased to see that in ones scoop
,  
a skeptic might suggest that the timing was very convenient and the whole story has a familiar ring to it like the often discovered large timely nuggets found in the GT, Townsville and Charters Towers are small places, the truth will eventually be known, but it has sure got tongues wagging ,  
 social media is a very powerful advertising tool.
Wayne.

Digginerup

Contributor Plus





Number of posts

: 2400


Registration date :

2012-05-17



From someone who doesn't really care what a skeptic would think, I have to say that I have seen felt, touched and fondled the nugget, heard the story directly from the person involved, and congratulated them sincerely. Some people get tired of seeing the same old skeptic crap on forums, and how it co-incides with the birth of Virgin Mary's last female child when the full moon was having an eclipse. No wonder a good deal of the larger nuggets I see and hold never make it to the media,  and I don't blame the finder for that at all. I guess it is a case of "keep it quiet and have no detractors", but laugh and smile a lot knowing what the majority are missing out on seeing.
Ain't that the truth Sandy! great timely post, and Nero....... great pics.

Hotrocks

Good Contributor





Number of posts

: 124


Age

: 86


Registration date :

2008-10-22



---
Permissions in this forum:
You
cannot
reply to topics in this forum