Hi all, It's been a while.

Just thought I'd make a quick post. I just returned from my trip to the US. I got to spend a few days detecting out in the field in California. It's not as easy as I thought, mainly trying trying to work out where you can and more importantly - Can't - go detecting.

Private property, private mining claims, government land... days spent in assessors offices and BLM offices. Then get out and find that areas are off limits because of thickets of poison oak or impenetrable brush (or, bush, scrub, as we'd say here). The slopes in places are insane. Plenty of rattle snakes about, a few bears, and probably the odd unseen mountain lion! And the Americans were telling me how dangerous Australia is. Mate, its a walk in the park compared to California.

Poison Oak for starters. I was told you don't really know how you'll react until you've had contact.If you are one of the minority, you might not even be affected.  Unfortunately the first places I tried were rife with the stuff. Pretty easily identifiable, though, and if you are careful you can see it in advance. But then,. if you whack it all down pocking the coil in and around it, just don't start handling the coil afterwards. The sap or oil can stick to it, and then get onto you if or when you touch it. Wipe your face, then its on your face. Same with the dogs running around in the bush, they come back, give them a pat, and 24 hours later you wonder where the hell all these welts came from! Luckily I was only pocking around a little in amongst some small stuff. I dug bullets for my efforts. One thing in America you can bank on finding are bullets but mnd you, I've found so many bullets and areas so think with bullets in Australia that I had to just give it away, so looking at the different calibre's is always a bit entertaining, and if you are finding, white, old lead bullets, then no-one has detected there before.

Anyway, I got my taste of the Poison Oak, and 24-36 hours later, welts, itchy as hell, started blowing up around one wrist. The itch lasted 3 weeks. reusing some of the same clothes only spread it. ended up with these weeping luckily isolated welts, some on my ribs, others on the sides of my little fingers. One thing, nothing really helped them, and the itched for up to 3 week and have only just stopped itching the last 2 days.

After that, I targets areas further afield, and in areas of some other type of scrub, more like our tea-tree and interspersed with something called Manzanita, which in itself formed impenetrable thickets. Managed to fiind some areas that were also burned, and that were open to prospecting, but were very steep.

First day out I targets some areas of quartz, and some of the creeks that were downslope of some areas of old workings. Plenty of square nails and bullets to be had, but not much else. Then  I got out to partially burned ground and the poison oak was there, this time dried and shrivelled by fire, but no less diminished in its efficacy. Kind of like a nasty dried herb you might say.

Day two saw me out again and this time, just deciding to stop on some areas the track went right through, amidst some old workings, part burned out, and part recently cleared. Detected finding plenty of the square nails, (incidentally which are indicative of old workings dating to pre-1870's; they stopped making them in the early 1870's), and of course, a near complete history of calibre's that were used in the area. Then got a signal I thought was another piece of crap and to my surpeise turned out to be a great little specimen of my namesake - Gold in Quartz! The piece was a bit larger than out 50c piece, and quite heavy. I kept working the area, and another 4 hours detecting got another but very faint signal. I've found very, very faint signals like this in Australia, so started to dig. Well it just got stronger. Then  the soild colour changed and it got really rocky as well. Given the slope and the fact i was in a small gulch, it was still all transported or more correctly, colluvial material, which  thought was great, as the outcropping quartz blow with diggings was high above this area.
I had a mate with me, and I said to him after about 45 minutes digging, and a hole 18" deep, "I hate to try to predict what is in the hole as in doing so you are almost invariably setting yourself up for disappointment, but to be honest, this dirt and rock has never been dug over before".

He looked at me and said, "yeah, I think this is gonna be a piece of gold".

We took a break, had a drink, in the still low-30's temperatures and came back and picked up where we left off. A bit further down, and a widened hole and I got down into the hole for a look. I could see a few pieces of quartz in the bottom, and rubbed them, and one came up trumps! Specks of gold all through it. We dug it out, and a few more minutes it was in my hands. A nice somewhat heavy piece of quartz with small showing sof gold all through it. Depth was 23-24". I was using my 5000, with a large coiltek coil.

We detected the rest of the gulch, and as full moon was upon us, we had plenty of light. We gave up after an 11 hour day, having detected all the areas we could easily detect by gridding.

We headed back to ranch, filthy with dust and sweat and grime, but thankfully without any poison oak. We drank a few beers and then a few more beers and tequila's that night, and before proceedings got too out of hand, we did some calculations using the displacement method. We got 12g Au in one piece, and 56g Au in the second piece. Not a bad day detecting at all, and especially a great intro to detecting in such a famous area as the Mother Lode district!

Cheers, GnQ!

.

GoldnQuartz

Contributor





Number of posts

: 46


Registration date :

2016-04-07



G'day GoldnQuartz
Sounds like you'v been to hell and back.
Congratulations & well done on the finds.
One can only imagine what the old timers went through, to find & extract gold, during the early Californian rushes.
If possible, a picture or two of the gold specimens found, would be highly appreciated.
Cheers Kon.  
It sounds like "GoldnQuartz's excellent adventure". A great story and some American gold to top it off.
Well done.

Regards Axtyr

Axtyr

Contributor Plus





Number of posts

: 589


Registration date :

2014-01-20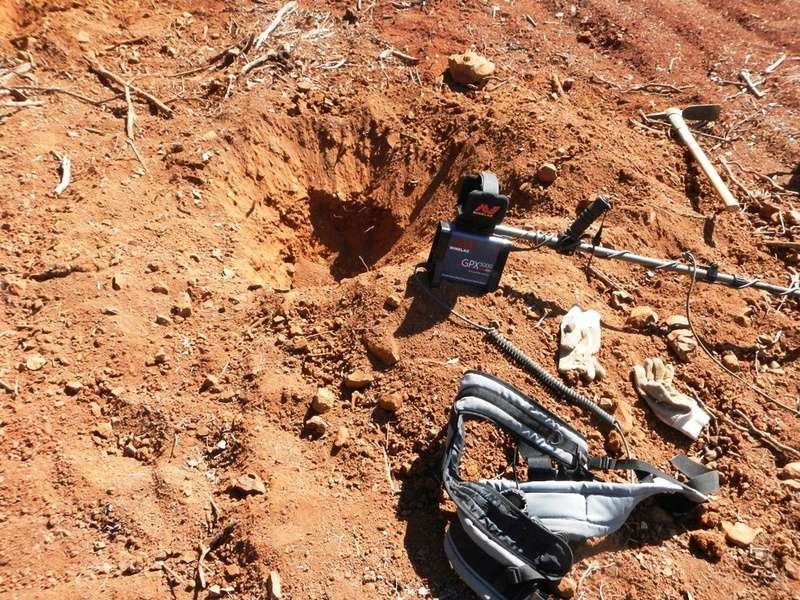 The first deep hole. A convincing signal at a convincing depth, but, no "fooled". It was a piece of trash at about 2' depth. Bugger.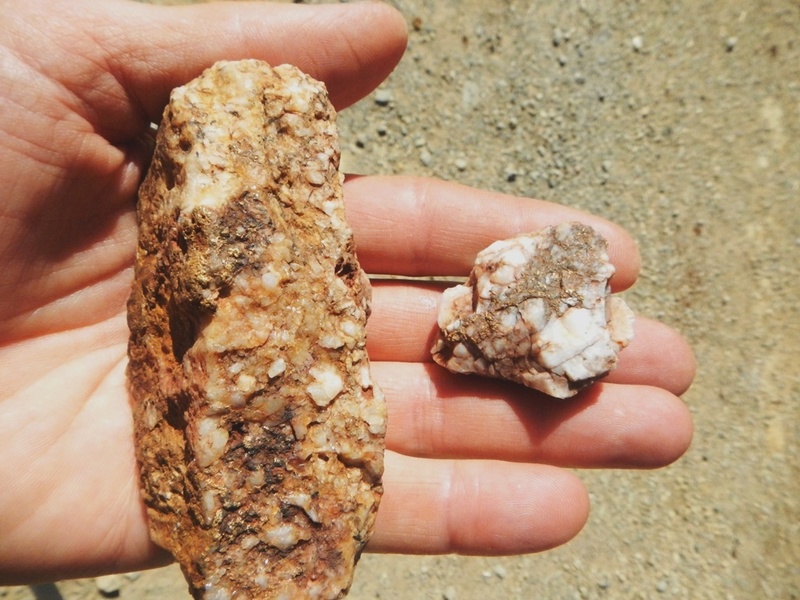 The two specimens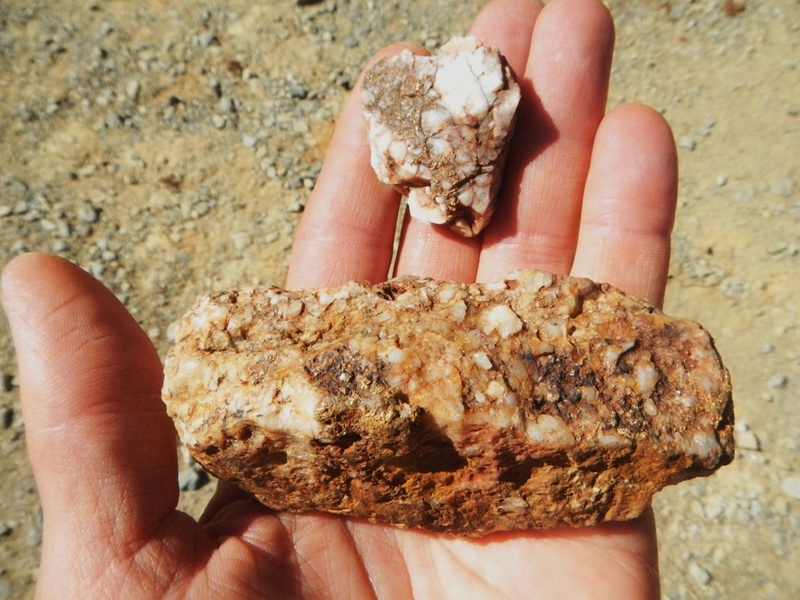 Another shot of the two specimens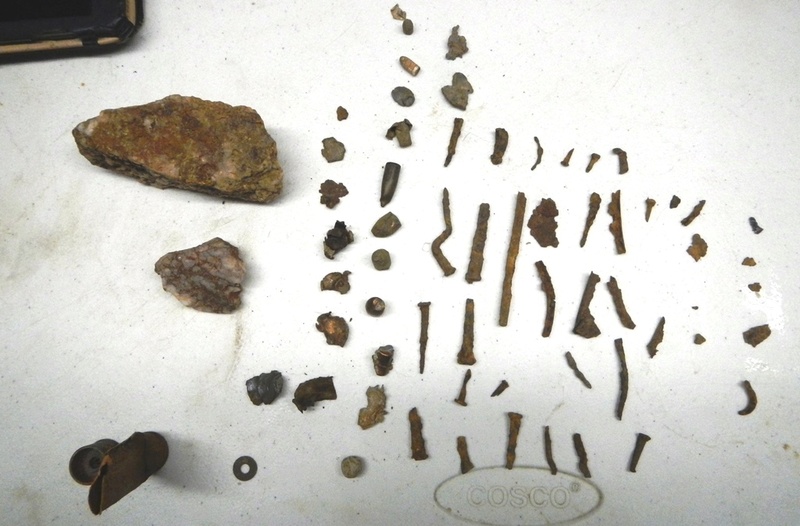 A selection of about a quarter of the trash and the two finds for the day that made digging all that trash well worth while!!

GoldnQuartz

Contributor





Number of posts

: 46


Registration date :

2016-04-07



 A lot of hard yakka, digging out so much trash in so little a time, but well worth the specimen finds GnQ.  Much appreciate the photo's. Top going, well done.
Cheers Kon.  
---
Permissions in this forum:
You
cannot
reply to topics in this forum