Hi there,
This one is a picture of a piece I found in what many refer to as "ironstone". Ironstone, by main definition is of sedimentary origin, but ironstones can also form in a variety of other settings, and so more commonly is now applied to any iron-rich rock, which can include laterites, and concretions (liesegang banding are an example of a concretionary type of ironstone that forms through changes in the ground water table), and also form in the saprolite profile in what is called the 'mottled zone'. Over time, the weathering profile is degraded; weathered material is physically eroded away at the surface, and fresh rock at depth starts to weather. Over long periods of time, this can result in very deep weathering, especially in the Yilgarn of West Aus. Chemical weathering causes iron to enrich, forming the red-brown to purple-red "mottles" in the mottled zone, which are more resistant to weathering than the surrounding pale clays, and so the weathered products tend to hang around in the soil as iron-rich lags and gravelly soils. Some of these soils are full of rounded dark iron-rich grains and pebbles, which are known as pisolites and which typify many of the soils overlying laterites and in the soils across WA.
Ironstones can also form as a result of the weathering of sulfides, such as pyrite. The term gossan describes the iron-rich zones formed above weathered massive sulphide zones. In some places, gold and sulfides (along with, but not always with quartz) are deposited together in veins and fractures, commonly in fault zones. As these weather, the sulfides are oxidised mainly to goethite, and the gold remains unchanged. Mechanical weathering breaks up the rock in the shallow surface, and If they don't travel too far from the source you can often see textures that indicate how the gold was deposited, preserved in both the gold and in the ironstone matrix.
This example typified many of the pieces I found in this area which was a total of several ounces, of mainly small stuff. What it shows, it a strongly striated texture. The piece is 26 grams. It was the largest of such pieces, and also the most iron-rich. In smaller pieces most of the ironstone was gone, leaving flattened striated pieces of gold, largely free of any other attached rock (be it quartz, or goethite). These flattened striated pieces were characteristic of this area and this piece best exemplified it.
The reason these were like this is because they came out of fault that must have been active during and after the gold and sulfide was deposited. Through movements along the fault (shearing), the gold and vein material (which I think here was mainly gold and pyrite), was crushed and deformed. The gold, being malleable 'smears', and bends plastically, whereas the harder and more brittle sulfides get crushed or recrystallised, and gouge into the gold during shearing. Through this action the striations you can see are formed. The rough, hackly nature of the gold, and the fine particles through the goethite all suggest this specimen hasn't come too far, otherwise it would be broken up into more discrete, smaller nuggets and the ironstone would've been lost.
I kept this example as it really clearly shows this relationship of gold and ironstone from a gold-sulfide vein formed in a fault and/or subjected to shearing.
I found it about 18" deep. I'd scoured and chained the area of old diggings using a 11" DD with the 2100. I then went back over everything with the 18" mono. The ground was quite noisy, and being a manual machine, I would have to ground balance every few steps. Still, I knew the area had gold (and a forgettably large amount of trash too), so I persisted. I got a reasonable signal on this piece, and knew I'd walked fairly and squarely over it with the 11" coil. As I dug down I still checked a couple of times with both coils (it was a good test), and the DD could not get a signal until I was probably 12" above the target. Fortunately, this one turned out to gold and not just man-made ironstone – rust – replacing an old can or nail!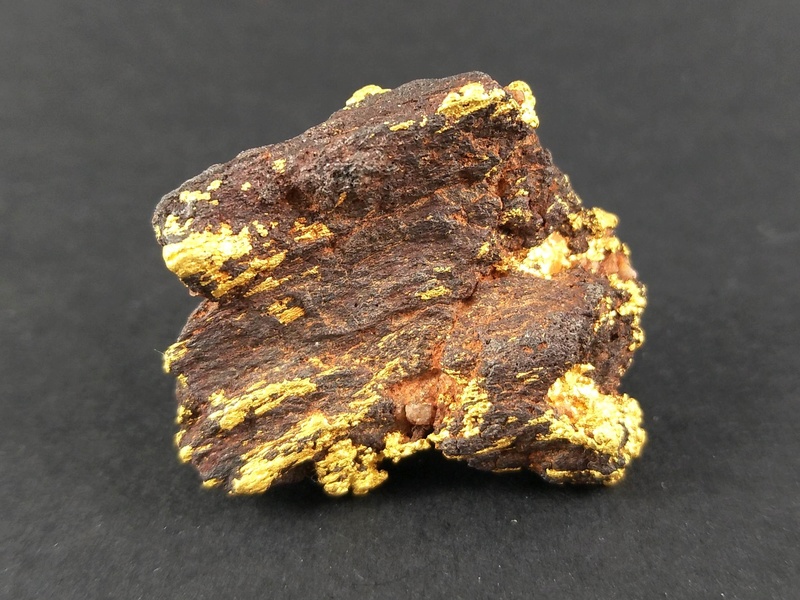 .

GoldnQuartz

Contributor





Number of posts

: 46


Registration date :

2016-04-07



Very nice piece..
Thanks for sharing with us all..
I see under your job/hobbie.. You have Geologist..

Jen

Contributor Plus





Number of posts

: 901


Registration date :

2017-06-16



Thanks for posting the pic.


And thanks also for the explanation accompanying the pic.


Detectist

Contributor Plus





Number of posts

: 363


Registration date :

2010-02-27



Thanks for sharing your explanation/information about the geology, of where you found your nice ironstone/Gold nugget.
Cheers.
Mike.
_________________
Live long and prosper.  

Mike54

Management




Number of posts

: 468


Age

: 66


Registration date :

2017-06-16



how do I not see a picture


cheers the speciman

the speciman

Contributor Plus





Number of posts

: 255


Registration date :

2010-12-19



Thats a beauty and thank you for the explanation....

California

Seasoned Contributor





Number of posts

: 153


Registration date :

2016-05-08



nice find mate

bloodgold2

Seasoned Contributor





Number of posts

: 155


Registration date :

2017-04-02



---
Permissions in this forum:
You
cannot
reply to topics in this forum