+5
nero_design
joe82
Digginerup
adrian ss
wezmac
9 posters
All all,
Just wondering if anyone has found any gold using the X-terra 705 with gold 18.75 kHz Double-D Elliptical coil ?
i brought one but havn't found any gold. Only a few lead bullets dating back to 1880's
I read a few post dating back to 2014 , but just seeing if there's any change out there.
cheers
Sonny

wezmac

New Poster





Number of posts

: 3


Registration date :

2016-06-06



Gold is scarcer than bullets in the gold fields these days but if you are finding lead with the 705 then you will find gold if it is there and you get the coil over it.

adrian ss

Contributor Plus





Number of posts

: 3962


Age

: 76


Registration date :

2015-07-03



In my humble experience the 705 is an affordable user friendly brilliant little treasure hunting machine, if not overwhelmed by its surroundings it will no doubt find anything metallic in the ground at arguable depths, sooner or later you will decide if detecting for gold is for you, then the progression to a better machine is inevitable, the formula is simple: persistence x patience x effort x endurance x tenacity x luck will eventually = gold, good luck!
Wayne.

Digginerup

Contributor Plus





Number of posts

: 2399


Registration date :

2012-05-17




joe82

Contributor Plus





Number of posts

: 1144


Age

: 40


Registration date :

2013-07-02



wezmac wrote:All all,

Just wondering if anyone has found any gold using the X-terra 705 with gold 18.75 kHz Double-D Elliptical coil ?

i brought one but havn't found any gold. Only a few lead bullets dating back to 1880's

I read a few post dating back to 2014 , but just seeing if there's any change out there.

cheers

Sonny
Hi Sonny,
I hope you like pictures... I've got a few for you here.  You'll probably need to go back further in your searches than 2014 because people tend to write about their detectors when they first buy them and the X-Terra 705 was release a few years prior - back in 2009.  And before the 305, 505 and 705 were released.... we had the X-Terra 30, 50 and 70... which were VERY similar machines.  If you operated a 705 next to the 70 you would be hard pressed to notice a difference in performance although the 705 is still an improvement over the earlier 70.
I've got an X-Terra 70 and it's hanging on the wall behind me right now.  I think it was my first digital detector.  The more recent X-Terra 705 has a very useful back-light and an all-black shaft but aside from this they perform identically.  I found a lot of man-made material (trash, treasure and bullets) and some valuable coins in the goldfields with the X-Terra 70. But I always felt that the standard coil wasn't really sensitive enough for me but it certainly paid for itself and i found a Gold Sovereign and numerous nuggets with it during the first couple of years that had it.  It's just a personal opinion but the depth didn't exceed much beyond say 10 inches with the 10x5" 18.75khz Elliptical DD coil.  I had more luck when I bought the smaller 6" DD 18.75khz gold-search coil for it and I'd recommend it to you since it's very affordable (around $150).  It's smaller but goes deeper and is much more sensitive. Plus it's waterproof.  I still use this detector+coil combo from time to time. Heck, we even brought it out with us alongside a couple of GPXs recently because we were after small gold from a digging we were working on.
My first two days detecting with the X-Terra 70 + 10x5 DD 18.75khz coil gave up junk on a private property.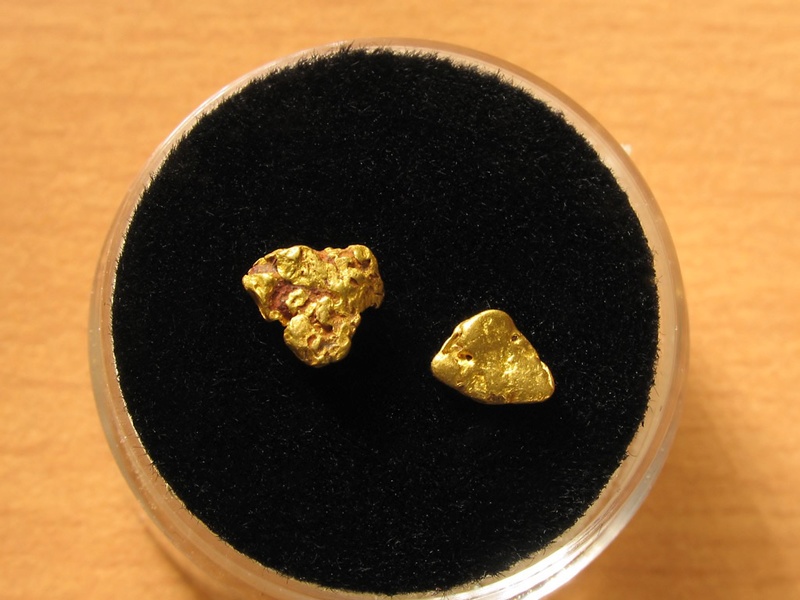 The third day produced two small nuggets - the largest being 0.66 grams. I found these in the wall of a freshly washed out gully in NSW.
Earlier this year I also met a chap from the district of Sofala (NSW) who was moving soil to build something (a dam?) on a private property there and he claimed to find 4 ounces of gold in coarse nuggets with the 705 and the standard 10x5" DD 18.75khz coil in a single day with it. I believe that would be possible on new ground.  On the junk-covered tourist spots the 705 will, like most detectors, struggle to find gold with all the trash lying about.  Without more depth, you'll essentially be picking through the same ground that has likely had the good stuff pulled up already.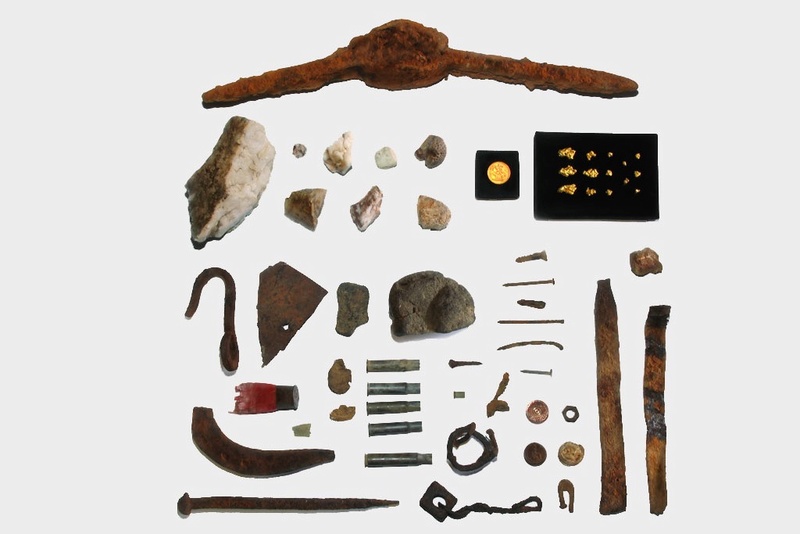 A third trip out with the X-Terra to a remote area near Portland NSW brought back a lot more rubbish - including a Miner's pick ... which, after moving, presented an 1885 Gold Sovereign which was previously obscured by the massive iron signal.  Several nuggets were extracted from the roots of a fallen tree from a recent storm.
As another member pointed out:  If you're finding ANY lead targets with a metal detector then your detector is working perfectly fine.  The smaller the targets, the better.  Most lead is going to be from bullets and the most common tend to be smaller .22 caliber rounds fired at rabbits.  Goldfileds were very busy in the years prior to the war and the miners and prospectors lived on the site, shooting rabbits for food.  The most common firearms tended to be .22 rifles and 410 and 12 gauge Shotguns.  Those lead targets are quite small.  If you're finding those with your detector then you're doing it right and you're detector is doing it's job.  And if there's still lead bullets lying about, there's a good chance the area was never detected properly and there's a chance of finding gold.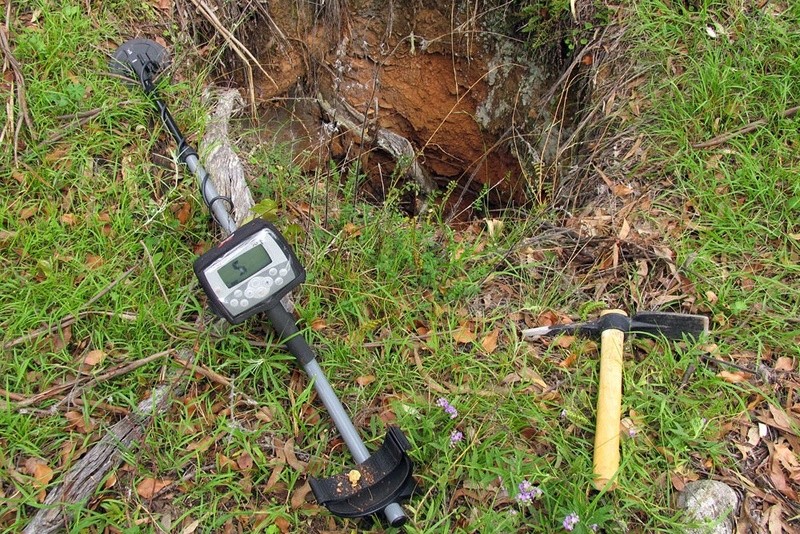 A half-ounce gold nugget recovered with the X-Terra 70 + 6" DD coil.  (The nugget can be seen on the detector armrest). Don't use this type of pick if you can get your hands on something better.  It was given to me with the detector so I had it with me for the first few trips out with it.
Closer view of the half-ounce gold nugget after washing it in water.
Minelab considers the 705 to be the
MINIMUM
that they recommend for finding gold.  As a relic detector for the parks, bush or the beach it's very good.  It's a better GOLD detector than many other machines that are designed for coin hunting... and that includes the much more expensive CTX-3030 (which is currently the best coin and relic machine out there and yet the 3030 is not so good in the goldfields).  Side by side the X-Terra 705 is more sensitive to smaller targets than the more powerful CTX-3030 and it handles the generalized ground better.  
The 705 is a very lightweight detector that is easy to carry and use.  It's quite affordable these days and it functions exactly as the manufacturer states.  That being said, I think you'll find that it's Minelab's entry-level Gold Detector and that the models above it (which are all dedicated Gold machines) will outperform it if Gold is what you're interested in specializing in.  The 705 is also the only Dual Purpose detector at the moment (from Minelab).  It's both a Coin-Relic machine
and
a Gold Detector.  All their other detectors are either one or the other.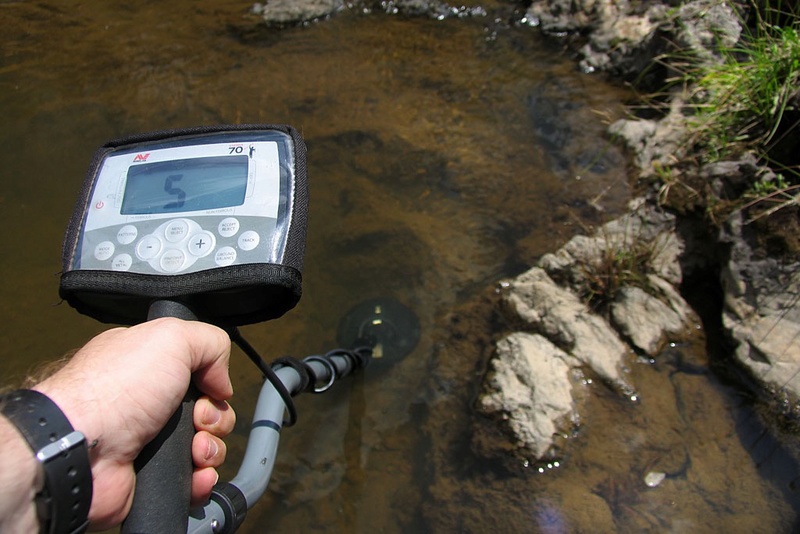 Using the 6" Coil under water.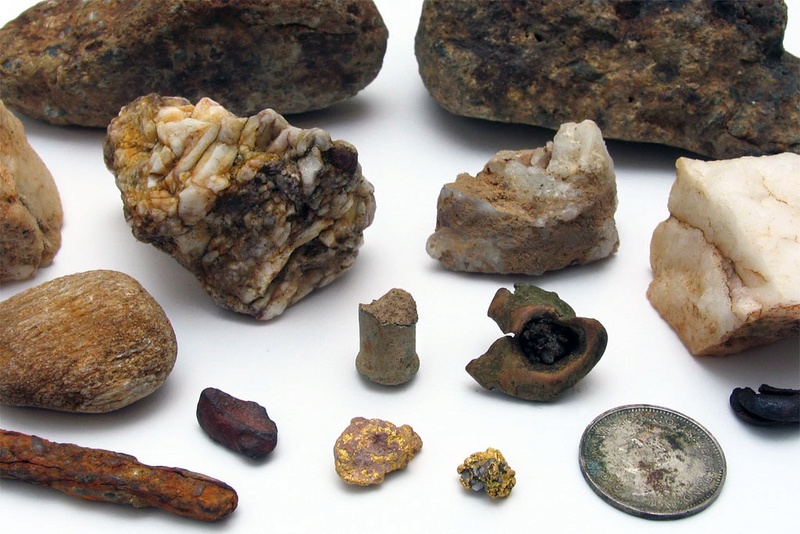 Some mixed targets and mineral specimens that i brought home from another trip. A nugget and a gold specimen can be seen in the middle-front with a small meteorite to the left of the nuggets.
The X-Terra 705 is better as a Gold Machine than the Go-Finds and the X-Terra 505.  Personally I believe it's better than the nearest alternatives from Garrett (in the same price range).  The new Gold Monster 1000 would be a slightly better Gold detector than the X-Terra 705 and it's a dedicated gold machine.  Depth would be slightly better.  And above the Gold Monster would sit the SDC-2300... followed by any of the the GPX series detectors.  After that would sit the GPZ-7000.  
The 10x5" DD 18.75khz coil has a shallow and quite a wide blade of energy that consists of the detecting field.  I've found a LOT of rubbish with that coil and the smaller targets were quite hard to find.  I think it's a useful general-purpose detecting coil for covering larger areas.  I also feel that it's worth considering another coil for it since than 10x5" DD coil isn't a very deep coil.
X-Terra 70 + 10x5" DD coil targets.  These were reasonably large targets that were dug in junky areas close to a big mine. Note the melted lead... presumably from bullets that melted in a bushfire. The solid gold button is something the miners had melted down and lost.
The smaller 6" DD 18.75khz coil has a much greater depth and sensitivity and the small coil size makes it ideal for creeks and narrow gaps between rocks.  It's also waterproof and has the thinner and stronger electromagnetic detecting field.  But not everything coil is perfect and this coil is SMALL... which means you can't walk as quickly with it as you can with the larger coil.  And being small and sensitive, you'll pick up on small bits of ironstone hot-rocks from time to time if your sensitivity is too high.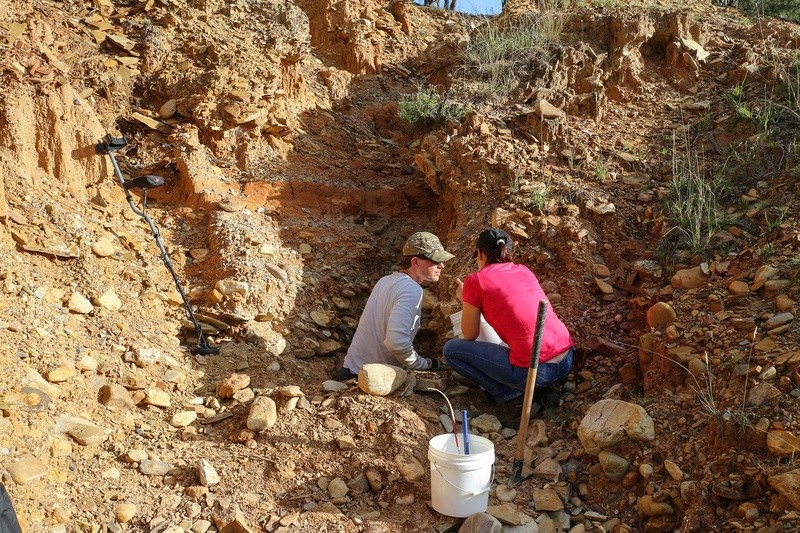 Using the X-Terra 70 + 6" coil just a few months ago whilst digging fine gold out from a bench on the river.
The X-Terra detectors are a very low outlay in cost for what they can do.  If I could offer any X-Terra 705 user some suggestions, it would be as follows:  


Buy a protective screen from a detector dealer for about $20.  Because you'll have dirt on your thumbs and this may scratch the membrane of the LCD and will also eventually scratch away the icons on the buttons.


Get a good pick like the Walco Mini Pick.  It's small and that's all you'll need.  Their wooden handles are lightweight but the heads are made from Sprung Steel and the pick itself will last a long, long time.  You'll dig deeper with it than with one of those pull-apart iron picks from Bunnings.  And you can work MUCH faster with it. If you have one of those army entrenching tools, just throw it away now.  They're flimsy and don't have the weight or shape to dig with properly and you'll be digging into sunbaked clay sometimes... which is impossible without the right pick.


Another useful tool is a Pinpointer.  Any brand is fine but the Minelab Pro-Find 25 Pinpointer isn't as prone to falsing with direct pressure on the tip like the Garrett ones can do.  They're not essential wither because there's a pinpoint-mode button built into your X-Terra 705... but they will speed up target recovery which means less time wasted trying to find a mysterious target in the soil.  A nugget and a lead .22 bullet will be impregnated on the surface with the same fine dusty soil you're digging in - so without a pinpointer (or an effective screening method using your coil) you'll slow down trying to identify where the target is.  Again, not essential but useful as a tool.


If you want a target to play with, use a lead bullet in a plastic bag or container. It will sound the SAME as gold.  Remember not to put your hands in your mouth if working with lead because it's a terrible neurotoxin.


Take slow swings with your detector - no faster than 2 second sweeps to the left and 2 second sweeps to the right.  You'll find more targets if you don't swing too fast.  


Don't expect to be able to pick up deep targets unless coin-hunting with the large 15" coils.  Expect around a maximum depth of 9 or 10 inches (in total) with the 10x5" DD coil and considerably deeper with the smaller 6" DD coil.  I can't quite remember the results of the tests I did with this coil for depth but it was noticeably deeper than the 10x5" coil.  Remember that smaller targets are harder to pick up if they are deep.  The smallest target I picked up with the 6" coil was 0.02 grams during testing.  Which is very impressive but it was right on the surface of the ground and the 10x5 wouldn't respond at all to it.  In the field I found the corroded core of a sewing needle under 4 inches of running water, under 4 inches of dirt and clay... and it was missing it's nickel plating and was curled back on itself, as thin as a human hair.


One thing that can be fooled on your detector is the Depth indicator.  Each of those downward pointing arrows will imply around two inches to the target if it is IN the ground.  The depth indicator will often be inaccurate.  It's the only thing on your detector that can be mislead by other factors around the target.


If you're messing around doing air tests the coils won't demonstrate how deep they really go when pressed against the ground.  Allow your detector coil to slide over the ground and lift it over large stones etc.  The manual suggests keeping the coil and inch off the ground but most people will tell you that this will cost you depth.


Use good batteries for the BEST results.  I recommend Duracell or Energizer batteries and believe it or not, I get about 40 hours of detecting time with a fresh set of Energizer batteries.  That's enough for a weekend's work but remember that speaker volume and excessive targets will result in more battery drain.


If you're sick of rubbish targets, feel free to use the detector in 'Coin & Relic' mode instead of 'Prospecting Mode'.  This will cut down on the response to mineralization in the ground but you will lose some sensitivity to tiny targets.  Otherwise, if using the very sensitive 6" DD coils, be sure to adjust your sensitivity to prevent a reaction to hot (mineralized) ironstone.


Try using your detector in ALL METAL mode.  Yes, it will react to iron and won't black it out via Discrimination... but you'll get a much deeper result from any of your coils.  And if you hit a Ferrous target that is iron and it's not too massive, you'll often also hear a chirp from any Non-ferrous target beneath it or nearby.  If you're in a high trash area with lots of iron, try doing this (turn your detector to All Metal) and use a smaller coil if available.  Use the larger coils for exploring at a faster pace.  Be sure to turn down sensitivity if you're responding to minerals in the ground instead of sharp targets.


Spend time with your detector and keep the manual handy when you first start out with it.  The detector does what it's supposed to do.


On the X-Terra 705, if you are in coin-mode you will find natural gold nuggets will show up (typically) between the numbers 4 and 14.  There can always be exceptions to this and I believe ironstone specimens will probably produce a different value.  And yet Gold coins (for example Gold Sovereigns and Half-Sovereigns) will be much higher up on the scale because they are minted with silver and possibly nickel - which give it a much higher value on the detector's conductivity range and on the LCD display.


If you choose to detect for gold nuggets in Coin Mode, the sensitivity will be less but your detector will appear more stable with less whiny noises. You will likely miss out on the tiny sub-gram nuggets with Coin Mode + 10x5" coil combos.  However, you'll soon notice that some targets in the ground tend to flicker their ID numbers.  So instead of getting the same number show up on the screen each time you swing your coil over it, the LCD Target ID will instead flicker and you may see multiple numbers.  This can mean the target is a mixture of differently conductive metals (eg set of keys) or you might be looking at a target that has been in the ground a while and is oxidizing.  If the numbers repeatedly indicate a MINUS number (eg -6 and -4) among the higher value numbers then you've almost certainly found an iron target that is rusting away and oxidizing.  If no Minus numbers are present but the numbers are very unstable (flickering with different values) then it might be an old 50's bottle opener made with aluminium etc.   You'll get used to it as you spend more time with your detector.


Be wary of sloped surfaces where minerals and salts may rise to the surface when rainwater trickles down at an angle.  It can on occasion result in a broad signal from many detectors, including the 705.  How do you know that it's not a metal target? The signal will NOT improve as you break the surface and begin to dig. The signal will be faint or loud and broad (large target implied) but NOT sharp and short.  If you encounter this kind of mineral buildup, you'll almost always be over a sloped surface where rainwater has drawn these minerals to the surface.  Just identify it as such and move on.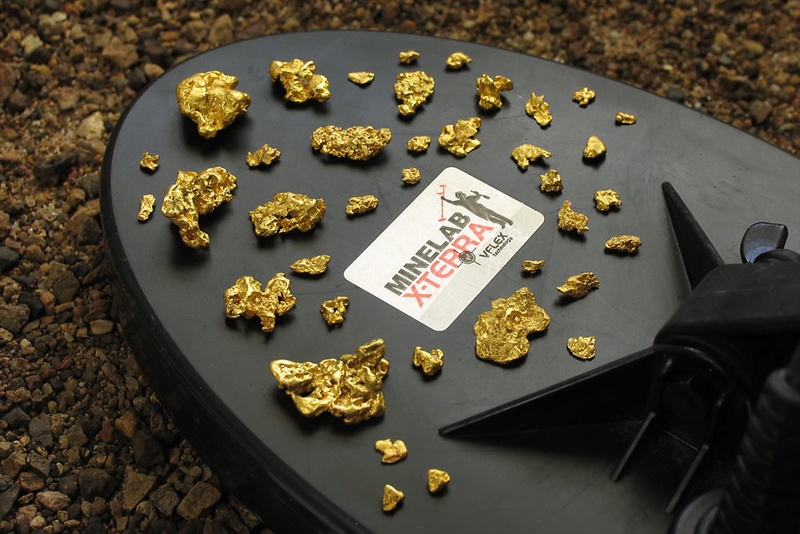 Found with my Minelab X-Terra 70 + 10x5" coil - with a lot of effort and pain (and a few injuries) - These are mostly larger bits of gold with flat features and larger surface areas - making them easier to find. I've since sold all these nuggets but they only totaled around an ounce or less. The largest nugget in this image is about 4 grams.
SUMMARY:
I feel the 705 is a good value detector.  For what it offers it's reasonably priced.  I think it's a little harder to get used to quickly if this is your very first detector. It's good that you can just pick it up and turn it on.  No detecting harness is needed and it breaks down easily for transport and can be packed into a backpack.  If you were hunting for gold exclusively, you might get a better result from more advanced models although the price creeps up a little for the latest machine - which would be the Gold Monster 1000.  And above this model the price jumps considerably but you do end up with a much more powerful detector. One of the first things I did when I got a GPX-4500 was to revisit places I had spent time on with the X-Terra 705 and in some cases there was gold deeper down that I simply couldn't reach with the 705.
Most people who just want to visit the goldfields occasionally aren't going to need to dive into a high-end Gold specialized detector.  Even with the more expensive models you can return home with no gold for your efforts.  Some members here claim they never go home without finding at least a few grams (using more powerful detectors) but I haven't always been that lucky.
I spent a LOT of time out there trying to find gold with the X-Terra 70 and I dug up an awful amount of rubbish.  Literally a couple of tons of scrap metal (if you don't count the buried car I found on Day 2).  If I was starting again with no detector I think I might be tempted to look at the SDC-2300 for a first detector for gold.  But the 705 is still excellent value and represents a solid "entry-level gold hunting detector" for the more serious enthusiast that still tends to outperform the US model detector brands - most of which suffer somewhat on our highly mineralized Australian soils.  It won't go too deep though with the standard coil and the smaller, more powerful 6" coil is too small to cover large areas with.  So I use both.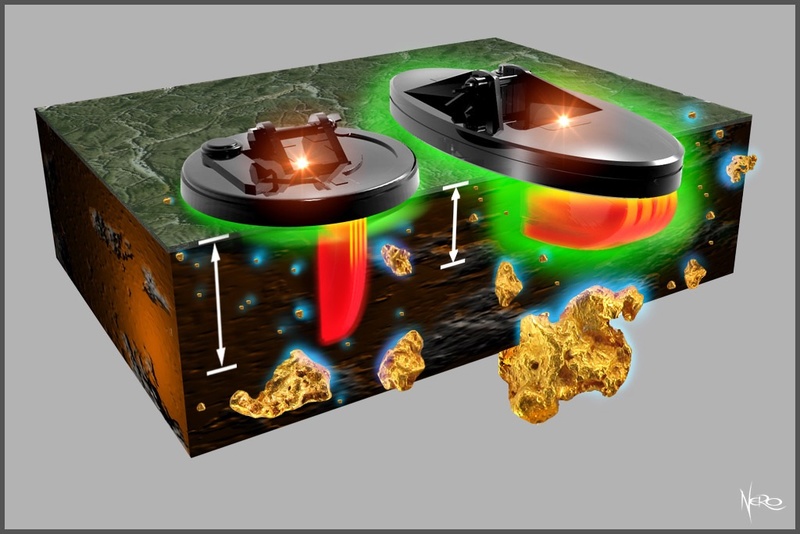 A visual comparison I made a long time ago showing the difference in depth and sensitivity to the two I was referring to above  On the left is the 6" DD High Frequency coil and on the right is the Standard 10x5" DD High Frequency Gold-search coil. The primary detection field is in Red and the secondary field (which can also react to a target) is in Green. I added a blue glow to indicate nugget responses to the two fields... not sure if it's clear enough or not. Apologies.
I had to work pretty hard to find the gold in these images.  I fell off the edge of a cliff and ended up clutching a cactus which had spines that scraped the bones on the inside of my fingers. Got bit by leeches wading across creeks in jeans and sneakers.  Stung by the Jumper Ants. Spent a lot of money in petrol.  But I found more gold by exploring places that were hard to reach (steep slopes etc) and were as far from roads and old pathways as I could get.  Whenever I visited places that were subjected to the Gold Rushes, there was a lot of old and new rubbish strewn about.  Especially iron. I've only been coin & relic detecting with this machine a few times (once on a beach and once in the Blue Mountains) and on both of those occasions I was wildly successful and found some heavy 18ct gold bracelets and chains on the same day near an old pier that was rotting away and covered in Pelicans. In fact, I'd say I found more man-made gold with my X-Terra 70 than gold nuggets.  One thing you'll discover is that it's tricky to find places where detectorists haven't been before... and yet many Pulse Induction detectors (especially those with larger coils) tend to miss the smaller nuggets which the VLF detectors like your 705 can more easily detect.  And there's always many more smaller nuggets than larger ones... so the VLF's always have a chance to find them.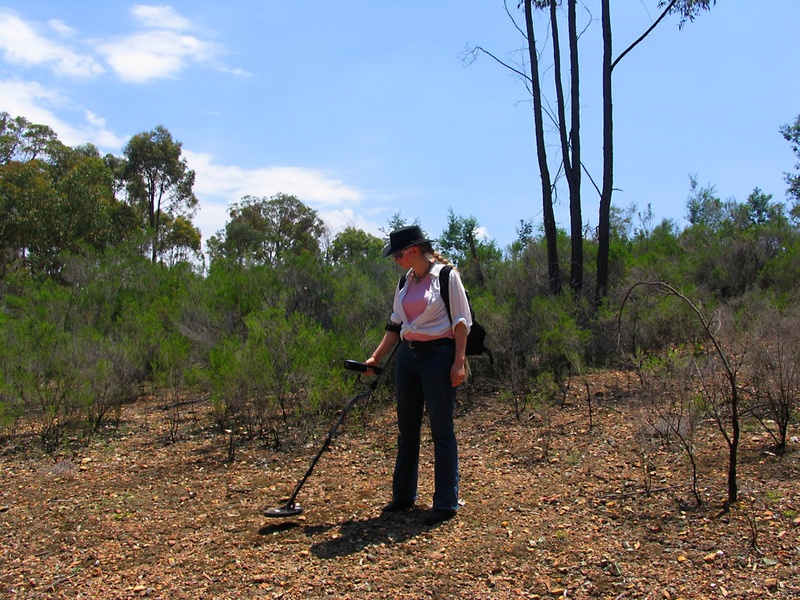 My wife using the X-Terra 70 for the first time - I asked her to hold still for the camera and she raised the coil WAY off the ground.  You'll want to keep the coils either hovering a cm above... or gently sliding on the ground for maximum depth.

nero_design

Contributor Plus





Number of posts

: 2079


Registration date :

2008-11-18



great post and very informative as usual Nero - thanks, also agree with Wayne's time proven formula also, have to assume since original poster hasn't responded that they're busy using the great info and advice and finding lot's of the yellow stuff....

4rd

Contributor Plus





Number of posts

: 202


Registration date :

2011-06-18



Hi Nero, it's good to see someone who takes a profesional attitude towards life. I think we could all benefit from your efforts here. This is pretty much the difinitve review on the 705.

Sparrowfart

Contributor Plus





Number of posts

: 564


Age

: 64


Registration date :

2010-08-14



Excellent review there Nero!, Sounds like you have certainly put in the time and effort. I've just picked up a Gold Monster 1000, and had a bit of success with it, but mainly i use this, with the smaller 5" coil to pinpoint with larger coils on the 5000. It saves digging large broad holes. I've yet to put it to the test on an area with small gold, but will keep some of your pointers in mind and adjust the techniques you apply, to the 1000 accordingly

GoldnQuartz

Contributor





Number of posts

: 46


Registration date :

2016-04-07



Damn good post there Nero. Thanks for the effort. I got a 705 a few years ago. The price was too good to say no & was virtually as new, still in the box. I have never used it.
 Have used the GM 1000 a lot & it loves the small stuff....and shotgun pellets
Good luck out there
JW

kiwijw

Contributor Plus





Number of posts

: 1886


Age

: 63


Registration date :

2010-09-02



---
Permissions in this forum:
You
cannot
reply to topics in this forum