My 20 yearr old 4 wdrive has noisy rattling "tappets", especially when going uphill in a high gear. What does this mean? doess it matter/
Hi Claimpeg,
Generally, this means your "tappets" may be out of adjustment or worn, or your getting low on oil. It means that your valves may not be fully opening or closing which will reduce operating power etc.
Yes, not good for a vehicle and generally easily fixed if not left too long.
Noisy tappets are also an indication the oil may be low as they will also get noisy if not lubricated properley.
Picture is a overhead cam version- # 40 is the cam. Pushrod style has cam below and uses a rod between the cam and the lifter. lifter is 50-56 arrangement.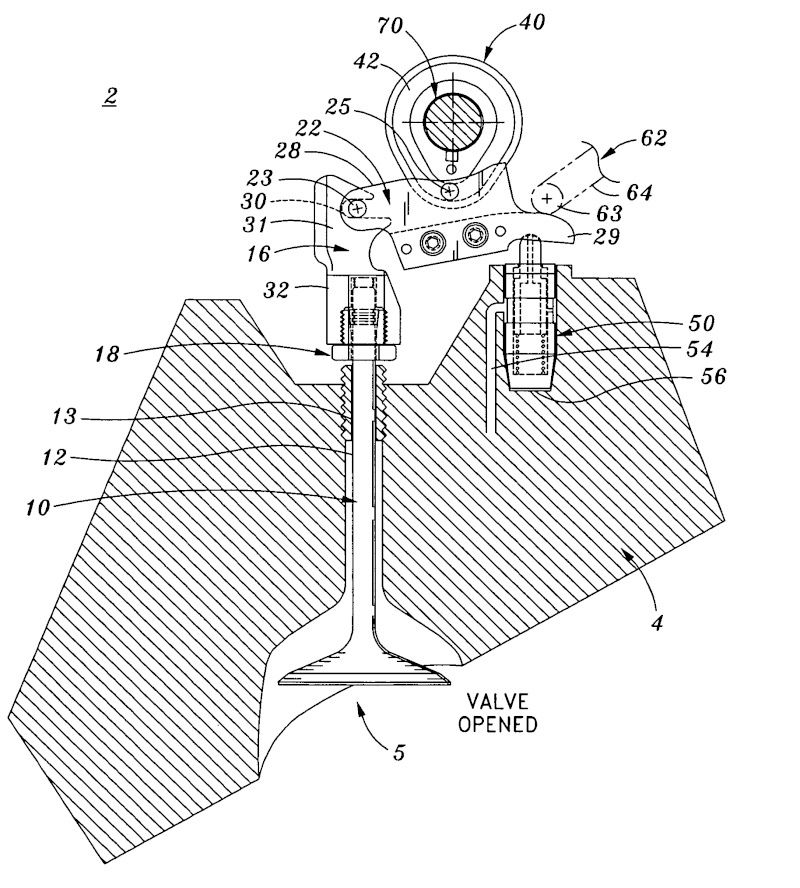 What vehicle have you got and what engine?
You would need to find out some details first to be able to work out how to do. IE, valve clearances. In a nutshell, you need to adjust the free distance between the moving part that pushes your valves open. The distance between these parts is what creating the tapping sounds.
(I hear rumour some lifters/ tappets are not manualy adjustable- these type may need to be replaced if they have run out of auto adjustment ?)
I can say from experience, a regular engine oil flush treatment and recommended oil changes are a must and will see tappet problems and associated problems are kept to a minimum.
Cheers, Ferris.
When you say going up a hill in high gear, are you talking say 4th or 5th gear?

If so, the noise your hearing is probably the bearings getting upset (more of a knocky/tappy sound but quick) and the solution is knock it back a gear so your in the proper power range again. If your in first or second gear, the problem is probably as above post.

The bearings thing i think is called dieseling or pinging/pinking- don't hold me to that though.

If its the bearings and knocking it back does no good and you still hear that noise, there is a good chance you engine is dying a slow death and will spin a bearing before to long.
It's always important to stay in the powerband area of the revs scale, otherwise the engine places undue pressure on bearings. As a general rule, it is better to have your engine revving higher than lower at certain times.
check the timing first its sounds like its pinging poor timing cheers buck

buck06

Seasoned Contributor





Number of posts

: 168


Registration date :

2009-01-14



Oh! I thought it was this kind of "Noisy Tappets" http://www.bing.com/videos/search?q=tap+dance&docid=87774396899&mid=0473325616106BDF9B510473325616106BDF9B51&FORM=VIRE3#
Regards Johnny
thnks for info.....ill get it tuned and see whatt happens/
If you believe the rumours, you could throw a bottle of Wynns Tune Up in it. That is bound to fix all your mechanical adjustments needed... if symptoms persist....
i bought an old range rover that was running crap .
with the rocker covers off it was easy to see that more than half the oil delivery holes were not oozing oil over the rockers , a friend told me to put a ltr of diesol into the oil and run it , after a few mins and a few very small revs all the oiling points cleared . then it's just a case of an oil change straight away and another oil change in a month or two .
i found this to have no bad effects to the rangie and fixed the issue .

fcltd

New Poster





Number of posts

: 19


Registration date :

2009-05-13



Similar topics
---
Permissions in this forum:
You
cannot
reply to topics in this forum