Page 2 of 2 •
1, 2
Deedee I have no gripes whatsoever with the guy ! He may be a top bloke ! I dunno I have never met him but when ya make sweeping statements !!!!!! Lol! 
Someday has put up a great little addition to the top box !! A little retainer to hold back the first flush of fines with wash shovel full ! Also I see your sluice has no slick plates at all! Not the way I build my sluices !  But there is a wealth of posts in here about all aspects of building a banjo so I won't go into the details again . 
Also the removable tray is a great part of the system , you can shovel test a spot( 10 to 20 shovels) and without Turing off or upsetting your bottom end of your sluice you can take out the catch tray and pan it off to see what the spot is actually giving you . 
As I said I don't have a grip with the person and I would love to catch up with him and compare notes over a cold one ! 
deedee-1 wrote:

 

oh

  your a funny bloke ark what system and will i be ok with it is it any good i was afraid of this  

 oh no Ive been trying not to show advertising that's on it for a reason i don't know the history of the bloke that sold it to me he seems like a good bloke though i got it second hand a couple of months ago i don't want to go down that path and if any one has any qualms with him pls leave me out of it im just a bloke that brought it second hand i don't make any statements that this is better or that is better i just want to get my machine running good on that note thanks a lot mate i really do appreciate any suggestions you do give NOW THAT'S THE KIND OF GOLD YOU WANT lol you done well there i know its all about the effort and research and that but that's what im hoping to build towards getting see i only get dribs and drabs is that because of my machine or matting or just do i have to be in the wright spot what i mean is if it is catching the smaller stuf would it be logical that anything bigger would be right beside it ?? i don't know and yea i get a decent amount of cons for so little gold so you see my problem ahh
cool ark im not sure just sounded like maybe some were not impressed hope i can get it to the point where i am doing alright and am not losing or missing gold im just trying to get the best out what i have to work with i will read whats post i need to in regards to building the bar and what not but see as you would know my setup is different and was just not sure what was applicable to my setup as you said just try different things thanks ark i only just meet old mate a few months ago but hey he seems clicked on and i would listen to everyones opinion  and then form my own so it helps to hear from a different perspective see i didn't know it was a gold/gem machine buts thanks to all cheers deedee-1
Hey Ark that little strip does work well ay!
the small amount of water that will go over from time to time quickly gets gobbled up at the very back where the holes are, the occasional flake too  
angles?? I'm runnen about inch'n a quarter per foot, had it 2" when I was tryen out different cloth under the riffles
hang on hang on, what's the point of doing that if it's not how you gonna actually run it when in proper go mode
and remember! note to ones self? Don't release the riffles to do a test clean up with the old girl runnen when ya got cloth under the riffles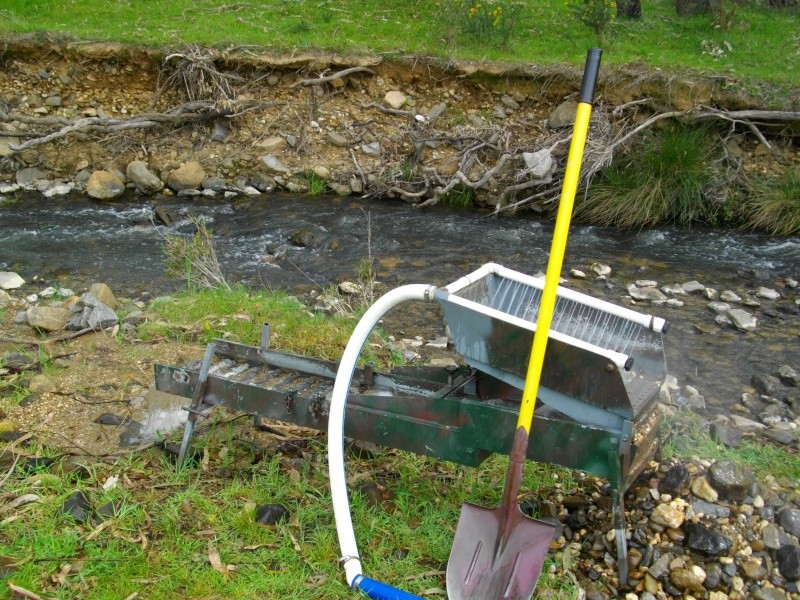 someday

Contributor Plus





Number of posts

: 1583


Age

: 57


Registration date :

2012-11-06



Deedee it will certainly not loose gold as long as you don't bog it ! Then like any sluice the fine gold will skip across the top and out the end of the sluice ! 
Now if you want to check if you are loosing any gold place a pan at the end of the sluice and put maybe 5 shovel full through the unit and then check the pan !!! Do not leave the pan there all say or for an hour or whatever ! Why ?  I refer you back to my opening sentence ! The pan has bogged and the fine gold will skip on its way! 
Many a day I have shovelled the tailings down from the pan and shown the guy the gold he was loosing, but he told me at lunch time he wasn't loosing any gold because he had a pan at the end of his sluice and that would show Him if he was loosing !
Last edited by Ark on Sat Nov 09, 2013 1:27 pm; edited 1 time in total (Reason for editing : Spelling correct)
 Someday mate you crack me up !!
  missed the bugger

someday

Contributor Plus





Number of posts

: 1583


Age

: 57


Registration date :

2012-11-06



and it is important to keep tryen
Just some of the extraneous giblets! pretty sure I can add to it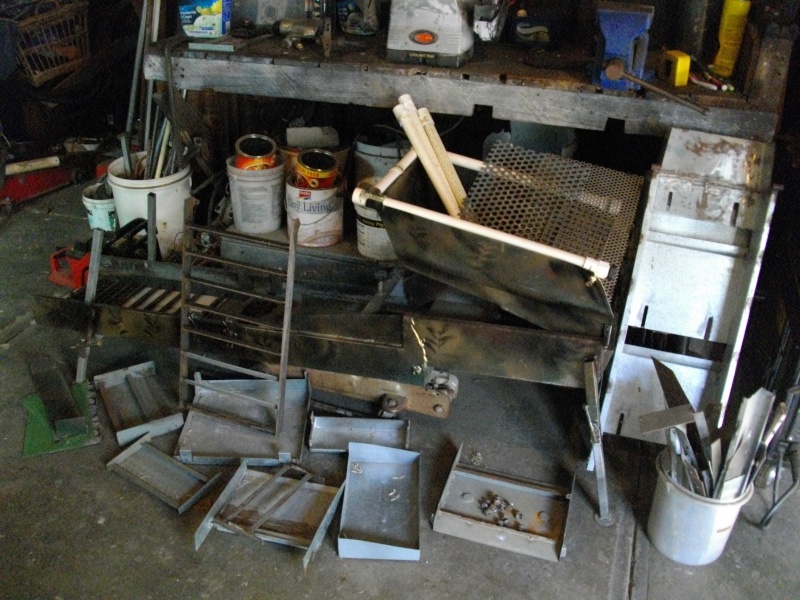 someday

Contributor Plus





Number of posts

: 1583


Age

: 57


Registration date :

2012-11-06



someday wrote:and it is important to keep tryen

 

Just some of the extraneous giblets! pretty sure I can add to it  

 
Hey Someday!!!!!!!!!!!!!!
Tisk tisk tisk, how many times have I told ya STOP changing ya Sluice man I can't keep with copying, now go back in the house & chat with the missus, they like it when ya listen (That should keep him busy).
It looks like the "Someday sluice conversion kit " man.

rc62burke

Contributor Plus





Number of posts

: 2084


Age

: 47


Registration date :

2009-03-05



Yeah sorry about that Lee
the amount of different style riffles I've knocked up
at one point I was usen 110mm spacens, den 75 den 65 de 50 den 44 oo 44
  they did go got get alot shrunken!
If it weren't for the supper fines I can recover I'd shrink me sluice! Now about those nano gold particles
Just realized
 dis has got nutten to do with spraybars

someday

Contributor Plus





Number of posts

: 1583


Age

: 57


Registration date :

2012-11-06



someday wrote:Lee, that would have made me cry if I saw ya unedited post  

 

Deedee, stick with the banjo link, she's a gooden  

 

and like Lee said, a screen for the pickup is a must must must must have!
The suction ought to be as short as could reasonably be expected and the lay level either 11/2 to 2 inch (40 to 50 mm) it won't influence the siphon yet would i be able to state that I discover anything over 2.5 hp a misuse of petroleum and on the off chance that you are utilizing over a 5 hp siphon in a few regions the officers don't care for it ! In any case, I don't have the foggiest idea about the circumstance that you are prospecting in so I mention those objective facts reservedly!
So as to battle the Victorian dirts the banjo utilizes a blend of 1.6 to 2.0 mm openings to punch gaps in the mud and afterward places it into suspension and afterward down your floodgate !
This functions admirably on the pickup !

lbachir2001

New Poster





Number of posts

: 2


Registration date :

2019-01-17



Page 2 of 2 •
1, 2
---
Permissions in this forum:
You
cannot
reply to topics in this forum