Just read the article in the latest AGGT mag and now i have lost faith in the place called nundle....... Qver the last yr or so i have been keen and got the itch to try and researched and bought 500 bucks worth of au mackirk sluices and pans and even a ace 350 just for giggles. I am in the Newcastle area and that was going to be my prime spot... close for me at 4 hrs away and now that nundle guy has totally screwed the whole town over with the help of some greenies lol. Think of it this way Nundle guy.. I have a good family and we were heading up to the park for fun in a couple of weeks and now we are going to the damn coast cause you cant even sluice near the park where the river is..... MONEY IS NOW BEING SPENT ELSEWHERE BUT NOT IN YOUR TOWN!!!!! Anyone want to buy a sluice?????

mr-comfy

Contributor





Number of posts

: 39


Registration date :

2012-01-26



G'day Mr-Comfy

I don't get AGGT so do tell more? I haven't been to Nundle for a few months but last time I was there the nice lady at the info centre had maps showing where to fossicking and where high bankers were and weren't allowed. I've never had a problem there and was heading there with my young fellas next week.
What's changed?

Cheers

Chimpy

Chimpy

Good Contributor





Number of posts

: 90


Registration date :

2011-07-10



I too read the GG&T article, but i wonder how old the story is?
I have been told that the Nundle guy is no longer around, and people who have been there recently seemed to have no troubles with highbanking or prospecting.
Have not made it there yet but plan to soon.
Hi Chimpy,
In the article it tells of how when going to Nundle now they have signs up all over the place talking about protecting the endangered species and signs saying we cant even disturb the soil on the bank of the river or move a rock. They even discourage you from panning in the river behind the park. Was going up there in a few weeks just to learn the basics but now it is not worth it by the author.

mr-comfy

Contributor





Number of posts

: 39


Registration date :

2012-01-26



If you are abiding by the NSW rules regarding prospecting no one can tell you where you can or cant fossick (and i mean following the rules to a T) to do such is depravtion of rights to which you are legally entitled to and could be subjuct to legal action on those trying to stop you

Show Me The Gold

Contributor Plus





Number of posts

: 288


Age

: 36


Registration date :

2012-07-23



You could call the information centre to see if it's true. They would know more than anyone else.

danielkrupski

New Poster





Number of posts

: 9


Registration date :

2012-03-19



Well, we spent a few weeks in Nundle over Xmas / new year and we did hear a lot of stories and we met a lot of people. One guy had the cop turn up coz somebody saw him using an electric pump and sluice the day before we got there.
As for my good self, I got a lot of info from the Information centre (daaa) and found everybody rather helpful. I did dig a hell of a hole in the (then dry)creekbed that runs through the Caravan Park, with some success. 12.5g of flakes and even a 0.8g Nugget on day 2.
So we will be back there at some stage and I can only reccommend the Caravan park, veeeery nice there.

Bruno Gehrig

New Poster





Number of posts

: 6


Age

: 59


Registration date :

2013-02-24



Has anyone had any recent experiance at Nundle. This page, http://www.resourcesandenergy.nsw.gov.a … undle-gold has a link to PrimeFact 561, a PDF document which provides an interesting, detailed, but understandable history and geological desciption of the Nundle area goldfield. Interesting to note that the field has yielded 8t of alluvial gold and 2t of reef gold.

OZDigger1

New Poster





Number of posts

: 9


Registration date :

2013-09-02



I camped a couple of Kms out of Nundle at the Swamp Creek camping ground and did a bit of panning and sluicing there. It was quiet and pleasant and the locals were friendly. However, I was completely new to the game when I went there and I failed to come home with any of that nice yeller shiny stuff.
The Nundle Hotel also has some pretty good pub grub, and there's a small local supermarket.
That's my little pop-up tent amongst the caravans. A nice bunch of people, including several seasoned fossickers.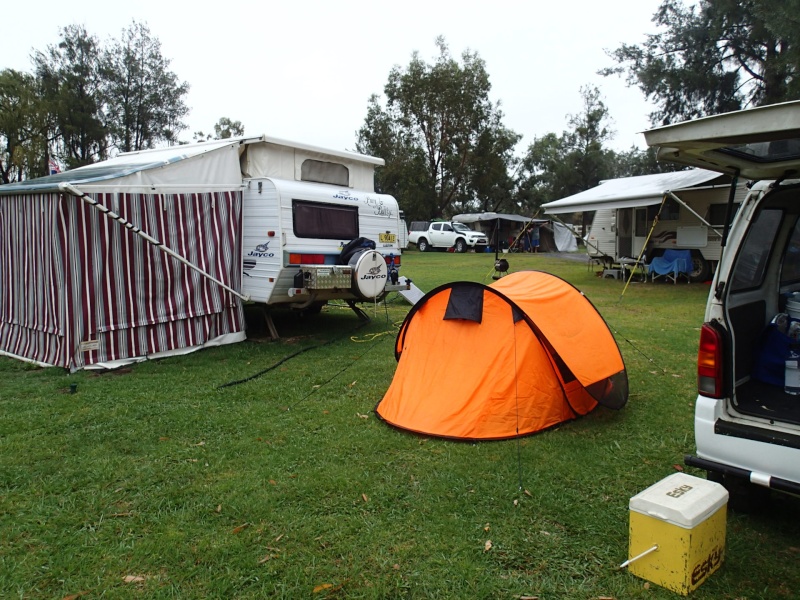 I even managed to leave some of my expensive gear up one of the forest trails. I'd been given a lift in someone else's 4WD and walked up a trail to pan and fossick. The friend brought the vehicle up the hill later, and I jumped in for the ride back to camp. Sadly, I had accidentally left a green cotton bag with a ML X-terra 705 coil, a set of headphones and a GPS in the bag. I didn't realise I'd lost the stuff until after I left.
I afraid I am getting awfully forgetul in my old age! If I get distracted then I am lost. :-(

gedanate

New Poster





Number of posts

: 12


Registration date :

2015-05-20



Gday David
                If you haven't already done so, give Ken a call at the Nundle police station on 0267693344 and tell him about your lost bag, you never know, someone may hand it in one day.
cheers
Bol

Bol

Contributor





Number of posts

: 35


Registration date :

2012-09-07



Thanks, Bol. I want to get hold of a 4WD and drive back to that spot. The bag was green, it could well have been overlooked in the underbrush. There was heaps of ground cover there. Kind of doing penance for my stupidity. :-)

gedanate

New Poster





Number of posts

: 12


Registration date :

2015-05-20



I have been informed that this information could be out of date and it may be best to check with the Nundle Information on 02-6769-3026

CostasDee

Management




Number of posts

: 3971


Registration date :

2010-11-23



---
Permissions in this forum:
You
cannot
reply to topics in this forum