Gday all.Having some trouble posting a picture on the forum.I've been following Stoppsy's You Tube but after I've selected the image and then hit 'Host' nothing happens.I'm supposed to see three bars with urls but absolutely nothig happens upon hitting Host.Any idea what's wrong? My OS is Windows 7.... Thanks,Trev.

goldendream

Contributor Plus





Number of posts

: 212


Age

: 61


Registration date :

2010-10-08



try this site
http://imageshack.us/
click on the little blue writing that says " Can`t upload? Try this."
browse your computer , double click on the image you want to upload, click "upload now".
right click on "forum code", copy and paste into your message
done
dont even have to register with them
cheers dave
Last edited by phoenix on Thu Nov 03, 2011 9:55 am; edited 1 time in total
G'day goldendream
Here are a few more hint on posting pictures on the forum.
Choose the button that says "Host an image" then click browse and select the picture from you own computer and click on "Open", then on the "Host it" and then click on lthe copy at the end and then right click somewhere in your post that yu want it to appear and "paste it"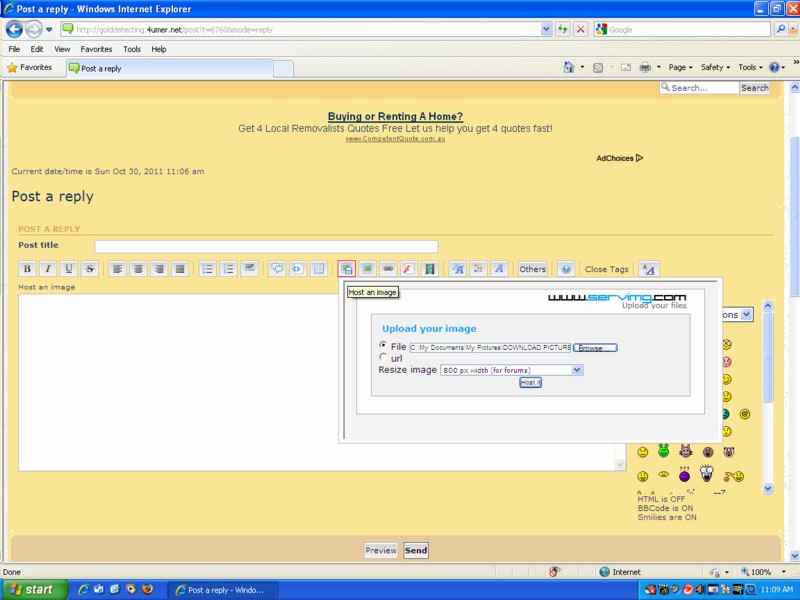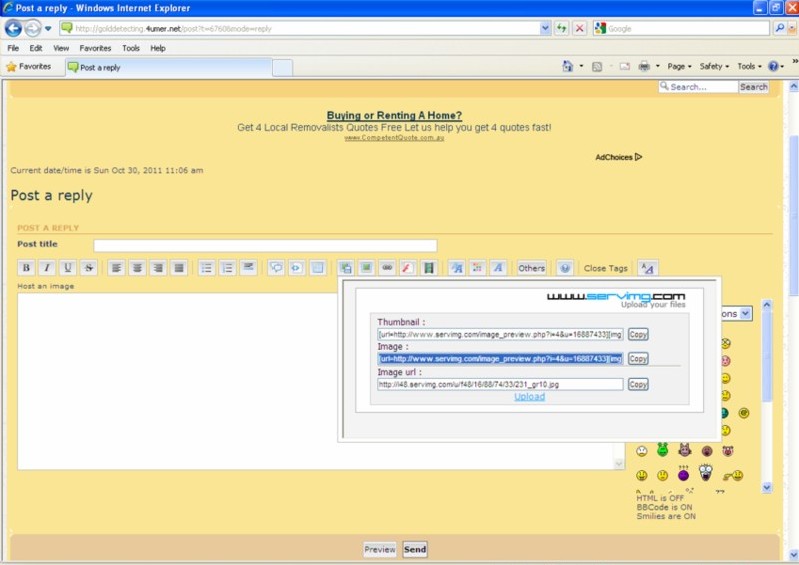 Here is a hint, On a standard computer key board, CTRL (control) C is copy and CTRL (control) V is paste. hope this helps
so once you highlight the link like davesgold did above click on copy, then just do a CTRL V and it will paste the link. hit preview to see if you like the page before you click send.
Thanks guys for the suggestions.Just got home from work so am a bit tired,but I will look further into the problem later after a good rest.Cheers muchly,Trev.

goldendream

Contributor Plus





Number of posts

: 212


Age

: 61


Registration date :

2010-10-08



Hi Goldendream,
To post an image to the forum it needs to have a TAG placed before and after it, the tag for a photo is IMG and its included in opening and closing square brackets. The one after the photo link is called the closing tag and it is preceeded by a forward slash after its opening square bracket. Dont worry too much about this as the IMG tags can be generated for you as I will explain below.
I use Photobucket to host my pictures rather than uploading these directly to the forum.
You simply go to their website and create yourself a free account.
The link is here:
https://www.photobucket.com/
This site is particularly good if you have a lot of photos that you want to put up on the forum in one hit, for example photos of any trips you make to the goldfields. Rather than add all these IMG tags by had I will show you a way to get them generated for you.
You can create photo albums and upload pictures directly to the album. You can control the privacy settings on these albums also but I usually leave mine as public.
Once uploaded you can then use the checkbox at the top to select all and then I usually just select "Generate image links for selected photos".
You can also select individual photos in an album and it will show you just the code for that photo, to use it again just select it, the code shows up on a separate little box to the right of the photo.
In either case this will generate the code you need for uploading to this forum. To use the code it generates just click on it and it will turn blue and then be copied to your windows clipboard.
You can then just paste the code directly into your forum post.
Hope this helps.
Regards,
Grant

gcause

Contributor Plus





Number of posts

: 276


Age

: 54


Registration date :

2011-09-15



Thanks for the info Grant.As it happens I already have a Photobucket account and have posted a url link to one of my photos in the past on this forum.I guess it this stage I'm more focussed on trying to paste an image using the forum's host method.Am currently still experimenting with the previous suggestions.Cheers,Trev.

goldendream

Contributor Plus





Number of posts

: 212


Age

: 61


Registration date :

2010-10-08




Brettimlovinggold




Number of posts

: 1


Registration date :

2014-03-24



---
Permissions in this forum:
You
cannot
reply to topics in this forum