Sand scoops are a hell of a price to buy for some reason?
I just got 4 good quality scoops off ebay for around $25 with postage, I drilled holes in one to make a sand scoop.

http://www.ebay.com.au/itm/280663190255

Brickie

Contributor Plus





Number of posts

: 292


Age

: 65


Registration date :

2011-08-05



i have a bought scoop. Hell of a price? maybe, but work extremely well. No bending over to scoop either if you have one with a long handle which makes working in the water so much easier. The scoops are a bit heavy but thats needed incase you drop it, lol. At least they dont float/wash away. And working under the waterline the sand is a lot more compact and hard but the scoops just cut into the ground with ease and its a bonus being able to use your foot to stand on it to push it through, which your not able to do with a plastic one.
You have done well putting holes in a plastic scoop though and for using it above the water line or sands that arent too compact, should be great for you
Good luck

TheH0ward

Contributor Plus





Number of posts

: 842


Age

: 47


Registration date :

2010-08-05



Forget about plastic scoops , they take too much energy to push into the sand. The best is thin stainless steel with thin stainless mesh, say 10 m.m. The time taken to recover a coin on the beach is very important . If you waste 10 mins. to find a 5 cent coin Then it it is unlikely that you will find enough to make you happy. I always have a smile when I see somebody detecting on the beach but in the last 12 months only 20 people have sat in that area. If I get $10 per hour on the beach , I think that is fair enough. Most times it is less than that .....

Minermike

Contributor Plus





Number of posts

: 1570


Age

: 76


Registration date :

2011-07-25



Gday

A good sand scoop makes the job a lot easier thats for sure, I have a steel one bought from the detector shop, and its heavy and quite clumsy so I decided to get a better one, these ones are aluminium and are lightweight and I had one before but sold it with the detector, its the best scoop I have used at the beach and works well when you get into the hard packed sand as well, it can be pushed forward in the dry sand quite easily or if you hold it with the mouth facing you it is really good for digging a big hole by dragging it back towards you.

I also sharpened the front edge of my last one with a file and removed the plastic handgrip and replaced it with a minelab rubber handgrip, made it more comfortable to use and easier to grip.

It would be easy enough to make up some sort of attaching handle as well for use in the water too, and when this one arrives I will do just that, I bought it from a seller in the US as I did the last one, its not cheap and worked out about $56 inc postage, but at the end of the day you get what you pay for I guess.

http://www.ebay.com.au/itm/370563036748?ssPageName=STRK:MEWNX:IT&_trksid=p3984.m1439.l2649

cheers

stayyerAU
Last edited by stayyerAU on Tue Jan 31, 2012 8:34 am; edited 1 time in total (Reason for editing : alter price paid, and add further information)
Simple to make & cheap solution for dry sand.
hi all just made this taking out tomorrow for test run
steve
Hi gold digger, Can I suggest you bolt on a footrest on the back of the scoop to make pushing into the sand easier.

slimpickens

Contributor Plus





Number of posts

: 3679


Registration date :

2010-08-04



hi all i made a realy heavy duty spade and sand scoop combined, it is extremly durable and made by cyclone tools, you can buy one from bunnings just look in the garden tools section, they come in a variety of colours but mine was green, maybee bunnings only carry that colour ???. Any way cost approximatly $45 when you buy it it is extremly wide in the front being a large muck shovel that is remedied once you get it home. Ok home we go with our prize, first thing is to grab a n a4 sheet of paper, and lay it on one side of the mouth of the shovel hold it down in place with a couple of bits of sticky tape, then draw the shape you want your sand spade strainer to be .i suggest a nice rounded shape coming to a nice point,then take the paper of cut it to your shape then place back on shovel with couple bits of tape and draw round it with a black marker take the paper of turn it over and pop it on the other side of the shovel and draw round it with the marker pen, then take off the paper you now should have a nice equel sided spade shape in black marker.now comes the harder bit cutting it into shape, i used my renovater, but an angle grinder or jigsaw will do if you are carefull. Once its cut to shape grab a file and file it smooth. Ok now you have a nice big spade ,you now need to drill about fitty to sixty holes of about half inch or three eigths, be careful as it can be cracked if the drill jams, maybee use a quarter inch drill first the redrill to larger size. I was impatient and went to the big size, and yes got a couple of cracks. I fixed those by heating a knife red hot on the gas stove and ran it over the crack fixed it nicely. Ok there it is all finished a nice big beach spade with inbuilt strainer. And you hold the spade by one hand dragging it along behind you while detecting leaves a nice trail for you to follow on the way up and down the beach.it digs extremly well, having provision to put your feet on the raised back edge, i dug lots of nice deep holes effortlessly, down to the deep targets, and it sieved well. Also it makes a wicked self defense tool as it is very string and pointy. If you wallopped some harrassing hooligan attacking you, he would be nicely knocken into the sand about 3 feet like a fence post lol. Ready for the police to collect ha ha. Ok hope this helps you guys because it sure is a great digging tool and all h/ duty plastic.regards krakenup. Ken.

krakenup

Good Contributor





Number of posts

: 86


Registration date :

2014-04-27



Hi
represent a new model Stavr scoop EVROEXCAVATOR-2 v.33
Designed especially for water and surf. Ground conditions: coarse sand, pebbles, broken shell. Good in dry sand as well. Reinforced blade and sharp design.
Height 290mm (11.42'')
Hole 12.7 mm (1/2" )+ 9mm (3/8")
stainless steel 2mm (14 gauge)
Weight 1.15kg (2.55 lb),
Width 204mm (8"),Depth 120mm ( 4.7")
http://stavrscoop.com/en/21-sand-scoop-evroexcavator-v5.html
http://www.ebay.com/sch/stavr-scoop/m.html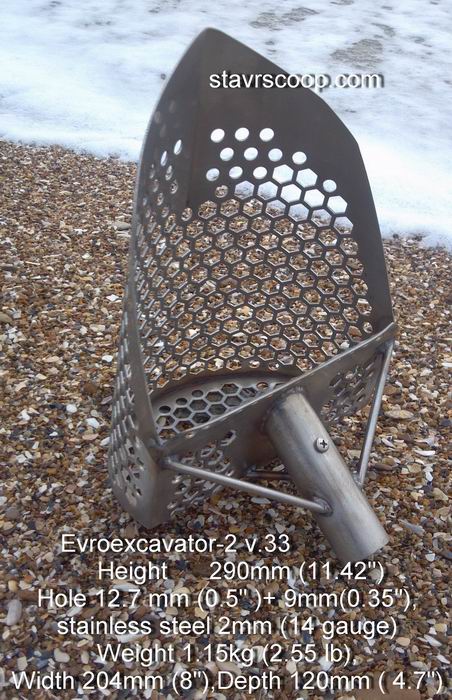 stavrscoop

New Poster





Number of posts

: 3


Registration date :

2012-06-13



That's the one I got, great piece of kit.

Mike70




Number of posts

: 1


Age

: 76


Registration date :

2015-07-09



Stavr scoop updated site (on OpenCart) https://stavrscoop.com
is in stock 5 models of scoops and carbon fiber handle 32 mm  available.
sand scoop: MONSTRIK-9 , EVROEXCAVATOR-2 V.22 , EVROEXCAVATOR-2 V.33 , EVROEXCAVATOR-3 V.30 , MONSTRIK-6
& Stavr Carbon Fiber travel handle 32 mm ( 1 1/4 ")


stavrscoop

New Poster





Number of posts

: 3


Registration date :

2012-06-13



---
Permissions in this forum:
You
cannot
reply to topics in this forum