+4
mbasko
flyspecks
Sharkbait
nero_design
8 posters
History stands corrected: Smith, not Hargraves, first to discover gold in NSW
By Julie Power
September 3, 2020 — 11.58pm
For 170 years all that remained of mineralogist William Tipple Smith was a quartz gold sample, an unmarked grave and a reputation as the fraud who claimed to have discovered payable gold before Edward Hargraves.
On Thursday the history that most Australian schoolchildren learnt about events leading to the NSW gold rush in 1851 was corrected.
An anonymous grave, previously known only as number 4929, section four, Rookwood Cemetery, was marked for the first time. It now reads: "William Tipple Smith, 1803-1852, Mineralogist, discoverer of Australia's first payable gold and co-founder of Australia's iron and steel industry."
A commemorative plaque also details Smith's contribution to Australian history, ending a decades-long fight by his descendants to correct the record.
"A wrong perpetrated by a corrupt colonial administration in 1851 has been put to rights by its successor, the NSW government, almost 170 years later," was how his descendant and author Lynette Silver summed it up.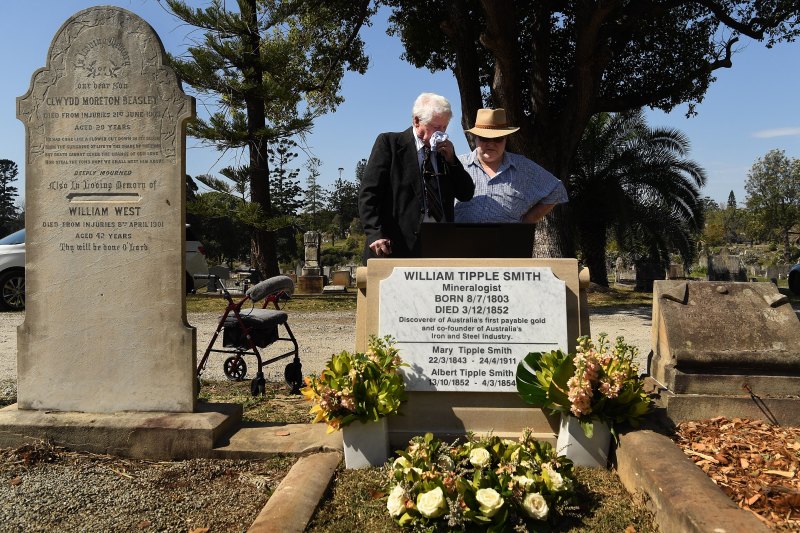 Bill Hamburger, left, the great-great-grandson of William Tipple Smith, stands at Smith's grave in Rookwood Cemetery during the unveiling of a new headstone and plaque on Thursday.
Ms Silver found missing documents that proved Smith had sent gold nuggets to England and letters detailing his claims that in 1848 he had found a payable goldfield near Yorkeys Corner. Missing for decades, the letters had been filed under "M" for Sir Roderick Murchison (a prominent British geologist who encouraged Smith) instead of "S" for Smith.
Three years later in February 1851, Hargraves heard there might be gold in the hills west of the Blue Mountains. He only found a few specks, but that didn't stop him from boasting of it to the Colonial Secretary and asking for a reward.
Hargraves returned to look for more gold, helped by men who had been told where Smith had found gold. When one of the men relieved himself in a creek near Yorkeys Corner, Ms Silver said, something sparkled – and he found a gold nugget. After Hargraves had claimed credit and boasted miners would find nuggets as "big as your boot", thousands rushed to the goldfields.
Hargraves received a £12,000 reward from the government while Smith's life ended in poverty and misfortune. He had lost the use of his right arm before migrating to Australia; Ms Silver said a stroke then affected his left arm and speech, making it difficult to pursue his claim.
Smith had emigrated to Australia from Suffolk in 1835. In 1847, he went looking for gold on the western side of the Blue Mountains and he found it the following year. That same year he and partners produced Australia's first iron and steel at Mittagong. His company would later become BHP.
Well before Hargraves made his discovery, Smith had visited NSW's colonial secretary in early 1849 carrying a gold nugget as proof, and promising to reveal the location in return for £500 to cover his costs.
Bill Hamburger (centre) the great-great-grandson of William Tipple Smith unveiling a new headstone in Rookwood Cemetery.
Nothing happened, though the colonial secretary later attempted to find the gold himself and buy the land.
Smith again appealed to the government to acknowledge his claim but was branded a liar. Ms Silver said "the pesky mineralogist presented them with a problem. The colonial secretary and the governor knew he was first to find gold, but they had come under criticism for losing millions in government revenue for failing to control the mineral rights."
At Thursday's ceremony, NSW's Minister for Local Government Shelley Hancock said that when she first heard about Smith she thought it couldn't be true. A former history teacher, Ms Hancock said she had taught about Hargraves in schools.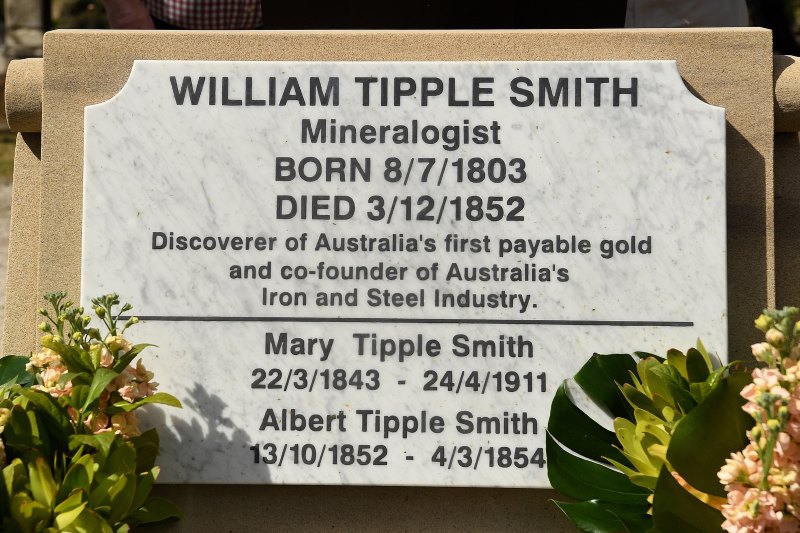 The new headstone of William Tipple Smith at his grave in Rookwood Cemetery.
Convinced by Smith's descendant, Bill Hamburger, 91, of Sussex Inlet, Ms Hancock realised it had been "an outrage by a government" and had worked to "right the wrongs of the past".
The new headstone, costing $11,250, was funded by private donations, the NSW government, Rookwood and Bluescope Steel.
Smith's great-great-grandson, Mr Hamburger, was moved to tears by Thursday's ceremony.
"When I was attending primary school, my grandmother said if they try and tell you Hargraves was the first to discover gold, you tell 'em the truth."
Smith died from a third and final stroke on December 3, 1852, four days after learning that his appeal for justice had failed, Ms Silver said. He was survived by his widow and seven children.

https://www.smh.com.au/national/history-stands-corrected-smith-not-hargraves-first-to-discover-gold-in-nsw-20200902-p55rtr.html

nero_design

Contributor Plus





Number of posts

: 2070


Registration date :

2008-11-18



geof_junk, granite2, goldquest, 4rd, Claychipper, xmas tree, Mike54 and moredeep like this post
Great post Nero..incredible how history gets "altered" down through the years
Great to see recognition where its due

Sharkbait

Contributor Plus





Number of posts

: 896


Age

: 66


Registration date :

2013-03-07



Top post nero  

flyspecks

Contributor Plus





Number of posts

: 988


Registration date :

2011-05-17



The first gold discoverers were shepherds, surveyors and clergymen. As early as 1823, surveyor James McBrien noticed gold particles by the Fish River east of Bathurst.

Shepherds searching for grazing lands travelled westwards over the Blue Mountains and moved onto land which revealed gold-bearing quartz reefs.

An ex-convict and shepherd named McGregor found many pieces of gold in the Wellington region and chipped parts off to take to Sydney where it was displayed in jewellery shop windows.

However it wasn't until the 1840s that gold exploration was seriously discussed by geologists such as the Reverend William Branwhite Clarke. Anglican clergyman and geologist, Rev. Clarke was principal at the King's School,  Parramatta and later the rector at St Thomas', North Sydney. His passion was geology and in 1841, while exploring the Blue Mountains for fossils, he examined granite slabs near Hartley and discovered particles of gold. 

"Clarke wrote that the country would be found 'abundantly rich in gold'. He continued to collect specimens and in April 1844 he informed Governor Gipps of his finds and later claimed that the governor directed him to 'Put it away, Mr. Clarke, or we shall all have our throats cut'."

The ruling elite feared that a predominantly convict population striking it rich would lead to greater crimes or result in a convict rebellion brought on by greed for gold.

A gold rush in the bush, away from the main population centre could upset the status quo of the ordered convict society.



Source: State Library of NSW

mbasko

Contributor





Number of posts

: 75


Registration date :

2017-05-14



granite2 and 4rd like this post
Thomas Chapman from Pentonville in England stole goods from his father and was sentenced to deportation to the colony of Victoria. He was just twenty years of age but seemingly well educated as he could read and write and was not the slow-witted dullard some later portrayed him. On arrival at Williamstown on 9 November 1846 he was granted a conditional pardon and began work as a servant to a Mr. Coghill of the 'Lodden', on a wage of £20 a year. Chapman then worked as a carpenter for some time before going to work as a shepherd to Charles Browning Hall and Edmund McNeill of the Glen Mona run in Victoria. It seems strange that an educated young man who had valuable carpentering skills and some education found himself working as a shepherd when any laborer could have filled such a position but no explanation has been found for this curious situation.
In late 1847 Thomas Chapman gathered 23 ounces of gold nuggets in a creek bed while tending his sheep. The gold had been in the creek below a low hill called Daisy Hill, probably because of the white native daisies that grew there. This was not an unusual event as many shepherds and stockmen were amateur prospectors and spent much of their long days alone searching for gold and other elements. Word was passed from shepherd to shepherd and district-to-district of what to look for and what to do with it when you found it. In those days the government was desperate to keep any gold finds quiet otherwise all labour in the colony would dash off to search for an easy fortune. Should that happen they were worried the pastoral industry that up until then had supported the colony would collapse. That many in the government owned large pastoral leases no doubt added extra urgency to the situation. Because of this any convict, or those working while serving out their sentence, who reported finding gold would be soundly thrashed and the gold reported as being stolen sovereigns or jewellery that had been melted down. The poor devil that had found the gold would then be charged with theft and sentenced to prison for a lengthy term. But despite this horrific punishment there was a small secret trade in gold that had been going on for years. Sympathetic Jewelers would sometimes buy small amounts of gold, their names passed around by word of mouth amongst the prospecting shepherds.

To Thomas Chapman, 23 ounces of gold represented a large amount of money. His annual wage was just twenty pounds and here he was with gold to the value of Sixty pounds, or three years wages. Eventually the temptation became too much and he traveled to Melbourne to sell his finds to jewelers known to be discreet buyers of gold, Duschene and Brentani of Collins Street Melbourne.

Previous gold finds presented to buyers had been in the vicinity of a few pennyweights at a time gathered sometimes over years but here was a large amount of gold in one parcel found by one person. Duschene and Brentani could not keep the secret of the gold for very long and the exciting news soon became known to the newspapers. Not only was the find reported to the newspapers but the gold itself was placed in the window of the newspaper for exhibition. The sight of so much gleaming gold fired the imagination and greed of everyone who gazed upon it. The results were predictable; Australia's first gold rush was on.

Duschene and Brentani put together the first expedition to the new Eldorado and were followed by hundreds of hopeful souls who had no idea how one should search for gold, but they were game. By now the authorities were truly alarmed and a contingent of Troopers were sent to prevent incursions on the sheep runs and harry the searchers where they could. The hue and cry became all too much for Thomas Chapman, using the money he had been paid for the gold he bought himself new clothes and decamped on the coastal trader, Sea Horse, for Sydney.

As Chapman sailed northward swarms of would be gold diggers hurried across the fertile volcanic plains west of Melbourne heading toward the Glen Mona run. The country was made up of grassy plains and slopes with large areas of poor clayey ground supporting open forests of ironbark trees with very little undergrowth to hide the surface quartz and ironstone. Small groups of prospectors spread out to inspect every creek they could find, for they had no knowledge of gold other than it could be found in creek beds. Without Chapman to guide them the searchers had little chance of finding Daisy Hill but the lure of great wealth drew them on. Being in the middle of summer the conditions would have been harsh for those ill-prepared prospectors. There was little surface water in the upper creeks and temperatures can easily soar over 40 degrees for days at a time. Eventually the hundreds of searchers grew weary of the task and began to return home. Australia's first gold rush slowly fizzled to a halt. The only worthwhile gold found had been the original twenty-six ounces found by Chapman but what these exhausted men did not realize was that they were trudging over some of the richest goldfields in the world. The largest gold nuggets ever seen came from beneath the clay surface of this harsh land but it would take people who had some skill in alluvial mining to find it and successfully recover it from the red clay where it hid.
Edward Hargreaves had spent some time in California and knew what equipment was needed to recover alluvial gold, and how to us it. He also knew what sort of country was most likely to carry gold. He was happy to share his skills and the knowledge spread quickly and after the fabulous finds at Ophire the word spread south into Victoria. But it wasn't until the authorities realised they needed to stem the flow labor out of the colonies to California that they began to encourage the search for gold in the Australian colonies.

When gold diggers returned to daisy Hill in 1852 gold had already been found in numerous locations throughout the colony but Daisy Hill's second rush was to be something far outstripping the original event.

Thousands of ounces of shallow alluvial gold were unearthed on the hill and the creek below. The creek was called Blacksmith Gully and was dug for several miles and every yard giving up large amounts of gold. But it was the nuggets found on and around Daisy Hill that caused its fame to spread. Nuggets totaling thousands of ounces were found on the hill and the creek below and it was discovered the hill was actually a "hard hill" a layer of incredibly hard conglomerate rock over pipe-clay with the contact layer liberally studded with nuggets from the size of a pea up to hundreds of ounces. Gold shipped by escort from Daisy Hill during 1857 totaled some 35,409ozs, with one lucky digger's account alone listed at 446ozs.

But what of Thomas Chapman the man who's find from this spot was a mere 23ozs? Having fled from Melbourne to Sydney Chapman found what work he could and when found some years later he was working in a hotel.
Only two people were known to have had any concern for the young shepherd's whereabouts and welfare. The first was Captain Bacchus, Another was the wife of one of the jewelers, Mrs. Ann Brentani who visited Chapman, now in his forties and in ill health, in 1874 and rendered him some assistance
Although Chapman had lived through some of the most exciting days in the colony at a time when many people found great wealth fortune never again smiled upon him. Thomas Chapman is reported to have died on a property owned by a Mr. Buckley of the firm Buckley and Nunn where he had only shortly before gained employment.

Hargreaves is still listed in the history books as the first finder of gold in Australia, not Thomas Chapman or even Lister or Tom. And not even the credit for the first finding of payable gold in the colony of Victoria went to Chapman that honour went to James Esmond who received a reward of £1000 for his discovery of gold at Clunes in 1851. It seems justice is a commodity in short supply in the history of the gold fields.



granite2

Contributor Plus





Number of posts

: 1736


Registration date :

2009-10-12



geof_junk, 4rd, Mike54 and moredeep like this post
Excellent article.
I have often wondered what happened to poor Chapman.
If he had not been so scared off by the authorities what might have been if he had been allowed to retrace his steps to Daisy Hill and no doubt let his secret out about the wealth that abounded in Victoria. In 1847 or 48, that would've preceded both the NSW and even the California rushes with huge consequences for the Colony of Victoria.
I also suspect that Chapman's Daisy Hill is now Amherst with the modern Daisy Hill moved a bit eastwards perhaps to coincide with a railway station of that name. Maybe someone might have further information on that.

hawkear

Contributor





Number of posts

: 35


Age

: 75


Registration date :

2015-03-11



Daisy Hill is where it always has been and Blacksmith Gully is still just below it. I have prospected that hill and gully many times over the last 40 years and found gold every time. I guess it might be a lot harder to find much there now but a 7000 with the big coil will probably pull some deeper bits from the deeper ground. Unfortunately the early diggers pretty much wiped out the daisies but some Springs they can be seen off the old diggings.

I researched and wrote that story years ago for the G&T magazine. I was amazed when I came across references to it. That is one of the great things about being a freelance writer, you never stop learning amazing things, especially about Australia.

granite2

Contributor Plus





Number of posts

: 1736


Registration date :

2009-10-12



geof_junk, 4rd, treasureworld, Mike54 and moredeep like this post
What really needs to be said is that the word 'Payable' means the ground is worked and the end results are now known. This didn't happen with Smith, McBrien, Clarke etc and is only 'possibly' applicable with Chapman because he scratched around and collected a considerable amount of gold. A discoverer, sure....payable??...no. But, Smith certainly deserves to be known as one of the primary, original discoverers and attempted to inform the Govt about it.
Also, BHP had nothing to do with Smith or his company. BHP started in Broken Hill and only ventured into Iron Ore/Steel in 1915. Smiths iron venture WAS one of the 1st such industries in Australia though. I have also spent much time at Daisy Hill over the years with a lot of gold found also....New Gully and the Hill itself I think were the site of Chapmans discovery... It was marked on early Amherst goldfields maps I think.

treasureworld

New Poster





Number of posts

: 7


Registration date :

2013-07-01



granite2 and moredeep like this post
Paweł Strzelecki, geologist and explorer, found small amounts of gold in silicate in 1839 at the Vale of Clwyd near Hartley, a location on the road to Bathurst.His main interest was the mineralogy of Australia. In September he discovered gold and silver near Wellington (NSW) and in the Vale of Clywd, in the vicinity of Hartley. He collected there numerous samples of Australian gold, which were sent to the eminent geologist Sir Roderick Murchison of London, and also to Berlin, but the Governor of New South Wales, Sir George Gipps, fearing unrest among 45 000 convicts, stifled the news about the discovery.
....Link....

geof_junk

Contributor Plus





Number of posts

: 838


Registration date :

2008-11-11



pablop and moredeep like this post
---
Permissions in this forum:
You
cannot
reply to topics in this forum