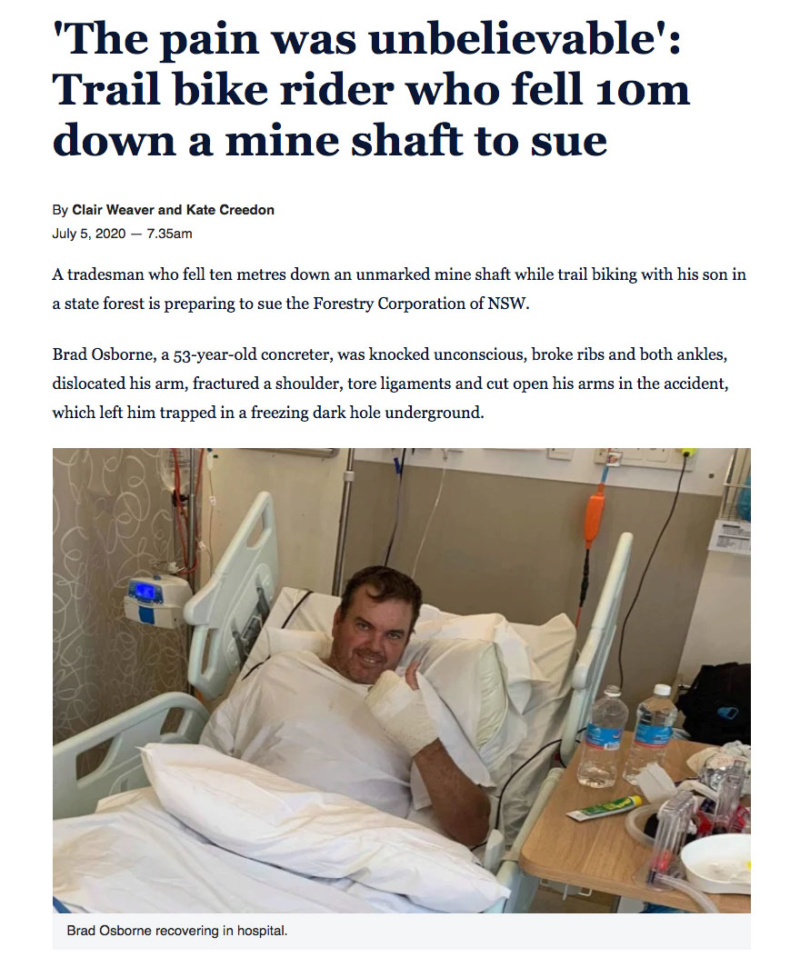 Moron
Unfortunate Man to sue after ignoring warning signs and leaving the track with his bike in the "Sunny Corner" NSW goldfields:
HEADLINE: ..
." 'The pain was unbelievable': Trail bike rider who fell 10m down a mine shaft to sue"
A tradesman who fell ten metres down an unmarked mine shaft while trail biking with his son in a state forest is preparing to sue the Forestry Corporation of NSW.
Brad Osborne, a 53-year-old concreter, was knocked unconscious, broke ribs and both ankles, dislocated his arm, fractured a shoulder, tore ligaments and cut open his arms in the accident, which left him trapped in a freezing dark hole underground.
"The pain was unbelievable," he said. "It was really hard for me to breathe. I lay there for hours just trying to take a breath in and out. I was shaking uncontrollably."
Mr Osborne's son Brody Osborne, 23, called triple zero and talked his father through the three-hour ordeal at Sunny Corner State Forest, located between Bathurst and Lithgow, until a police rescue team and paramedics pulled him out on ropes and he was taken to Westmead Hospital.
The Osbornes have written to the Forestry Corporation pleading for mine shafts in state forests to be covered or warning signs to be installed. Mr Osborne, from Bateau Bay on the Central Coast, is planning to launch legal action over the accident on May 11, which has left him unable to use his shoulder, suffering flashbacks and in ongoing pain. "Even in hospital, they were giving me all these drugs and I was screaming all night," he said. "I'm in pain all the time, it's like torture."
Mr Osborne said his specialist has told him it's unlikely he will be able to return to work as a concreter nor ride trail bikes with his children again.
Elle Dalzell, of Shine Lawyers, will argue there should have been obvious warning signs, barriers and fencing to warn park-goers of the dangers. "Our client went through terrible mental and physical pain while his traumatized son watched on, fearing his dad was dying," she said. Much of the central west's state forest land is in legacy mining areas. Forestry Corporation of NSW admits it does not know all the locations of old mine shafts but says it's working to identify and remediate them.
Sunny Corner State Forest, which is popular with riders and hosts an annual trail bike rally, was the site of Australia's first successful silver mine and smelting operation in the late 19th Century. Jason Molkentin, regional manager for Northern Softwoods at the Forestry Corporation, said he was concerned to hear about the accident but emphasized there are hazards in the forests.
"In terms of the particular number of mine shafts, that's unknown," he said. "We know that it was a well-used mining area and we are progressively identifying mine shafts in that section of state forests."
Shafts could be remediated by being filled in or blocked with physical barriers, he said, but in the meantime, visitors are advised to take responsibility for their own welfare.
In 2016, Manly trail bike rider Lachlan Smith fell down a shaft at Sunny Corner and it is believed at least one other person has fallen down a shaft in another state forest since then.
___________________________________
By Clair Weaver and Kate Creedon
July 5, 2020 — 7.35am
LINK TO ARTICLE: SMH -
https://www.smh.com.au/national/nsw/the-pain-was-unbelievable-trail-bike-rider-who-fell-10m-down-a-mine-shaft-to-sue-20200701-p5585q.html
___________________________________
I've said this before and I'll say it again, how about we ban the use of recreational vehicles in unsafe locations?
The last guy to go down a mineshaft here and need police rescue assistance went down a hole on the crest of a cliff... hardly a safe place to be dirt-biking. The moment he left a sealed road with his bike, he left the safety of any vehicular insurance and would not likely be covered.  His only means of replacing his bike and paying for expenses and loss of work is to sue someone.  Council is not negligent for refusing to cover up a hole dug in the 1800s that is considered part of the historic goldfields.  Heck, the nearby council at Bathurst refused to eliminate a bees nest at ground level in a carpark in the goldfields at Cole's Bridge where my wife and several others were stung.
It's lawsuits like these that will increase access licenses for fossickers and prospectors.  This is wilderness and whizzing through the low branches alone brings risk of decapitation and impalement.  There's also deadly snakes and spiders in the area. Shall we kill those?  No, they're protected.  And subzero temperatures and the risk of catastrophic bushfires are deadly, is the council responsible for those?
Anyone else have a thought or opinion on this?

nero_design

Contributor Plus





Number of posts

: 2079


Registration date :

2008-11-18



boobook and moredeep like this post
Looks like nobody to blame but himself.

Travelergold

Contributor Plus





Number of posts

: 230


Registration date :

2017-04-24



Last edited by davsgold on Sun Dec 05, 2021 10:11 pm; edited 1 time in total
In the 1970's we lived in Bathurst and quite frequently spent time panning in the Sunny Corner/Dark Corner creek systems.
The trail bike riders were just starting to emerge, mostly horrendously noisy 2 strokes which sufficiently disturbed the peace so much we pretty much stopped going there.

As you say, the area is full of old abandoned mine shafts and costean cuts. Being part of the gold shed to the Turon River, it could be assumed that the area was very rich in easily exploited gold bearing quartz reefs. Where the gold ran out, the miner would probably move along the line of strike to sink another, then another shaft.

I believe much of the mining may have been carried out in the 1930's from financial provisions made by way of Commonwealth Grant for assistance in small scale mining. The Mines Department issued prospecting equipment (including tent, tools etc.) Prospectors Guide and a railway ticket to an approved locality to unemployed men.
That the Governments of the day put such an important slant in the winning of payable gold (~7pound/oz. in 1935) that areas such as the Sunny Corner region should be preserved in recognition of the hardship and effort these early miners contributed.

That someone should be unfortunate enough to not merely fall into an open shaft, but crash a fast moving trail bike into it has to be the responsibility of that person. What if that same person did a high speed "splat" into a mature pine tree and suffered even more severe injuries.....does he sue State Forest for planting a tree in his way?
What about down slope cross country skiers in the Australian Alps? Do they sue when mishaps occur?

Gives me the feeling that he has been talking to one of the "no win, no pay" legals who seem to revel in these sort of challenges.
At the age of 53, I believe he should have known better, just get better, then get over it. As Tony Abbott once remarked..."shist happens".


boobook

Contributor Plus





Number of posts

: 328


Registration date :

2011-09-12



Nightjar, Travelergold and moredeep like this post
Last edited by davsgold on Sun Dec 05, 2021 10:11 pm; edited 1 time in total
nah just let nature take it`s course .... will weed the morons out and hopefully stop em breeding
FFS ...
Most morons will NOT take the blame for their own stupid actions .... and signs are up ... charge them the recovery AND maybe - maybe they might .... nah sorry

byronbinalong

Contributor Plus





Number of posts

: 595


Age

: 66


Registration date :

2010-12-09



Travelergold likes this post
I am over this craaaap = nobody told me I might hurt or bitten by a snake or HURT myself because I and I repeat "I" done sumfing STUPID

byronbinalong

Contributor Plus





Number of posts

: 595


Age

: 66


Registration date :

2010-12-09



I thought this kind of lawsuit only happened in the USA. Sorry he screwed up and seriously hurt himself but the fact is he ignored sign and knew he was in an area of old mines and should have used caution.

bfloyd4445

Contributor





Number of posts

: 32


Registration date :

2015-05-17



Similar topics
---
Permissions in this forum:
You
cannot
reply to topics in this forum