Vanquish 340 arrived yesterday.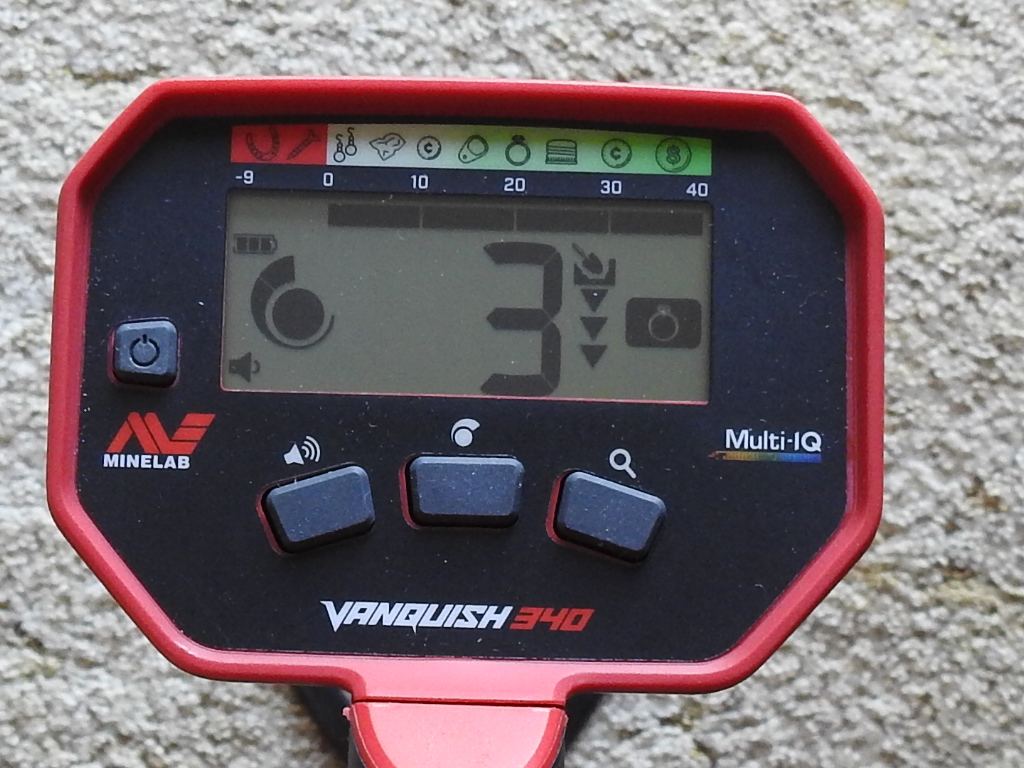 Looks good ,well presented nice clear display and has 3 tones.
    Sensitivity can be adjusted and there are 3 modes to choose from. Coins, Jewellery, and All Metal.
Pretty much a turn on and go machine, Just select you search mode and sensitivity and away you go.
   Runs very quiet until metal is detected; I have not as yet noticed any ground noise.
The detector is quite sensitive and was able to detect all of the small gold items I presented to the coil inc a couple of light weight gold chains my gold bug and safari struggled with...That was a surprise!
    The detector is very basic and the Disc modes cannot be adjusted to your own liking and there is only 5 Disc icons which groups a lot of targets under one icon range, however the numerical TID separates each item. The detector performs very well and during my brief testing period the machine achieved quite respectable depth on all of my test patch targets, (did not miss any) Gives a low tone on ferrous items and medium to high tone on non iron. There is 3 volume levels.
   If you are not into bells and whistles this little detector should give you a bit of no fuss fun and enjoyment.
There is a 3.5mm hp jack skt....A curious  feature is that the audio must be stereo coz the low tone comes out of one hp and the high tones come out of the other. Seems to be pointless. Also in the coin mode the sensitivity to Aussie 5 cent coin is low (almost discriminated  out) compared to the All Metal and Jewellery mode.
    So I guess the detector could miss small gold chain and light weight rings in the coin mode, therefore the jewellery and All metal mode would be the preferred modes for most detecting  and the coin mode for those who don't want to dig a lot of rubbish .
The detector is able to see this 7g 22k ring through this approx 1kg piece of solid iron stone in the jewellery and all metal mode.
The All Met mode gives an low tone on the rock but a high tone when the ring is placed beneath the stone with coil about 3 inches above the stone.
The Jewellery mode gives no signal until the ring id placed beneath the ironstone. OK, OK maybe not at a great depth but it does see the ring, which indicates a reasonable ground mineral capability.Not too bad for an entry level metal detector. I don't know what the beach performance is like but is reputed to be very good. over wet or dry sand.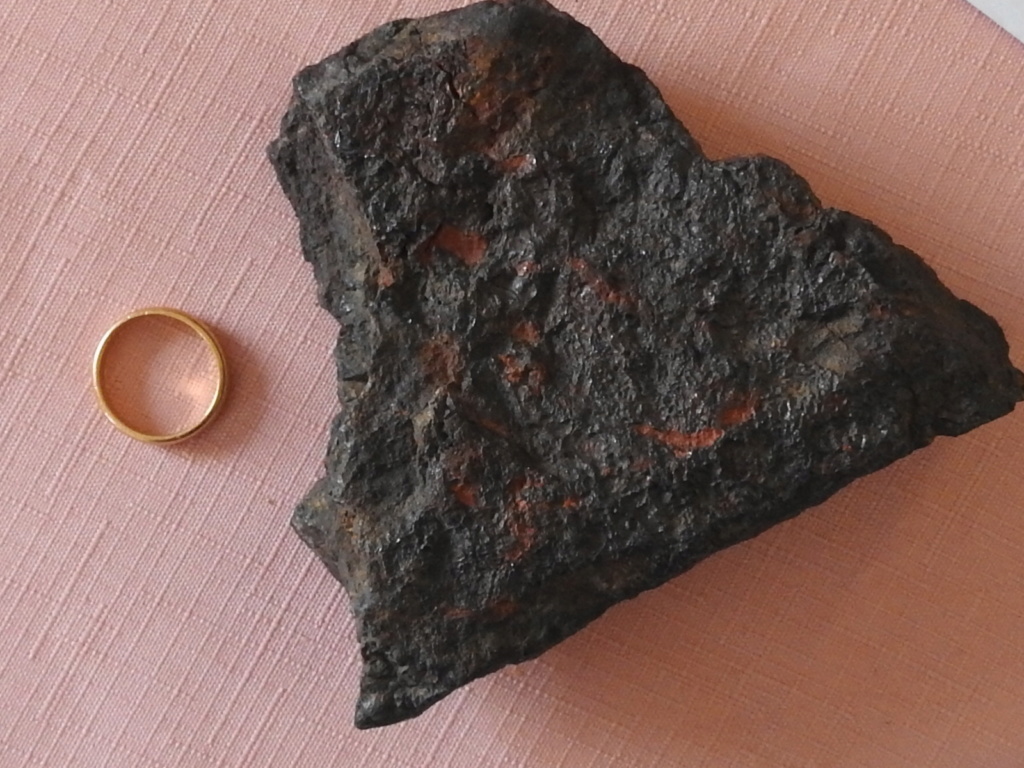 If you think this lil tecta is just an Ace 150 or 250; It is not and is  very much superior to those two Garretts
Just some observations, not gospel.
Last edited by adrian ss on Sun May 10, 2020 10:31 am; edited 3 times in total

adrian ss

Contributor Plus





Number of posts

: 2573


Age

: 73


Registration date :

2015-07-03



Thanks Adrian

I won one of these in a raffle and gave it to my wife. I haven't tested it at all but noticed it did not come standard with a skid plate. A bit annoying. Perhaps to keep the price of the detector itself a bit lower.

Detectist

Contributor Plus





Number of posts

: 346


Registration date :

2010-02-27



Yeah no skid plate. No big problem unless you are a scrubber.
     It is not too bad for an inexpensive machine.....I paid 399 AUD.
The 340 is clearly a coin and jewellery detector . It is no Equinox  but there is no doubt that it will find stuff without any fuss or bother.
     I was only able to use it with sensitivity at just below 50% due to EMI where I am and the depth ability at that setting was around 8 inches on a 1 dollar coin in the ground, so no doubt when running at 75% to max the results will be significantly better, although 8 inches is around where most targets at the beach are found. Don't go crazy with the sweep speed (slow down) and it will respond to some small gold chains in the sand at around the zero to 5 inch mark with sens 50%.
      So long as there is no EMI about you will be able to run the sens much higher than that and achieve better depth.
The 340 has Multi IQ engaged continuously so is similar to the 540 but without selectable frequencies.... There are no instructions in the box other than a simple start up guide
Last edited by adrian ss on Fri May 08, 2020 7:21 pm; edited 1 time in total

adrian ss

Contributor Plus





Number of posts

: 2573


Age

: 73


Registration date :

2015-07-03



Thanks again.

I've wondered if the new machines encapsulate the best tech at these prices. Seems like a good value machine. My wife would probably use it in cow paddocks and a few parks.

Detectist

Contributor Plus





Number of posts

: 346


Registration date :

2010-02-27



I reckon you could use this little detector anywhere other than submerging it. Not WP.
I will give it a run tomorrow over some moderately iron mineralised ground that stops my safari.

adrian ss

Contributor Plus





Number of posts

: 2573


Age

: 73


Registration date :

2015-07-03



Went to Pine Island with the 340 this morning and gave it a good run.
!...It works well and was able to set sens to max.
2...Hits hard on coins in All Metal mode and at respectable depths. One 5 cent piece came in so strong I thought it was a bottle cap...but tone was medium...Bottle caps give a combination of high and low tones.
3....No ground noise at all.
4....No pin point function. This became annoying because the elliptical coil was not a good pin pointer and it was easy to be off target by 3 or 4 inches
5...A 400 dollar detector designed to be a coin and jewellery detector should have a pin point function.
6.... The lack of a skid plate could be a problem at some time because the bottom of the coil has cavities in it that traps dirt and mud and possibly small bits of metal that might interfere with operation
7...The detector performed silently over some of the ground that upsets the Safari and my Sov XS.
6...Has a fast recovery speed and can find coins along side some iron items. The ring in the previous post could be detected with a high tone when only 2 inches from the stone with both iron tone for the rock and high tone for the ring and a very fast sweep speed..Impressive I thought.
Conclusion:
The Vanquish 340 is a very nice well mannered easy to operate beginner to whatever level that you might be at type of detectorist. Use it for what it has been designed to do. Which is to find metal anywhere and in almost any ground mineral conditions  

adrian ss

Contributor Plus





Number of posts

: 2573


Age

: 73


Registration date :

2015-07-03



---
Permissions in this forum:
You
cannot
reply to topics in this forum