A lot of you may remember Peter Hancock on this site as Mariner 3800. He was also one of our Admin team a few years back. The Laanecoorie Bash as it was know then was Peter's dream child and was formed under his guidance back in 2011 with the 1st meeting being held in June of that same year. That first year there was between 35/38 people that turned up. Mainly from this site. The sponsors at the very first bash was  Coiltek SA, Gold Prospecting Australia, Gold Search Australia, Laanecoorie Lakeside Park. And members donations as well. The total amount raised was $650 for SCOSA of South Australia.  (Google SCOSA to find out more)
The 2012 Bash was held in May and raised $4,500 for the Royal Childrens Hospital from 14 sponsors and 101 participants.
2013 was the year we found out that Jim Stewart had cancer. Jim and his wife Robyn owned the Laanecoorie Lakeside Park at that time. This was then when we decided for now on the bash will support Peter MacCallum Cancer Foundation. This was also the same year that the Bash incorporated the word Gold in the title Laanecoorie Gold Bash.  That year the Bash raised just over $11,000 and had just over 150 attendees. Jim Steward unfortunately past away a few days later. But he was informed of the efforts of all those attending and the money raised. The following year was the year we started the Jim Stewart Memorial Trophy in his memory.
Since that time the Bash has been going forward in leaps and bounds,raised many thousands of dollars for charity. Bringing together many like minded people to share their enjoyment, dreams and friendship.
This would not have happened if it was not for one person's dream back in 2011.
It is now a credit to those that have kept Peter's dream alive and the memory of Jim Stewart. and of the man he was in the help towards fellow prospectors and people in general.
To the committees that have worked hard over the years to get it to where the Bash is today. "Well Done & Thank You"
This year was the first time Peter had missed the Bash, as he is normally the MC each year. He was sadly missed.
This is an extract from Peter back in 2013 :-
  "This event was an Idea I had after about 12 months of belonging to the Gold Detecting & Prospecting Forum and corresponding with so many wonderful people on-line, I thought it would be great to catch up over a weekend & share some ideas, stories and a camp fire. I ran the Idea by a few forum members who all responded with "it would be great to put faces to names" so it was organised. Our humble little catch up has grown from 40 folks, 3 years ago, to over 150 attendees this year. It is open to anyone with Gold Fever
Our gathering is an informal platform to share knowledge, make friends & raise some money for a nominated charity and the forum is a great way to communicate and organise such an event."
So Peter, "Thank You" from all of us for your dreams and insights for this great event. I'm sure there are many people, not only here in Australia but also the rest of the world that owe you a debt of gratitude by the money raised in the name of cancer research that has now saved not only their lives. but many lives around the world.
Wombat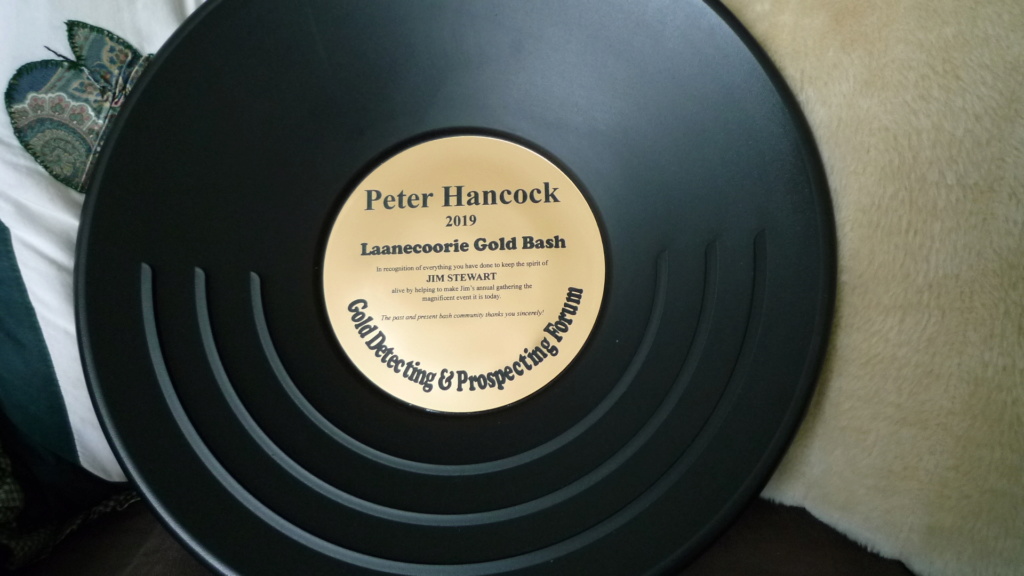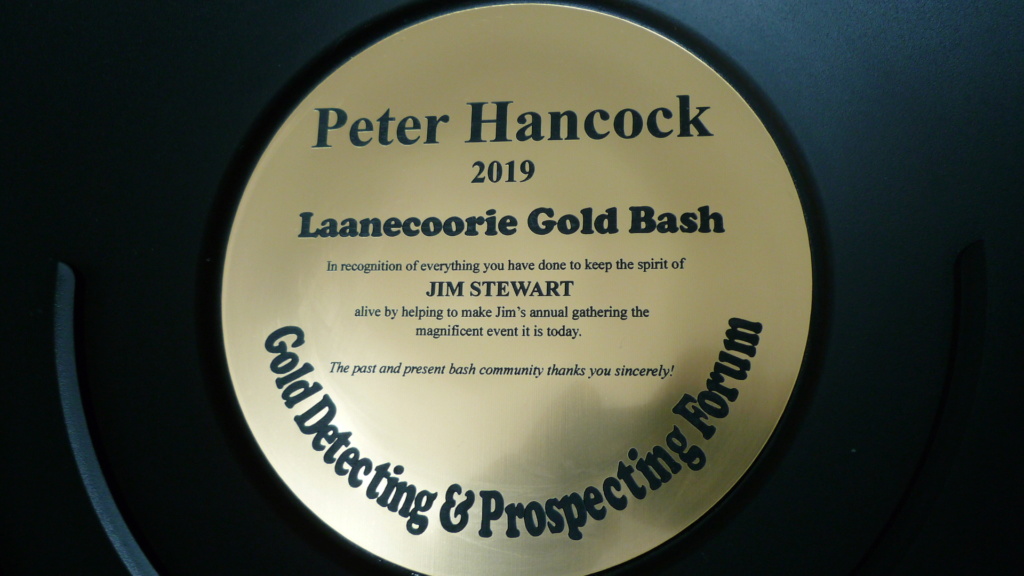 _________________
" All Men Are Fools, But A Wise Man Knows He Is "

Wombat

Management




Number of posts

: 4663


Age

: 74


Registration date :

2009-01-30



Good Stuff, congrats to Mariner 3800 (Peter)
Yes much: Q38:
to Peter for the job well done .

Grandfather Johnson

Contributor Plus





Number of posts

: 374


Registration date :

2009-06-10



A long overdue award, for a well worthwhile cause. Well done Pete.
Cheers Kon.
A well deserved award! Had the pleasure of meeting Peter at the 2013 Bash
And being a Peter Mac patient myself,a huge Thank You from me for your vision and tireless work
Cheers...Dave

Sharkbait

Contributor Plus





Number of posts

: 867


Age

: 65


Registration date :

2013-03-07



A big congratulation to peter for getting the bash of the ground and leading to the peter mac fundraising. We have only been to one bash but was very memorable.  As a sufferer of cancer myself and trying to support cancer research through the Flinders Centre for Innovation in Cancer in adelaide in my own little way, i really appreciate anything that is done to hopefully find cures for the many cancers out there.
I must say congratulations to wombat and all the supporters of this event too, you are more appreciated by many that you will never know or meet. Thanks guys.

Travelergold

Contributor Plus





Number of posts

: 216


Registration date :

2017-04-24



Kon61gold wrote:A long overdue award, for a well worthwhile cause. Well done Pete.

Cheers Kon.
Congrats to you Pete and thanks for all your hard work over the years.
Cheers.
Mike.
_________________
Live long and prosper.  

Mike54

Management




Number of posts

: 406


Age

: 65


Registration date :

2017-06-16



WELL DONE PETE. Hope to see you and your better half there next year
 cheers

flyspecks

Contributor Plus





Number of posts

: 987


Registration date :

2011-05-17



A great award. And congrats to Mariner 3800.

Detectist

Contributor Plus





Number of posts

: 346


Registration date :

2010-02-27



Congratulations Peter (Mariner 3800) and well deserved.  I recall meeting Peter during the second bash I think (2013 as Sharkbait also mentions) and Peter was very helpful, also came across as very modest considering the effort he put in for those first years of the bash in particular - well done once again and thank you.

4rd

Seasoned Contributor





Number of posts

: 174


Registration date :

2011-06-18



Thanks Guys,

Been a while since I last logged in,

The bash has gone from strength to strength over the years and a lot of that expansion is due to Bill and Melisa and their wonderful ideas. Its a bit of a pity it left this wonderful forum to be on Facebook, but I guess its the sign of the times. Anyway its in great hands now and making valuable research money for Peter Mac
The past couple of years have had some great highs and lows, but now living down at Mallacoota most of the time, life is bloody good.

Thanks for all the well wishes, it brings a tear to my eye to ready through the old Call Signs and think of the laughs we all had

I will be sneaking out withe Sean for a detect on the Sth Coast soon, some much needed new ground that has not had much work, so If i find anything I will post it up if I can remember WOW LOL

Cheers and see you soon

Pete

mariner3800

Contributor Plus





Number of posts

: 1177


Age

: 55


Registration date :

2010-11-04



Congratulations Pete (Mariner 3800) and well deserved. Mallacoota has it's own Gold mine but a boat is the easiest way to access the mine and your handle indicate that boats are in your blood. Have you been there yet or is the lure of fish stronger.

geof_junk

Contributor Plus





Number of posts

: 743


Registration date :

2008-11-11



Hi Geof
Been to the mines over the lake many times, interesting folk stories about those mines
There are so many more undocumented mines and by talking to the old timers I'm starting to find some great locations, but as you say fishing is a big part of my life

mariner3800

Contributor Plus





Number of posts

: 1177


Age

: 55


Registration date :

2010-11-04



---
Permissions in this forum:
You
cannot
reply to topics in this forum