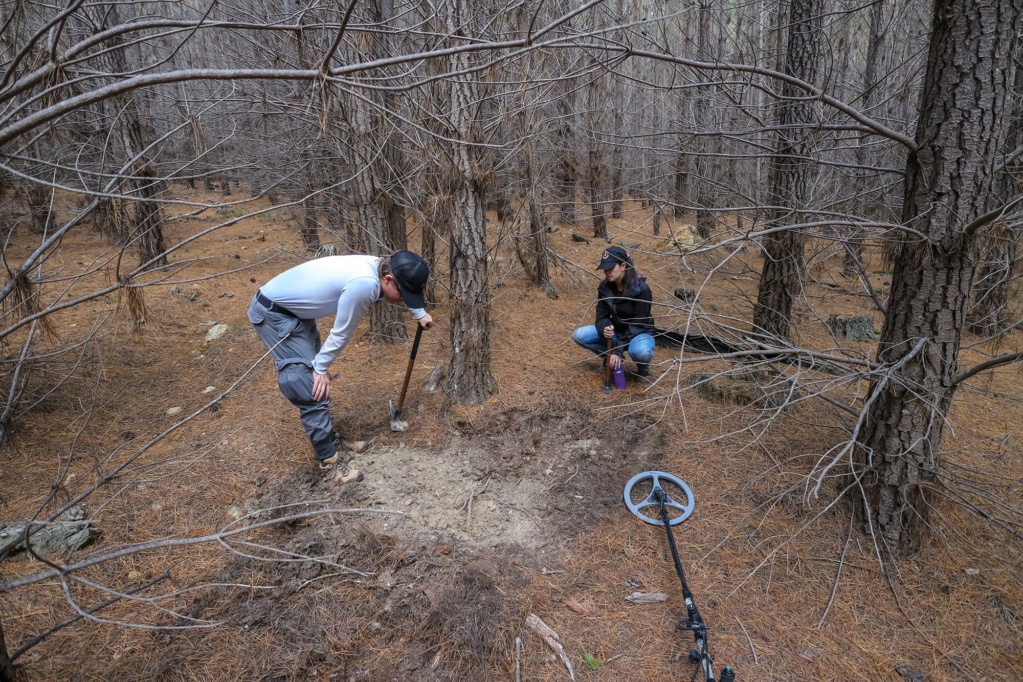 A previous attempt at locating that pesky meteorite several years back...
I haven't really posted any trips in a while.  My friend has been pestering me to try to find a meteorite that I came across back in March 2009 when I was in the State Forest with a GPX-4500 years ago - and he seemed to think we ought to try yet again.  He's a bit like that.  Right now, I would have preferred to wait a month for the weather to warm up buy he's about to be deployed again to the Middle East so I figured the average temperature would be around 18C at this time of the year - and I agreed to come out.  But I was wrong because we were treated to temperatures far below the average for this time of year.  In a nutshell, it was horrible.  I also know of one other meteorite hunter who told me he was looking for the same sort of thing in the same region I was in - so perhaps he found it?
Meteorite Hunt #7...
When I first came across that meteorite, I'd gotten lost that day since I had no GPS and the sun went behind cloud - making it impossible to tell what direction I was headed in.  I'd uncovered about 20 inches of the iron meteorite before moving on again since it would not budge with my pick.  When I found my car again the sky was growing very dark and I got in it and drive home.  Since then I've been a bit obsessed with finding it again. But this was my 7th attempt to relocate it, having scoured the section of forest carefully in the past using a grid system and even painting the trees to ensure more accurate coverage.  That was a lot of effort.  I am now officially sick of pine forests and find them depressing.  This weekend was no different... We hit a Kookaburra on the way out of the forest and promptly contacted wires.  We'd decided to stay near Bathurst for the night in case we needed to hire a small truck with a lifting arm to shift the meteorite but it turned out that wasn't a priority any more. The Motel we were staying at had a woman working there who was a veterinary nurse and she and her husband took care of the bird overnight - and then they arranged to take the Kookaburra to the vet in the morning. His legs and wings seemed okay but he couldn't raise his head properly (at least his neck wasn't broken).
The Glow Worm Tunnels at Newnes Plateau...
Afterwards we were supposed to get down to the base of a valley to explore some old mine sites but the bitterly, bitterly cold winds combined with subzero temperatures in the late afternoon put a swift end to that plan.  And recent fires highlighted the risk of getting deep into the bush without an easy exit plan.  On a whim, we drive instead to Lithgow and took the unpleasant overland route to the Glow Worm tunnels, arriving just as the sun was setting.  On the way there, we came across a burning car and attempted to put out the fire with dirt... but the fools had put freshly cut logs into the trunk and we couldn't put the coals out.  Each time the wind picked up, a shower of sparks flew out and rode the wind across the dry grass.  We radioed for assistance and some 4x4 recreational drivers came and sorted it out.  We passed an Audi (car) with two women in it on the bumpy road and their facial expressions implied that their bras were no match for the corrugations in the road or the massive potholes which were often a foot deep and spaced every few inches from each other.  My right leg was bruised from where I rested my mirrorless camera during the journey. When you park at the Glow Worm Tunnels, it's inside a National Park and there were some German and Japanese tourists leaving just as we arrived... just as the sun set.   It's a 1.1km walk from the car park area to the tunnels and another 1.1km walk back again - though it was a relatively easy walk.  The worms themselves were a bit scarce going in but more and more became active the longer we were there.  I was surprised to note that someone had left a wad of used toilet paper in the tunnel, even thought there's a toilet at the carpark.  After taking some pictures of the worms, we left and walked back to the car in darkness (thank goodness I'd brought flashlights) and promptly got lost in the dark on the 75mk mess of dirt roads leading back to Lithgow.  We ended up in a secured area with locked gates after descending a mountain in low gear and a security guard radioed us to let us know the way back to the main roads. Dinner was therefore postponed until 10pm and the kebab and pizza that I bought in Bathurst was generally a bit of a letdown for me.  I'm told there's a tarred road leading to the Northern entry to the Glow Worm Tunnels and if anyone thinks it's an easier trek from a sedan, let me know.
The next morning we toyed with skipping Stuart Town and going to Parkes to see the big Dish.  But I convinced the others that they should see Stuart Town and Mookerawa if they wanted to complete their circuit of the Bathurst/Orange goldfields.  We'd stayed at the Gold Panner Inn at Kelso (just outside of Bathurst) and - whist a little dated, the motel was just fine.  The heater kept me warm at night as the harsh wind and sleet battered the windows.  A continental breakfast was included and the cost of my room was just $110 for the night with breakfast.  It snowed on the way to Orange.
Stuart Town - in the middle of the Drought...
Arriving at Stuart Town, the temperature had risen to just 3C. The town was deserted at this time of the year.  The caravan park at Mookerawa is now serviced by a new security system which employs a person at a new reception office that faces the boom gates.  For a $12 fee they give you a temporary code that enables your vehicle to enter and leave the park.  In the past when I'd been there the gate was up and the place abandoned.  But the new gatehouse is interesting and they serve some basic cold drinks and snacks while maintaining some of the guest houses there on the site.  The best thing about having this gate operational at all times is that it keeps out the riff-raff that were previously dumping rubbish and committing acts of vandalism in the area.  The police station is also at the other end of the road at Stuart Town.  I'll admit that I felt much safer there, this time around.  A fire had been through the region and much of the thick bush-land was now bare.  The diggings on the south side of the road were extraordinary in scale although i didn't manage to capture a picture of them.
We sampled some soil near the Macquarie River and I tried to pick a section of soil that I felt would likely contain gold.  I picked a spot that was up high (which was a gravelly riverbed) rather than down low (which was fine mud).  It certainly did show some gold although recovery of larger volumes might need a better location than the one I sampled.  The dirt and dried mud itself gave up tiny bits of bright gold but the material between some stones (see pics) was the best that I sampled.  Don't be fooled by the photographs though... the longest piece of gold in my pan was probably less than 3mm long.  It was nice to be able to demonstrate some gold from a single pan-load of soil though.  We later stopped by the Gold Panning creek that is situated near the boom gates at the park entry and had a fossick but the rubbish there was high.  There were about a dozen recently dug detector holes and numerous piles of recent sluice tailings that we examined.  The holes indicated a medium or smaller coil had been used but were unfilled (sigh).  I spoke with the woman at the main gates and she acknowledged that the locals were usually there poking about to see if they could find any gold left from the 1800s. There was no water in the creek itself and the entire section there was utterly bone dry.  The town of Stuart Town (once famously named "Ironbark") had a lot of houses and properties for sale.  More than seemed normal.  Our return to Sydney was uneventful and we stopped in the Blue Mountains to watch the International Space Station pass by overhead before completing our trip out.
We Phoned the Vet and asked about the Kookaburra.  We were told he was going to be fine and would be released by his Wires volunteer as soon as he was better again.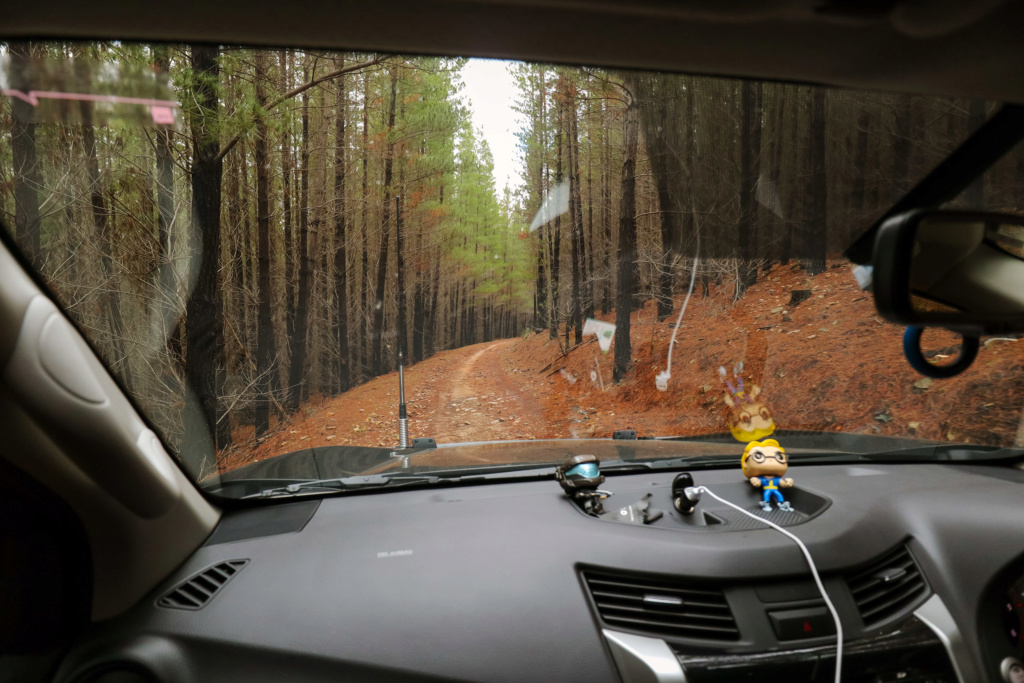 The Pine Forest is always a bit eerie before midday.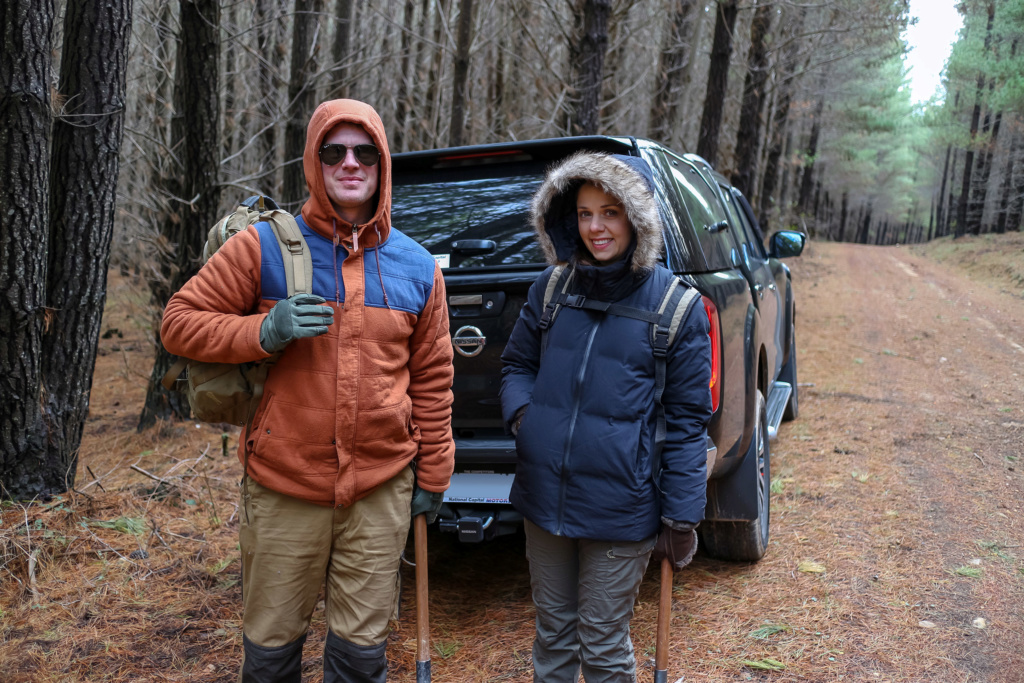 The snow was falling here in the Sunny Corner State Forest - and it was just 1C as the weather changed.
At least these two took my advice and brought warm gear with them.
Finding another nail with the metal detector.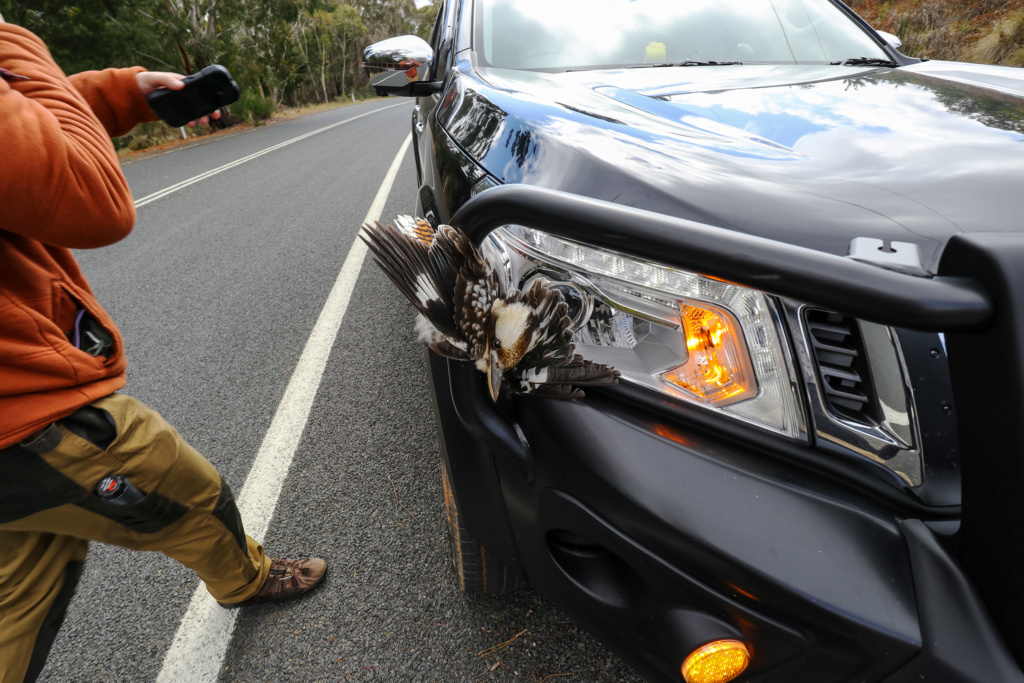 A Kookaburra got jammed between the headlight and the bullbar.  He survived and is being rehabilitated by wires, prior to re-release.
Deciding that it was too cold to drive to the valley floor near Yetholme, a decision was made to drive to the Glow Worm Tunnels near Lithgow instead.
A rather impressive Termite mound.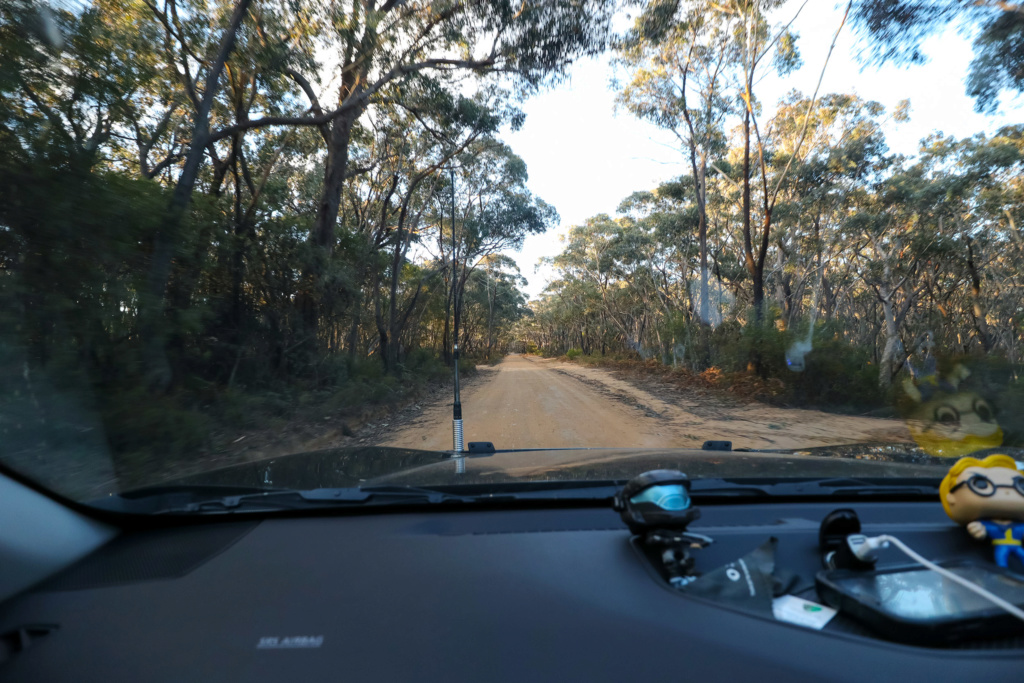 The horrendously hazardous dirt road between Lithgow and the Glow Worm Tunnels at Newnes. (This was a smooth section in the picture.)
Some absolute buffoons set fire to a car just a few hundred yards from where a devastating grass fire ripped through Lithgow the day before.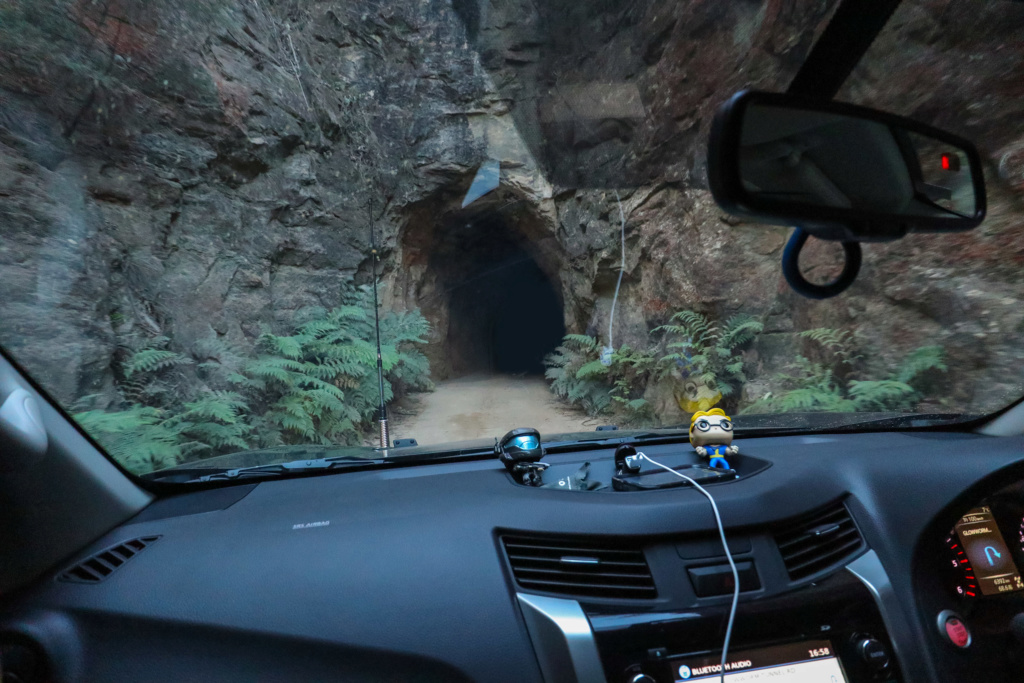 Entering the first tunnel that leads to the car park in the National Park.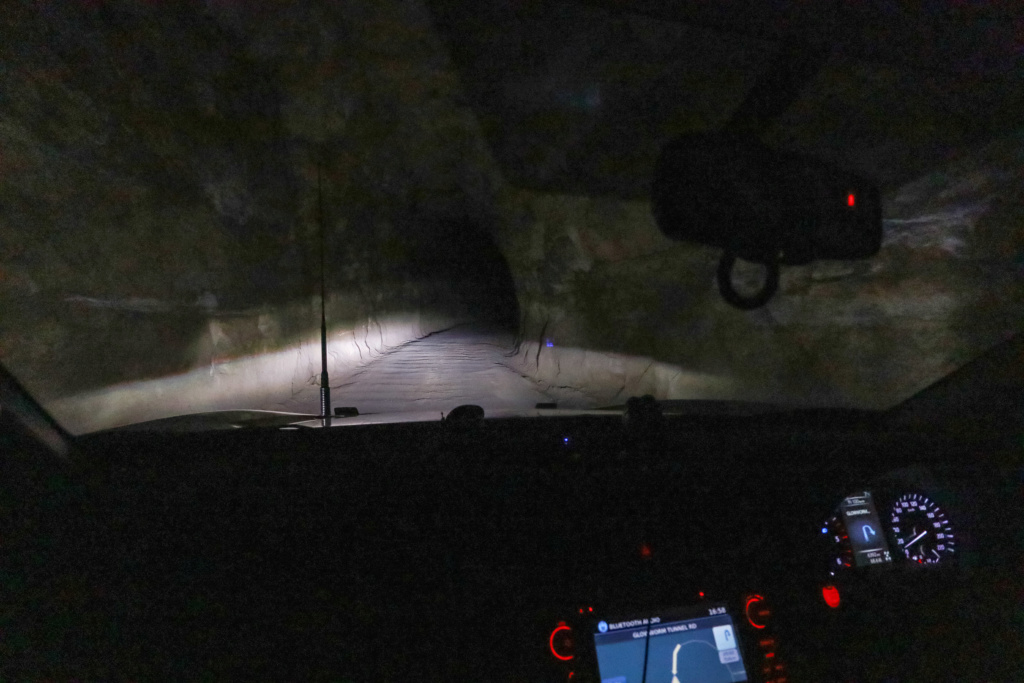 Inside the transit tunnel.  No idea what happens if another car is coming the other way.
Approaching the Glow Worm Tunnel entrance on the valley floor after sunset.
Entering the Glow Worm Tunnels at Newnes (AKA Lithgow Glow Worm Tunnels)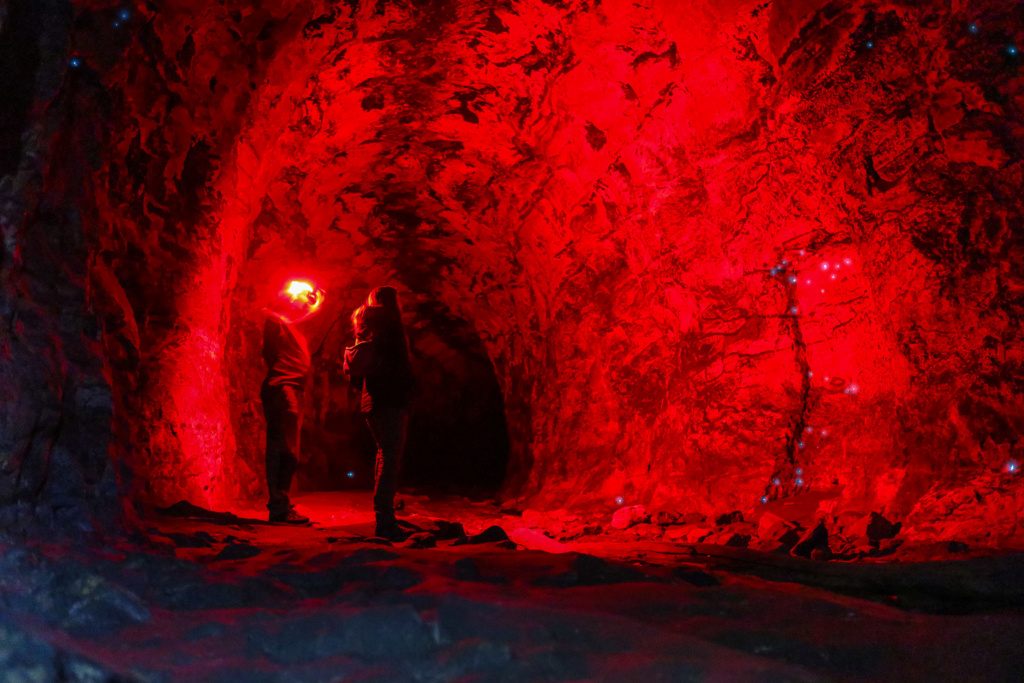 Glow Worm Tunnel at Newnes Plateau.  Pretty cool to see these... but they're quite faint at first.  
The quieter and dimmer the tunnel, the more they glow.  I put my camera down next to a few and they immediately "switched off".
Closeup of some of the Glow Worms near the floor of the tunnel.  They ranged in size considerably.
There's four visible here - but in the crevice that runs from the center to the upper left, there's a TINY one that's barely the size of a pixel.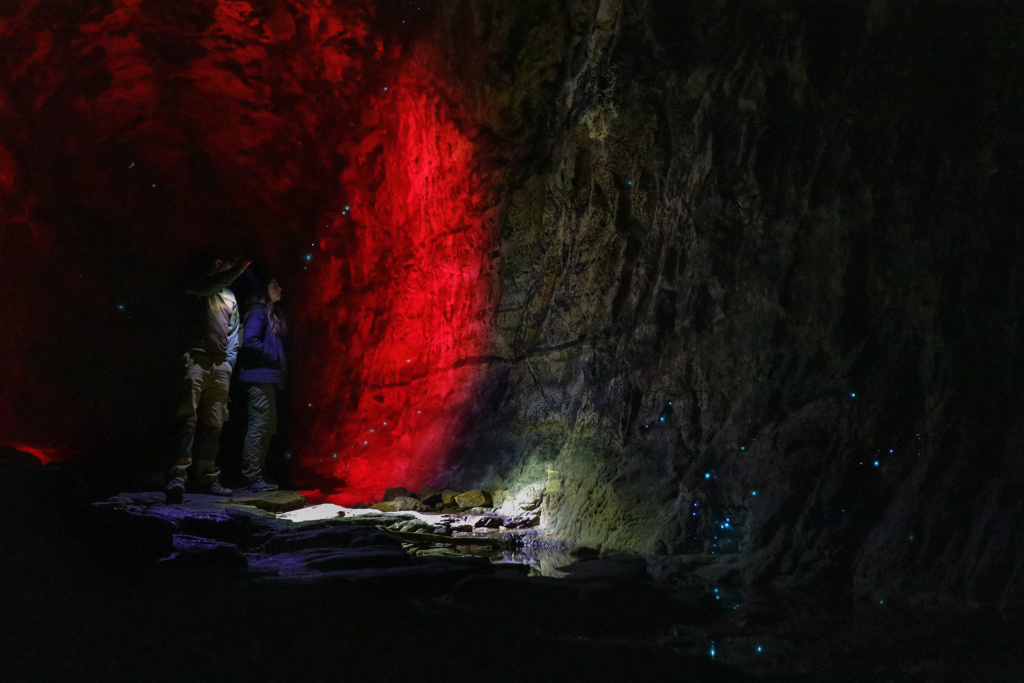 Glow Worm Tunnel at Newnes Plateau.  You can see the glow worms radiating a blue light here.  They flickered or flashed on and off as well.
Leaving the Glow Worm Tunnel after dark was a surreal experience.  We saw a sugar glider scampering up the trees here.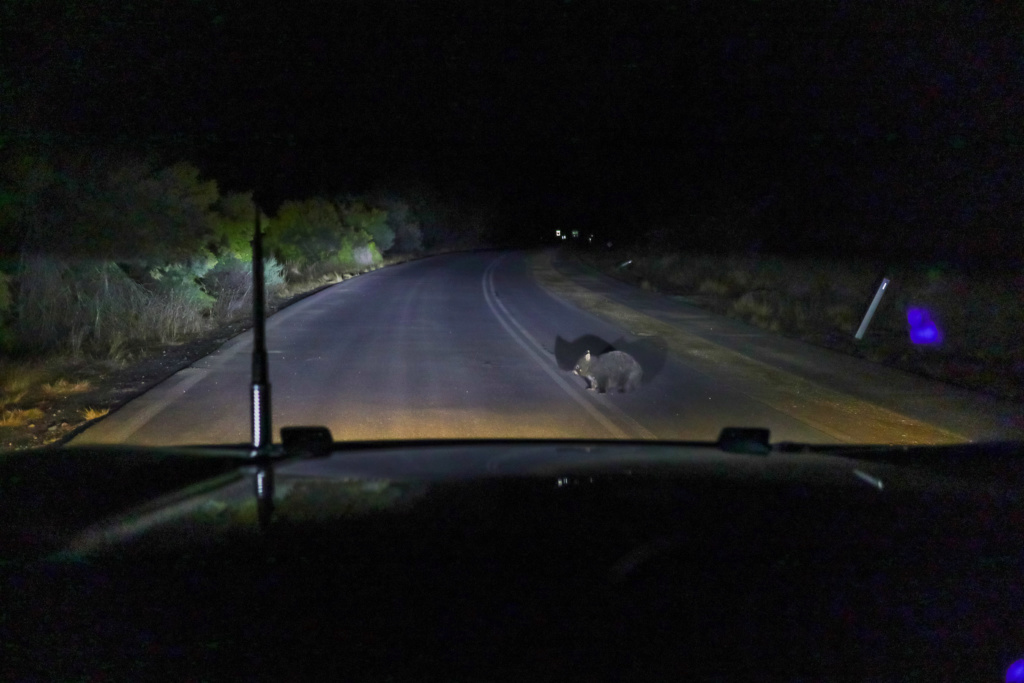 A wombat - as it trots obliviously into the path of our vehicle (we braked in time).
The rather spacious Breakfast/Dining room at the Bathurst Gold Panner Inn - at Kelso near Bathurst.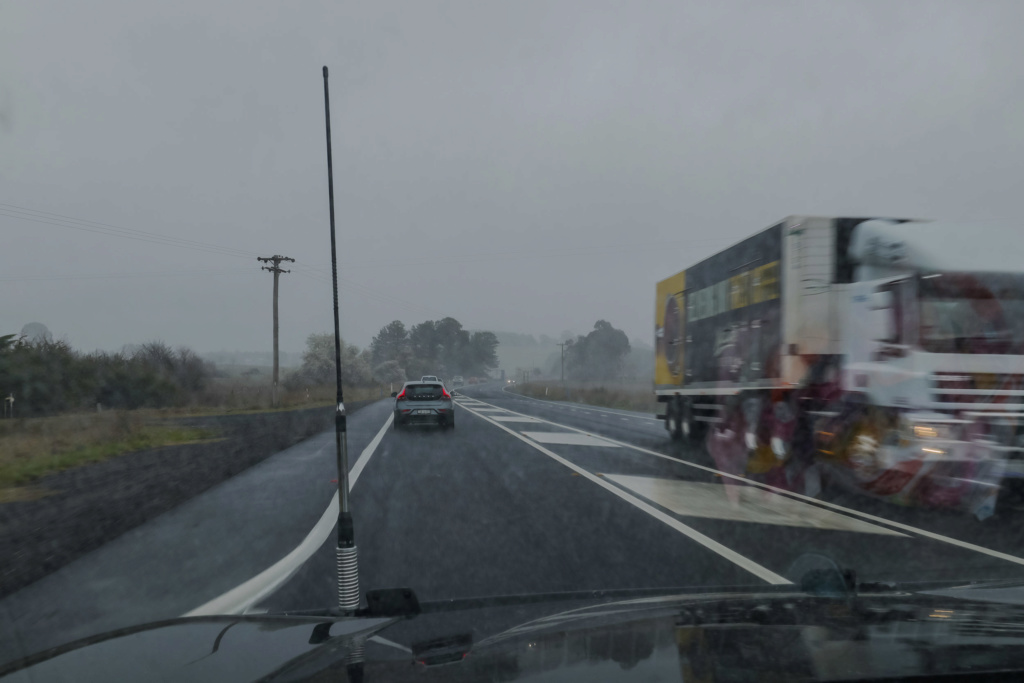 Looks like overcast weather between Bathurst and Orange... but it's 2C and that's snow falling, not rain.
You can always tell when you get closer to Stuart Town... The dirt on the roadside changes from brown to red.
The new electronic boom gate (requiring a multi-digit password) plus security cameras and manned entry station keeps out the riff-raff.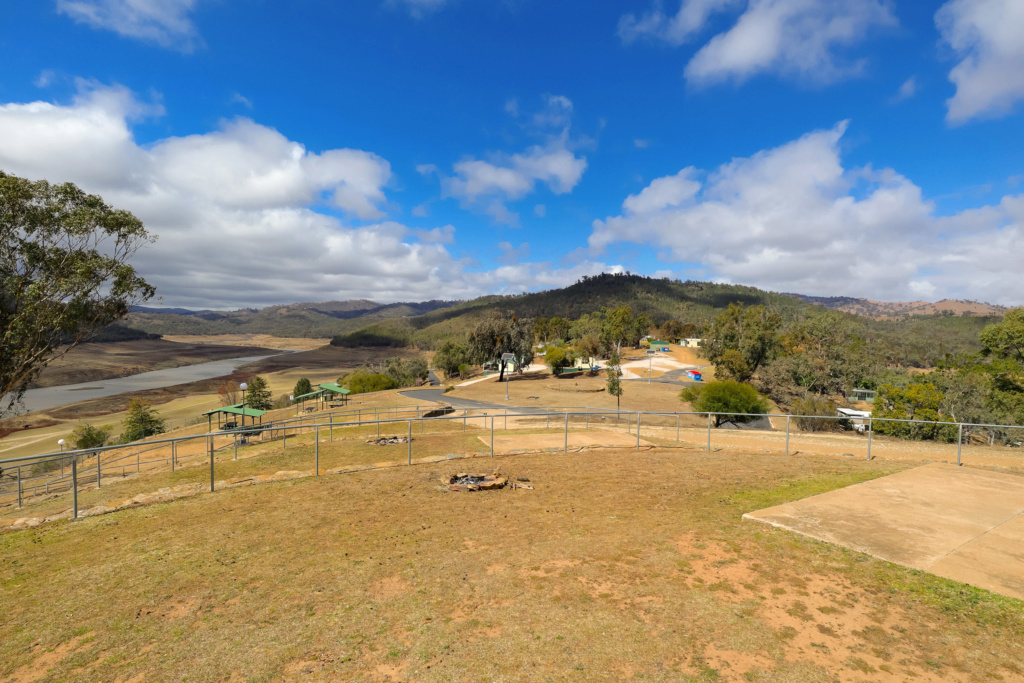 The view from the campfire hill at Mookerawa - the water in the river below was at 4.2% due to drought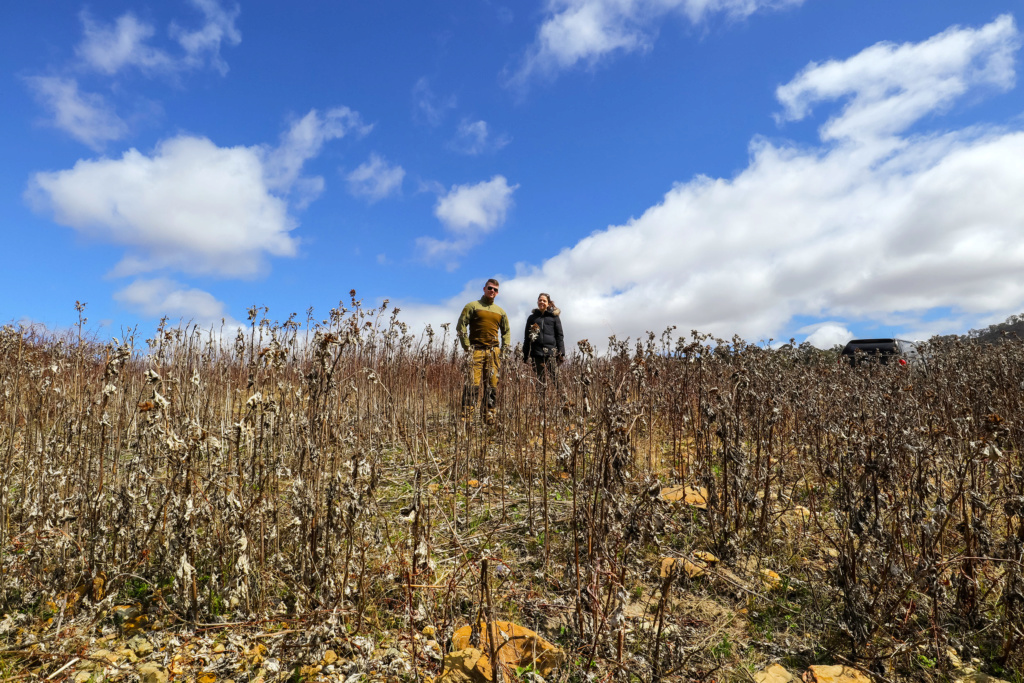 Everything that was growing here was now dry or dead.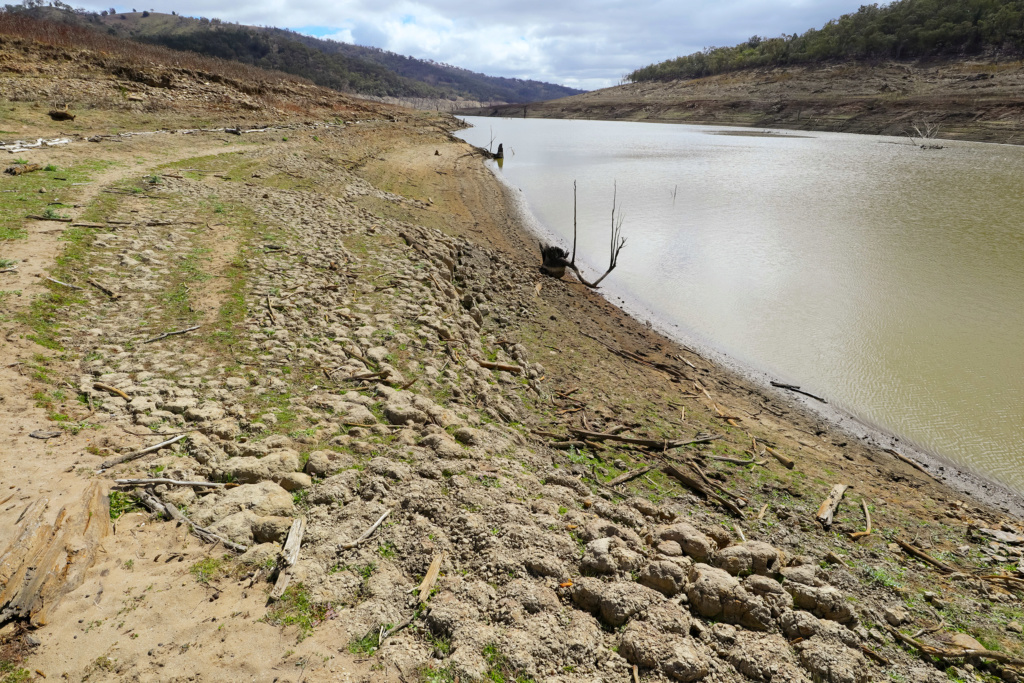 This drought has been devastating.  The entire region in this image was under water the last time I was here.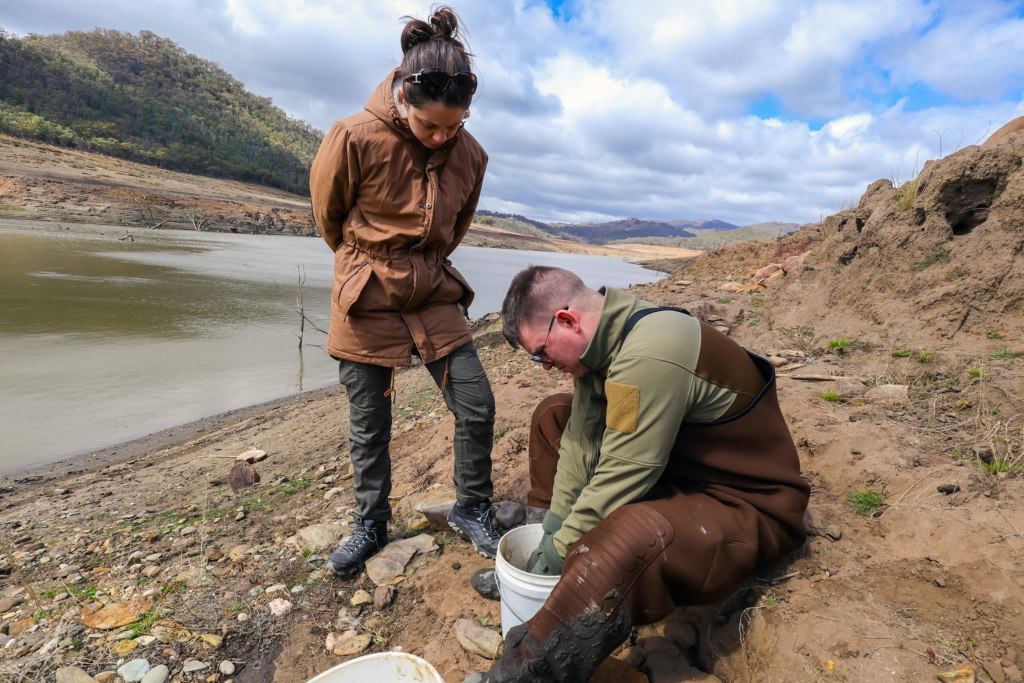 Crushing some of the harder lumps of soil before panning.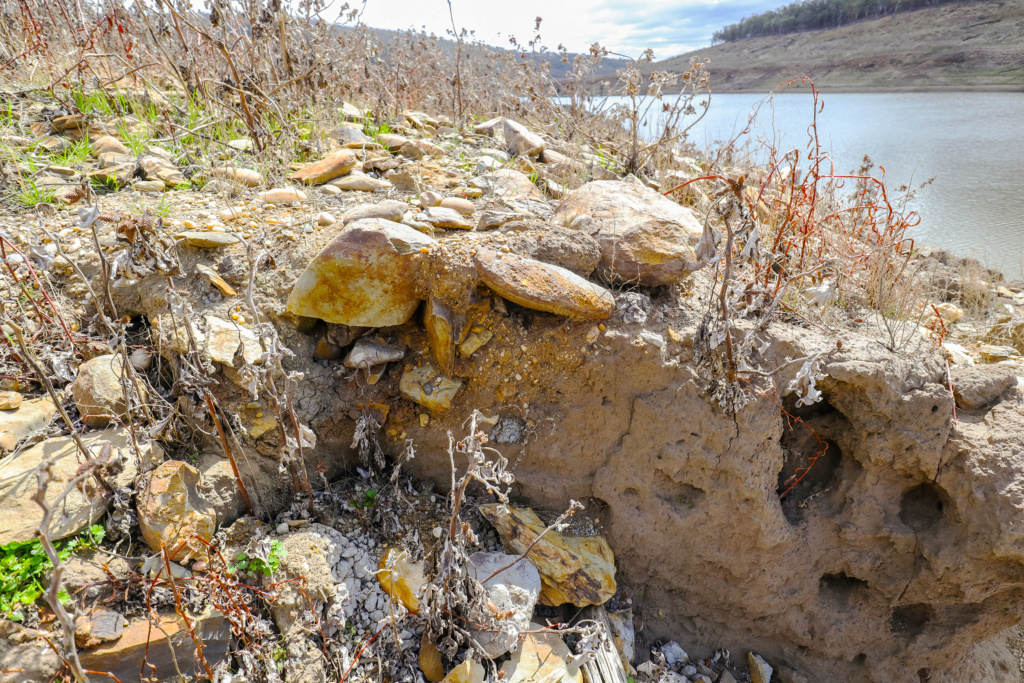 Sediment between these stones on the surface (center of image) is what gave up the gold in the pan below...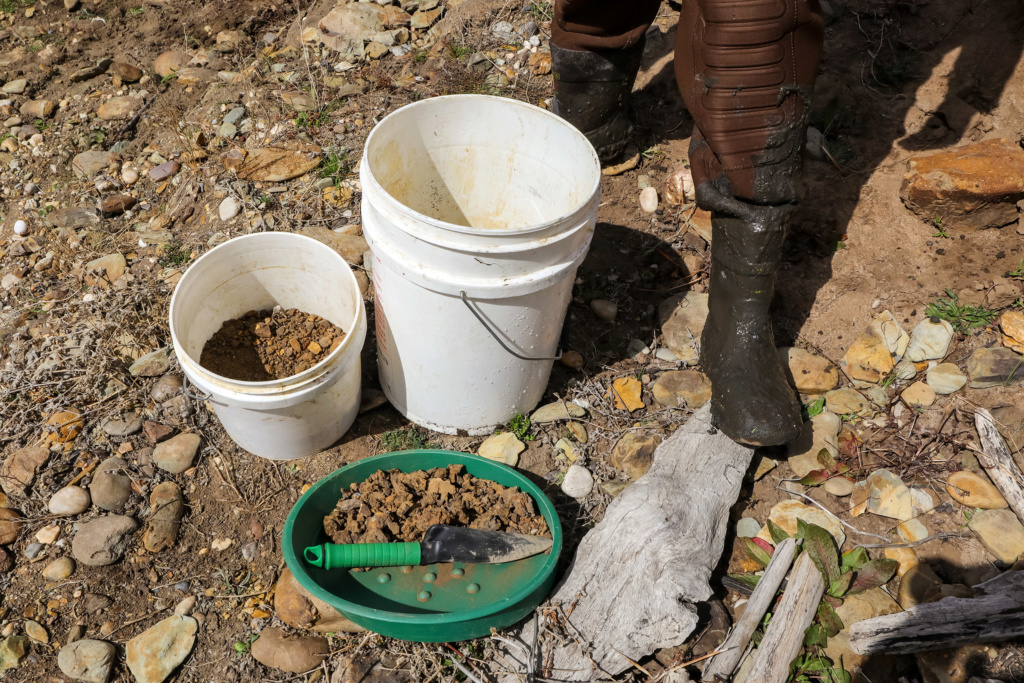 Here it is... that lumpy, pebble-filled material in the green pan is from between those stones in the pic above...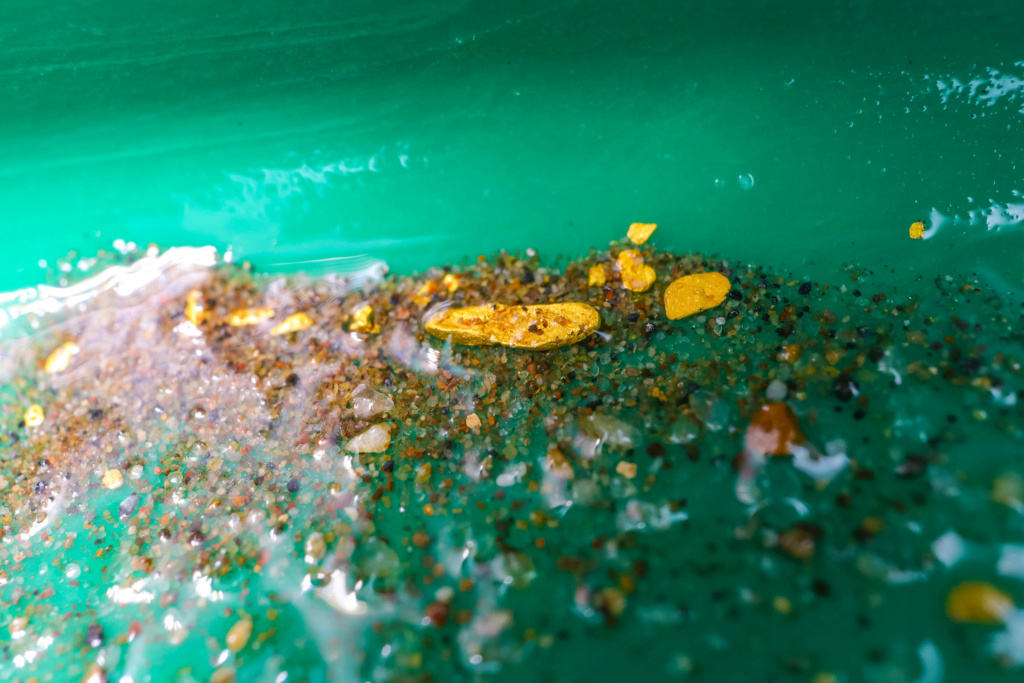 The gold from a single shovel (panload) of dirt - taken from between the rocks in the image above.  
But this is a Macro lens... it does a great job of making everything look better...  it's less than 0.02g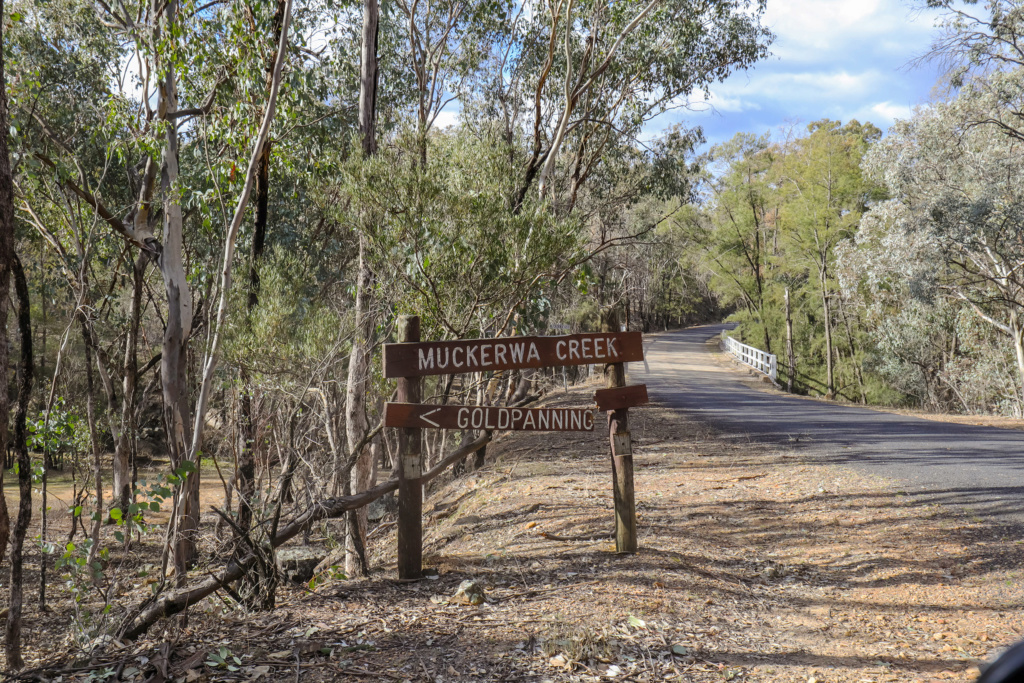 The Gold Panning creek just inside the security gate at Mookerawa.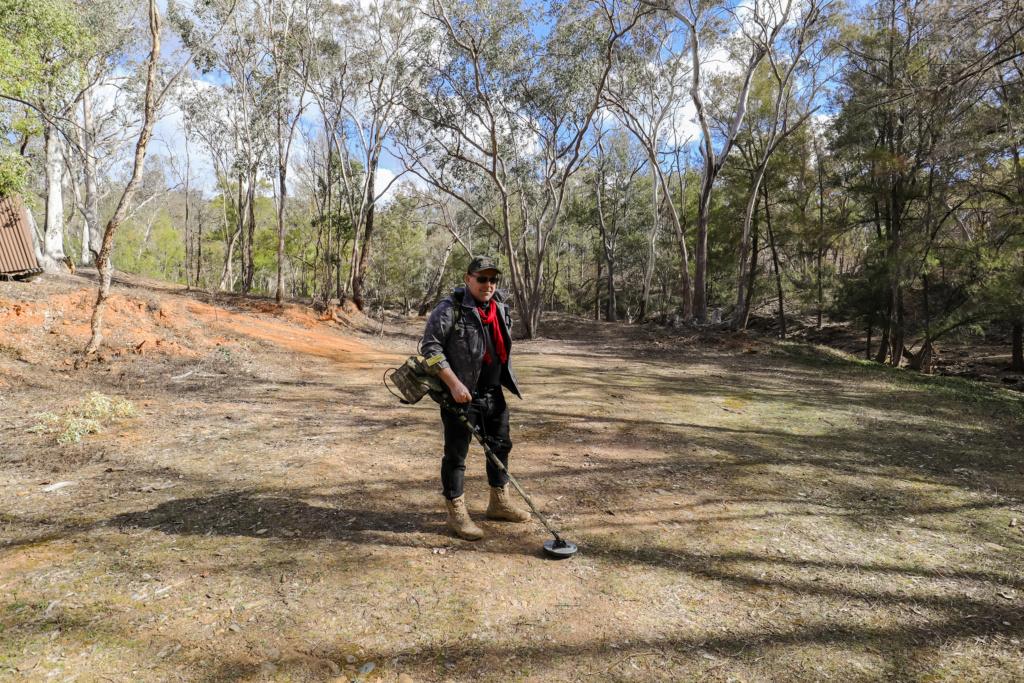 I'm getting older and wider these days.  At least the 2009(?) battery is still working.  Can't say the same for my enthusiasm to dig at these temperatures.
We used a 14x9" NFA coil in the State Forest but this was a trashy area so my friend fitted his 8x6" NFA (Sadie) coil to combat the trashy ground.
There was an incredible amount of rubbish strewn about and so we concentrated in the creek and only dug faint targets in the recent tailings from someone's sluice.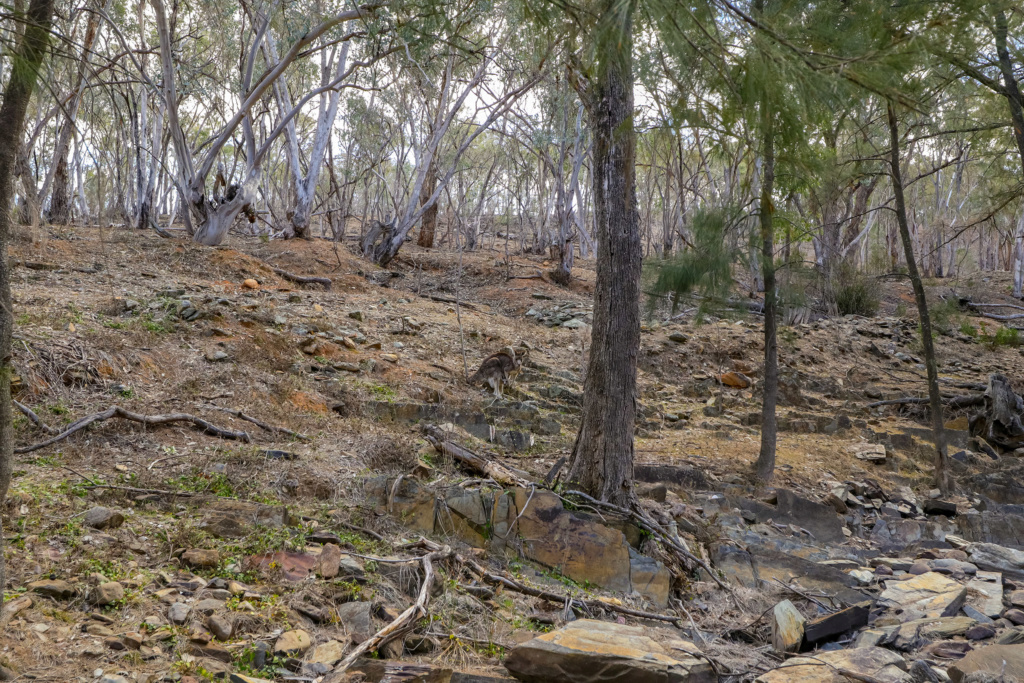 The old diggings located around the panning creek are backed by a private property boundary fence.  There's a kangaroo in the center of this image with a joey.
Digging a target behind a large rock in a dried out river.
Some rubbish and a bit of gold from both locations we dug (3.77g).  We actually found larger trash but declined to bring it home.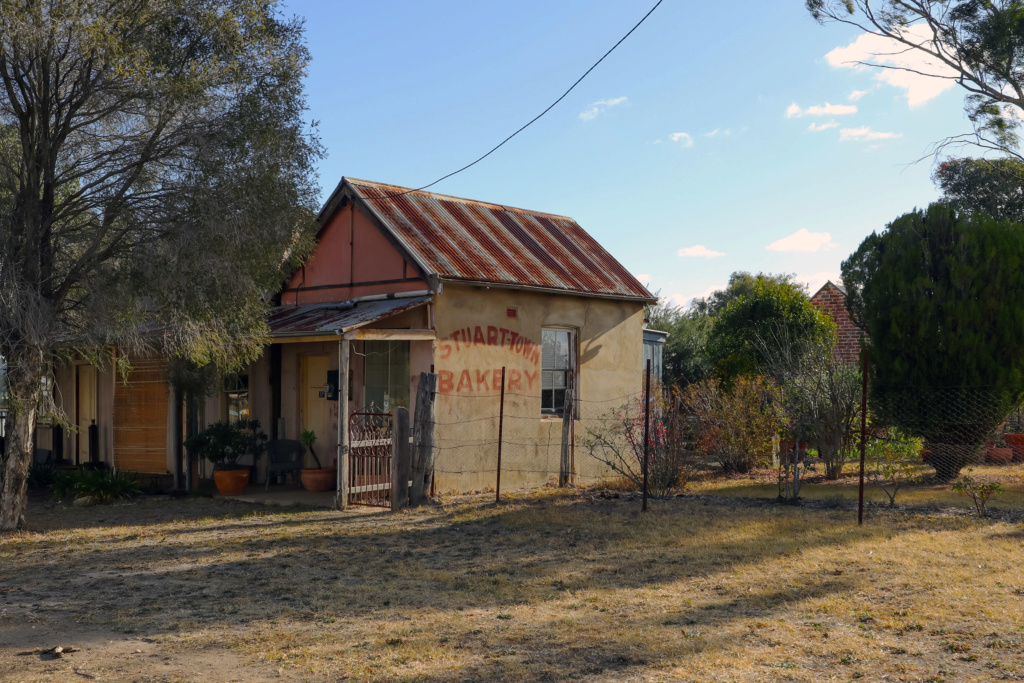 The old Bakery at Stuart Town - surrounded by "For Sale" signs (not shown) for the properties around it.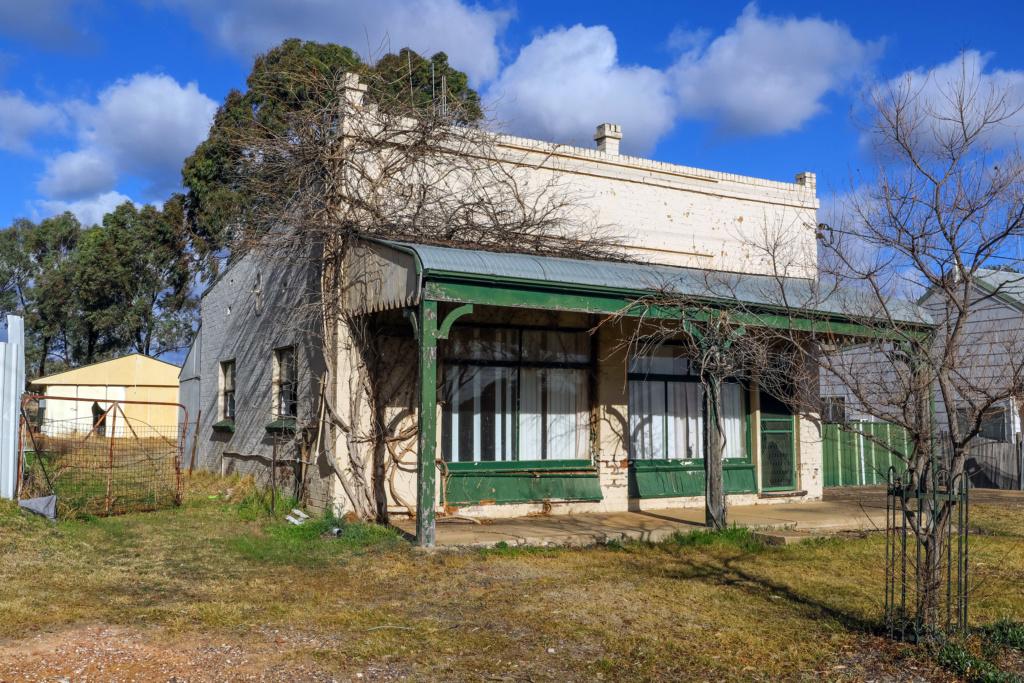 Buildings from the 1800s are still lining the main street at Stuart Town.

nero_design

Contributor Plus





Number of posts

: 2068


Registration date :

2008-11-18



Nice write-up & photos, thanks Nero well done

shandeemax

Seasoned Contributor





Number of posts

: 147


Registration date :

2008-10-24



Love your write ups mate . Keep them coming, cheers Pete.

piston broke

Contributor Plus





Number of posts

: 1621


Age

: 61


Registration date :

2011-05-07



Great post again NERO Did most of those areas when I was 30 + years younger.

geof_junk

Contributor Plus





Number of posts

: 778


Registration date :

2008-11-11



I haven't been out in a while so it's fun to get out there - but it was just so terribly cold.  The strong wind was particularly brutal because it strips you of any body heat and drops your core temperature, making it painful to simply stand about.  Without the hard wind you can at least enjoy yourself to a degree if you're rugged up. The main reason I haven't been out as often lately is because my new car doesn't have the clearance my old vehicle once had. But I'll get around to sorting something out in future I enjoy the outdoors but I also like my comforts when I set down for the night.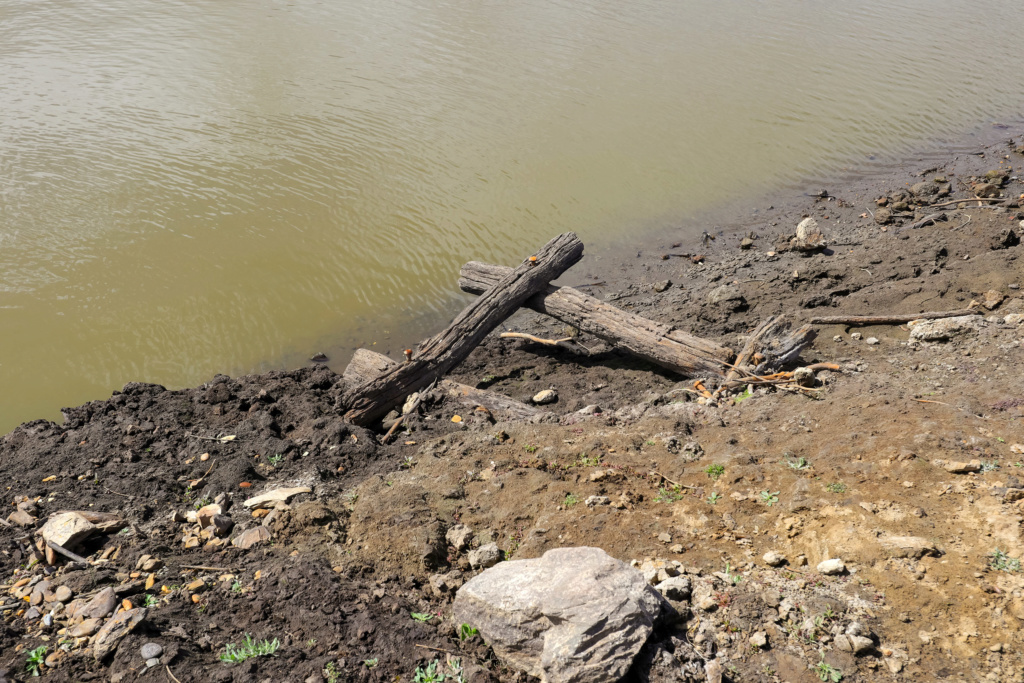 The remains of the old town are starting to show as the bottom of the now-flooded Macquarie River.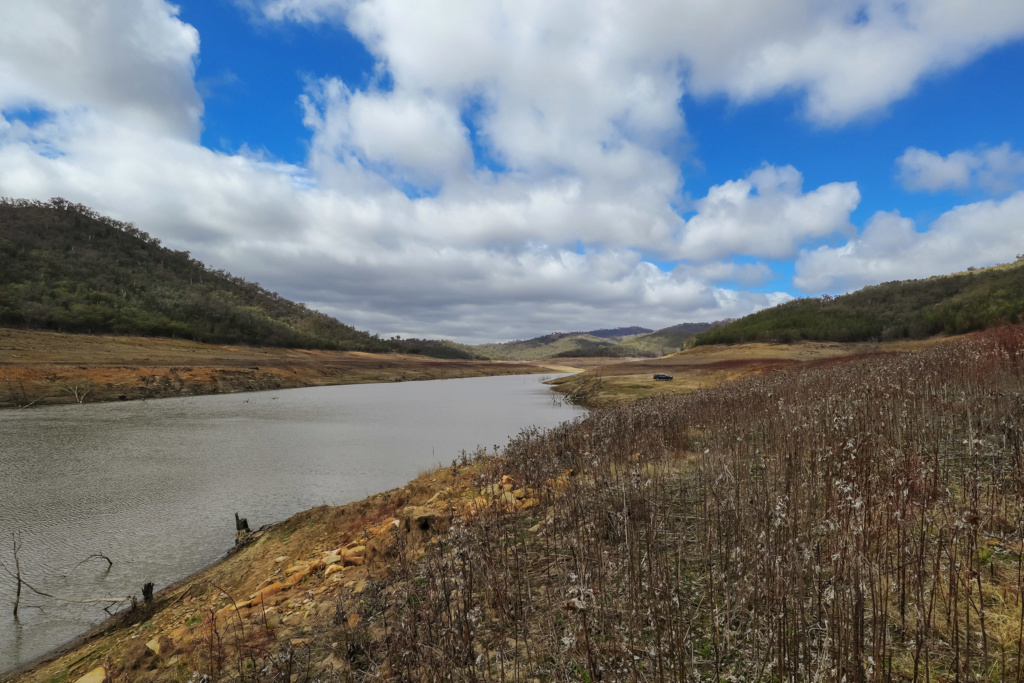 Car for scale.  That river is lower than I've ever seen it before.
From memory, the Stuart Town district contains the oldest geology in the state.  Though it looks much the same as nearby Hill End when you're looking at the soils there.  The old timers left Stuart Town and moved to the gold rush that broke out at Young (NSW) in the late 1800s.  They felt that the Stuart Town (aka "Ironbark") district had run out of gold although I suspect that the ideal spots were either claimed or worked out on the surface and newcomers didn't have much ground they could access.  There's a lot of mining equipment spread out and rusting on the ground there and I'm interested in returning just to photograph the diggings in a nicer light.  I figure that any pictures I post might bright back some old memories for those of you who visited these locations in the past, or they might offer something of a preview for folks thinking of heading out there.  The water in the Macquarie River is incredibly low now... that the trees that were on the bottom of the river when they flooded it to create the Burrendong Dam are sticking out now.  The gold seems to be spread out on different levels though and it would take me some time to figure out the best places to start panning or sluicing.  There was evidence of multiple sluices having been used in the creeks but those were long dried out when I arrived the other day.  I sure would have liked to have seen what the miners recovered from this location in the early days.  The gold here has a real buttery-yellow color, presumably from the purity.  I regret not stopping in at the stores in town to see if anyone was selling gold but they have internet available now for visitors.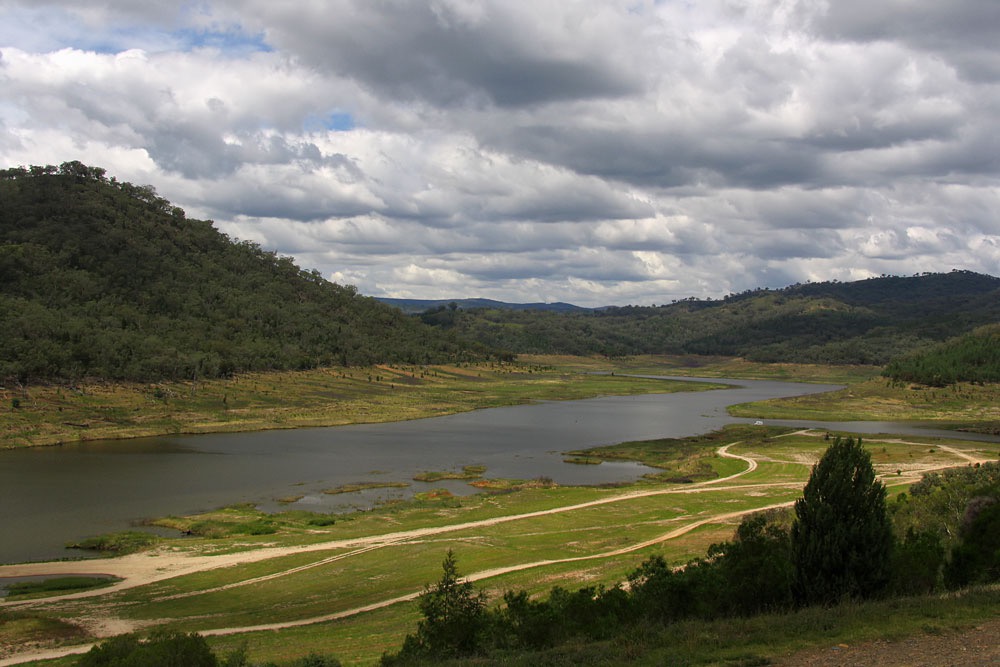 Here's how the river looked like 10 years ago...  It was considered incredibly low back then.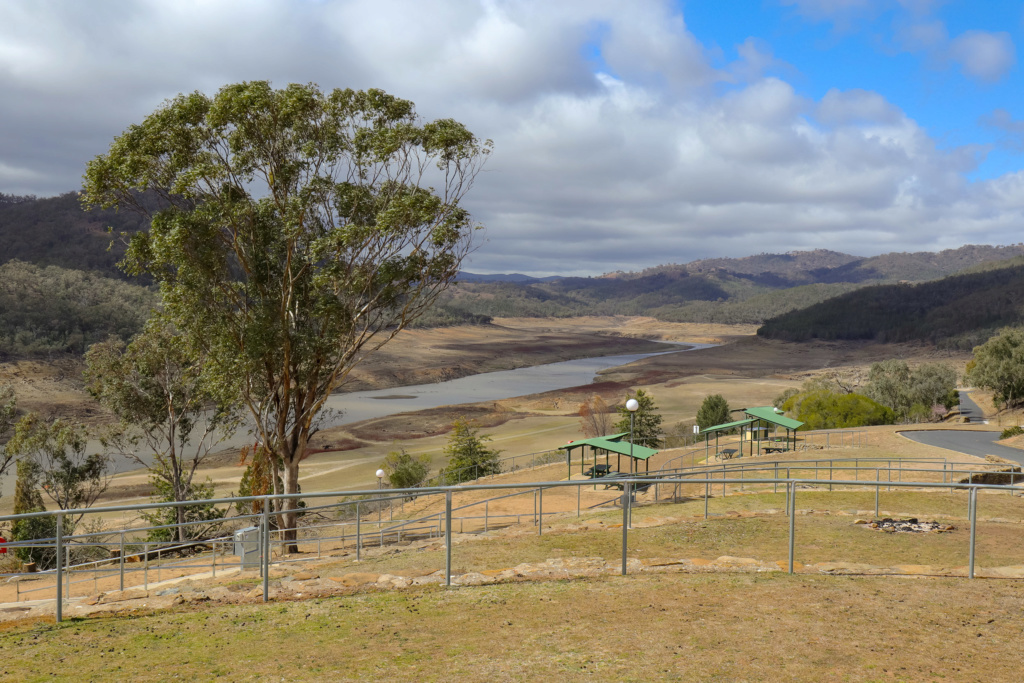 And here's the same location as it appeared this week.
Though I neglected to photograph them, there were some mighty chunks of quartz lying about everywhere.  Some of the pieces crushed by the ore crusher batteries were bright and square edged.  Some that were down by the river were rounded and smooth.  Some had evidence of metals like iron and copper within and some have terminated quartz crystals about them.  Overall, it's a nice place to get away from the world.  I think i prefer some of the amenities from other gold towns and I probably won't be driving visitors all the way to Stuart Town just to see a goldfield.  I'll be more inclined to visit Sofala and Hill End for the touristy trips.  My mother in-law is visiting from Canada soon with her new husband who is a former commercial airline pilot and now a cattle rancher... so I'll probably drive them out to see a few interesting "touristy" gold towns.  Obviously the more remote locations will be better for those looking to find gold today. I've generally avoided looking for gold near a busy location, not that it's all gone.
Entering the outer region of Stuart Town from the direction of the city of Orange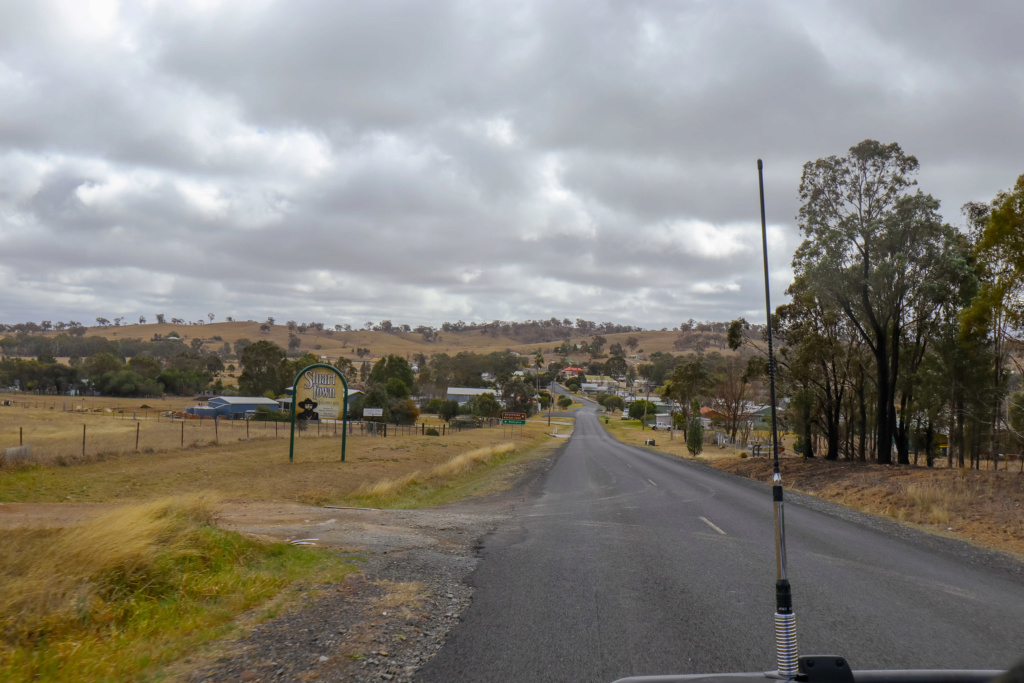 Main Street of Stuart Town.
Main Street of Stuart Town.
Main Street of Stuart Town.
There's been a bit of serious crime in the town just above Stuart Town in
Wellington
in recent years.  I was able to get a couple of locals to acknowledge that there's been issue in the past and I can recall reading about a few armed robberies, car-jackings and even assaults in the Wellington outskirts. I also spoke with a few different prospectors who told me about having their fuel tanks drained after they parked on a major road to fossick nearby. There's also been a couple of bodies found near Stuart Town (the last was around 10 years ago or so) - one of whom was possibly a prospector who came from the Victorian goldfields... and the official word was that there were suspicious circumstances involved.... and that's one of the reasons I welcome the added security they've installed at the Mookerawa entrance recently. Ben Hall, the Australian bushranger was said to have robbed the tavern at Stuart Town at least once or twice.  No doubt the history books have more to offer on the subject.
But those things are common around any town, remote or not.  If you read the stories about the prospectors who were on the early days of the diggings you'll discover that deaths occurred almost daily.  In the Californian gold rush of the 1840s, there was an average of one death per day on the major diggings.  But here in Australia, the accidents were likely to be just as frequent... Miners were crushed and died when ore carts fell on them or when ropes snapped when lowering men down into shafts or hauling ore to the surface. There seemed to be a lot of injuries and fatalities around blasting and the use of explosives. People fell into shafts after standing on an untimbered collar or they passed out on the way back up from the change in temperature and fell back in.  They got crushed in cave-ins and they were smothered in their holes or drowned when the creeks flooded. They got sick and couldn't afford a doctor.  I think the loneliness got to quite a few of them who arrived without close friends for support. It's astounding how many of them walked from one major strike to another on foot, which is something that cost a LOT of lives in Western Australia and the far North of Queensland.  Reading the old Telegraph reports I noticed that quite a lot of miners perished from lack of water as they tried to reach remote towns through the bush where tracks were hard to read.  And having run out of water just once myself - after mistakenly taking it out of my pack to access painkillers, I can only imagine just how horrible that would be.
But there was no phone reception around the Mookerawa region that I was able to pick up on.  And I think a snakebite kit might be essential there as the weather warms up. It seemed like the townsfolk had given up with so much property for sale.  My friends seemed to be putting some serious thought into looking at some of the properties there but I think gold-fever might have had something to do with it.  Either way, I hope to return again just to poke around and see what was left behind by the folks who were there over 160 years ago. Preferably in nicer temperatures and with a half-decent lens on my camera.

nero_design

Contributor Plus





Number of posts

: 2068


Registration date :

2008-11-18



nero_design wrote:

There's been a bit of serious crime in the town just above Stuart Town in Wellington in recent years.  I was able to get a couple of locals to acknowledge that there's been issue in the past and I can recall reading about a few armed robberies, car-jackings and even assaults in the Wellington outskirts. I also spoke with a few different prospectors who told me about having their fuel tanks drained after they parked on a major road to fossick nearby.
I live in Wellington, boy does it get a bad wrap. Car jackings? You can't be serious?
 I often just listen to stories people have about the town for a laugh, clearly they have never come here, anyway, that's their loss.
nero_design wrote: There's also been a couple of bodies found near Stuart Town (the last was around 10 years ago or so) - one of whom was possibly a prospector who came from the Victorian goldfields...and the official word was that there were suspicious circumstances involved....
Not too sure about a couple of bodies? Please elaborate or post evidence to back up your claims. The only one I know of was Stuart Towers who had a mental illness. No suspicious circumstances at all. Again, please don't make false claims or back up your "official word".
https://www.abc.net.au/news/2006-12-01/tests-on-skull-confirm-vic-mans-identity/2143020
nero_design wrote:and that's one of the reasons I welcome the added security they've installed at the Mookerawa entrance recently.
If that helps you sleep well at night that's good for you but the main reason for the extra security is purely revenue.
nero_design wrote:Ben Hall, the Australian bushranger was said to have robbed the tavern at Stuart Town at least once or twice.  No doubt the history books have more to offer on the subject.
Close, but no cigar. Nubrygan located west of Euchareena.
https://www.abc.net.au/local/photos/2014/10/20/4110779.htm
https://www.wellingtontimes.com.au/story/3919430/historic-inn-near-euchareena-heritage-listed/
nero_design wrote:It seemed like the townsfolk had given up with so much property for sale.  My friends seemed to be putting some serious thought into looking at some of the properties there but I think gold-fever might have had something to do with it.
I noticed that in one of your photos you included a shot of the sign on the roadside for the general store. Clearly you didn't see that this shop is closed, otherwise you would have mentioned that. They used to make the best hamburgers, seriously, they were the best, also sell fuel and basic supplies to tourists and locals alike. Low water levels in Burrendong dam really affect tourist trade, waterskiers don't come, fishermen are fewer, this is devastating on the town.
Any prospector wanting a change in employment right on a goldfield may be interested in this?
https://www.realestate.com.au/property-house-nsw-stuart+town-128739330
nero_design wrote:
Either way, I hope to return again just to poke around and see what was left behind by the folks who were there over 160 years ago.


I'm not sure if you're aware or not but there's a lot more to Stuart Town than Mookerawa?
Now I just had to clarify a few things in your post Marco, I'm not picking on you, I do love your photos and stories. However when I read things that are wrong, I have to correct that information.
Cheers
Curley

Curley

Contributor Plus





Number of posts

: 244


Registration date :

2008-11-16



I hate to contradict you, Curley... but you're still wrong.  My ears stand up whenever I hear crime associated near a gold town.  Wellington is no exception.  My family in law enforcement is happy to fill me in whenever I require details.  Wellington gets a bad wrap for good reason.  One of those reasons is serious drug abuse by the youth there. Car Jacking at Wellington made the news a few years ago... and serious violent crime has been a problem for Wellington for quite some time, especially in recent years.  Don't take my word for it, read a newspaper or speak with your local police chapter. I have.  They told me crime was out of control in some aspects, an issue highlighted by an A Current Affair article some recent years ago.  Look... here's ANOTHER carjacking from 2016 that I missed...
Curley, the bodies found at Stuart Town were in the news.  They were years apart and unrelated. The most recent incident had a man's body turn up there who was previously in Melbourne with no explanation as to what brought him so far.  Both of the instances I'm aware of were listed as "suspicious" by the police.  That should ring a warning bell.  Just to add specifics, I'm not even referring to the body of Ian Hamilton - which was still listed as a mystery death from the Wellington region in July 2019.  Sounds to me like yet ANOTHER dead body showing up in the same region without an explanation as to how it got there.  I wasn't even aware of this one so thanks for inspiring me to look into it.
You're right about the boom gate and new office being there for revenue.  But it's also likely there as an added deterrent for the lads coming down from Wellington and trashing/raiding the unattended holiday homes there.  
You're wrong about Ben Hall.  That one, again, is in the history books.  The robbery at the old Inn at Eucharina was one of his last.  But it wasn't the same robbery as the robbery on the grog shanty that took place at the Stuart Town diggings at Mookerawa.
But don't take my word for it, it's right HERE on the Stuart Town webpage:
The mention of the name "Mookerawa" is pretty specific here.  And the term "shanty" (a crudely built shack) indicates a different structure to the Mud Brick permanent structure of the Historic Inn at Euchareena.  Local bushranger lore says Ben Hall also burned down the shanty, to "send a message". Whereas the Historic Inn is clearly still standing.
What I don't understand is the number of people pushing the "you're wrong" mantra and claiming that "my experiences aren't like that at all".  Well I'm sorry but when I write something, I'm using the available information from people with the first hand knowledge, my own research and/or my own experiences.  Ben Hall did indeed commit more than one robbery at Stuart Town/Ironbark.   The INN that he robbed at Eucharina is technically on the same Topographic map but Hall robbed the diggings too since that's where the gold and the money was located.  He also burned down a shanty while he was at it, which is not referenced by the still-standing Historic Inn at Euchareena.
 Reminds me of the folks I spoke with who came back from WA with bullet holes in their solar chargers and in the sides of their new 4x4s.  I had other stories about people pinned behind rocks of getting nuggets shaken out of their pants when confronted.  A number of forum members here were quick to cry out that this couldn't possibly be true and that I was making it sounds like The Wild West.  Then we have members of this very forum posting pictures of themselves with guns in WA for the purpose of running people off their claims or the properties they claim to maintain.  The fact remains that it's lawless in some regions.  I've met with people (including police) who have been shot at or had a firearm discharged by "gold-coveting lunatics" in State Forests in NSW.  It often makes the news.  It happens.  Usually the perps are eventually arrested.  Not always.
One of the most useful members of this forum ended his subscription and left after being challenged on everything he did, wrote and said here.  It's your loss.

nero_design

Contributor Plus





Number of posts

: 2068


Registration date :

2008-11-18




Sharkbait

Contributor Plus





Number of posts

: 884


Age

: 65


Registration date :

2013-03-07



Fantastic post nero,I totally agree with you about the pine forest,it's like digging through steel cables,and a danger to ones eye balls.
As to the rest of your articles ,I believe in what you describe.
A mate of mine some years ago found a decent slug of some 43 oz in the GT and he was camping alone,he was warned on several occasions not to tell people or use his mobile phone to tell friends of his find.
He was told emphatically by locals that there are ex cons living in these isolated areas & that they wouldn't think twice about knocking him on the head for the nugget if they found out.
I think it may be so for any isolated areas,keep your wits about you is the motto,not much has changed in all these 160 years.

cheers moredeep



moredeep

Management




Number of posts

: 947


Age

: 60


Registration date :

2018-05-23



Thanks folks.  Though it has since been REMOVED from the State Forest website, up until around 2014 they used to have a warning that stated assaults in the State Forests were as common as they were in the city.  Of course, there's less people around who might help you and there's often no phone reception.  
There was also an incident on the news where three casually dressed federal police officers were attacked in a State Forest by three youths who were offroad in a stolen car.  One of the younger occupants of the stolen vehicle jumped out and tried to menace the police with a knife and the police caught him before his friends took off.  But I can't recall which forest it was.  I certainly agree that walking about with a freshly found lump of gold would be a serious temptation for some people.  The equipment alone would have to be a bit of risk if it's expensive gear.  One of the reasons the dealers don't hire them as often as they used to is because they're always being stolen.
Whilst I disagree with some of the points Curley raised, I am often out to find some of the oldest examples of our early history - so his linked article to the Historic Inn at Euchareena is of considerable interest to me.  I will attempt to visit that location in future to try to photograph it.  Thank you for that link, Curley.  I hope you won't take offense at me for disagreeing with you.
When I worked at the Miner's Den (for about 10 years), I had a lot of folks coming in with interesting or terrifying stories.   You can never be sure which ones are true although I found 98% of the customers to be very straight forward and honest.  Sometimes they backed up their stories with videos or pictures.  On one occasion I was visited by a relative of Ivan Milat and was able to Google him for verification while he was in front of me (the wonders of technology never cease to amaze me).  I take quite a lot of precautions when I'm out in the bush.  I'm not always in the goldfields either.... and I'd say my biggest fear would be a snake bite that would prevent me from moving, even with a pressure bandage... or a broken limb.  Pretty sure my kidneys wouldn't handle a venomous bite. I've run out of water once and that was a pretty serious incident.  I don't ever want to do that again.
When I was at the Miner's Den we had a dead GPX battery from an old 4000 that no longer worked and Walt asked me if I wanted it because he was going to throw it out.  The 5000 hadn't yet been released so this was back in the days before the stores were bought out.  The next summer I charged up my GPX-4500 battery but STUPIDLY left it at home... because I'd accidentally packed the dead GPX-4000 battery instead by mistake.  I drove all the way out to the goldfields with Fred, the president of our local Prospecting Club. And when it came time to set up our machines, I discovered my mistake.  I spent the day poking around with a pinpointer - which was all I could do.  I let Fred use my detector with his own battery to try out a new coil I'd bought and he found a small nugget with it!  So sad.  Of course, I won't make that mistake again.  But it's an example of the sorts of things you learn from.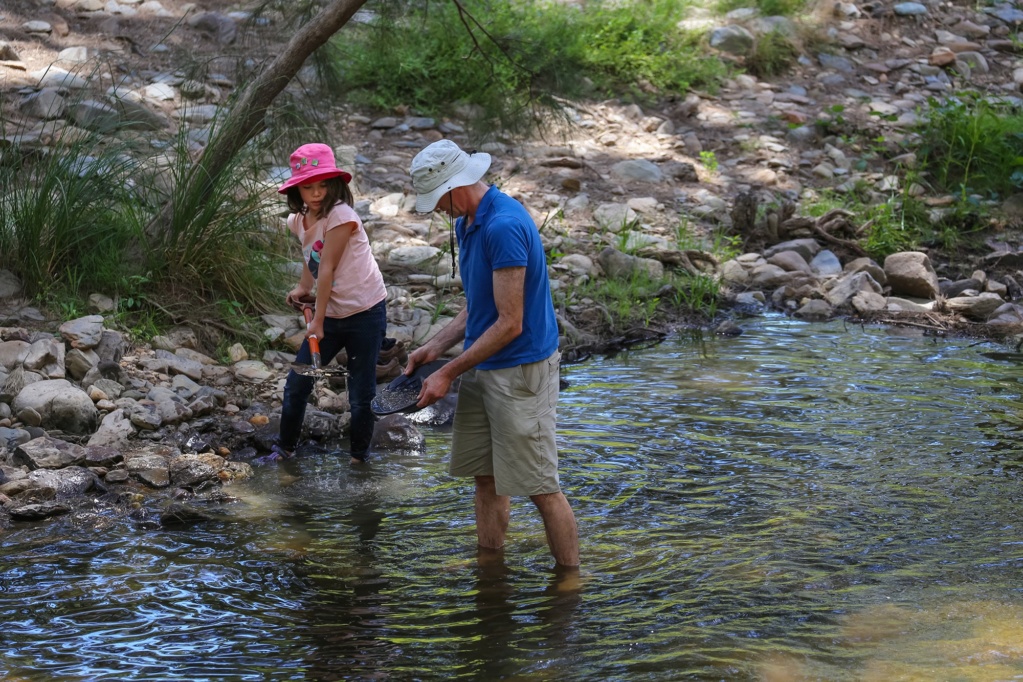 A father and daughter panning out near Opir (NSW), the last time I drove by.
I would say that Gold has a strange effect on people.  They become defensive of properties where gold is known to be found and they can become irrational or lose their sense of fair play.  It's certainly led to the breakdowns of solid friendships or relationships.  With the biker gangs out on the Bathurst region roads, there's a strong link between the gold and drugs and even guns.  But the vast number of people who fossick for gold tend to be folks who have been bitten by the gold bug or who enjoy outings with family etc and the prospect of panning or detecting is still a bonding experience.
These days, I don't talk to many people about anything myself of my close friends have found.  And when I bump into someone out there in the goldfields, they always ask you if you've found some gold... to which I think everyone offers the same answer: "Nope".  And when you ask them in return they might say "a little bit" but everything else remains cryptic.  I guess it's just a matter of self preservation.  I'm certainly more aware of what's happening around me when I'm alone but in the goldfields I'm usually with a couple of friends and they're either military or police so I'm usually not too concerned.  Every prospector is armed with a pick-axe to dig with so there's always that to consider.  
Titanium tool that I came across at Urban Tactical the other day...
I don't know if this is of any interest to anyone but there's a half price sale on at Urban Tactical in Parramatta at the moment.  They'll be open until the 1st of November but will be closing down for good.  They have some Titanium multi-utinsels (a kind of knife-fork-spoon thing) which are usually about $99 but will be half that price right now.  For those of you wanting super-lightweight gear, this is useful.  Though they have a lot of packs, protective gloves and camo colored gear, I picked up a neat little Titanium chisel for getting gold out of crevices or splitting slate etc.  These are usually pricey (Titanium is expensive) but I picked one up for $50.  There's one left there if anyone else wants it.  They don't rust and they're almost as light as aluminium.  I'm sure it could be put to good use by a prospector.  My own Chisels from Bunnings weigh a ton by comparison. I just happened to be passing the store and saw all the "closing down" signs on the windows. Since this is an outdoors themed store, I thought it might be useful information since the weather is now warming up.
I'm hoping to head out to WA in the near future. I'm definitely going to need to find a way to cut down on the gear I carry. I'm in the process of stripping down a lot of what's in my detector backpack to reduce it for my own trips out. It turns out that the 2007 expiry date for a chewy Uncle Toby's Muesli Bar is there for a reason.

nero_design

Contributor Plus





Number of posts

: 2068


Registration date :

2008-11-18



---
Permissions in this forum:
You
cannot
reply to topics in this forum