Here is an interesting article some of you might have read about in the Australian a couple of weeks ago. The story started in the early 1900's, but got interesting after about 1948...
http://www.theaustralian.com.au/news/nation/stolen-golds-path-from-joes-gully-to-beirut/news-story/ae988e47ff5f2aefb030b82181fefc42
The article:
One of the world's finest pieces of crystallised gold — scraped from a digging near Joe's Gully in northern NSW by a miner in the early 1900s, acquired for the Australian Museum in Sydney, stolen in the late 1940s and cloaked in intrigue for the next 70 years — lies behind a vaulted door beneath Beirut.
In this secure basement, in the words of one entranced ­visitor, "lies a fortress with the most beautiful mineral collection in the world … one of the paramount private collections for the variety and quality of its minerals".
It is here that reclusive ­Middle East billionaire Salim Edde — founder of his family-owned international software company Murex and a passionate collector of minerals and crystals — covets Australia's perfectly formed gold specimen.
Salim Edde bought the piece in good faith when he did not know it had been stolen. He says it will stay in Beirut.
It is not going anywhere, vows Mr Edde, who bought the piece in good faith when he did not know it had been stolen. "I know that for as long as I am alive, it will stay where it is,'' he said from Lebanon. "After I have gone, I don't care. I do not see why I would return to Australia anything that I got legally. It is not my problem at all and this is my last word — it will stay here."
The small piece from Tooloom, close to the Queensland border, weighs a couple of ounces. If not for its unique qualities and rare cubic shape that make it the envy of museum curators, serious traders and lovers of the yellow metal, the specimen's value based on weight would be a fraction of sums of up to $1 million that a zealous collector would pay for it.
Yet the Joe's Gully specimen was never meant to have been traded in the international market. As the property of Australia's oldest public museum (founded in 1827) until its theft, it should not be in a private collection.
It is regarded by insiders as one of the mineral community's "dirtiest secrets", having fallen into the hands of a revered collector, the late Albert Chapman, who had worked closely with the museum.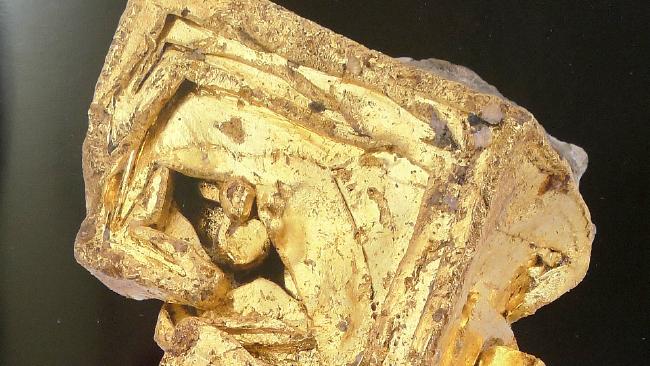 Crystallised gold specimen found in 1900s in NSW.
It was witnessed and photographed in his collection in his Sydney home by experts in the field, many years after it was recorded in 1948 by the Australian Museum as "missing". But it was long after Chapman's death in 1996 and the reprint in 2013 of a famous book on mineral specimens including the piece, that collectors realised it was the same distinctive Joe's Gully gold.
Three of those collectors — George Stacey, Paul Melville and Tony Forsyth — want it brought back to Australia and reinstated in a secure display for the public. Mr Forsyth, vice-president of the Mineralogical Society of Queensland, said: "Art collecting and mineral collecting are not very different — just imagine if a Sidney Nolan painting had been stolen from a museum in Sydney and ended up in a museum in the Middle East. There would be uproar.
"Myself and my fellow collectors would like nothing better than to enable this specimen to be repatriated back to where it truly belongs in the Australian ­Museum in Sydney, and where (its former owner and mine manager) George Smith wanted it displayed to the public of his state and of Australia."
The prospects look bleak. Mr Edde, who is not implicated in any wrongdoing in his purchase, said: "Rest assured, I do not want to be convicted of any irregularity. But my conscience is not troubled at all because I have paid dearly for this specimen, which I have coveted since 2004 and which I bought from a reputed American dealer in 2014."
He said he had heard many stories that the Joe's Gully gold was stolen, but he knew none of its history when he bought it three years ago. He is adamant that whatever the skulduggery at the Australian Museum that led to it disappearing a few years after World War II, it should not have any bearing on his right to own it.
Asked about UN conventions that tackle the increasing theft of cultural property from museums and archaeological sites and return stolen items to their rightful owners, Mr Edde said they were irrelevant in this case as the Joe's Gully gold went missing in 1948, two decades before the provisions were agreed by UNESCO in 1970.
Mr Forsyth has traced the Joe's Gully specimen, which is 2.5cm wide, to another legendary collector, George Smith, an ­Inspector of Mines for NSW until his retirement in 1925. Smith's job, says Mr Forsyth, "gave him access to mineral specimens from many mines … He had the opportunity to assemble a fabulous collection over many years".
Smith bought it before 1905 and, on his retirement, he wrote a book that became the bible for devotees in Australia, A Contribution to the Mineralogy of NSW, which includes a photograph of the Joe's Gully gold and a brief ­description. Smith, who had ­always wanted it displayed to the public, sold it along with the remainder of his collection to the Australian Museum in the 1920s.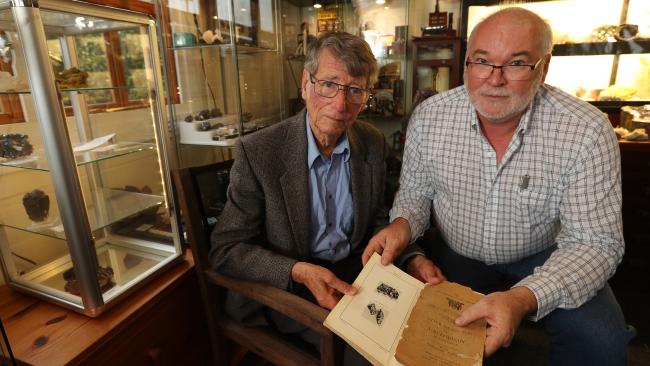 George Stacey, left, and Tony Forsyth. Picture: Lyndon Mechielsen
Mr Forsyth, awarded in the Queen's Birthday Honours for his contribution to mineralogical history, has obtained museum ledger records showing the Joe's Gully gold, D27600, is listed as "missing" from the collection on March 9, 1948, four years after Smith's death.
Where it went had become a modern whodunit for experienced collectors. Mr Stacey, Mr Melville and Mr Forsyth say they saw it in Chapman's collection at his Sydney home, although they did not realise it was the missing piece. It was in a drawer and not on open display, and it was labelled "Pioneer Mine, Drake, NSW", which is about 80km from the diggings of Tooloom where it was discovered. Chapman told one of his visitors he obtained the gold "from a miner who had searched him out and had knocked on his door".
Some of his longtime admirers find it inconceivable that he would not have known it was the piece Smith gave to the museum and featured in his book.
"It's a real treasure, one of a kind — the best cubic crystal gold in the world,'' Mr Stacey said.
"There's a certain amount of suspicion around Albert Chapman now because he had it."
Mr Melville said: "When I saw it at his home and photographed it there, I didn't know what it was. I know now. Albert was highly ­regarded, and a mentor to us younger ones."
The piece was not included in the collection Chapman sold to the NSW government a few years before his death. His widow Doreen offered the Joe's Gully specimen to Mr Stacey, but he missed out to another collector who had offered more. It was next acquired by Australia's largest dealer in fine mineral specimens, Robert Sielecki, who made headlines in subsequent years for managing the sale of Australia's largest recent gold nugget (22kg).
There is no suggestion he knew the Joe's Gully specimen was missing, suspected stolen, but by 2004, according to Mr Forsyth's research, it had left Australia and was exhibited in Arizona, Germany and France by two of the mineral world's elite dealers: Ian Bruce in Britain and Wayne and Dona Leicht in the US.
Images of the specimen adorned postage stamps and carry bags for mineral shows, and Mr Bruce said of it: "My all-time favourite gold specimen, huge cubic crystals in a very aesthetic form, from Joe's Gully, NSW."
The Australian Museum's manager of life sciences, Cameron Slatyer, said yesterday that since being alerted by Mr Forsyth to the piece's existence overseas, the museum had been working with the federal government to get it back. "The museum's view is that it has been removed from the collection without permission," Mr Slatyer said.
"Our view is that it is still our property, and we have been unable to establish any paper record that would suggest otherwise. We really have no evidence of how it passed into the hands of Albert (Chapman) or the subsequent owners, and we have no evidence to suggest they were necessarily aware of what exactly they were in possession of."
Mr Slatyer said Lebanon was bound by the conventions requiring the return of stolen artefacts and that the laws "have been successfully used to recover cultural heritage missing or stolen prior to 1970 such as artworks taken by the Nazis in World War II".
Thefts were not rife at the Australian Museum but they were not unheard of. The quality and the value of the gold made it a target in the early years. Archives show that after significant specimens of gold were stolen during break-ins in 1873 and 1875 the museum posted a £50 reward and offered a pardon. But the gold never came back. Mr Forsyth, Mr Stacey and Mr Melville hope that history is not repeated.
Last edited by GoldnQuartz on Wed Sep 06, 2017 10:14 am; edited 1 time in total (Reason for editing : typos!)

GoldnQuartz

Contributor





Number of posts

: 46


Registration date :

2016-04-07



---
Permissions in this forum:
You
cannot
reply to topics in this forum