HI ALL

Is it normal that when I move the lead at the point of conection onto the coil, it squells. I noticed this to'day while out Detecting and I touched
a branch on the ground. Doesn't seem to be warn ,actually looks like new , but moveing it from side to side at the base ,makes a hell of a
racket.

Regards mal.

MALCO

Contributor





Number of posts

: 57


Age

: 69


Registration date :

2012-09-15



Yes,most coils will tend to "squell" (as you put it) upon sudden bumping or moving of the coil lead near where it enters into the coil Mal.The same as when any part of the coil lead is not wrapped up tight and wound up loose around the detector shaft,causing it to flex freely when bumped into obstacles.If your coil is wound up tight all the way into your detector box and coil connection done up tight,if then your experiencing any abrupt squell of the coil when coil only is touched,bumped or scrubbed on the ground,after proper ground balancing and adjustment of the modes/timings etc,then you have a faulty coil with loose coil winding's within.
Cheers Kon.

kon61

Management




Number of posts

: 4995


Registration date :

2010-02-19



HI KON

Thanks for your quick reply with Info, much appreciated, looks like all is good. I sometimes get a noise for no apparent reason,like I have
just swung over a nail, but probably only every say 10 mins or so, is that what is refered to as Falscing? Thanks again.

REGARDS MAL.

MALCO

Contributor





Number of posts

: 57


Age

: 69


Registration date :

2012-09-15



Hi Malco,
If you are using NF coils some of them with certain serial numbers have been faulty.Pays to check with dealers and they would be able to fix it.Service at NF fantastic
There is this little cable holder which will help you a lot to fixate the cable and practicily stop it to move and make noise.
I bought this one from Grumpy57 he makes them so send him an PM and he might be able to help you.(I paid mine around $10 dollars):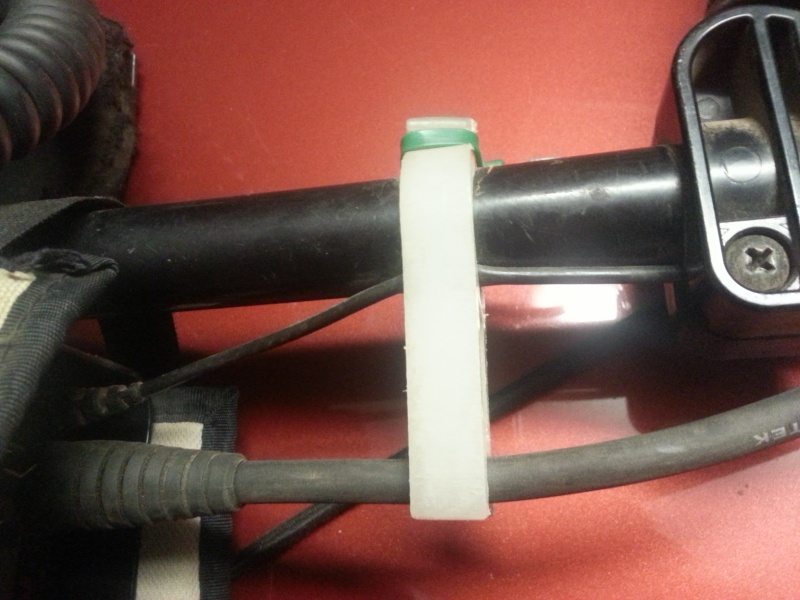 From side:
Happy gold hunting.
GoldEN
Now that's a nice little set up to avoid any chance of coil cable movement from coil to control box GoldEN,lessening any chance of false signals heard occurring through coil.
Malco,as GoldEN has said there were batches of mono coils from just about all three main suppliers,which were not designed properly for their intended use,lucky that they were far and few in between.In your case,(leaving hot rocks aside),getting a strong signal coming through your coil once every ten minutes or so,could be the result of lightening activity near by,or possible moisture or water trapped between the skid plate and coil cover causing the coil to false.If a coil were outright faulty,it would show continual consistency in erratic behavior,such as that of a coil with fine highly mineralized dirt trapped in between skid plate and coil or sections of internal coil wire which were not wound tight or properly insulated within its mold,causing continuous falsing of the coil when swung between obstacles.
Cheers Kon.

kon61

Management




Number of posts

: 4995


Registration date :

2010-02-19



HI GoldEN, that is a nifty little teflon peg you have there, it sure would eliminate the problem. The coil I am using is the std Minelab 11in DD on a
GP3000. I thought I would try another location to'day , as I didn't seem to have that problem of falsing when I was at Hill End, sofala,ect
or it wasen't as noticable , anyway in a couple of Hrs Detectering , only happened twice? so on thinking about what you said Kon, re
lightening activity, causing interference, although none of that around, there was power lines close by, and a wire fence heading up the hill
into mountain goat country, so maybe that could have been causing it. LEARNING, LEARNING, LEARNING, ALL THE TIME.
Thanks again.

Regards Mal.

MALCO

Contributor





Number of posts

: 57


Age

: 69


Registration date :

2012-09-15



---
Permissions in this forum:
You
cannot
reply to topics in this forum