I have been looking around YouTube and found a few Clips of people harvesting Quartz outcrops and crushing large sections using a Sledge hammer then placing in an upright rock crusher and then panning the dust out. i wanted to know if anyone has had any luck with this ?. I have seen a lot of these outcrops around my area and was thinking of giving it a shot, Is there any tell tale signs a piece of quartz may contain gold or traces of small gold ?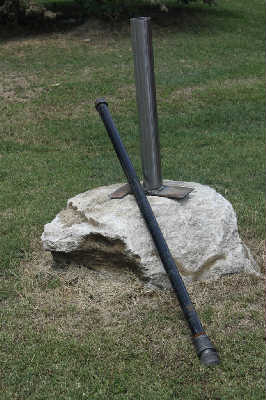 Portable Rock Crusher
Visible gold on the outside of Quartz but if it was on the inside you would walk straight past it

Goldeneye

New Poster





Number of posts

: 17


Registration date :

2013-02-01



That's a hard one different areas and such a bit out of my league what you need is information from a hard rock miner. But if I was to go after just gold in quartz a detector must come into play there again my knowledge with detectors is very limited but there are some top class guy's on this site that will know the in's and out's of detecting. This would be a good question to ask on the main message board. Cheers mate sorry I could not help.

James 101
Hi Goldeneye
Initially the best way is to do some Loaming or test panning below the outcrop to verify
that the blow actually does contain any traces of gold be it however minute.
Once gold is actually proven to be in the outcrop then take select samples of say 1 kilo each
from various parts of the reef and number them so you can trace the sample back to it's
position in the reef, now comes the hard Yakka
Dolly up each individual sample into ultra fine powder and carefully pan each sample for
gold content, add a few drops of dish liquid to your water to break the surface tension
and stop the fine flour gold from floating off.
Be careful of contamination between each sample by dollying some clean Quartz in between
each actual sample you test.
You will need an eye loop of at least 10x power to inspect your samples for micron gold.
When selecting your samples from the reef try to take them from the most mineralized zones
and not the clean white Buck Quartz.
J

CrazyPete

Contributor Plus





Number of posts

: 486


Registration date :

2013-02-05



---
Permissions in this forum:
You
cannot
reply to topics in this forum