Buyer Beware, there's currently a Fake Gpx 5000 on Gumtree, on this one you can see the differences, the control box paint is a bit lighter in colour, the Gpx 5000 font on the box is different, the handgrip foam has a different shape to it, the harness is thinner and has a different fabric colour to it, and so on, other parts have differences as well so see if you can spot them.
It may look close enough to a real one but it "will not work as it should" and is not covered by any Minelab warranty and unless you knowingly sell it to someone else you wont get your money back for it.
https://www.gumtree.com.au/s-ad/joondalup/other-electronics-computers/minelab-gpx5000-metal-detector/1185018429
cheers
au-fever
I am not looking for one , but thanks for posting .

Minermike

Contributor Plus





Number of posts

: 1510


Age

: 75


Registration date :

2011-07-25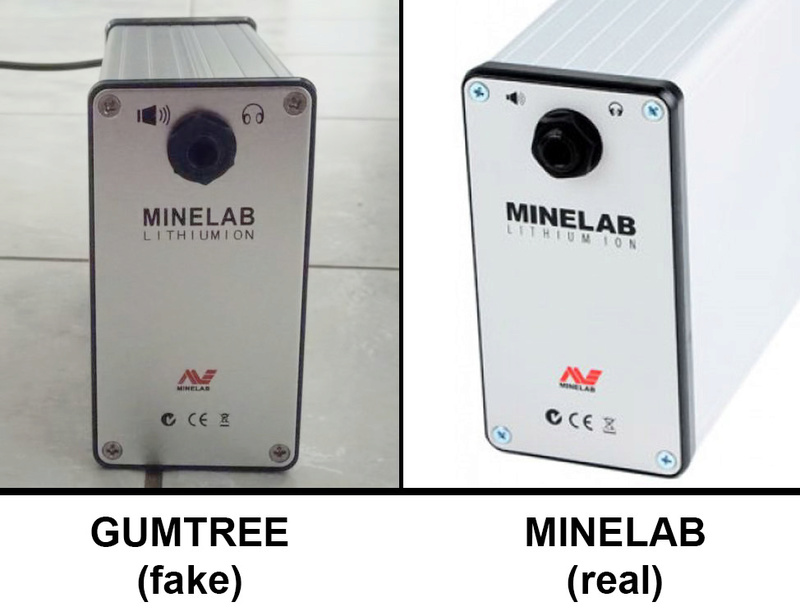 The battery is clearly a fake.  The words "Lithium Ion" should be two words with a space between them.  The speaker/earphone symbol is far too large.  The black "circumference seals" around both ends of the fake battery are not the same as those used by Minelab. Wrong screws are used (no coating). Definitely a counterfeit.
Additionally, he iso-rod in the pictures listed appears to be tapered where it enters the lower shaft.
The three-pin plug at the end of the grip is far too long, even at a distance.
On the control box the sloping on the legs don't match the correct position with the printing on the control box.  The font used for both GPX and 5000 are incorrect.  The text at the bottom of the control box isn't the correct font (but it's close), however the spacing between the words is too large.  Again, this is a counterfeit.
I believe it's illegal to sell counterfeit products in Australia as if they were legitimate.  Legally, it's considered Fraud.  This fake was made to imitate the product from an Australian company which is/was involved in producing products used by the Australian and US military.  This isn't just a copy or an imitation... it's a complete fake (counterfeit).  This means it carries
FALSE
CE and C-tick approval tags and is therefore also in violation of health and safety regulations.  The battery alone poses a dangerous risk to users since it has not been approved for sale in Australia and carries falsified approval tags.  The seller is probably trying to recover his lost money by reselling this substandard garbage.  That's assuming the seller is not the middle-man acting on behalf of the counterfeiters.  This product would likely fail any testing from the ACCC for product safety in Australia.  
The title of the post is "Minelab GPX5000 Metal Detector" and the large picture shows the sticker stating "GENUINE MINELAB, GENUINE PERFORMANCE" on the fake security tag.  Clearly this is being promoted as genuine.
Let the buyer beware.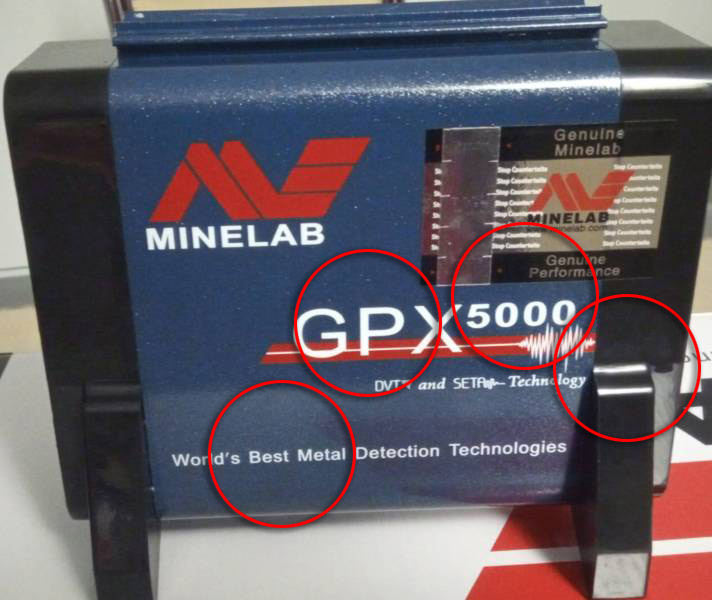 nero_design

Contributor Plus





Number of posts

: 2042


Registration date :

2008-11-18



Thanks for clarifying the differences between the real & fake ones Marco.
Cheers Kon
I'd hate to think whats inside,feel sorry for the innocent people buying these in good faith ruining their first detecting experience..

deutran

Contributor Plus





Number of posts

: 1694


Age

: 56


Registration date :

2009-09-26



deutran wrote:I'd hate to think whats inside,feel sorry for the innocent people buying these in good faith ruining their first detecting experience..
That's exactly the reason that I always either report these sellers, or make it known if I can to potential buyers that there's a fake one for sale, not that I have had the experience myself of losing my money on a dud detector, but I have had people try to scam me over other things, and even had my bank accounts accessed by thieves and that took many months to sort out and left a bad taste in my mouth.
People who knowingly on sell these dud detectors should be charged with fraud, and sites like ebay and gumtree need to pay more attention to what people are putting on there for sale, you may think that too many items are listed for them to police it all but I can tell you from experience they are quick enough to harass a seller if an item is placed in the wrong category, ebay closed my account for three days and deleted all my listing over me mistakenly listing some accessory items in the wrong category, yet they will let a many time reported chinese detector remain listed and more particularly if it already has bids on it, so they also should be held legally responsible if someone is defrauded over the purchase, they are as shifty as chithouse rats but very quick to come down hard on a misdemeanour without even a precautionary message or explanation of what the issue even was.
Apart from the detectors themselves being for sale many of these machines are parted out and the accessory items on sold as well, so there are many batteries, coils, and so on floating about as well, its hard to know if these items work efficiently or not but if they look the same people will buy them and then if they find them to be dodgy then on sell them as well, the damage these people have done to the industry is enormous, I would say that I am very experienced with minelab detectors and have owned, bought and sold dozens of them, but every time I see a gpx machine for sale I always scrutinise the listing and pore over the pictures as I am always on the lookout for a dodgy one, even to the experienced eye a detector can look legit but with the later ones only testing it and looking at it in the flesh can assure you are buying a real one.
Thanks for uploading the pictures and explanations Marco as they will help people to more easily recognise the more obvious anomalies with the dud detectors and accessories.
cheers
au-fever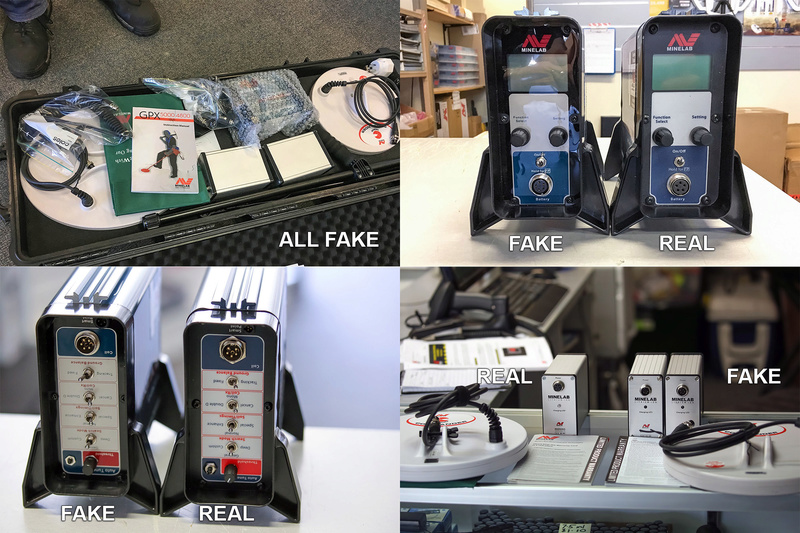 A counterfeit sold to a chap by his workmate in Sydney.  Surprisingly the holographic security seal presented two out of the three required colors.  Thought not perfect, some counterfeits are said to be virtually indistinguishable from the real thing now.  
Back when this all started, people were spray-painting the words GPX on anything they could sell, including old SD 2000s and even Garrett machines!
It's certainly a scourge on our favorite hobby.   Because it undermines legitimate folks selling their own gear when there's cheaper (fake) alternatives around.  It leads to people rejecting your own sale because they can't be sure your detector is real or not.  It affects Minelab's income... and that therefore results in dampening future development.  I was told a few years ago that the Chinese counterfeits being sold on Alibaba cost Garrett Detectors something like 16 million dollars in revenue (presumably worldwide) from the damage it caused.  Folks are buying these fakes from online sellers and literally none of the money is going to the legitimate creators of the real product.
The biggest reason given is that counterfeits fund terrorism.  This was raised over in the Sudan about four years ago.
To quote the folks at TED, "
...you are funding terrorism and supporting crime when you buy counterfeit.
"  And it's not JUST handbags... counterfeit CD sales funded the terror attack on an that commuter train in Madrid.  Pirate CDs for sale in America have funded terror training camps overseas.  There's a US $3.2 Trillion dollar economy associated with the proceeds of counterfeits.  ISIS have even published advice on selling counterfeits to fund terror.  Chinese and Turkish counterfeit metal detectors are related directly to the Sudanese gold trade which is worth hundreds of millions of dollars, possibly billions.... to terrorists in Sudan and across the border in Chad and Dubai. These fakes are funded by people in those countries and that money is being used to kill innocent people.

nero_design

Contributor Plus





Number of posts

: 2042


Registration date :

2008-11-18



Just wondering has anybody tried a fake and do they actually work,i've never heard of any info on this.The reason i'm asking is that try before you buy would be wise in some cases.

deutran

Contributor Plus





Number of posts

: 1694


Age

: 56


Registration date :

2009-09-26



deutran wrote:Just wondering has anybody tried a fake and do they actually work,i've never heard of any info on this.The reason i'm asking is that try before you buy would be wise in some cases.
The early fake machines were one of two types:  The guts of a VLF detector stuffed into a PI detector control box... in which case real coils wouldn't work on it and the same applied if you put the fake coils on a real machine.  And the other type was a simple replica that had nothing at all inside the control box.  Note that there are two primary sources for the fakes: China and Turkey.  There ARE multiple factories making them in other countries as well but those are the two major sources.  Of the early Chinese fakes from around 2009 to 2011, they were being sold to the Sudanese via shipping containers containing thousands each.  I met one Australian who was bragging to me about how he had just bought 1200 of these from China at a price of just $3,000 each.  It took some convincing but we managed to convince him to verify that China is not the source of the detectors and that there was no chance in the world he'd bought genuine products but fakes if they came from China.  Fakes that did not work.  I have it on very good authority (from a direct conversation I had around 2010) that the Chinese People's Army went to one of the factories cranking out fakes and took the managers outside and shot them for making fake mine-detectors.  And one of the senior members of the Australian Sudanese community told me that the Africans sent a hit squad armed with long knives to China to pay them back for their deception since so many people's lives were ruined by purchasing these fakes.  Still they continue to flow.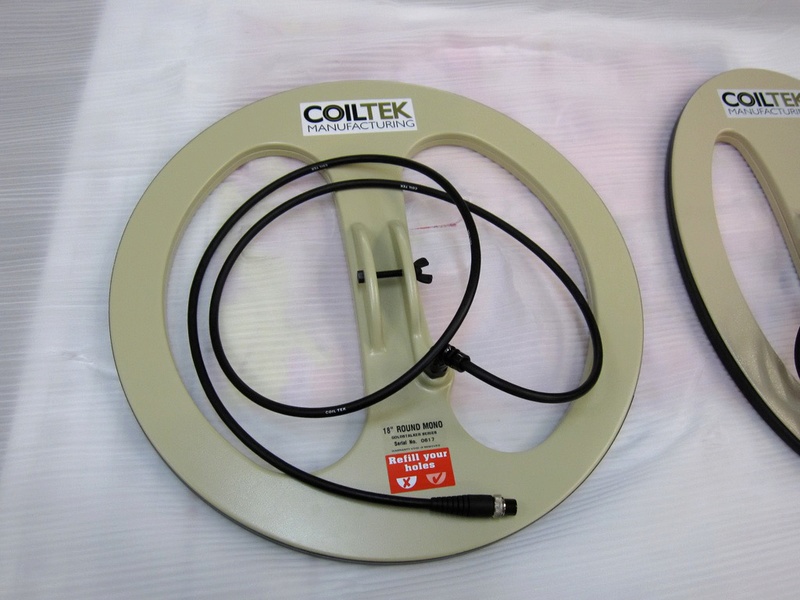 A fake Coiltek coil that I came across around 2010.
Re: Fake Coiltek coil above.... Sold as a new coil to a Sydney customer's mother in Kalgoorlie ... allegedly from a "known seller".  He brought it to me to verify - although I'd never seen a fake coil prior to this.  Coiltek graciously gave the customer a new coil in return for the fake because they wanted to see how convincing it looked.  The alleged seller who sold it threatened the customer and demanded its return when they learned he'd verified it to be a fake.... until they discovered it had been passed on to the manufacturer.  Giveaway on telling this was a fake was that the paint on the cable came away to reveal a glossy plastic underneath.  The texture was quite close but slightly different.  The paint on the labels was slightly raised from the printing.
A few years ago two chaps came into the Victorian stores with two different counterfeit GPX 5000s.  One couldn't detect a 20c coin on the ground (which is a LARGE target) and the other had no charge-port on the battery and the customer was unable to figure out how the charge it.  In both instances these were counterfeit machines.  The one that couldn't pick up the 20c coin was a really cheap (think $6 toy) detector on the inside.  The other had no charge port because the entire unit and accessories were replicas with nothing attached to the knobs.  Even the coil was empty inside.
I've heard that some counterfeits in recent years not only look more realistic but perform better than the early versions.  And they've managed to address issues like plastic textures and display screens which were a problem for them in the past.  If you can spot a fake today, you may not be able to spot one tomorrow.  Even Nugget Finder and Coiltek coils are being counterfeited in VAST quantities. When these companies loose any motivation to continue to develop technologies, they'll either close shop or scale down production in order to continue to generate profits.  If counterfeits continue to flourish
Right now, thousands of small businesses are being closed down due to the inability to compete with counterfeiters on Amazon and Ebay etc.  To buy genuine products these sellers pay higher fees at every level.  Sadly, the Counterfeiters flood the market with fakes of every kind and people can't earn an income competing with the lower prices the counterfeits sell for.

nero_design

Contributor Plus





Number of posts

: 2042


Registration date :

2008-11-18



deutran wrote:Just wondering has anybody tried a fake and do they actually work,i've never heard of any info on this.The reason i'm asking is that try before you buy would be wise in some cases.
As mentioned the early versions of the gpx4500 that came out apparently had vlf electronics in the control box, so the answer is probably the coils and battery would not be compatible with a pi machine anyway, obviously some of the later stuff works so people are unaware that it is a fake or in some cases they may think that they have just bought a defective item and its not until they return it to the manufactures that they find out its a dud.
The first chinese fake gpx 4500 I saw was very obviously dodgy, everything about it screamed cheap and nasty, the lower shaft was so flexible that we laughed when you could swing the coil from side to side and then stop and the coil would keep moving from side to side like the bottom shaft was made of rubber, a hard swing would have probably broken it clean off, all the colours were different, the fabric of the harness was more silvery and shiny, but the dead giveaway was that when it was turned on the menu was in chinese characters, it made a noise but that was about it.
The later fakes are much better quality and are so close that testing them out is the only way to find out if it is real or not, the method is to try and balance out a hot rock, if it does balance it out its a genuine model if not then its a fake, from what I have been told by a tech is that it because the people who make them don't know how minelab set them in the process, but if they did know how it was done then they would possibly work as well as a genuine one at half the price.
To cover yourself when buying a detector you are far better buying from a minelab authorised dealer if you are not able to recognise the fakes or be able to test it out, the other method is to ask the seller for the serial number and ask if they mind you taking it to a minelab dealer for checking, if they have the purchase receipt from an authorised dealer then you can check on it with minelab and be sure of what you are buying, if the seller is vague and cant or wont provide information or receipts then you are better leaving it alone, it could even be stolen so best left alone, as far as coils and accessories go they are far harder to spot, in the case of batteries even if you open one up you have to know what you are looking at anyway, they only way is to test anything out before you buy it, if the seller is dodgy then they will probably not be too keen for you to try it out, some people are very shifty these days and the market is so flooded with dodgy crap and the best way is to treat all intended purchases as suspicious, until you can confirm it as being genuine and know what you are buying.
A far as minelab detectors go I know for a fact that the gpx4500 and 5000 have been faked and also possibly the Gpz7000, many other models and brands like Garrett and Whites have fakes about as well, if you are looking at minelab models from the Sd2000 to the Gpx4000 then you are safe as the early models are not worth as much so they have not bothered with them.
cheers
au-fever
Thanks Guy's for some excellent info hope this helps some readers from being caught out.Many years ago I bought a Gp3000 and used it for years until traded on a Gpx4500.It wasn't until then that I discovered the serial number missing.The dealer said don't worry too much it was really common but probably stolen at some stage.By then it was too late anyway to check up and he took it anyway because they were being phased out.

deutran

Contributor Plus





Number of posts

: 1694


Age

: 56


Registration date :

2009-09-26



The gpx5000 that I originally reported to bumtree over a week ago and have since reported 3 more times now has still not been removed,
what chance is there of trying to do the right thing anymore and try to save people from being ripped off if the even the sale site managers don't care and just let it continue regardless, this is exactly why most people end up turning a blind eye and just give up bothering about it and in the end this is exactly why it continues to happen, as no one gives a fat rats clacker unless of course it happens to them and then they would squeal long and loud like a stuck pig.
Rant over, going back under my rock now.
au-fever
---
Permissions in this forum:
You
cannot
reply to topics in this forum