Sydney GEM & CRYSTAL Show 2018
We visited the Sydney Gem Show for 2018 yesterday and I bumped into a couple of fellow prospectors there while I was walking about with friends. It was held in the Sydney Olympic Park at the pet-expo building used by the Royal Easter Show. Entry was a low $5.  
It's not as massive as the US Gem shows but they had some interesting items that I hadn't come across before.  I took a few pictures for the forum which I've posted below.  There were a few dealers selling Gold nuggets and specimens and the prices were in line (per gram) with .  The largest I saw was a 220g nugget which was priced at about $77 per gram - which was quite reasonable due to the size, shape and weight.  Some attractive 2 gram nuggets were around $139 - which was about $69.50 per gram.  Other were more and some were less.  Either way, I saw no subgrammers for sale.
.
There were some really lovely fossils and fossil slabs for sale.  The fossils that I saw ranged from $5 to $8500 and many were museum-quality. A Tasmanian Tiger tooth looked slightly opalized (was translucent grey) and was priced at $450. An interesting Megalodon shark tooth had a cluster of white coral attached to it.  I saw quite a bit of Aqua-Aura (artificially colored crystals with vapor-deposited coatings producing a permanent rainbow hue). There were finished pendants and a lot of blue Lapis. One seller with a large stand had knapped flint blades for sale at $60 ...which were apparently quite sharp. Some of the Meteorites were a little overpriced but not all... and the selection was good. Some Henbury meteorites appeared to have been collected more recently than the moratorium allows (no weathered surfaces and coarse loose particles on the surface that appeared fresh... therefore were likely found recently - or with a detector) .  A $4500 Gibeon meteorite seemed a little pricey but it was extremely well shaped and well preserved... and was actually correctly priced for it's palm sized dimensions.  All the dealers were very polite and happy to answer questions without being too pushy.  Although one smaller dealer presented me with a $2000 .85ct diamond ring that he made that was not the quality stated on the label that was attached to it.  In fact it was the worst diamond I've inspected in over 35 years.  It pays to bring a small jewellery loupe with you.  Some small but incredibly vibrant rubies from Burma and Madagascar were on sale and various types of Amber could be found at various stalls.  I wasn't overly impressed with the quality of opals on display with many of the cut opal being subtle in color and vibrancy - with one exception which I almost bought.
.
The Gold Nuggets ranged from all over the world.  They had some from PNG, Russia, New Zealand and also different nuggets and specimens from right around Australia with more than a few really nice collectors pieces. I was trying to take pictures between the people browsing whilst not offending any vendors so they aren't lined up and focused as well as they could have been.
.
Three of the dealers who caught my eye with interesting specimens are below.
CRYSTAL FRACTION
Australia -
https://www.crystalfraction.com/category/world-wide-minerals/australia
DOVE & LYRE
- fossils, minerals and antiquities -
https://www.doveandlyre.com.au/
RAMEEN MINERALS
-
http://stores.ebay.com.au/Rameen-Minerals-and-Gems
BLUEGEMS.COM.AU
- Gold & Silver Jewellery, mineral specimens -
https://www.bluegems.com.au/
Some images I took yesterday are below.  Sadly, several parents let their kids grab and break quite a few crystals, especially the finer ones... and I'd swear we saw a kid pocked some jade rings when the adults were clustered at a table. It was a little crowded at many of the stalls selling minerals and crystals.  I'd personally recommend a visit next year for any members who have an interest in gems and of course gold.   It might even be a great place to sell items although I didn't see any sales of big ticket items during the three hours I was browsing. I'll consider revisiting again myself since I saw quite a few interesting things that I now wish I'd gone back for.  There was a coffee and beverage kiosk set up in the room with a burger vendor right outside.  
https://rockncrystals.com.au/sydney-crystal-show/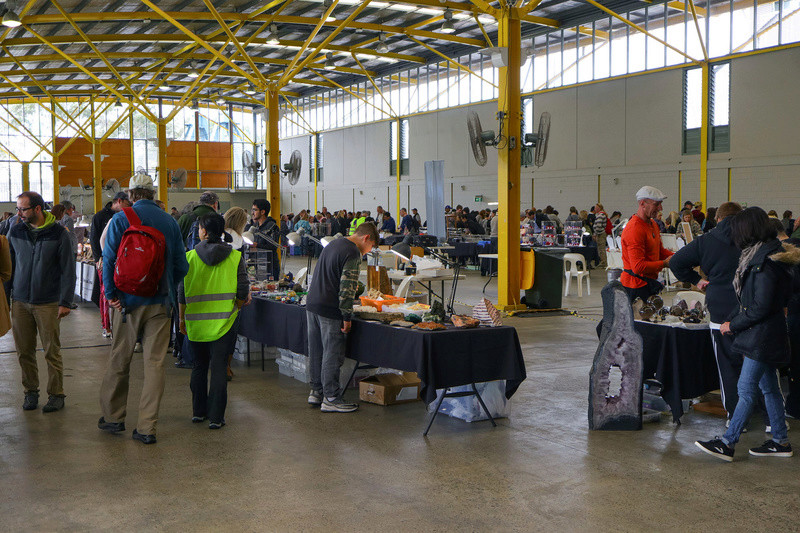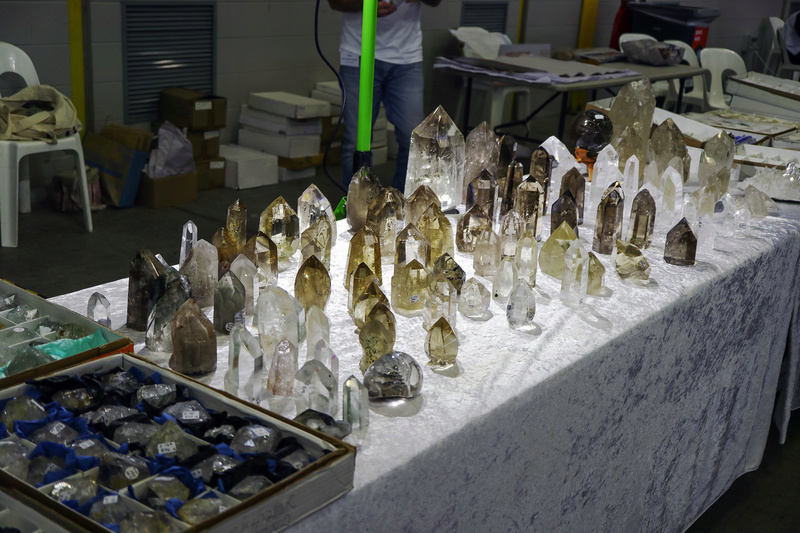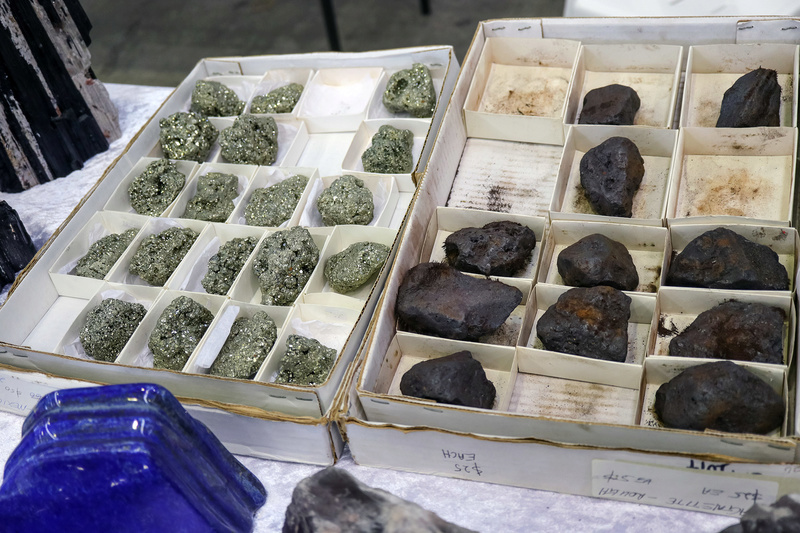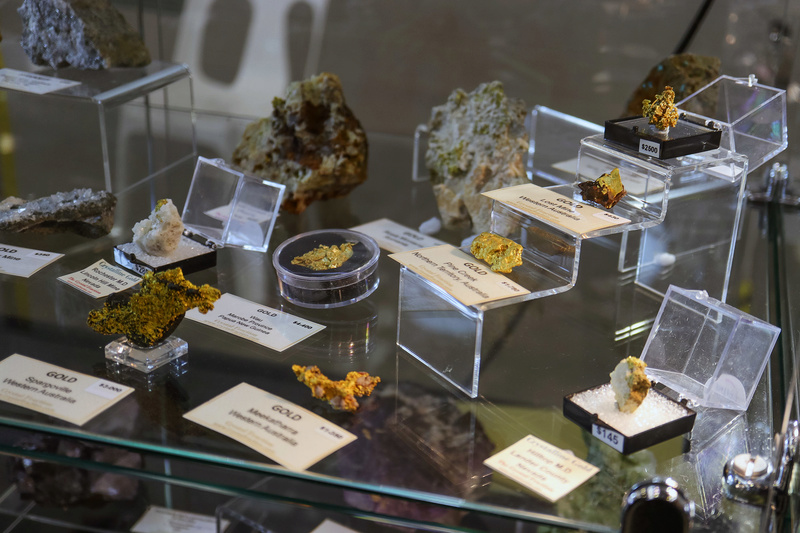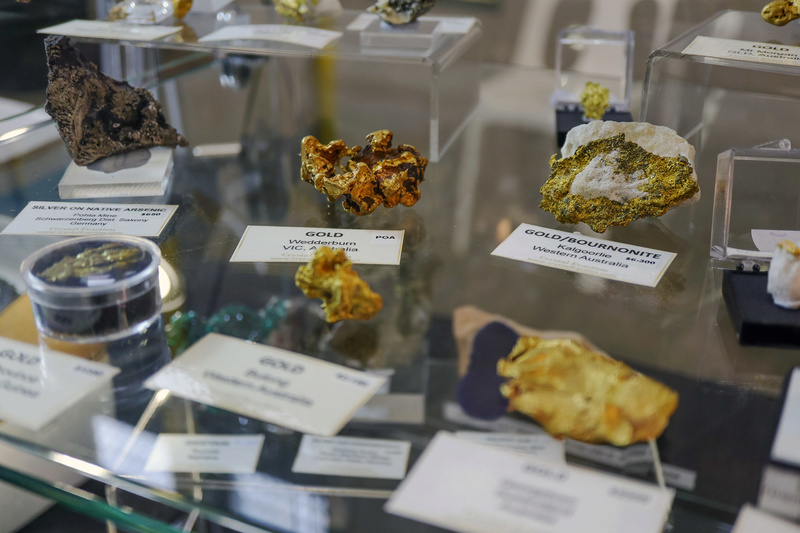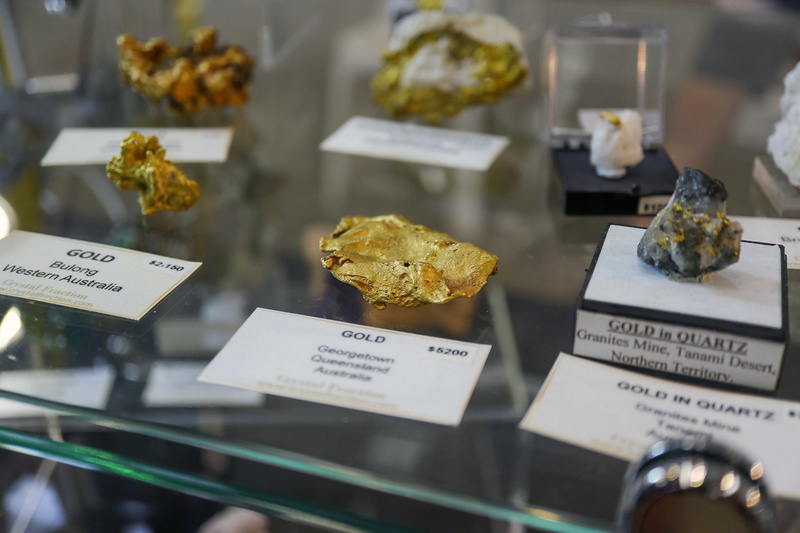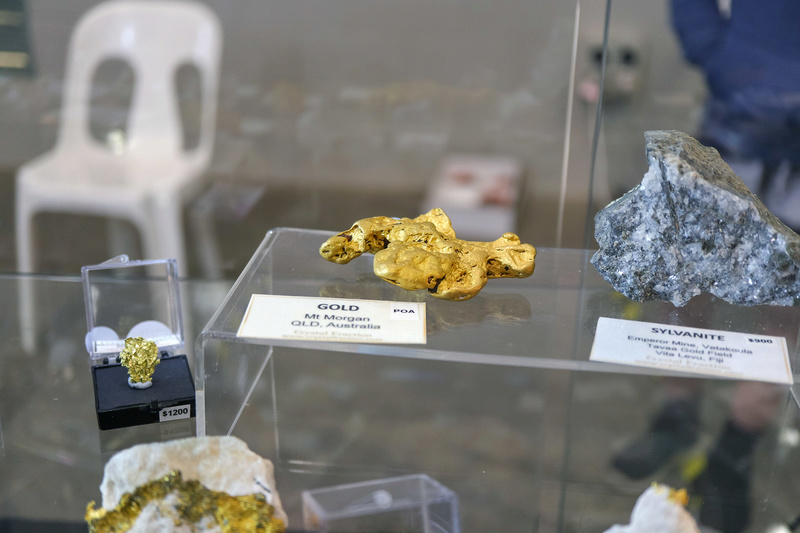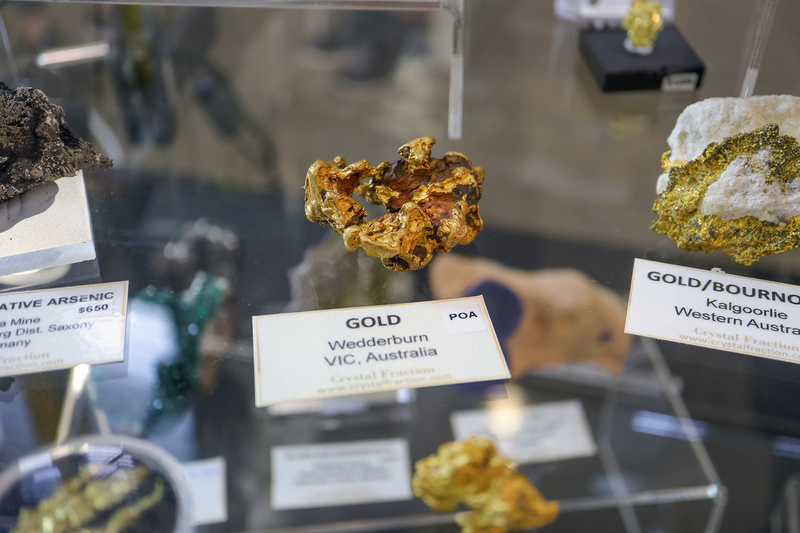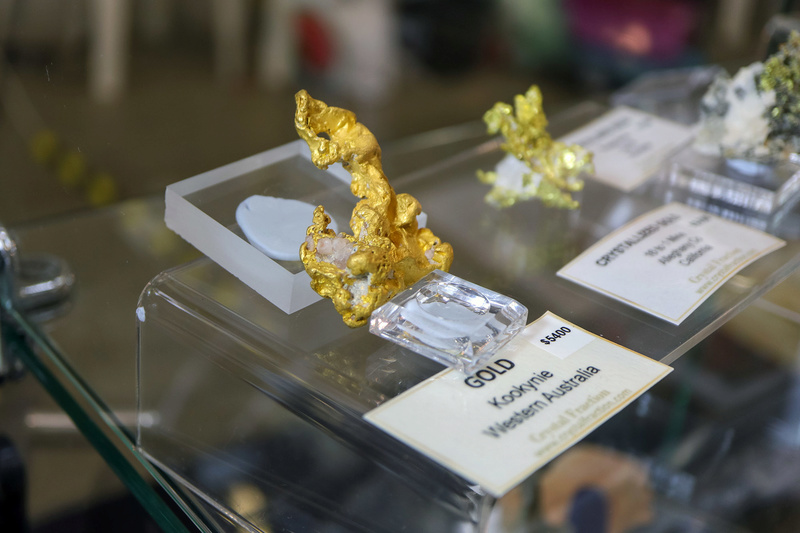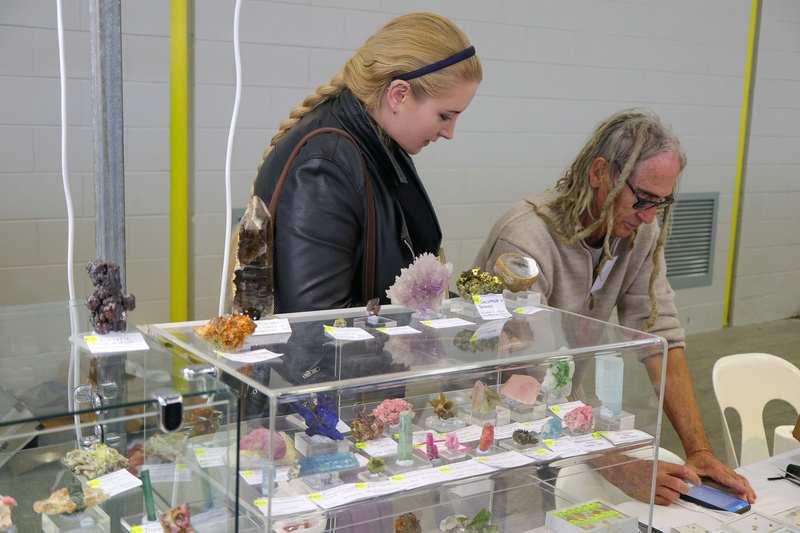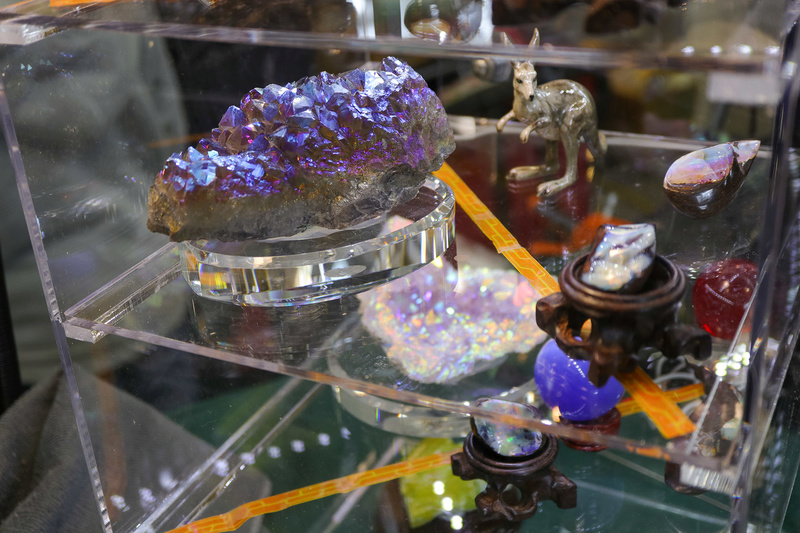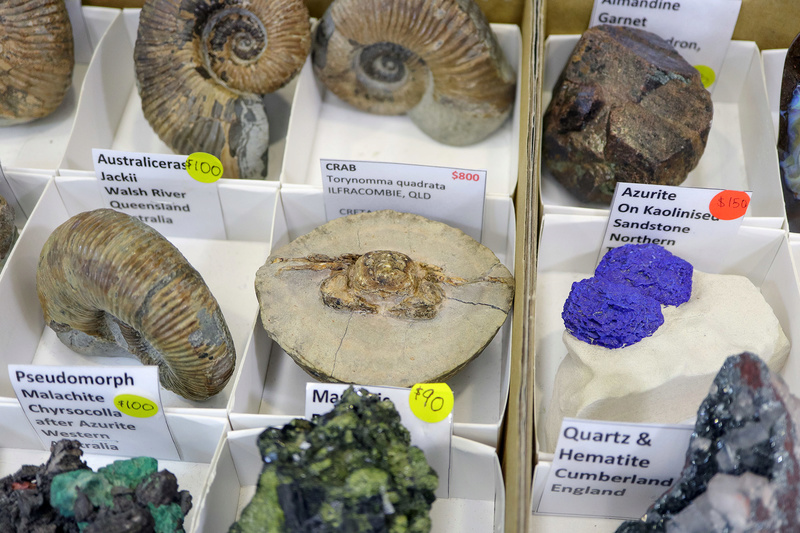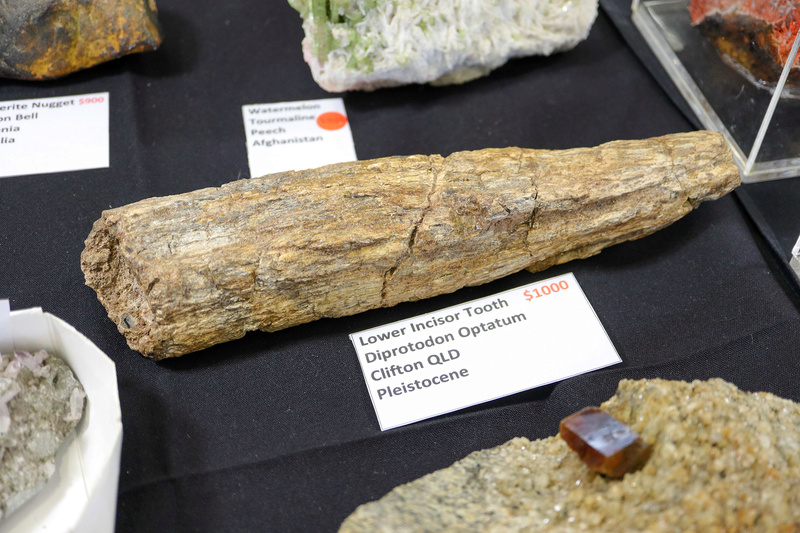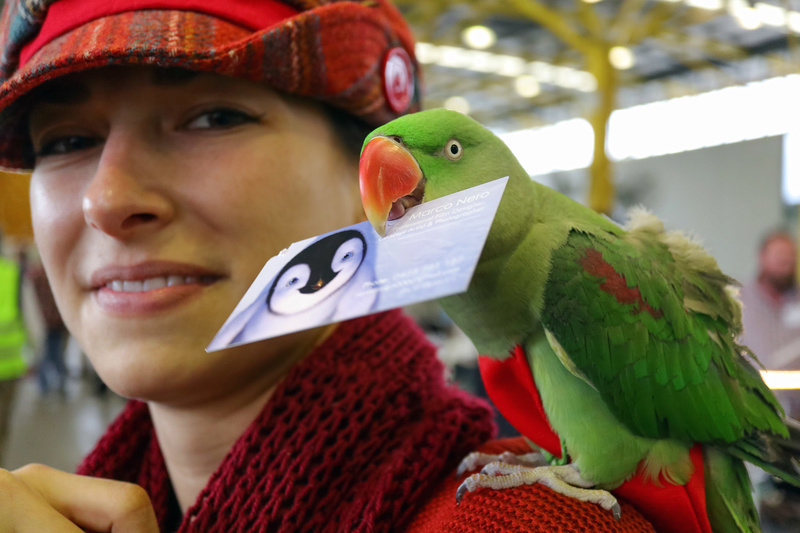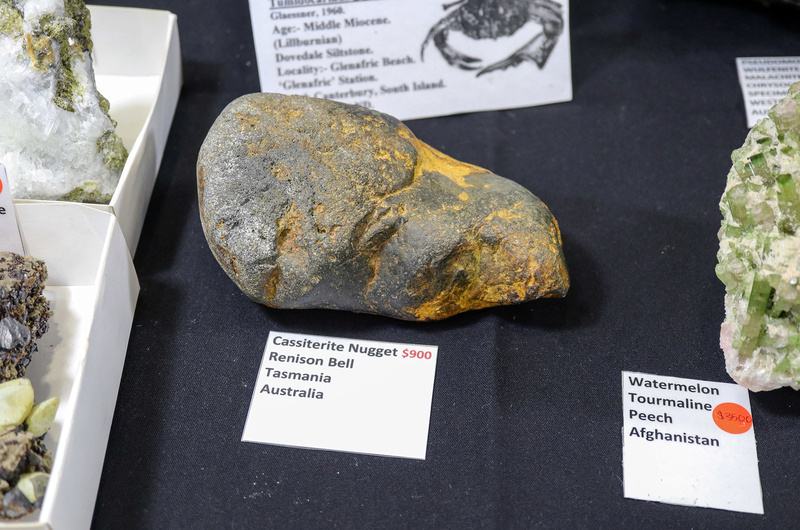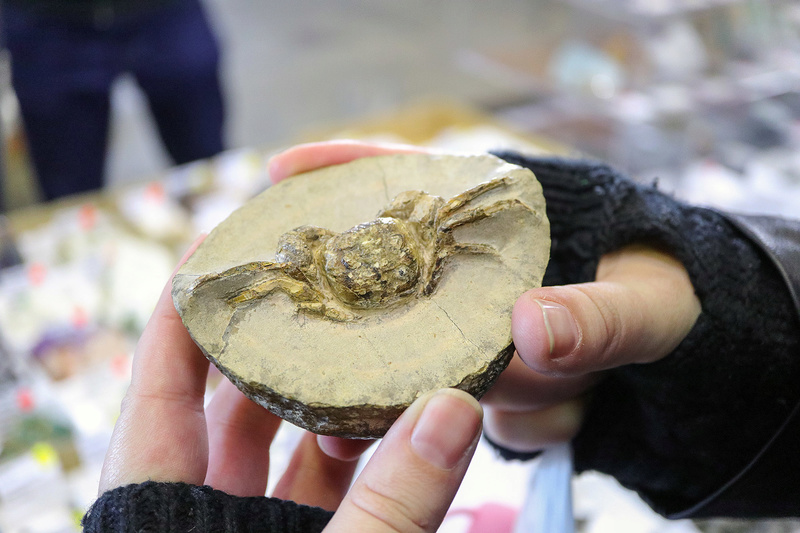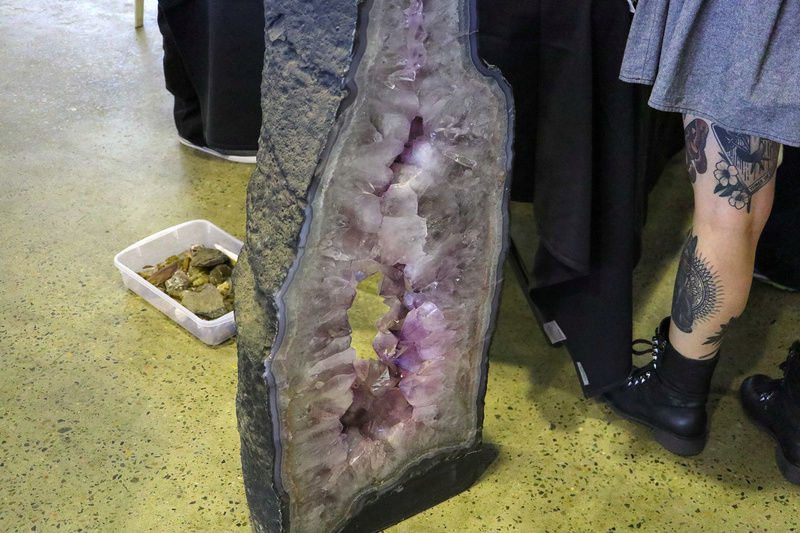 nero_design

Contributor Plus





Number of posts

: 2042


Registration date :

2008-11-18



Brilliant tell & show collection, of photographed mineral specimens, fossils & gold there Marco. I had a bit of a chuckle with that misrepresented, very poor quality diamond part
You'd think he'd know something about the 4 Cs before presenting it for inspection.
Cheers Kon.  
Gday Great write up and amazing displays. Thanks makes me want to be there.
Regards big fella

big fella

Contributor Plus





Number of posts

: 528


Age

: 60


Registration date :

2011-06-15



As usual a treat for the eyes Marco, thanks for sharing that, I see a nice flat piece of Georgetown gold there...I find it intriguing, I have a little of it and it bears some very clear pyramid shapes, I assume
 these come from the host rock, $5200  
I don't suppose you noticed its size or its weight?
Wayne.

Digginerup

Contributor Plus





Number of posts

: 2400


Registration date :

2012-05-17



Wow!
Now i want to go there.
Thankyou Nero
Really appreciate the effort and time you give to sharing with us all.  

Jen

Contributor Plus





Number of posts

: 898


Registration date :

2017-06-16



Hi Wayne, I didn't see a weight but the gold from Georgetown was quite flat and curling up on the near-side.  It was about the size of my thumb.  A few of the larger nuggets had no price sticker but were labelled POA (Price on Asking) - presumably to deter theft or pointless questions.
Jen - there's quite a few gem shows held around Australia.  Next time another member attends one, perhaps they could post a few pictures here?  There's something lovely about gems, crystals and minerals.  I've been to a few smaller shows and everyone I've met who has attended the Tuscon show in the US says it's the most incredible place to visit in terms of Gem and Mineral shows.  One day.
Kon - That guy with the diamond ring was a bit of a character.  I actually had an interest in some of the Mexican Opal rings he had because the colors were stunning with Bright green or iridescent crimson red.  But that diamond was really nasty... the pavilion tip (culet) looked to be frosted and milky with inclusions.  The cut wasn't particularly ideal either so it didn't sparkle well for one of that size and price. Size seemed just a little small for .85cts so I'm wondering if he handed me the wrong ring. I had to just smile politely and hand it back to him.  The dealers were generally quite happy to answer questions and most of them had varied interests and knew a lot about things outside the scope of what they were selling.  It was a pleasure to speak with dealers who knew a lot about fossils, opals and unique gemstones.  The gold nuggets (large and small) were simply an added treat and the only reason I didn't linger longer was because I saw quite a few things that I wanted to buy.  Next year I'll come better prepared.
I think there's a few gem sellers who deal in crystal specimens dotted around Sydney.  I'll keep an eye out for them.
Few more pics here: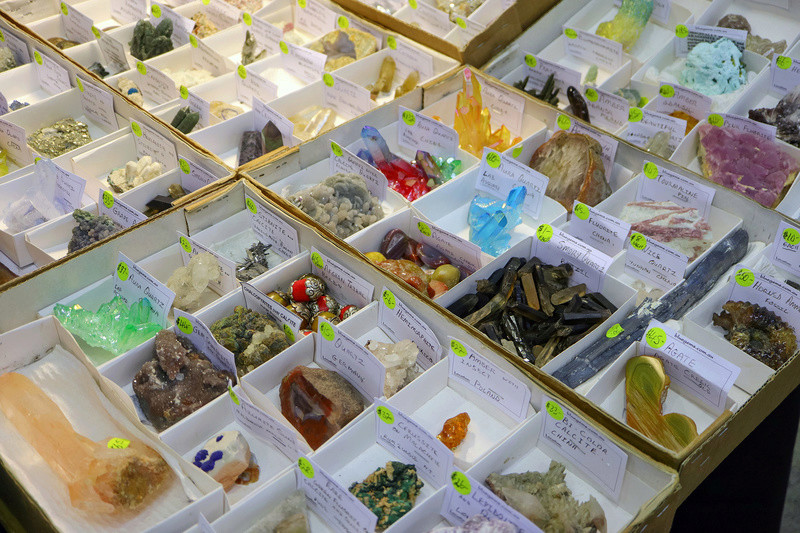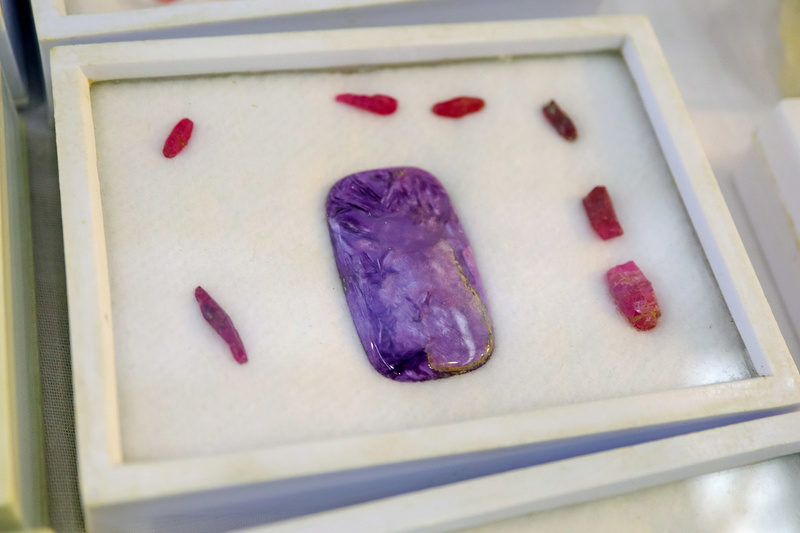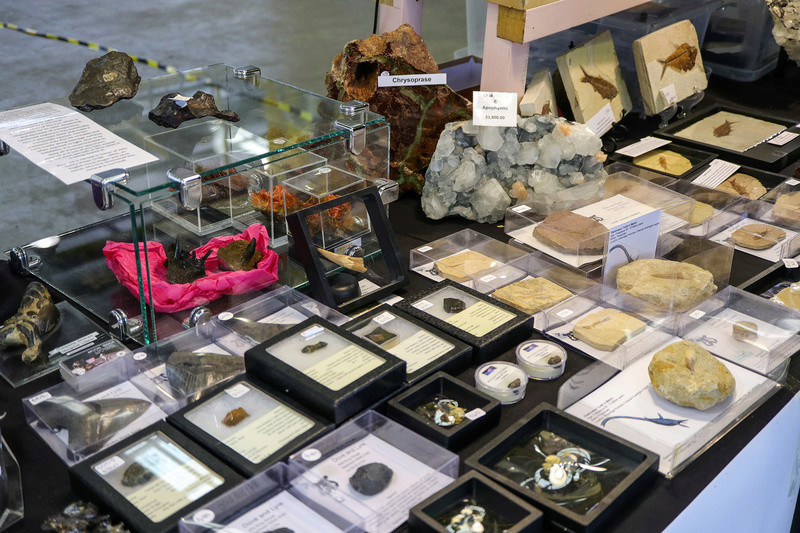 nero_design

Contributor Plus





Number of posts

: 2042


Registration date :

2008-11-18



Those are beautiful, thank you for sharing Nero.

Jennifer

jjbond

Contributor





Number of posts

: 59


Registration date :

2009-09-25



Perhaps we could have a list of shows coming up , on this forum . I did not know any thing about it .

Minermike

Contributor Plus





Number of posts

: 1509


Age

: 75


Registration date :

2011-07-25



---
Permissions in this forum:
You
cannot
reply to topics in this forum