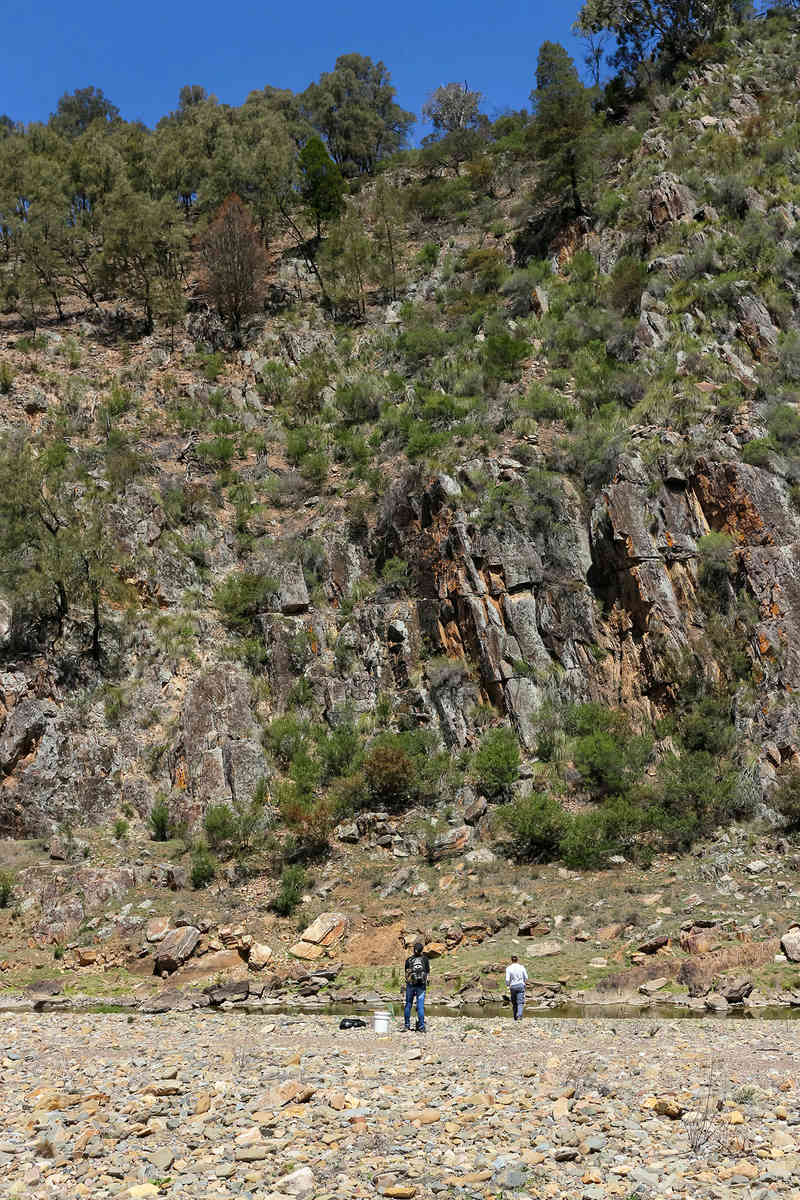 Dwarfed by the rock walls.
There's more than a few members here who will be quite familiar with the Turon River, Turondale and nearby Sofala. Our local clubs often visit the area and it was certainly one of the busiest places to be during the earliest days of the Australian Gold Rush which commenced in 1851.
I briefly mentioned that I was going to explore some of the Turon River (NSW) this week and about a dozen of my friends said they'd like to come along - two of whom had been out with me previously ...so we held out until yesterday.  The weather was clear and I don't think I've seen the river so dry in a while.  Sometimes it's a raging rapid and i know of at least one prospector who almost got swept away when he was sluicing years ago.  There's some amazing history that took place on this river. But reading the accounts of the earliest prospectors who dug for gold on this river, the gold was hard won:  The average prospectors would find about two specks of gold in each pan.  Only those fortunate to hit a great spot where the gold had built up were successful.  Eventually they ran low of easily accessible surface gold and had to dig mineshafts to try and access the ancient riverbeds that weren't so visible.  Then they set to crushing rock and quartz and even that was expensive - and sometimes impossible if the water ran low. The Gold Escort ran from here to Bathurst and from the earliest days the river was lined with thousands of prospectors with cradles and sluiceboxes up and down the river.  They cleaned out all of the obvious places where gold had previously settled so when I arrived, I knew there wasn't much point it digging for old gold if I was going to sample what was on the riverbed.  Even the walls and banks of the river had been hydraulically sluiced with water jets from between the late 1870s and the early 1900s.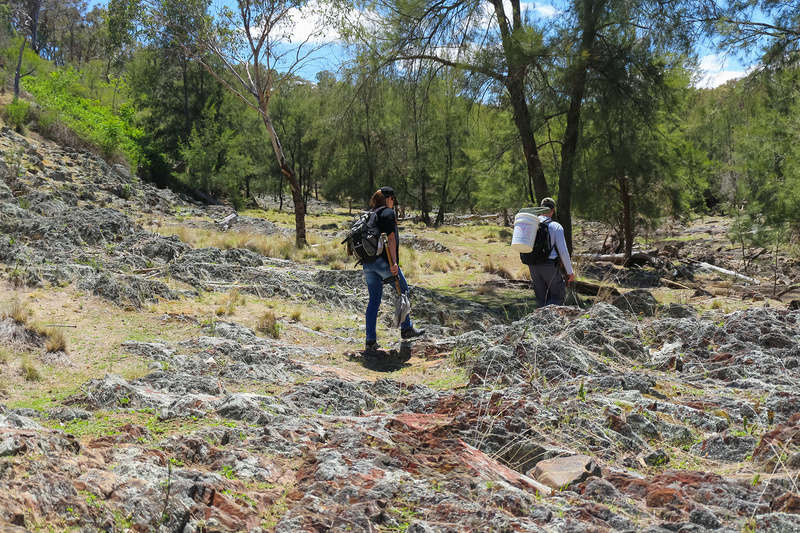 Starting out late in the morning.
Since my wife and I had been attacked by bees the last time I'd taken her to the Turon, she wasn't keen to come along with me yesterday (plus she was working).  Sydney was overcast but the Bathurst weather is always quite different.  I made sure to avoid using aftershave or buying any foods for breakfast with chemicals that might trigger a bee attack.  Bees are attracted to the magnetic field on the coil on my metal detectors (a beekeeper/prospector told me they use the Earth's magnetic field to navigate) but they can become enraged when they smell bananas. Bees react to chemical alarm pheromones that are found naturally in Bananas... and that same chemical is used for artificial foods and some scented shampoos.  Why was I so worried?  Because there's over 20 million bees in the Turondale area with plenty of wild hives that were created by runaway European honeybees, not to mention those set up and serviced by local beekeepers at Turondale.  I've seen the massive beehive boxes on the side of the road near some of the local properties in the past.  At the end of the day, we only saw one bee and it was drinking water near where I was panning.  
I thought hard about bringing a detector and chose not to.  With the sheer amount of rubbish from 160 years of human occupation on the river I opted to leave a detector behind and i think that was a reasonably wise decision.  But I knew I couldn't carry the almost 4 kilo weight of my DSLR along with the additional kilos of panning and crevicing tools...  so I decided to dust off my retired EOS M (a tiny palm sized mirrorless camera), recharged the old batteries and fitted a plastic 28mm Macro lens to it.  I felt that this early model camera was better sealed against dust and I could tolerate losing it if I fell into the river.  It seemed to work out okay although i wished I'd bought a wider lens with me.  All these wide and tall shots were later stitched together from multiple pictures when I got home.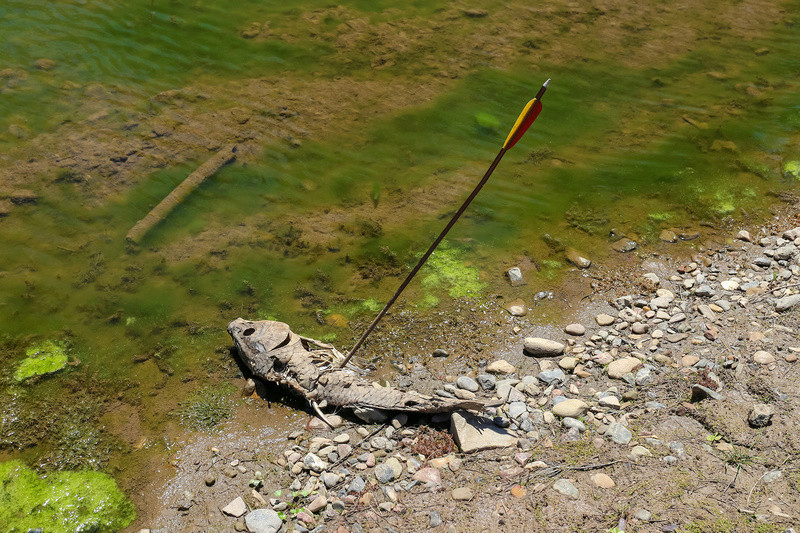 "Billy Bass"? ... or perhaps someone found a new use for the giant Carp in the river.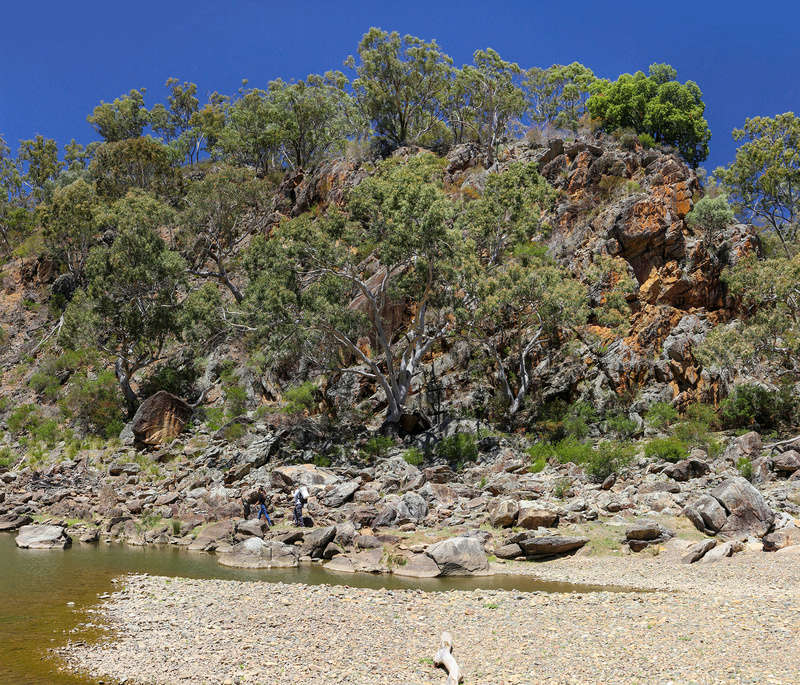 Climbing over the exposed rocks as we made our way North-East along the riverbed.
I saw no Jumper Ants... which I have seen in the area before.  We saw some MASSIVE carp that were swimming in the pools of water where they were now trapped.  Lots of them.  I'm told they're not good for eating... has anyone here tried them?  I glimpsed a long-necked turtle swimming in one rockpool and a strange crayfish which looked like a massive prawn with incredibly long and slender pincers that were twice the length of its body.  Missed that one with the camera.  There was a large falcon flying overhead for long periods in the thermal updrafts beside Wallaby Rocks.  But it was pestered into leaving by a native Noisy Miner Bird later in the afternoon. There were very few flies about although I had sprayed myself with deet (Bushman's insect repellent)  before leaving our vehicle. I brought two first-aid kits because I really did expect to see a few snakes.  I also wore my goretex boots and knee guards rather than gumboots (too far to walk in those) or snake gaiters.  If I was by myself I'd have worn the gaiters. The back of my neck got burned though.  One of my friends cooked under the sun and suffered a badly burned neck as well.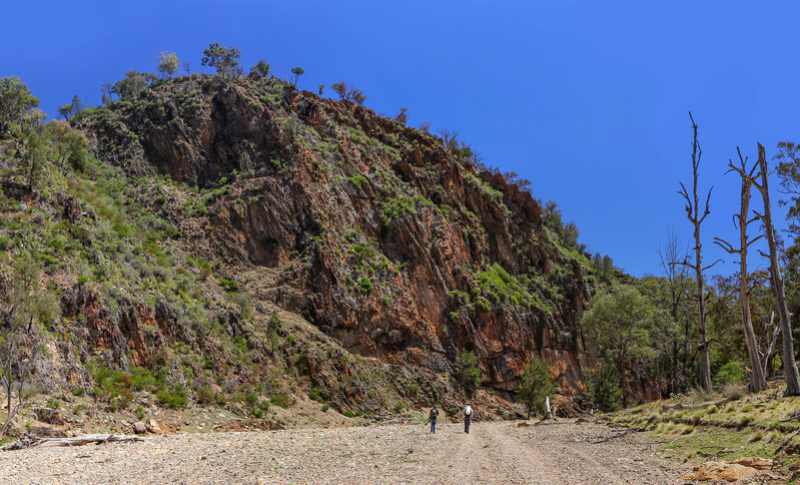 The famous Wallaby Rocks.
Wild melons growing in the middle of the riverbed.
We decided not to taste them - and they didn't seem quite ripe.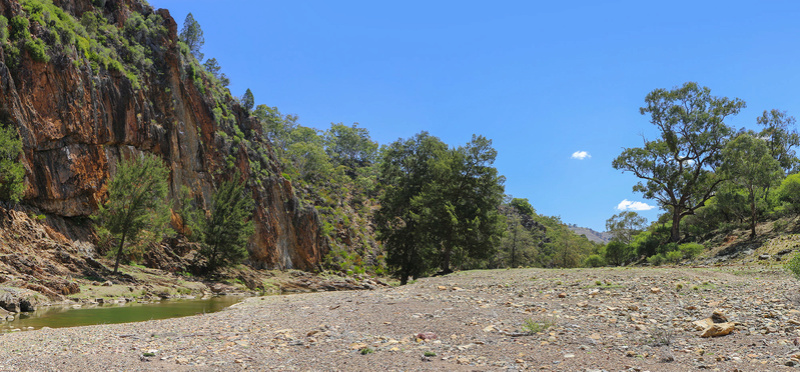 Looking back towards the West in the last afternoon.
One strange sight was a cluster of round yellow-green melons growing right in the middle of the river at the base of Wallaby Rocks. We opened a couple of them up and they smelled nice but we weren't going to sample them since we couldn't tell what they were exactly.  A really old saltwater oyster shell caught our eyes and there's records of people bringing them alive all the way to the goldfields to be sold to the gold prospectors back in the 1800s - where they sold for a fortune to the diggers successful enough to afford them.  The very same thing happened on the Klondike goldfields.
A large jumble of lichen-covered granite rocks appeared to have been clumped together up on the bank of the river.  Bright red soil with sedimentary layers with a few recently sampled chunks suggested someone had recently sampled it.  A few recently discarded Coke cans and Alcopop bottles made it clear people still frequent this part of the river.  But with all the rusty metal fence wire and artifacts discarded everywhere I looked, I knew this wasn't an ideal place to go detecting. There was quite a bit of used toilet paper in various locations along the river bank so shame on those people who had the foresight to bring Toilet Paper with them as they explored the river - but not a damned shovel.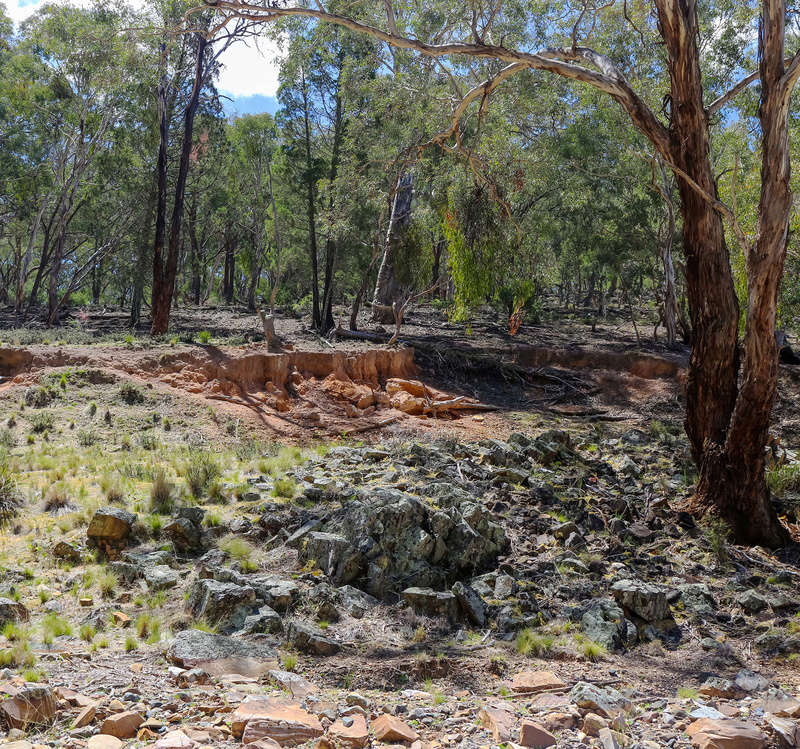 A strange cluster of what appeared to be litchen covered granite stones and an exposed area of mineralized soil behind it. Not sure what was happening here.
This appeared to be the eroded and rusted remains of a small iron trowel used by a prospector long ago.
Sampling gold from the dirt in the roots of a fallen tree.  The gold in the sample was quite fine.  Nothing nuggety and nothing worthwhile.
I had no phone reception out there but my friend (who was with Telstra) claimed to have a weak but useful signal.  My Virgin-bound iPhone just told me "SOS Only".  I did have my PLB (personal locator beacon) with us in case of a catastrophe.  We generally stayed very close together so I could have done without the 2-way radios.  I did find use for the chisels and rock hammers I'd brought along.  A paint brush and a scrubbing brush were handy for getting soil out of crevices.  
The Turon River - From the Sydney Morning Herald - 1851(?)
"Gold-digging they imagine is but play - kicking the nuggets out of the ground with their feet. They find, on arrival, it is exceedingly laborious and heavy work and that they will kick their feet and knock their shins against a good many rocks, before they see the specks - let alone the nuggets."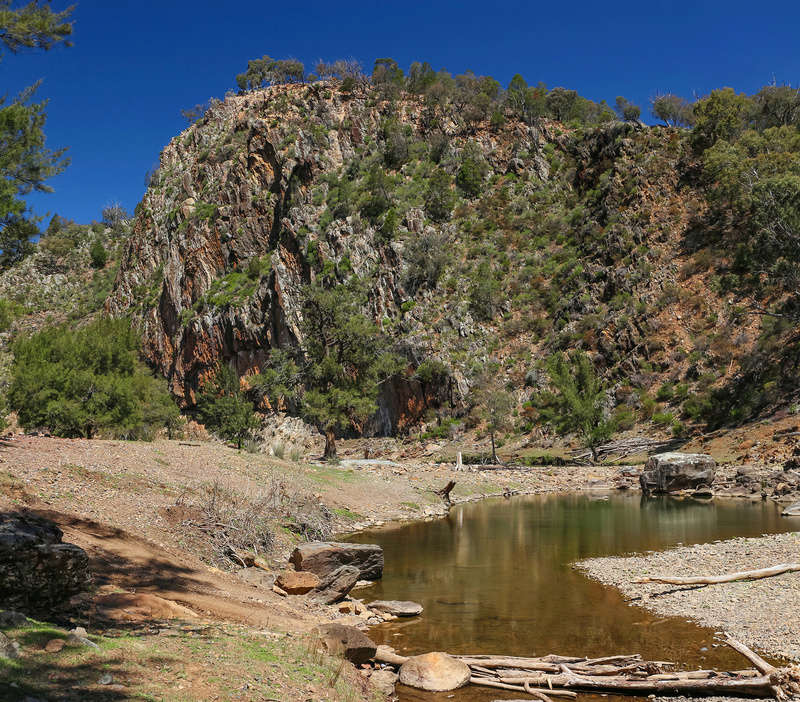 I crossed these logs and almost fell into the river with my camera.
Relaxing for a moment after walking a few kilometers.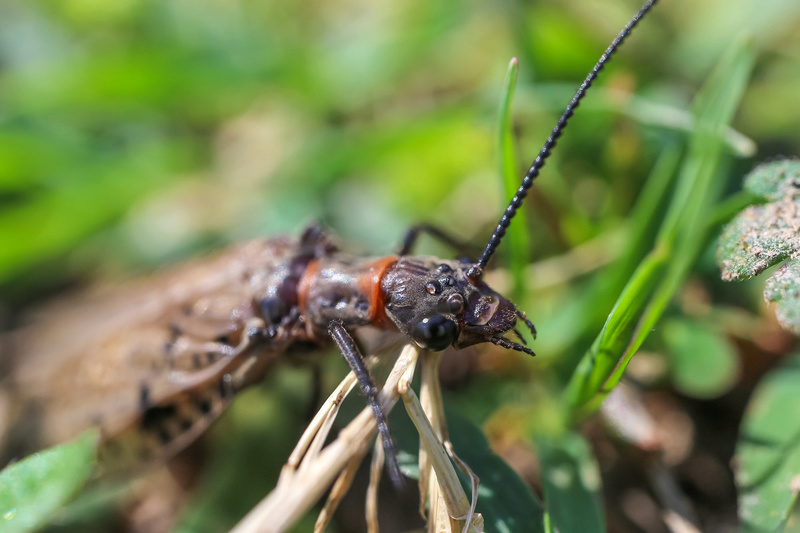 I think this was a Lacewing "butteryfly" (not a true butterfly) but I'm not entirely sure.

My iPhone's view of the riverbed
I left my camera on one side of the river with our equipment (under the shade of a tree) and we explored a couple of places to sample gold on the banks of the far side - because that was the lowest part of the river and water was still running there.  One of my friends sighted a snake and and there was some immediate panic since it was apparently holed up under a flat rock just a couple of feet away from us.  As I looked on, the tiniest snake I have seen stuck its head out and observed us before withdrawing and then attempting to flee for the steep incline behind the rock it was under.  When it came out, it flattened its head and I could see it was an absolutely stunning Red Bellied Black Snake... and a baby one.  Possibly thinner than my pinkie finger.  She was just over a foot long and appeared to be absolutely perfect.  I'm used to seeing adults and I decided to pin it so I could pick it up and hold it before sending one of my friends to grab my camera.  But the snake was shy and withdrew back under the rock again and i decided that it might be too delicate to risk trying to pin it with my mini-pick.  It would have been selfish and cruel to risk harming it just to get a pictures of the creature.  I was happy to let it go although i greatly regret not getting a picture of her.  Her belly was bright red and her black scales were flawless matte black.  It was one of the most beautiful snakes I have ever seen.  There was some debate among us as to whether or not baby snakes could control their venom output like an adult and neither of us could recall it this applied to all venomous snakes or just some species.  Probably best to err on the side of caution.  There was a nearby family of Water Dragons less than a few meters away.  We saw at least one parent lizard that was over 2 feet long and two babies which I at first mistook for Jackie Lizards because they were so small.  Hopefully they didn't eat the baby snake.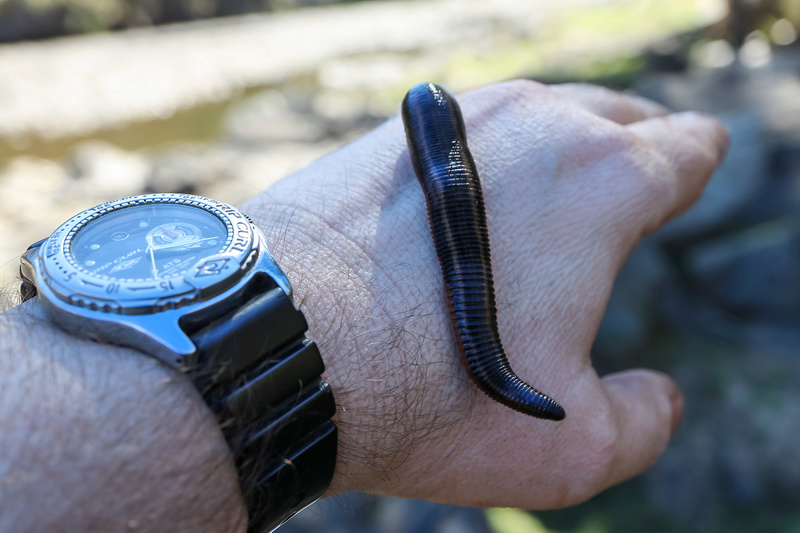 An absolutely magnificent leech that climbed into my gold pan.
Looking North upstream on the Turon River.
I scraped some dirt from the crevices and surfaces of rocks up high on a cliffside and then panned it.  There were several tiny specks of gold in each pan but nothing at all worth my time. And I dug in some carefully selected locations. I climbed a steep embankment trying to work out where the gold was likely to fall out of the river-flow during rapids.  I'd looked at satellite photographs before arriving and knew I was in a likely spot so we lifted some stones and dug out a space which was part of a natural channel carved through bedrock.  I was digging in a dry area but the water began to seep into the crevice as we passed the water table.  I had a selection of crevicing tools with me and one of my companions continued to extract debris and pebbles from the crevice while I worked on another.  Some pebbles required a hammer to dislodge.  Every now and then a leech or a wolf spider showed itself.  We fed the pebbly soil into my old 'Mini Gold Concentrator' (that's a hand-operated classifying bucket, for those unfamiliar with it) and then we panned out the fine concentrates.   There were about 10 tiny specks of gold and one really, really, tiny nugget that was literally UNDER a millimeter in length.  I was disappointed by this but my friends were delighted to see something larger than the specks.  But we hadn't reached the bottom of the crevice.  We fed water into the hole and I tried to draw up more particles of gold with a Keene Engineering mini-hand pump (plastic equivalent of a yabbie-pump) but it literally didn't seem to work as expected.  I should have brought my metal pump because I used to do well with that one.  Hand powered tools eventually expend your energy so we packed up and headed back down the river towards our vehicle.  The hardest thing for me to do was to bend down with a pan full of heavy rocks and dirt and pan in a section of water that wasn't so deep that my shoes would get wet, but had somewhere to sit.  The rocks eventually bruised my butt and my limbs were sore from walking several kilometers and digging things under the sun.  I called it a day at 5:30pm sharp and we headed back to our vehicle.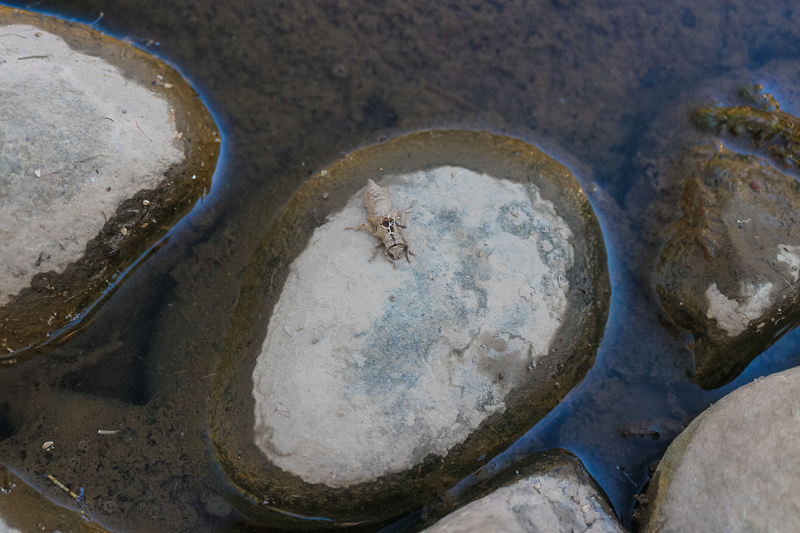 Dragonfly Nymph - just after hatching.  This is just the empty shell.
A little micro-nugget in the pan. This one was captured with a Creswell Engineering 'Mini Gold Concentrator' that I bought over a decade ago.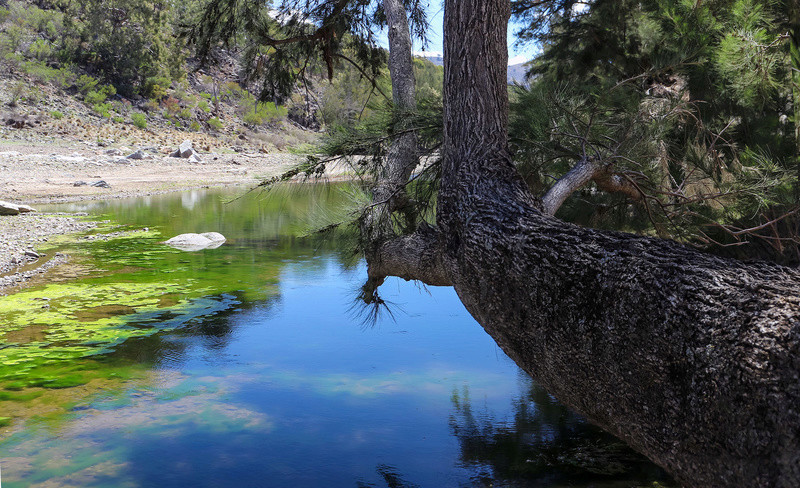 A great place to rest in the cool shade.
As we walked back along the riverbanks, we made sure to avoid crossing the property boundary fences, even though much of them had rusted away and fallen.  Some large cow droppings suggested large animals nearby but we saw none.  Plenty of kangaroos were seen.  Lots of recently excavated wombat burrows were encountered as well. More than I expected to encounter.  We ended up returning to Bathurst well before sunset and hit the first 7-Eleven store there to consume super-sized Slurpee drunks.  There's now a Zambreros restaurant at Lithgow so we stopped there for tacos and burritos on the way back home.  Not sure i need to head back up the Turon in the near future but I'd consider it again just for the sight-seeing.  It's a very stark and fascinating place, even if you can't get to any remaining flecks of gold as easily as the old timers did.
The walk was on level ground but over constant rocks. People with low energy levels and bad knees might find in a little painful.  It's actually hard on the feet.  The Turon River water can't safely be drunk ...and, if you absolutely have to consume it, the advice is to boil it for at least 10 minutes first.  We brought a liter and a half of water with each of us in the form of 3x 600ml bottles (per person) and it was fine with the temperatures we had - which were in the low 20s.  In the middle of summer you'll bake out there, regardless of if there's water in the river or not. The entire area is rocky and I don't believe the majority of the river is accessible for camping due to limited access to suitable places on the banks.  There ARE designated camping areas nearby.  I also imagine that camping wouldn't be encouraged by the property owners who own the land on either side of the river.  A genuine risk of falling rocks in numerous places should be noted - as well as the very high risk of a flash-flood in the event of a thunderstorm or heavy rain. There is however a camping location at Wallaby Rocks Crossing (which is by the single lane bridge near Sofala).  The 'Wallaby Rocks Crossing' is a well known location endorsed by AustralianCampsites.com.  It borders near a recently reopened gold mine which is on the Hill End side of the bridge.  The river can rise very quickly with rain.  It only takes 6 inches of rushing river water to knock the average person off their feet.  Just 6 inches.  The Turon has been recorded with a rise of 3 feet in water within 15 minutes.  One instance had a flash-flood that washed out the Wallaby Rocks Crossing site with a 10 foot wall of water that deposited mud just as high on the trees back in 2007.  Watch out for sheep on the road in the areas... we saw dozens of them roaming all over the roads approaching Turondale from the South (coming from Bathurst).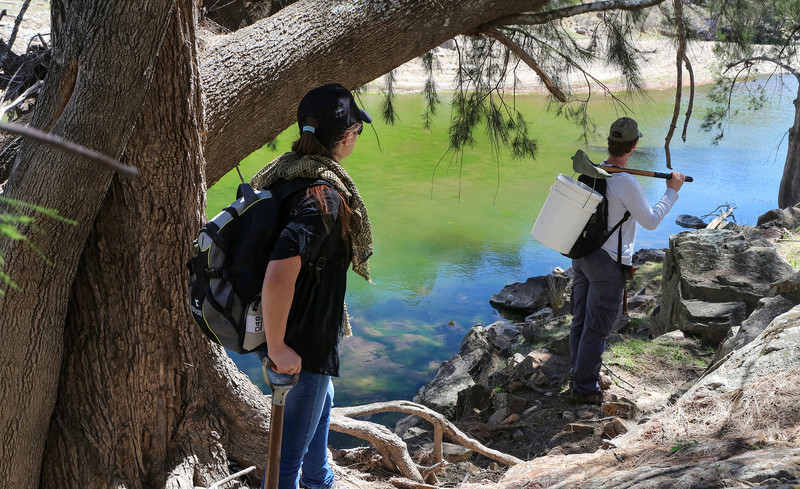 Making our way back at the end of the day.
Exposed bedrock - worn smooth from the harshest of the river action.
One of several large rockbars across the river.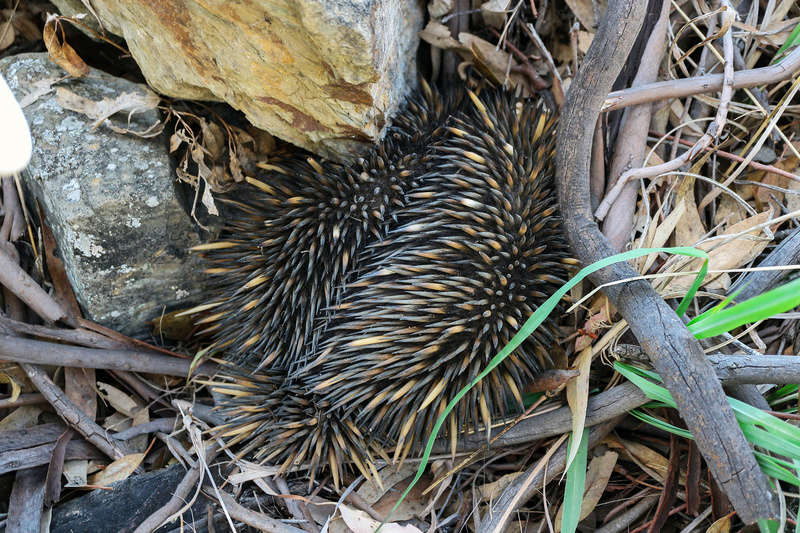 An Echidna that we attempted to save from the road (he ran off and dug himself under the edge of a rock).
Last edited by nero_design on Fri Nov 24, 2017 9:21 pm; edited 1 time in total

nero_design

Contributor Plus





Number of posts

: 2042


Registration date :

2008-11-18



Nice pictures nero, looks like a great place to fossick about when its dry, those melons look like what we in the west call "paddy melons", don't be tempted to eat them as they are poisonous, apparently you can make a jam with them but they have to be well cooked, don't ask me the process as I haven't a clue and anyway I would still be dubious about even eating the jam.
From what I have heard they were introduced to Australia by Afghan camel drivers in the early days so that they could feed them to the camels, I reckon rabbits eat them and pop the seeds out in their poop as we often see many of them growing around rabbit warrens, maybe the camels do the same and that's they are found everywhere as camels were very widely used in the goldfields to carry supplies to the remote areas, and they grow really well in the poorest of conditions even dry rocky creek beds.
au-fever
Last edited by adrian ss on Thu Nov 23, 2017 11:30 am; edited 1 time in total

adrian ss

Contributor Plus





Number of posts

: 2582


Age

: 73


Registration date :

2015-07-03



.......... it's great to read a post relating to Gold ....!!!

Another outstanding collection of photos .

Quite a lot of us won't get the chance to travel to this area so we are privileged

Many thanks for posting this on the forum

Anthony



ttrash

Contributor Plus





Number of posts

: 664


Age

: 53


Registration date :

2011-11-20



Nero, Once again excellent collection of photos, thank you for sharing your experience.
Giancarlo

goldquest

Contributor Plus





Number of posts

: 622


Age

: 74


Registration date :

2011-04-27



What a great presentation of photo's and descriptions...thanks Nero
And how times change....

In the 1970's a mate and myself were nearly full time dredging on the Turon, some of our best returns were from around the Wallaby Rocks.
There was a Yank fellow called Herb Blake came over with a small dredge unit submerged under a truck tire tube. A bit of a pioneer with his set up, he sold quite a few of them.

We had a 4" Keene dredge (still in the shed somewhere) which was claimed to shift around 3 cubic yards of gravel/ hour.
Don't know if that was correct, but 5 hours work often gave us a 2-3 oz. gold reward.

Looks like what has not changed are the bloody leaches.....had to wear ladies panty hose under trousers and long sleeved type sweat shirts.
In around three foot of water we had to use a snorkel.

Anyone from those days may remember Bob Flatts café and that Mrs. Farrel still ran the pub.
Many an enjoyable evening in both establishments.
Mike

boobook

Contributor Plus





Number of posts

: 320


Registration date :

2011-09-12



Great story and pics of your prospecting adventure there Nero.    
   And    
   For sharing on the forum.    
Cheers.
Mike.
_________________
Live long and prosper.  

Mike54

Management




Number of posts

: 406


Age

: 65


Registration date :

2017-06-16



adrian ss wrote:Nice pics Nero.

I think this is the type of bug you photographed.

Corydalidea Dobsonfly


That's the critter! I got a good look at its wings when it landed and it's one and the same as the one you posted here!

nero_design

Contributor Plus





Number of posts

: 2042


Registration date :

2008-11-18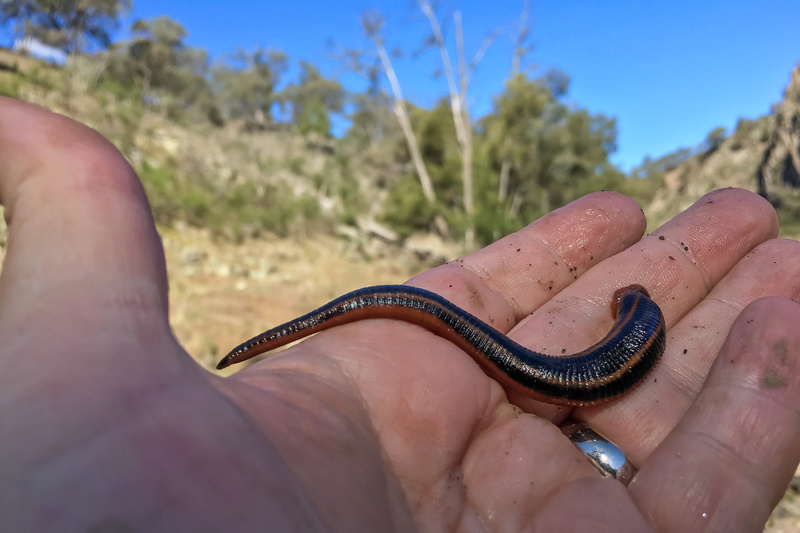 One of the larger ones from Tuesday (iPhone pic)

Hi Mike! I figured someone here would have done well there after the early Gold Rush ended.  Was is all fine material or did you get any shotty (nuggety) material when you worked the dredge there in the 1970s?  The research I did showed the early prospectors regularly got two specks per pan there but if they struck a good spot they did better.  The Government mineral maps showed no gold shedding from the stretch between the bend at Wallaby Rocks and Cole's Bridge. I know that nearby Sofala sure produced a lot of good nuggets in the early days but it sounds like even the 70s allowed for some great work to be done in the area.  I heard one of the old club members got a LOT of gold out near the bridge back in the early 1980s with an 8" Dredge.
Those darned leeches left me alone this time because I sprayed by boots with deet.  But you can feel them when they first bite you.  There's a smaller species that's far more pervasive up in the Blue Mountains and those ones are impossible for me to detect.
One of the smaller leech species from Mount Tomah in the Blue Mountains. Here's one on my lens.


nero_design

Contributor Plus





Number of posts

: 2042


Registration date :

2008-11-18



Very interesting again! Leeches are one thing I don't like much. I've worked in many jungle area of the world. Came back to camp one day and took of my backpack - under the hip strap, it looked like I'd been shot. My shirt was soaked in blood. When I took the shirt odd, looked like I'd been shot with a shotgun, there was blood oozing from about 30 pellet sized bites all across my gut. The worst is the itchiness over the next week or so, and if you scratch them, they just start bleeding again.
I remember trying to pan on one of the creeks near Orange, I got out of the water after seeing one climb over the lip of the pan, only to find 2-3 on my legs. That curbed my panning in that area pretty quickly. I even saw a trout holding just under a bank. It had a leech attached to it as well.
Cheers, GnQ


GoldnQuartz

Contributor





Number of posts

: 46


Registration date :

2016-04-07



Hi Nero.
The fellow I mentioned, Herb Blake dredged for quite a while under and near Coles Bridge. He was using hookah breathing apparatus in the deeper water, don't know what he got but local talk was quite an amount.
Even though there had been large dredging operations on the Turon, a hand dredge pulling gravels from bedrock fissures etc. was going to kill it.
Looking back, we did very well on the Turon going as far downstream to the old settlement called Pine Ridge. We were certain that area was haunted, but that's another story.
Our best gold came from the Maquarie. A property on the Hill End side, below Cannonball, called "Madmans" was opened for 4 wheel drive tourists. We sussed it out and gained access from the Freemantle side where the big inside river bends were. All very steep on the Hill End side, decent access from the South
Because we were "exclusive" had no sticky beaks and included the property owner in the deal.......we soon discovered that is where the gold was!!
All the way down (including the Turon) the gold was flat granules, largest around match head size but still very thin. There was the odd shotty bit, but no more than would just go "clunk" in the pan. We found it was true that a thimble full went 1oz., no airspace. On the Maquarie we were filling quite a few thimbles at share time!
A great lifestyle there, early morning with a cuppa watching the platypus at play, the river was full of cod, a peeled hardboiled egg on a hook/line all that was required.
Often wonder what went wrong
GnQ.
I still shudder when I think of those bloody leeches, the itching which just goes on and bloody on
Neither my mate or myself smoked (told they don't like a hot cigarette tip) so we used salt to get them off. I think they sometimes used the salt to make them (blood) thirstier but there is nothing worse than to find two or three just at the under dacks line.
Regarding panning around Orange, met an Irishman who had been dredging in Lewis Ponds creek. He showed us a coffee jar full of gold but was crook from the pollution caused by the wool topmaking plant in Orange.
Regards..Mike

boobook

Contributor Plus





Number of posts

: 320


Registration date :

2011-09-12



Top landscape photography surrounding the Turon River Nero.  I can't imagine as to what type of creatures, lived there millions of years ago.
Some of the shallow dry slate cross bars, would be a Gold Bug 2 dream, to go over for me.
Much appreciate it all. Thanks for sharing it with us.
Top close-up picture of the Dobsonfly Adrian.
Cheers Kon.
Hi Mike,
Another trick for the leeches, is that they don't like tobacco full stop. No need to light it, just roll the end between two fingers sprinkling it onto the leeches. Even easier if you smear chewing tobacco onto them. They don't like the nicotine etc in the tobacco and pretty quickly drop off. I learned that one in the jungles of Indonesia where everybody smokes (except me!) and tobacco is dirt cheap.

Cheers,
Ben





GoldnQuartz

Contributor





Number of posts

: 46


Registration date :

2016-04-07



---
Permissions in this forum:
You
cannot
reply to topics in this forum