NSW fossickers are urged to put pen to paper to support the case for access to these areas currently managed by National Parks of NSW
.
These are good gold areas. NAPFA will put in a submission but anyone with local knowledge or with aspirations to do something in that area should put pen to paper. Just state your interest in the area and any particular knowledge or insight you may have regarding the fossicking potential.
If you can write a post for the forum, then you could write a submission!
See the note below from National Parks. You can get on their alert list for reviews as well if you visit their website.
Thanks.
Stephen
President of NAPFA
Hopefully this google screen shot loads....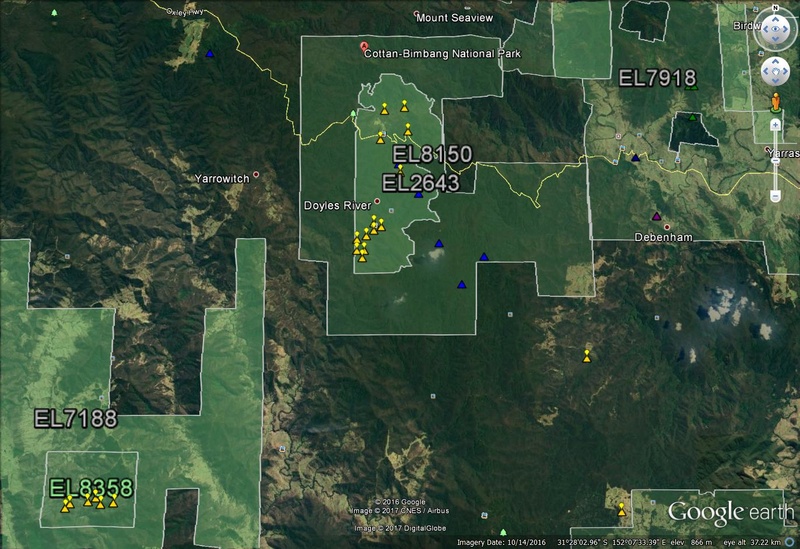 Public exhibition of Cottan-Bimbang NP, Cottan-Bimbang SCA and The Cells SCA Draft Plan of Management
The Cottan-Bimbang NP, Cottan-Bimbang SCA and The Cells SCA Draft Plan of Management has been prepared and is being exhibited in accordance with the National Parks and Wildlife Act 1974. Cottan-Bimbang National Park and State Conservation Area and The Cells State Conservation Areas are located in the hinterland of the NSW mid north coast, approximately 70 kilometres west of Wauchope and 65 kilometres east of Walcha. The parks are dissected by the Oxley Highway and are managed by NSW National Parks and Wildlife Service (NPWS), part of Office of Environment and Heritage
.
The draft plan of management can be viewed at https://engage.environment.nsw.gov.au/consult. You are invited to make a written submission on the draft plan of management.
Submissions need to be received by 14 August 2017.
You can provide your written submission in one of the following ways:
i. use the online submission form at https://engage.environment.nsw.gov.au/consult
ii. email your submission to npws.parkplanning@environment.nsw.gov.au
iii. post your submission to NPWS Planner, Cottan-Bimbang Parks Draft PoM, NPWS, PO Box 361, Grafton NSW 2460..
Your submission will be provided to a number of statutory advisory bodies (including the relevant regional advisory committee and the National Parks and Wildlife Advisory Council). Your comments on the draft plan may include 'personal information'. OEH complies with the NSW Privacy and Personal Information Protection Act 1998 which regulates the collection, storage, access, amendment, use and disclosure of personal information. See OEH privacy webpage (www.environment.nsw.gov.au/help/privacy.htm) for details. Information that in some way identifies you may be gathered when you use our website or send us correspondence.
Your submission, in whole or part or as part of a summary, may be made publicly available on our website. If you do not want your submission made public in this way, please indicate this on your submission. If an application to access information under the Government Information (Public Access) Act 2009 requests access to your submission, your views about release will be sought if you have indicated that you object to your submission being made public.
.
Yours sincerely
STEPHEN MOORE
Acting Team Leader, Park Management Planning
National Parks and Wildlife Service
Tel: (02) 44222341
G'day Stephen ,going to put in a submission online into NP, about this area ,but as I don't have any local knowledge into this area ,apart from stating my interest from a fossicking view ,and the potential economic benefits the area could have ,any ideas what else I could put into the submission ...
...

hugh62

Contributor Plus





Number of posts

: 356


Age

: 60


Registration date :

2014-02-09



G'day Hugh. thanks for your interest. I hope many others take up your lead.

The reason to make a submission is to indicate to the NSW National Parks that you have an interest in fossicking in the said areas; and that you support the right of others to fossick there. If you examine the screenshot above, there are Exploration Leases all over the SCA. And yet we cannot fossick there. In my opinion that is not a fair situation. Why can a mining company explore, and potentially mine, but we cannot fossick?

These matters need to be reinforced to NPWS at every opportunity. There is no need to be concerned that, in your words, you are not educated on law or politics. This is not about that at all. It is about what is a fair go for fossickers.

Key points to make are:


this area has known mineral resources that would be of interest to fossickers.
this is demonstrated by the fact that mining companies can operate mining exploration leases over the area.
if mining companies can explore and potentially mine, then fossickers should also be permitted to fossick there.
NPWS can provide consent to fossick in these areas.
If you have personal knowledge of the area, state what that may be without giving away your secrets!
If you know that the area has been fossicked in the past, before it became national park lands, provide information.
Fossicking is a low impact activity that brings benefit to regional areas, as well as supporting the health and well-being of the community.
Fossicking is a highly regulated activity; and its application (techniques and areas) in the areas of the review can be determined by NPWS.


That's for starters! You may have other ideas as well -- in which case just say it in your own words.

At the end of the day, just give it a crack! For you and your kids and your kids' kids!
cheers
stephen
President of NAPFA
Gday Stephen ,1stly thanks for that advice ,mate ive just finished doing 2 submissions ,inc the sturt park ,started 9 am -finished just now 2 oclock ,to say my patience was tested is a under statement ...
went to regerster ,that in its self was problematic,when fianally I did ,received confirmation email ,clicked on to activate regerstration several times ,either a page not found or error messages ...
   ANY WAY  finally I got there by putting the address into my Hotmail/ address's ,it would of been nice to of been regerstered ,to get notifications of what there up to ,any way I guess theres others / like yourself  that will let us know ,thank gawd its raining ,other wise my patience would of ended long ago...
...
  Stephen I was just wondering if I could make a suggestion ,based on my experience with Gov departments ,things get to lost ,or misplaced ,I was wondering if rather than invadiually sending submissions ,would we better off sending them to you self ,then by the dead line date you submitted them as a joint submission ...
...
... my thinking is ,
   * a joint submission may have a bigger impact by no's ,rather than invadidually ...
   * this process that I went thru earlier can be too challenging to many of us ,who can get frustrated...
   ... and not worry about it ,
   * espically those of us who's internet connection is strained as it is
    * but the main point here I want to make is ,the process is flawed ,cause its to easy for some one to say theve submitted a submission ,when they may not off ...
    * so if we submitted to NAPFA directly ,the body could be influential in influencing members in responding ,ie ;put pressure on members to get off our A''''''' ,
    * the body would have better idea of submission's strength in trying to influence dept's
    *I think maybe it would show a more unified approach ...
...maybe
    any way thanks Stephen .

hugh62

Contributor Plus





Number of posts

: 356


Age

: 60


Registration date :

2014-02-09



Thanks for those comments.  We have thought about some of those things on and off as well.

When you send your email in, its best to tick the box on your email program that asked for confirmation that it has been received, that way you know its has been.

NAPFA will be putting in a submission of our own.  However that does not and should not mean that other interested members of the fossicking community all over NSW and elsewhere don't have their own say.  There are many fossickers who are not members of NAPFA who really ought to be getting behind these various submissions if they want a better fossicking future. the submission process enables them to do that.  Individual submission can be powerful documents because they tell individual stories and provide personalised experiences or intentions with the areas concerned in a way that 'organisational' submissions cannot.

Trying to coordinate and manage independently minded fossickers is quite difficult, and although it may be good to have NAPFA coordinate it all, we have our own resource limitations.  This is not my full time volunteer job! I would rather be fossicking, so we need to compromise in terms of our workload.

I guess what would be good is that as people lodge their submissions they could copy me in  President@napfa.net  and we can take that into account when drafting our submissions. That way we can amplify or use them as examples.

The other consideration is that 10 different submissions shows on the records as 10 submissions.  they all need to be recorded and treated with respect, which is a better look I think than just the one submission.

thanks again for your comments and for having the get up an go to put in a submission. I hope others on the forum follow you lead.

cheers

Stephen
President
NAPFA
Thanks Stephen ,yeah look hear you loud and clear ,see where your coming from and wasn't trying to tell you's how to do your job .and yeah difficult postion being in exc postion in any club & organisation ,been there done that ...
... and yeah see ur point about different / invidual /  submissions / 
 * only thing worry's me is that with invidual subs ,it could be perceveid that whey are a fragmented organisation ????..... and just as a after thought ,how would we be as a organisation ,if we had email / text reminders to members as what we supply when we first join ,supplying our email address's / mob no's ,ensureing that we did participate in what ever ,I reckon there the bee's knees ,reminding us of our appointments / etc ,honestly from a technical / technology / software /  point of view ,what's involved in that ,I would not have a clue , big brother perhaps ,but I do know it does work .
 But any way mate keep up the good work ,thanks once again for giving me the idea's / platform to work with ,with submissions ...

hugh62

Contributor Plus





Number of posts

: 356


Age

: 60


Registration date :

2014-02-09



---
Permissions in this forum:
You
cannot
reply to topics in this forum