Managed to get away for the day yesterday with the plan being to try a different coil on the 4500.
Stuck at it until I got a bit warm without any luck.
After hot drink of water (remember to take esky when using the car next time), I had a crack over some old diggings with the SDC and came up with this.
Always good to go home with something I say, no matter how big or small.
Determined1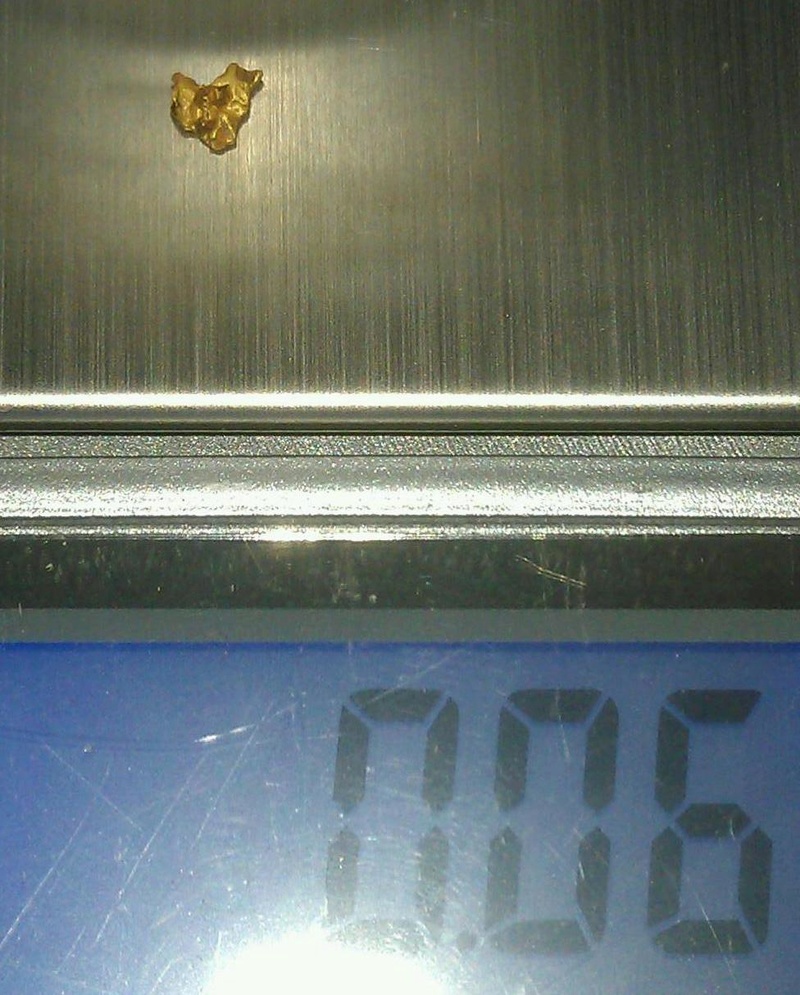 determined1

Contributor Plus





Number of posts

: 375


Registration date :

2013-03-27



Nice little bit for your efforts Bernie.    
    Congrats to you and as you said you do need to bring your esky/cooler bag so your drinks stay cool in this warm weather.   Keep up the good work and hope you find more on your next trip out.  
Cheers.
Mike.
Hey Burnie, better than coming home with the donut old mate.
Some gold is better than none.
Thats a very nice little bit of yellow.. 
Bernie what is to be done with you.. 
make sure you do have an esky in the car.. for those hot days out in the bush.
Too cool your drinks 
geez i don't know where spring has gone, as it sure is heating up.
Take care all that venture out in the heat.
Yup agreed......a little yellow better than no yeller at all...congrats...on your piece !!

California

Seasoned Contributor





Number of posts

: 148


Registration date :

2016-05-08



Well done Bernie..any time you can come home with a rattle in the pill bottle after getting up at 3am,then driving the 600km round trip for the day (as we Peninsula dwellers have to do)
is a good day in my book
Keeps the motivation alive for the next trip out!
Cheers...Dave

Sharkbait

Contributor Plus





Number of posts

: 867


Age

: 65


Registration date :

2013-03-07



Hey Bernie,get yourself one of these mate..best thing I ever bought
https://www.traveluniverse.com.au/Ambush-3L-Hydration-Pack-Auscam-Military-CamelBak/CB60350.htm

Sharkbait

Contributor Plus





Number of posts

: 867


Age

: 65


Registration date :

2013-03-07



Well done Determined1, nice little piece of gold.

The CamelBack is the way to go. I use this model but the U.S. version but it is the same. The bottom section holds my licence, wallet, keys and other things. The top section has my GPS, Leatherman and pocket camera as it is easier to access. It also takes the place of the harness which is great if you have a GPZ, but for detectors where you need the harness put the backpack on after the harness and you can hook the bungy to the backpack.

This is what I take out with me for a day trip.

CamelBack, large cooler bag that has the following: 1 layer of TechniIce (or similar) on the bottom, 2 X 1.5 litres bottles of cold water, another layer of TechniIce on top, a small towel folded with a layer of TechniIce in between and on top of which I put my lunch. Don't put your lunch directly on top of the TechniIce as it will freeze. This is ideal for most of the year but in summer I will be adding a 2 litre bottle (soft drink bottle) of Gatorade which I make up myself from the powder. The Gatorade will replace the salts and possibly keep you from cramping up at the end of the day.

I fill the bladder about 1/3 full and place it in the chest freezer. Just make sure you have the mouthpiece end hanging out so you don't freeze it as after some time it will begin to leak. When I take the bladder out of the freezer I just put it in the back seat and when I arrive at my destination the filler cap will not be frozen and I then fill it with one of the 2 X 1.5 litre water bottles of cold water. In summer you will need it. I would normally take a 5 litre water cask in summer but from now on I will be taking a bottle of 2 litres of Gatorade as well. In summer it doesn't take long to go through the 3 litre hydration pack.

Regards Axtyr.

Axtyr

Contributor Plus





Number of posts

: 590


Registration date :

2014-01-20



---
Permissions in this forum:
You
cannot
reply to topics in this forum