Hello to 1 & All,
I have just joined this site / forum to take in as much as u all wanna give me with regards to the 2nd hand GP3500 I bought. It came with a Lucky lark Battery, STD GP Coil , 14" DD Nuggetfinder ( I think ) & I purchased an 8" Minelab Mono Coil. You see the thing is I would like some help in setting up my detector please & because they ( GP3500 )are so old I can't find anyone that can show / teach me so I aM appealing to everyone out there to assist me where possible. Firstly , based on the items that I have ,what should the settings be set at if I am using the 8" Mono Coil ? .... I am finding it hard to GB & ( as per the book ) & even when I use the tracking button it appears to do nothing ... any suggestions ( don't be rude ) ... Thanx. 

Yakuza61

New Poster





Number of posts

: 5


Registration date :

2014-08-02



G'day Yakuza,Triad here
 Just kidding and welcome to the forum.
   Try this,front panel; After Auto/manual tuning,make sure the Iron Discriminator is set in All Metal.Coil in Mono mode and Tracking in Fixed.
Rear Control Panel; Soil Switch in Normal.Boost Switch in Normal.Threshold barely audible.Audio to suit.Tone of signal to suit.Volume to suit.
Do make sure that you're not trying to ground balance over metal and that you'r not trying to stabilize the detector in suburbia where EMI will constantly play havoc with your coil.
If you find your mono still unstable and playing up,try putting on your larger dd coil and go over the same procedures again making sure that the coil is set in dd mode. If you find that the dd ground balances well and is not noisy,you just might have a faulty 8 inch mono in your possession.
Also if your machine can't be ground balanced with either coil,via the tracking button on the handle whilst in Fixed,try placing the tracking switch via the front panel in Tracking and ground balance without pressing the handle tracking button.If nothing works with either coil,can be a detector problem.Both coils can't be duffers,can they? Make sure all your lead connections are connected up nice and tight.  
     Cheers Kon. 

kon61

Management




Number of posts

: 4995


Registration date :

2010-02-19



 Thanx Kon.
I have ordered the JP dvd with regards to this unit & are eagerly awaiting its arrival to help me to understand it a lot more .... I guess when you live in an area that was / is still littered with the alluvial stuff your hopes & expectations tend to be a little on the high side but understanding the control of this unit will help me to hopefully gain the upper hand. Do you know of anyone that is stilll or does teach the operation of the GP3500 out in the field ?.... anything would be a start.... Anyway thanx once again.

Yakuza61

New Poster





Number of posts

: 5


Registration date :

2014-08-02



Hi Yakuza,
I currently use a GP3500 and its a very nice detector. When your ground balancing in tracking mode, after you have pressed the green button while pumping the coil, does your detector make a high pitch beep sound? If not, I think you have a problem. If you have a multimeter you could do a continuity test on the cable that connects the green button with the control box - the wire in that cable could be broken. There are three points on the plug of the cable, place the probes of the multimeter on two points (and the dial set for continuity check) and press the green button down. Your meter should let off a constant high pitch tone (thats if your meter has a speaker) - I have attached a photo of which points to test. If the cable is not broken   best to get your machine checked out by Minelab. I purchased my GP3500 early last year and two months after my machine became very noisy (a resistor in the transmit section of the circuit popped). Their service department is excellent and friendly to deal with. Best of luck with your machine.
Martin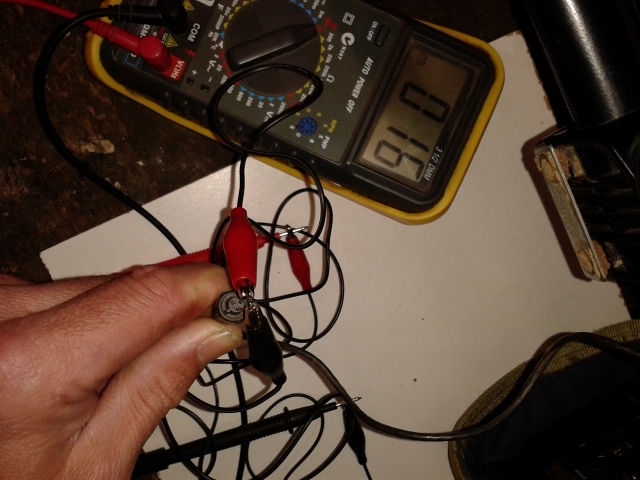 colour

Contributor





Number of posts

: 32


Registration date :

2014-05-13



Hi Martin.
Thanks for some pointers to check I will hopefully get a chance this weekend to do that .... You don't happen to know of anyone/ Company ( reputable of course ) that take people out with THEIR machines & teach them how to drive them properly do you ? ... That might go a long way too ... on the flipside , I just received the JP DVD " The Latest Update " so I am hoping there are some gr8 pointers & tips in that. 
Cheers , Yakuza

Yakuza61

New Poster





Number of posts

: 5


Registration date :

2014-08-02



G'day yakuza and welcome to the forum. You could try Coiltek in Maryborough they do training days and know all the Minelab machines.
Hope this helps.
Mike,
Thanx for your advice about Coiltek Maryborough... that should work out ok .. now just gotta wait 4 the weather to sort itself out , take a couple of days off work & book myself in. Anyone in particular that I should ask for ? ... bearing in mind that I would like to have tuition / training specifically for the GP3500 ..... YEEHAH CAN'T WAIT !
I have received the JP DVD since my last couple of posts ( The Latest Update ) & have been viewing that with eagerness ... I am itchin to get out again now BUT the weather this weekend is supposedly " crap "... guess I'll have 2 wait n c .. they have been wrong before.
Thanx again Mike, 
Yakuza

Yakuza61

New Poster





Number of posts

: 5


Registration date :

2014-08-02



Friday & Saturday are supposedly going to be good and Sunday raining...

CostasDee

Management




Number of posts

: 3971


Registration date :

2010-11-23



---
Permissions in this forum:
You
cannot
reply to topics in this forum