Hi All
Looking to see what the collective brains would say to the following
Scenario:
You are in a known alluvial gold producing area
you come across a bank cutting showing the history of the area
what strata would you focus on? above or below a? b? c? and why...
would you sample the cutting or look for features at the strata that caught you eye?
Or would you just walk on and look for totally something else?
I bumble around a bit and often ask myself this question... am i sampling the wrong strata? am I out by 12 inches and missing some potential colour?
looking forward to any and all responses
cheers
jason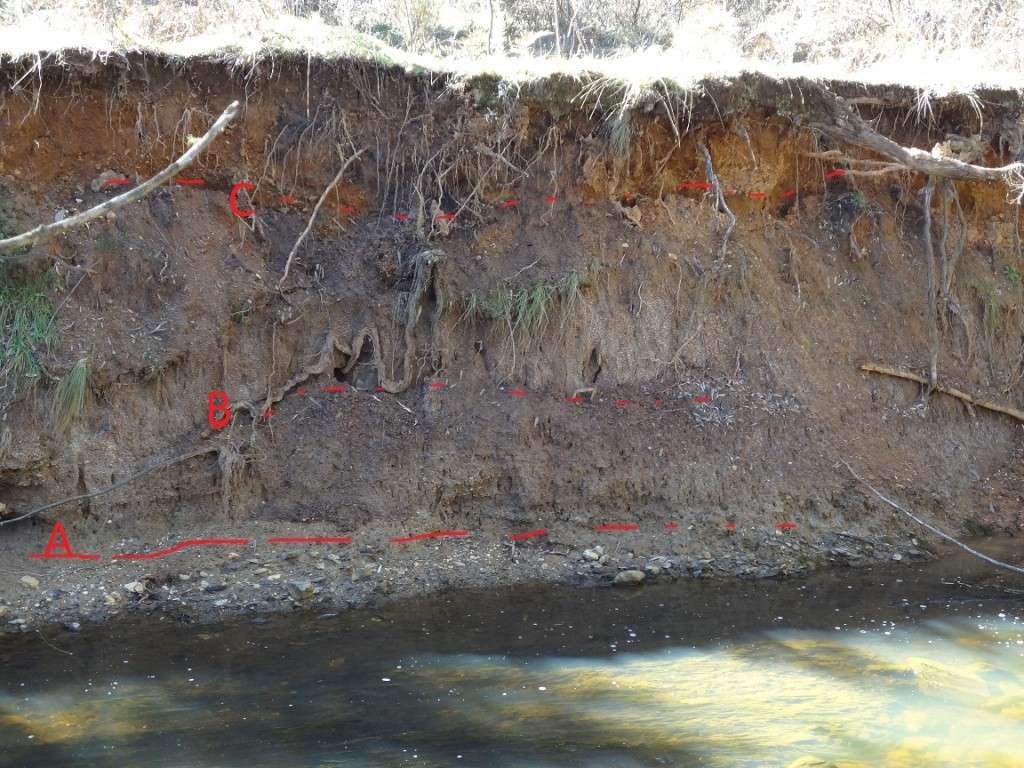 toecutta

New Poster





Number of posts

: 8


Age

: 54


Registration date :

2011-11-05



I don't know any think about sambleing but the deeper you go there are sings like more quartz the deeper you go down in the ground so i am just gussing but i would try at b & a if your looking for a reef
Hi Jason
At "B" this does not look like a different strata, "A" to "C" looks the same by the photo?
To me it looks like this is on the outside bend of a gully?
The first sample i would do is in the active channel of the present day gully, if there is gold there then I would check the different layers, then I would sample at "C" the layer below this is the clay bottom & basically acts the same as bedrock, but if this is on the outside of a bend then try on the inside corner where the wash is deposited, the other scenario is that it is on a straight section of creek which would mean it is fast moving water by the look of the side wall.
hope this helps.
more photo's would explain it better.
cheers
Lee

rc62burke

Contributor Plus





Number of posts

: 2084


Age

: 47


Registration date :

2009-03-05



thank you for your words of wisdom. some good common sense here

Hey Lee... you are correct. This is the outside bend of a creek. there was a grass covered sand bar behind me

i always wonder how far down to dig... or where to start looking. i often walk around looking sideways thinking ok... what level am i standing at now? is the clay layer just below me? or is it 4 foot of sediment?

maybe i haven't been wasting too much precious cycle time on where i look... given the option i would of probably taken samples from the A section and probably would of focused just above and just below the river stones... theory being that a good flow would of been needed to deposit the river gibbers and maybe gold deposits with them?


thanks again

jason

toecutta

New Poster





Number of posts

: 8


Age

: 54


Registration date :

2011-11-05



it looks like light drift material spun onto the other bank. Not that you dont get Gold in it, but it will be microscopic and sparse. I would look at the present bed down the bottom to check for gold. and then the gravels about midway in the photo that run parallel. They may break into a pocket of gravels. The top is humus and settles pretty fast. you can have that sort of cover in 20 years. i cant see any c horizon so, you still a way to go to bottom. The gravels mid way up look more rounded than those in the creek bed too, so may even be from a different system or flood event, the grass seems to be following it, so may indicate better water. But cant tell if its a fall from up top or not.

edit:
sorry i didnt see the scale correctly, its a big bank.
---
Permissions in this forum:
You
cannot
reply to topics in this forum