Does anyone know all the verses of the song/poem 'the man behind the bar'? Please post the lyrics hear please or a link to them.

The last verse is

St Peter will see him coming and he'll leave the gate ajar
he knows he's had his hell on earth
this man behind the bar.

Thanks
Kanga1934

GOKANGA 1934




Number of posts

: 1


Registration date :

2021-01-09




Axtyr

Contributor Plus





Number of posts

: 757


Registration date :

2014-01-20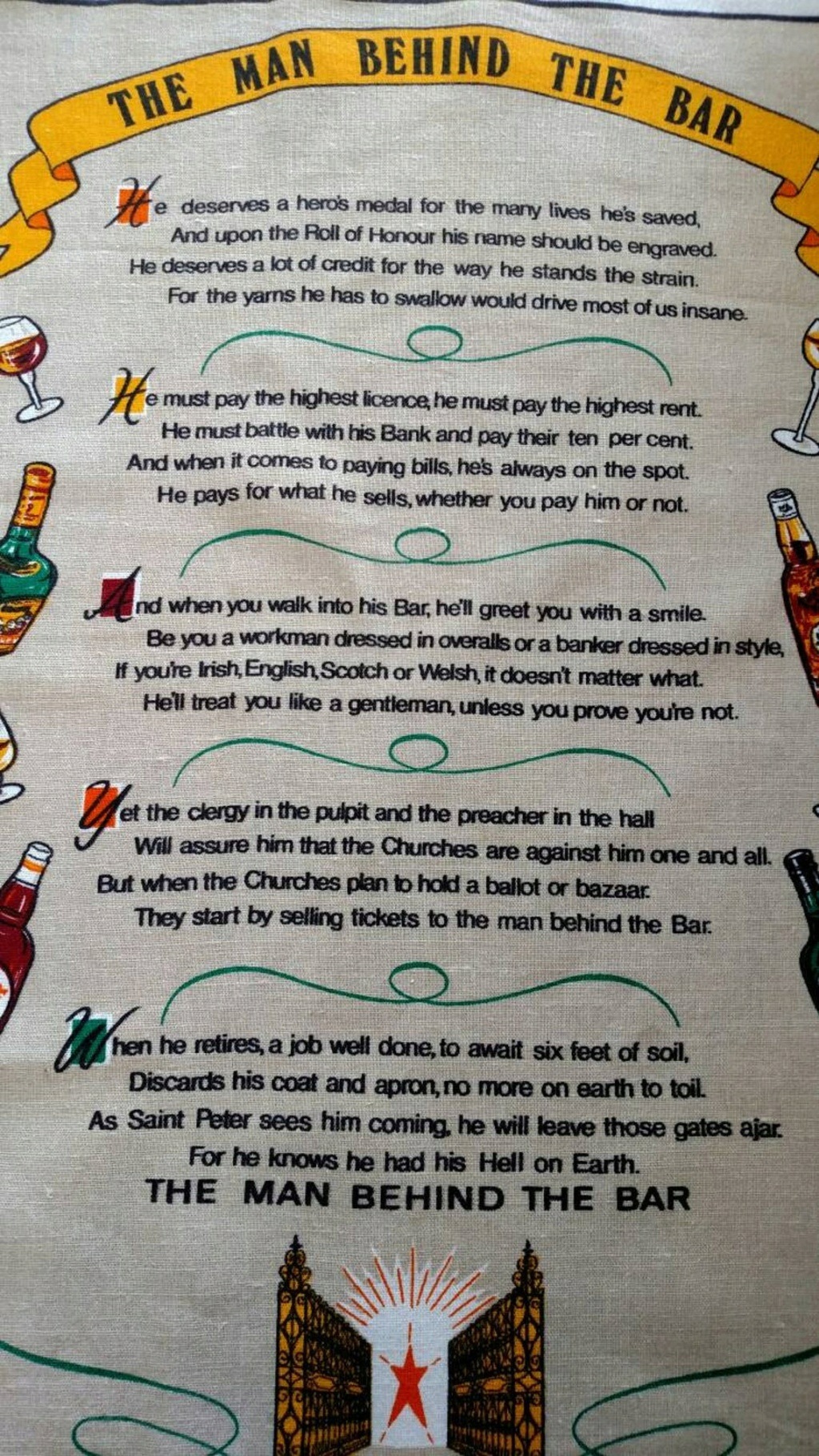 He deserves a hero's medal for the many lives he's saved, And upon the Roll of Honour his name should be engraved. He deserves a lot of credit for the way he stands the strain. For the yarns he has to swallow would drive most of us insane.
He must pay the highest licence, he must pay the highest rent. He must battle with his bank and pay their ten percent. And when it comes to paying bills, he's always on the spot. He pays for what he sells, whether you pay him or not.
And when you walk into his Bar, he'll greet you with a smile. Be you a workman dressed in overalls or a banker dressed in style. If you're Irish English Scotch or Welsh, it doesn't matter what. He'll treat you like a gentleman, unless you prove you're not. Yet the clergy in the pulpit and the preacher in the hall. Will assure him that the Churches are against him one and all. But when the Churches plan to hold a ballot or bazaar. They start by selling tickets to the man behind the bar.
When he retires a job well done, to await six feet of soil, Discards his coat and apron, no more on earth to toil. As Saint Peter sees him coming, he will leave those gates ajar. For he knows he had his Hell on Earth, THE MAN BEHIND THE BAR

goldie

Contributor





Number of posts

: 46


Registration date :

2008-11-01



charliec, adrian ss and xmas tree like this post
Here's another long forgotten verse.

There might be a verse or two missing??

by
Victor Courtney.

The Man From Marble Bar.


Satan sat by the fires of Hell

As from endless time he's sat,

And he sniffed great draughts of the brimstone's smell

That came as the tongue-flames spat;



Then all at once the devil looked stern

For there in the depths of Hell

Was a fellow whom never a flame could burn

Or goad to an anguished yell;



So Satan stalked to the lonely scene

And growled with a stormy brow,

'Now, stranger, tell me what does this mean?

You should be well scorched by now.'



But the chappie replied with a laugh quite new;

'This place is too cold by far

Just chuck on an extra log or two

I'VE COME IN FROM MARBLE BAR!

adrian ss

Contributor Plus





Number of posts

: 3821


Age

: 76


Registration date :

2015-07-03



geof_junk and charliec like this post
Found the missing verses:

"THE MAN FROM MARBLE BAR"

By Victor Courtney.

Satan sat by the fires of Hell

As from endless time he's sat,

And he sniffed great draughts of the brimstone's smell

That came as the flame-tongues spat;

And he watched the writhing forms of men

And also of women too,

And the screams rang out in this dismal den,

As they rushed in each victim new.

Satan looked with a pleasure keen

At each tortured human face,

For this to him was a heartening scene

Where agony found its place;

And some cried out in their fear and dread

And cursed at their guardians vile,

But whatever they did and whatever they said

Made the satisfied Satan smile.
.
Then all at once the devil looked stern

For there in the depths of hell

Was a fellow whom never a flame could burn

Or goad to an anguished yell;

He sat unmoved in the fiery pit

Alone in a picture grim,

And while on each face the pain was writ

There was only a grin from him.

So Satan stalked to the lonely scene

And growled with a stormy brow,

'Now stranger, tell me, what's this mean?

You should be well scorched by now'.

But the bloke replied and laughed out loud

'This place is too cold by far,

Just chuck on an extra log or two

I'VE COME IN FROM MARBLE BAR!'

adrian ss

Contributor Plus





Number of posts

: 3821


Age

: 76


Registration date :

2015-07-03



charliec and xmas tree like this post
---
Permissions in this forum:
You
cannot
reply to topics in this forum