+3
Kon61gold
granite2
walkerminty
7 posters
I am interested to know if other members know of other prospectors who have had liver cancer. Two of my prospecting friends have died of it now I have it in an early stage. Could it be related to electromagnetic emissions from the coils. If there are other prospectors out there with it or have died from it there is some concern as to what has coursed it and if there may be a common link.

granite2

Contributor Plus





Number of posts

: 1777


Registration date :

2009-10-12



Very sad to hear that. Many cancers will metastasize(spread) to the liver first mainly as it's the main drain point for the blood. Is the primary tumour liver or secondary? Your friends may have had secondaries to the liver from spread somewhere else. Not sure if there would be a link to detecting.
I know this won't change the situation but an early diagnosis does improve your long term prognosis. Hope you have a good bunch of specialist available to you.

walkerminty

Contributor





Number of posts

: 30


Registration date :

2009-01-28



Most liver cancers are secondary. The main problem is that there is no warning signs for liver cancer. My friends cancers were to far advanced when diagnosed for them to be saved. They were each given 3 months and that is all they got. Nasty way to go. Luckily mine was found early due to being picked up when having a scan for possible kidney problems which were OK, no problem. Bit of serendipity there.

granite2

Contributor Plus





Number of posts

: 1777


Registration date :

2009-10-12



Sad to hear indeed granite & not an easy one to diagnose the exact cause from. One would think any EMI emissions from coils would be in the to small or insignificant quantity amounts, to cause any dangerous health issues, but one cannot be 100% sure, if there's a link between the two, over the long term.
This type of cancer mostly effects the over 60 age group, most of which have never used a metal detector. (but then again I'm no doctor of such matters)  
Plenty of info on the web in regards to main causes of such, but, your best chances towards finding the most probable cause of such, would have to come from your local long term GP (knowing your past health history & all) or liver/cancer specialist.
Wishing you well.
Kon
Sorry to hear that Granite, chin up and all the best mate.


cheers moredeep

moredeep

Management




Number of posts

: 1634


Age

: 62


Registration date :

2018-05-23



I've often pondered this myself. I lost my prospecting mate to liver cancer in 2016. I do believe that it was secondary to a gall bladder cancer though. Considering where the machine sits for most right-handed people (directly over the liver) it makes for an interesting theory.

TuronYellowFever

Good Contributor





Number of posts

: 90


Registration date :

2008-11-06



Sorry to hear your news Granite 2, just keep focused on the cure.
Re coils, they are usually quite a distance away from the body but we have been carrying 2way radios and GPSs for 30+ years (in my case). These may be worth consideration as well.

Vivace

New Poster





Number of posts

: 11


Registration date :

2017-01-24



I just had some tests run in late 2021 that showed some concerning numbers with my liver after routine blood tests.  My doctor was quite concerned so for the next three months I took some Suisse brand liver detox tablets (which my doctor said he doesn't have any faith in) and ate food that is liver supportive.  The human liver is one of the only organs that can regenerate.  But another medication I take has the ability to trigger liver damage so there's that to consider.
My last tests a few months ago showed a complete reversal and the numbers were perfect.
If I had to take a guess, I'd say that Electromagnetic (EM) fields are said to be potentially harmful if concentrated.  Much stronger EM fields can literally damage body tissue, essentially cooking the organs by heating the body tissue.  Yet there's no scientific evidence to support the hypothesis that Low Level EM fields can cause harm such as nausea, anxiety, headaches etc.  Higher strength EM fields are another matter.  I once had to take some photographs from the top of a Sydney building to be used for a Channel No.5 commercial... and when I was up there I needed to stand on the edges of the rooftop to take my pictures.  When I stood near a transmitter with an EM label on it, there was a large, yellow warning sticker affixed not only to the transmitter but additional warning stickers were places around it at distances of 10-15 feet.  Unfortunately, I needed to be right next to it to take the pictures I was after.  When i got within about 10 feet of the antenna I immediately felt sick.  It was like a mild nausea coupled with a very subtle pins-and-needles sensation.  I could feel myself heating up as though I'd downed some alcohol.  It was a distinctly unpleasant sensation and I ended up avoiding that spot until it was time to leave.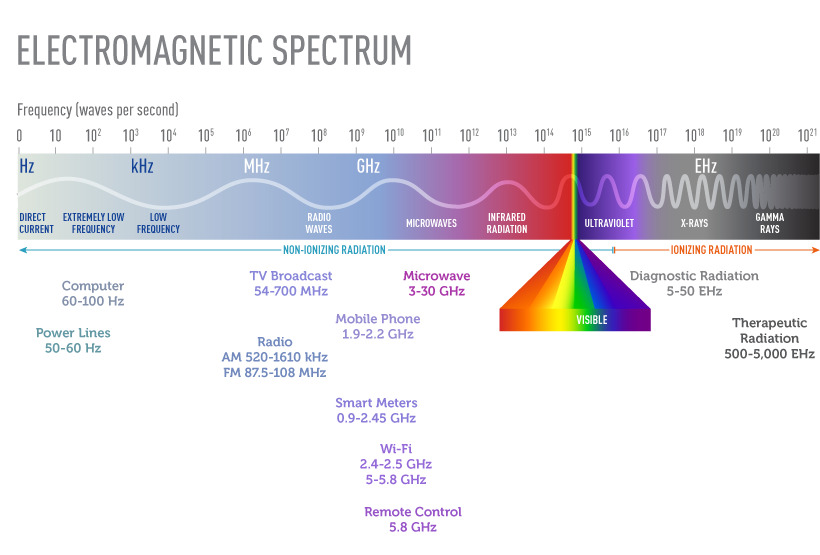 This chart (above)
shows that the EM frequency of our VLF (very low frequency) detectors is way down towards the left of the chart where the more "harmless" low frequencies lie. Pulse Induction can be a little different as it tends to use a range of short pulses lasting around 30 microseconds.... and sometimes higher frequencies to respond to gold ...but is still in a similar ballpark. Most VLF detectors operate between say 3kHz and 20kHz.  Others will range up to 70kHz or even higher.  A 20kHz signals pulses at around 20,000 times per second.  Pulse Induction detectors allegedly put out a signal that typically ranges from 100 pulses per second to over 1,000 per second.  Looking at the chart above, dangerous microwaves aren't all that far away but ionizing radiation occurs towards the far right hand side of the chart.  But we all know what Microwaves can do to organs.
The medium to large coils from the PI detectors like the GPX series put out an enormous bubble of energy that appears to be denser in the middle with a sensitive inner core that seems to be around about 75 feet wide... which is why you can't get any closer than this with a second machine if both are turned on... or else they will clash loudly with each other.  That field is likely larger but that was my observation.  Damage to electronic devices like the Flash Memory in a GPS unit only occurs when the device is placed directly on the coil where the strongest aspect of the EM field is.  Your mobile phone puts out quite a strong EMF by comparison although after 2 decades of relentless testing there's no conclusive evidence that EM fields cause genetic or tissue damage. Some tests showed the antenna from a smartphone can cause the Telemeres to unravel (Telemeres are structures on the ends of our Chromosomes that get shorter as we age).  Alcohol, red meat and wine can cause telemeres to break down, triggering cancers as they become depleted. Nuts, seaweed, fruits, and 100% fruit juice, dairy products, and coffee can help maintain them.  Damage to the Telemeres can result in rapid aging, diabetes and various other conditions.
As long as people don't sleep on their detector coils for days at a time whilst they're switched on, I can't imagine they'd pose any risk.  The strongest part of the field is around a foot from the coil itself with the gain turned up.  Without more information to the contrary, I'd say the EM fields from metal detectors are still (hopefully) too weak to trigger organic damage. Your home electronics are probably bombarding you with far worse on an hourly basis.

nero_design

Contributor Plus





Number of posts

: 2077


Registration date :

2008-11-18



granite2, pablop, hiluxer, moredeep and PeterInSa like this post
---
Permissions in this forum:
You
cannot
reply to topics in this forum