Has anyone used pinpointers when crevassing? I know of a dry creek area in gold country and think it would be worthwhile splitting fairly shallow rocks with crevasses. The thought leaves me wondering if a pinpointer would detect small amounts of alluvial gold in crevices a few inches deep or are they really only useful with nuggets?

harryopal

Seasoned Contributor





Number of posts

: 152


Registration date :

2010-11-06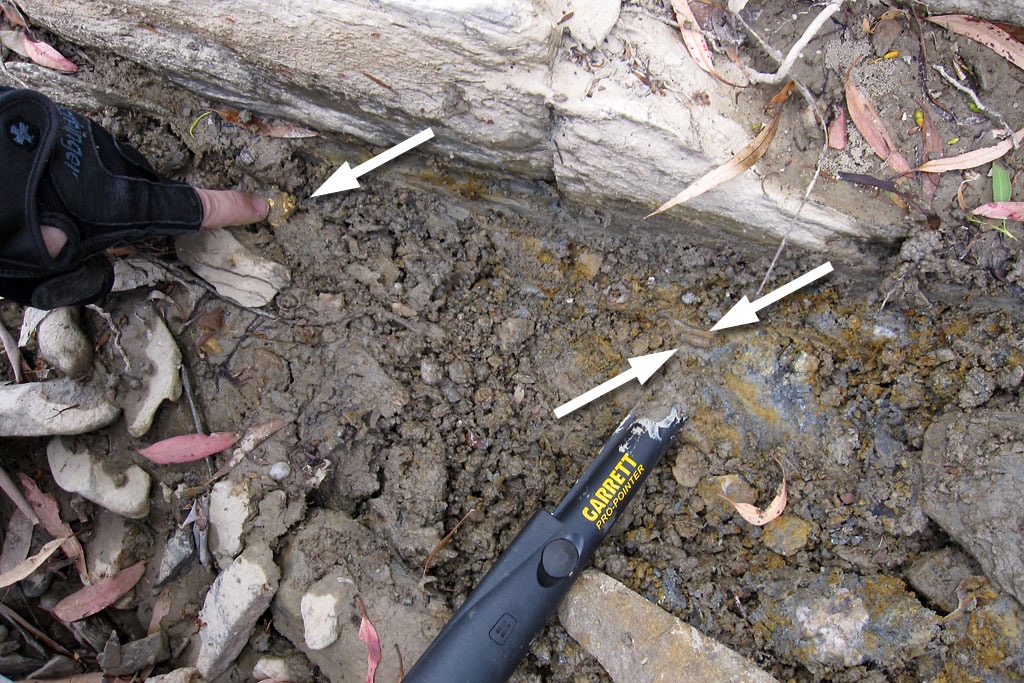 A tiny .22 22 caliber bullet casing (see the double arrows in the image above) triggered my pinpointer on the side of a large rock in a creek on a private property close to Hill End.  When I scraped out the mud from the crevice and moved some of the bigger rocks out of the way, there was reasonably sizeable nugget that was embedded in the same crevice - but it was deeper down and if it wasn't for me detecting the bullet casing, I wouldn't have discovered it.  Under the mud, it was invisible to the eye so the pinpointer let me know it was there.  My coil wouldn't fit among the rocks which is why I ended up using the pinpointer.
I think that if the gold is very fine, you're not going to get a response at all from either a probe or a detector coil.  The bits of gold will need to be what they call "pickers"... small but large enough that you can use your fingers to pick them up.  If you can hear it rattle in your nugget container, then it's likely to be large enough for a pinpointer to detect it.  There's plenty of them in the creeks but they tend to get wedged under rocks and way down at the bottom of crevices.  
The pin-pointers are great for crevicing - as long as there's some nuggety bits of gold in them.  The smaller gravelly stuff will trigger a response from your pinpointer.  I think some of the older pinpointers are pretty average in performance but some of the more recently available models are great for this sort of thing.  I once used the Vibraprobe pinpointer to detect the corroded core of a sewing needle under several inches of gravel that was submerged under several inches of water.  The needle had corroded and lost its nickel coating and had curled up like a human hair.  I was amazed the pinpointers could be so effective.
I used to use a Vibraprobe 570 pinpointer (which was an older pulse-induction pinpointer) for underwater crevicing when I wasn't detecting.  I believe I still have it but I haven't been immersed in creeks lately.  Something to be aware of is that using the pinpointer will stir up some sediments.  So if the creek isn't flowing you won't be able to see what's triggered the pinpointer.  The most reliable way to get gold from a crevice is to pan it after shoveling the soil from the crevice into a bucket.  But if the nugget is big enough, you can pick it up with a pinpointer - just as long as its not too tiny and as long as you move your probe slow enough.
Do some research into the area you are prospecting in to see what the gold is like there.  If the area only produces fine alluvial material then don't bother with a pinpointer.  There's one from the US (called a Falcon Gold Tracker) that has very little depth at all but it can pick up some extremely fine alluvial gold.  But you'd be better served with a modern waterproof pinpointer probe in an area that is known for coarse or nuggety gold.  Whilst all goldfields give up the fine, alluvial gold... they don't always give up nuggets.
One of my detecting pals using a pinpointer for crevicing last year. Be sure to bring a suitable tool to "hook out" any little bits of gold.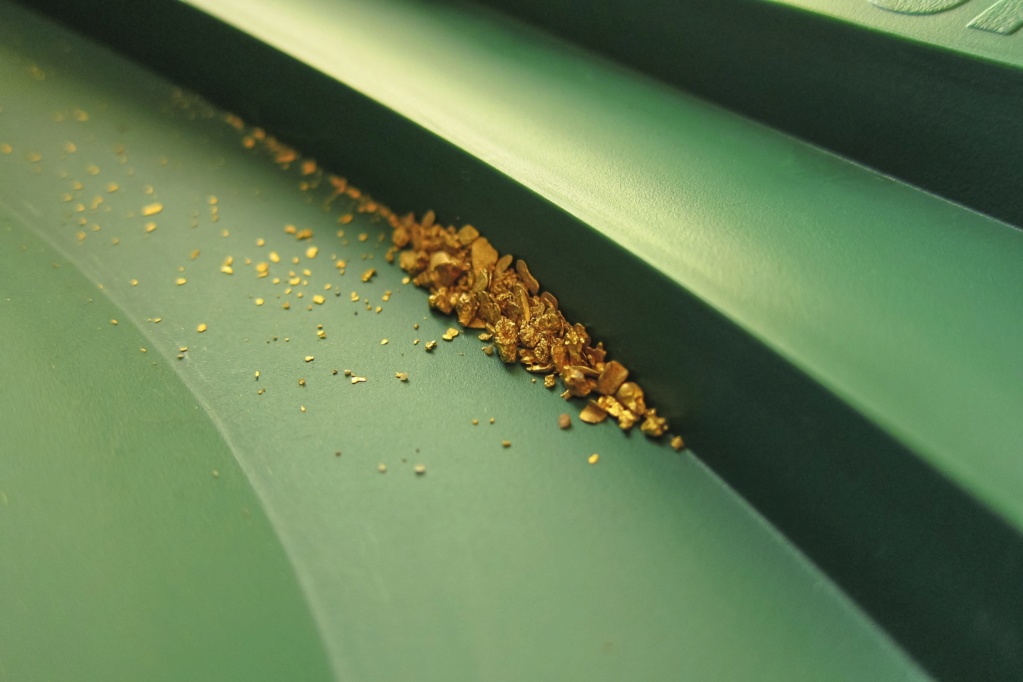 These fine bits laying flat on the surface of my pan are too small for any of my pinpointers to react to individually, but the larger ones up against the riffle are certainly large enough to trigger a pinpointer.  In fact that's how I located some of these larger pieces.

nero_design

Contributor Plus





Number of posts

: 2042


Registration date :

2008-11-18



Nero, Thank you so much for your reply and the pics. From reviews I have the impression that the Garrett pinpointer is well water proofed. I read an item in the forum where the writer was saying that the housing of his Minelab pinpointer was cracking and leaking.

harryopal

Seasoned Contributor





Number of posts

: 152


Registration date :

2010-11-06



or you can try the Falcon MD20
nice unit for this type of stuff ... albeit you will also pick iron stone material as well
---
Permissions in this forum:
You
cannot
reply to topics in this forum