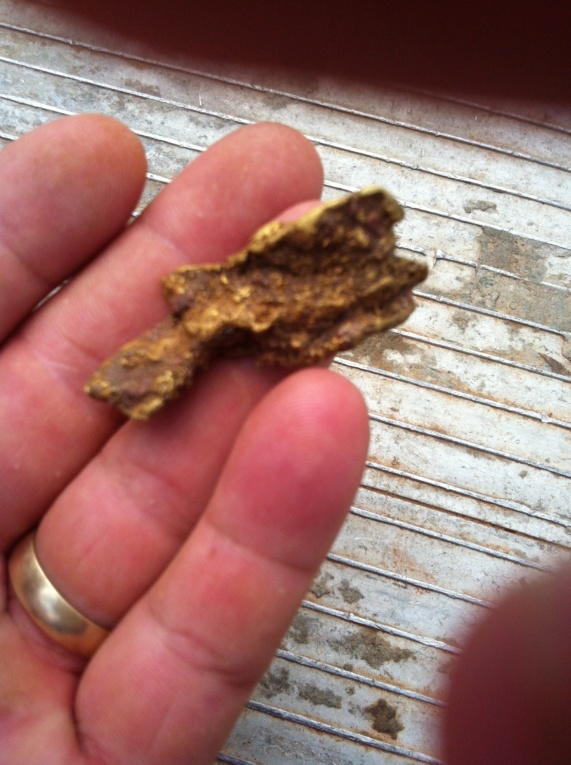 I was detecting out one day it was bloody hot and I was stuffed as I was walking back to the car I got a screaming target thinking it was rubbish I LEFT IT
I took my mate to the same place a month later and he hit the same target and pulled this stonker nugget under an inch deep (lucky we go halfs!!!!) so folks dig all your targets even when you don't want to

joe82

Contributor Plus





Number of posts

: 1001


Age

: 38


Registration date :

2013-07-02



Joe, fantastic find. Yes what you think is rubbish can sometimes surprise.
If you's hadn't joined the 1oz club, you have now.

This is true story, we were with another couple in WA detecting an area and the other person had detected an area and found a long time buried camp fire which had had cans ect thrown into it. It had hardly been visable before they started to dig.  The next day when we walked in that direction as they had gone elsewhere i thought would wave detector over area just to see detector was working, checking signal, as you do, and decided to redig and dug put the camp fire. Well there was still a signal under where coals had been so kept digging and low and behold dug out a specci the size of a gold ball and it was very heavy. Turned out that when we crushed it it had 67 grams of gold in it. Never the less, they were spewing.
Last edited by Travelergold on Fri Jan 11, 2019 1:46 pm; edited 1 time in total

Travelergold

Contributor Plus





Number of posts

: 216


Registration date :

2017-04-24



You're not wrong there Joe. Although you'd think I too, would have learnt something by now? I'm sure I'v left more than one good screamer behind, for someone else who could be bothered to find.
Superb slug of gold, well done to yas.
Cheers Kon.
Great piece Joe.
I too, have witnessed similar with the FIL years ago.
Big Big signal, he cleared the leaf litter with his boot and the signal moved, and kept walking.
I suggested he should investigate and out popped at 45 grammer.
A lesson learnt.

Redfin

Contributor Plus





Number of posts

: 675


Registration date :

2013-02-26



yep funny how it happens needless to say I wont be doing it again

joe82

Contributor Plus





Number of posts

: 1001


Age

: 38


Registration date :

2013-07-02



I reckon we all know that to get the best results for gold is to dig all targets but then we also know that there is a gigantic amount of rubbish to have to sift through and after a few hours of finding bullets, bits of tin cans and all manner of junk targets it becomes easier to leave some signals in the ground.

You think you get a feel for a good target and a bad target no matter how strong or weak the signal may be and almost every target is a bit of rubbish anyway. So I guess we play the Odds now and again, especially with big signals in an area that has been done over by a bazillion detectors of all kinds.
    You know how it is. You have been digging junk all day, the flies are driving you nuts and it is getting hotter by the minute and then another signal comes through that is a bit stronger than the others and you think Bugger ut! It can stay there. Been detected by a hundred others and left there or maybe dug up and filled in again. Such a strong signal,If it was anything it would not be there, it would have been found ages ago, So many tectas have been over this ground in the past 30 years. And so you play the odds and walk.
   All I can say is that when you get that feeling and have walked away...Go back and check it out, maybe it will be another bit of rusty iron but at least you will know that you did not leave a chunky bit in the ground.

adrian ss

Contributor Plus





Number of posts

: 2587


Age

: 73


Registration date :

2015-07-03



Congratulations Joe, to you and your Mate!
Very nice piece  
Yep, if you can not see what the signal is, dig it out.  
We have done it also in the past, only to go back to see someone else's fresh digging's, made us wonder what might have been there?
Then we think, aren't we stupid!  oh well, whatever it was didn't have our names on it
So we dig everything now.
Again congrats on that nice find, hope there's many more for you.
Thanks for sharing with us all.

Jen

Contributor Plus





Number of posts

: 898


Registration date :

2017-06-16



---
Permissions in this forum:
You
cannot
reply to topics in this forum