I had planned a trip to WA but different things came up and I couldn't go. (Seeing the scenery and nuggets from WA that some are putting up makes me wish I was there again).  
I was able to get out for a week so a quick trip within half a days drive or so was in order.  An old school friend who I had not spent time with for many years joined me. He had not detected for gold before.  We went to the Stuart Town Common and detected there for 3 days.  No luck for my mate but I found 3 small pieces. Then we decided to try a day detecting at Ophir.  I got one piece and called my mate and put him onto what I thought was a likely spot.  Ten minutes later he was Yahooing with his first ever nugget.  I told him to keep going nice and slow (he was using my 2300) and he went on to find 9 bits all up, for 1.5 grams in the two days we detected there. It was great to see his excitement.  Meanwhile I found 5 more pieces of my own around about the place with the 7000.  The next morning, back at our Stuart Town camp, my mate was packing up as he had to go.  I didn't have to leave until the next morning so I went out detecting and had a little 0.1g before he left.
After he left I was not having much luck until right on dark when I lobed onto yet another deep signal that I thought would be junk however it turned out to be a beautiful speci weighing 5.3 grams and a SG test revealed 4.0 grams of gold.  So that was literally a great end to the trip.  Nothing like WA but we still had a lot of fun.
The pics below are of the gold that I found. (Just realized you can't read scales in hosted pic, it says 8.1g)
All the best to all of you out there.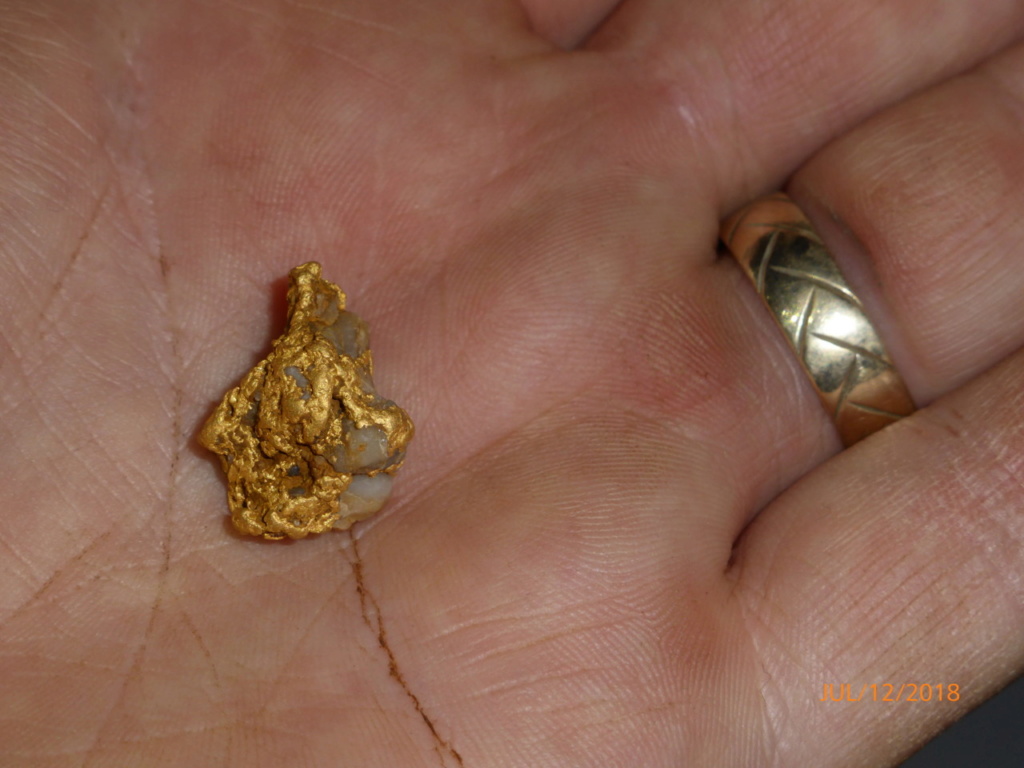 AU10OZ

New Poster





Number of posts

: 18


Registration date :

2015-03-17



Very well done to you and your mate, Stuart Town is getting less and less gold so good on you for finding those nice nuggets and that 4 gram piece is a beauty.

cheers dave
It doesn't have to be like WA Au10OZ. Gold is good where ever you find it. There are times when I think we place to much emphasis on the belief of greener pastures on the other side, without fully exploring the potential of our own back yard surroundings. Do the homework, put in the ground time & you shall find. Top going, well done to both of ya's.
Cheers Kon.
Wow! A beautiful specie, man, look at that colour.  
 Congrats to you and your mate, Cheers,  Harry

slimpickens

Contributor Plus





Number of posts

: 3679


Registration date :

2010-08-04



A very pretty piece AU100Z.  That would make a very nice pendent piece. Gold found anywhere is good gold. And the memory's are priceless.

Travelergold

Contributor Plus





Number of posts

: 233


Registration date :

2017-04-24



Very nice nuggies there AU10oz.
Congrats to you for your very nice finds and thanks for sharing.
Maybe you will go to WA next year.
Cheers.
Mike.
_________________
Live long and prosper.  

Mike54

Management




Number of posts

: 462


Age

: 66


Registration date :

2017-06-16



Good colour you got there...
Thanks for sharing this helps keep the dream alive.....

nanjim

Good Contributor





Number of posts

: 97


Registration date :

2014-05-01



Very nice finds. Well done.

AnnieL

Contributor Plus





Number of posts

: 1062


Age

: 66


Registration date :

2012-05-07



Another fantastic piece and great shot too, I wouldn't do anything with it its beautiful. well done and congrats.

Ian

Willo

Contributor Plus





Number of posts

: 288


Age

: 56


Registration date :

2011-09-04



---
Permissions in this forum:
You
cannot
reply to topics in this forum