NEW TO THE FORUM
Hi Guys my name is Leigh .
I have been following this forum for several  years registered on 2014-10-29 and have learnt so much about how to run my 4500 with different coils in differing soil types and under some very trying situations.
I would like to say a big thanks to the people who put up the posts on their issues and to the others who have offered solutions to their problems.
This is my finds for my last trip of one mullock heap. They ranged in weight from .07g to 6.5g found using a standard commander 11" mono coil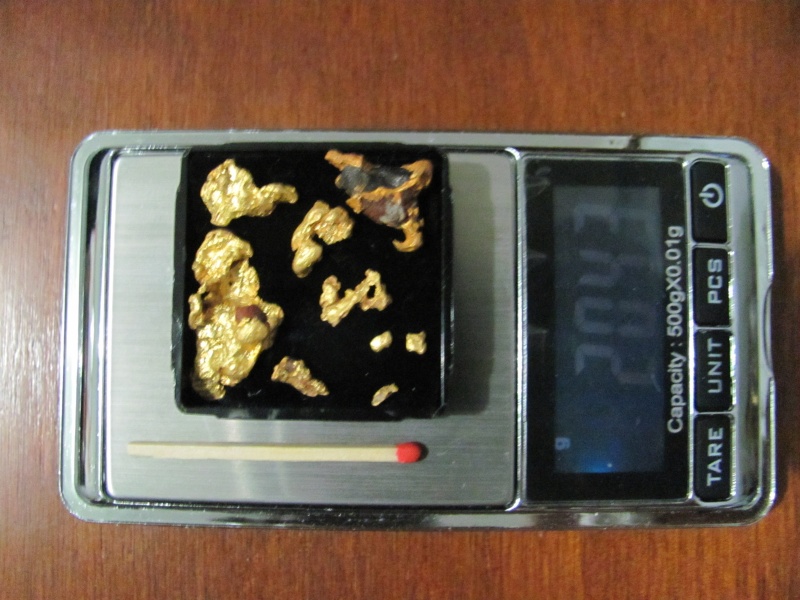 There was a total of 13 bits but I gave 4 to the Farmer as a good will gesture he was stoked but so was I.
       Leigh  

Paddy

New Poster





Number of posts

: 6


Registration date :

2014-10-29



G'day Paddy and welcome to the forum
I am glad you have found plenty of usefull info here, and it looks like you have put that info to good use, congrats on your finds hope the farm keeps on giving up the good stuff.
By the look of the gold your getting it will pay to keep in the farmers good books, giving him some of the finds your getting from the farm, well done all round.
Thanks for sharing your story and the pics of the gold, hope we see some more from time to time.
cheers dave
Welcome to the forum Paddy (Leigh).  Some very nice nuggets there!

AnnieL

Contributor Plus





Number of posts

: 1070


Age

: 66


Registration date :

2012-05-07



 Detecting Buddy, Welcome to the forum,
 it took a while to get you signed up.
 I am sure you will find the forum very informative.
Cheers Dave  

Cadian

Contributor Plus





Number of posts

: 372


Age

: 79


Registration date :

2013-11-15



Welcome aboard Leigh
Nice bits of gold you have found,
and it's nice to hear that you shared with the farmer
Start asking questions or just join in, it's a fun forum
Welcome to the forum Leigh
congrats to you on your finds
thanks for sharing
that was a nice offering to the farmer,
Hope you will have fun on this forum.  
Cheers Mick

Aurumick

Contributor Plus





Number of posts

: 351


Registration date :

2014-12-03



Thanks for the welcome guys.
And a big thanks to Cadian for helping to get me started on this forum  
Cheers Leigh  

Paddy

New Poster





Number of posts

: 6


Registration date :

2014-10-29



---
Permissions in this forum:
You
cannot
reply to topics in this forum