Click where the arrow is (host an image) -You will find this icon bellow the title of the topic with a lot of other small icons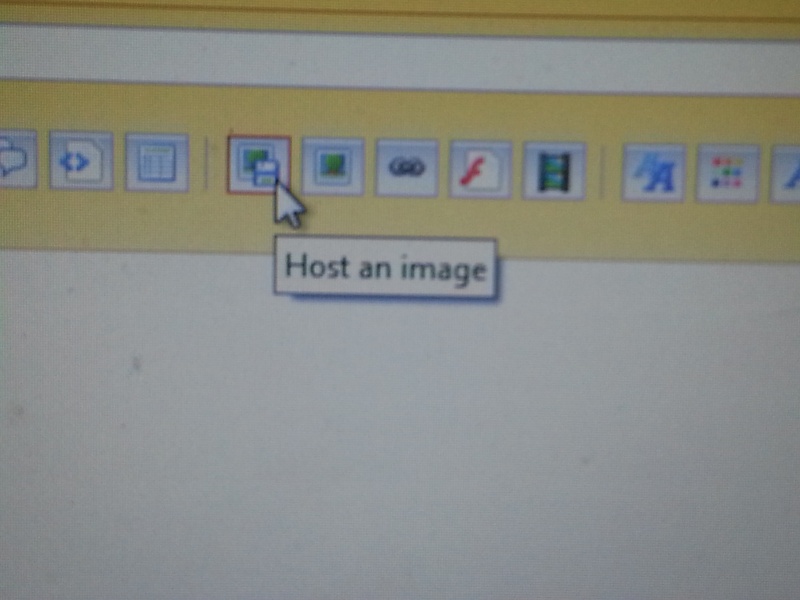 When the box
upload your image
opens
up
click Browse where your picture are stored:
You will get file uploads and then click the photo you want to upload and click open
Click Host it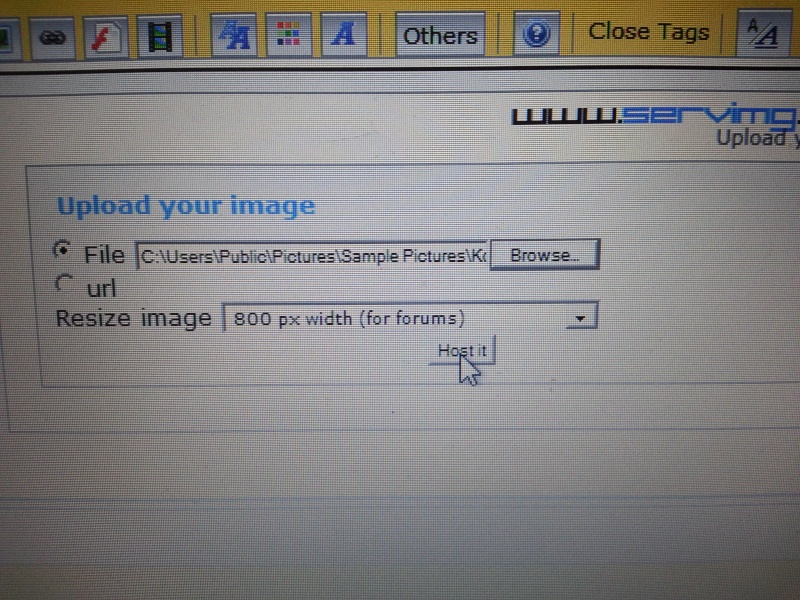 Wait until the file is ready to be uploaded and you will get this window: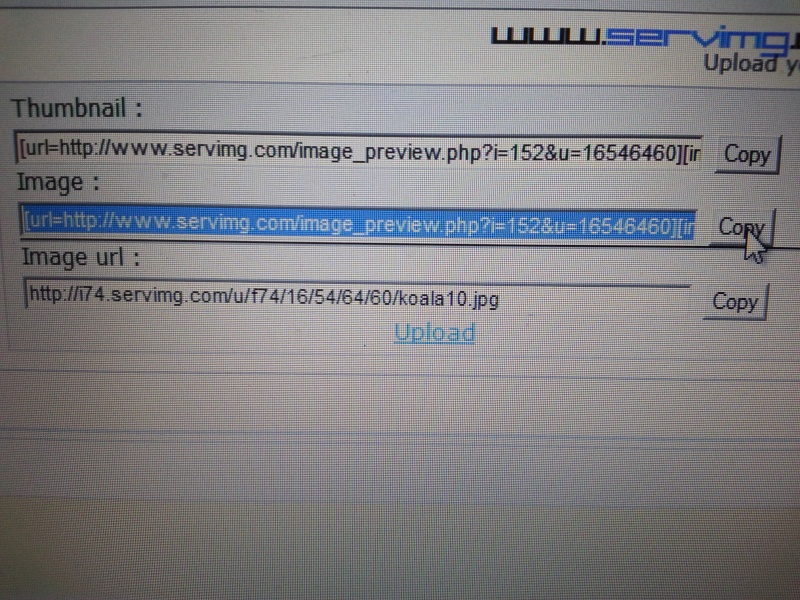 Click copy and a file will be in a blue colour (highlighted)
In your topic in a writing fields right click your mouse and press paste.
Scroll down to the end of your post page and you will see 2 buttons preview and send. Click preview and you will see the image/s which will be on your post.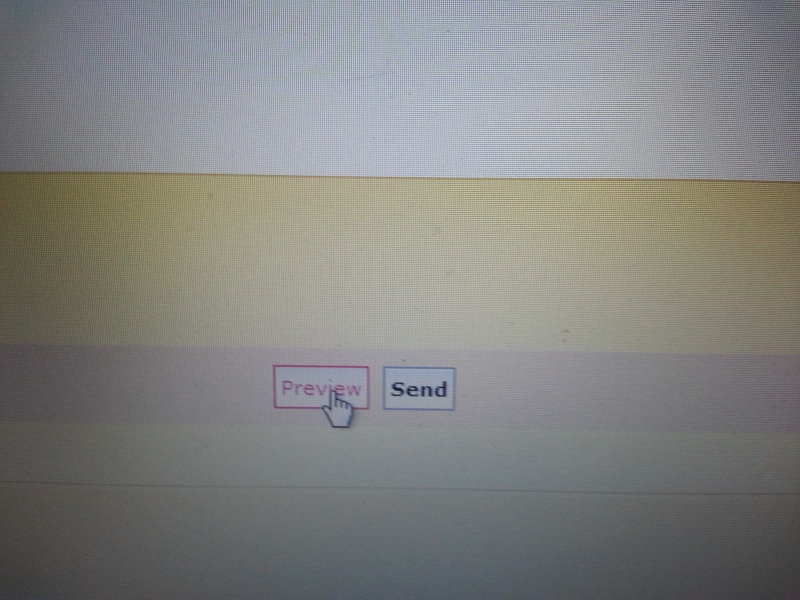 You can repeat the process if you have more photos.
When you finish your post press send.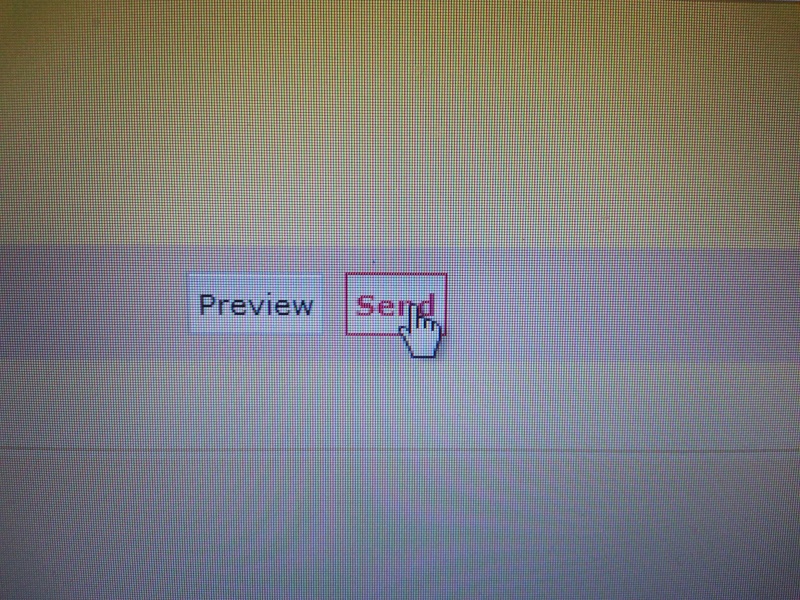 GoldEN
Now that doesn't work with an iPad !
G'day Ark I use the IPad and when I post pics I use photo bucket. Works good for me.
Cheers.
Mike.
Hi guys, I am a bit of a computer dummy but I save my pics to photobucket also & this works for me too.
Good luck out there
JW

kiwijw

Contributor Plus





Number of posts

: 1886


Age

: 63


Registration date :

2010-09-02



It was great to see a contributor adding uploading of Photo instructions. I havnt tried yet but a Photo is better than a 1000 words unless its Brenda making a fun joke as she was spied on by some paranoid boof head locals 
  swing wildly away to show them they were wasting their time spying on her.Paul and Brenda also had great photos to illustrate her articles in Gem & Treasure magazine ~ I loved the Murchison prospecting book ~ Paul does a great job first researching the areas they write about so I cant wait for my copy of Karratha Gold to arrive ~ One has to wonder at the logic of paying many hundreds of dollars for Gold and Ghosts with de Havilland`s mud maps, when one can buy a current publication with accurate present day information, already sussed out by Paul, and the unique and exquisite Brenda`s comments 
  about their camper-van camp illustrated with Photos what a good modern prospectors outfit looks like ~ I look forward to uploading my find as instructed hopefully  

Charlie Dare




Number of posts

: 1


Registration date :

2014-05-14



To upload pic from photobucket:

once you have set up your photobucket account uploaded your pics

Click on your pic in your library on photo bucket: Next screen will appear

Now click on the chain-link button (should look like a chain)

then click on Photo link (HTML & IMG),(this will copy the link)

Then paste it to your Post on forum  ( right mouse button)

Tip: edit your pics to shrink them up before your up load to photoBucket.

Hope this helps.
Last edited by mickAurum on Wed Jan 21, 2015 3:52 pm; edited 1 time in total (Reason for editing : Add a little tip)

Aurumick

Contributor Plus





Number of posts

: 351


Registration date :

2014-12-03



It has changed a bit but essentially still the same as before, it just looks a bit different.
Putting
up
pictures
is a bit of a process but once you get used to it all good.
Step 1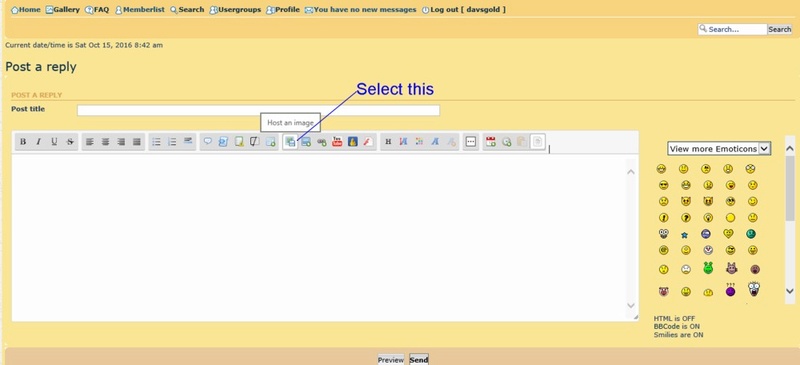 Step 2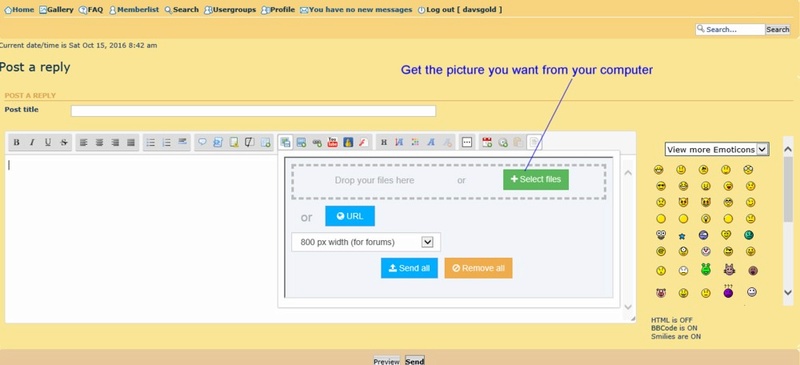 Step 3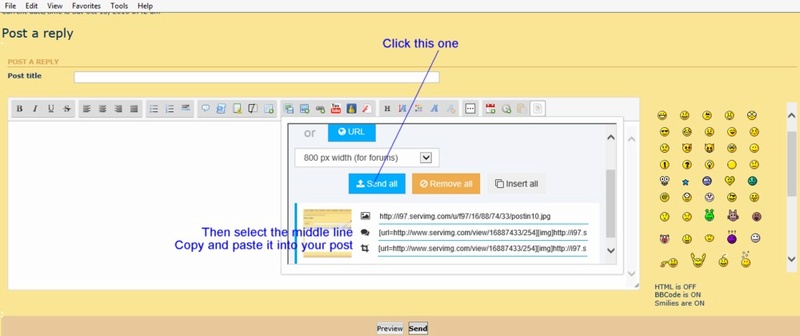 cheers dave
Similar topics
---
Permissions in this forum:
You
cannot
reply to topics in this forum