my teacher told me that when a lot of gold accumulates it generates very very pale glow that can be seen by the people who have great discipline. I think that can be used to find gold mine. you may try it in a moonless night. the pale glow,my teacher told me is yellow(I live in city that lights pollution is so serious that that kind of gold can not be seen).

cheers
Albert

Albert_IV

Contributor





Number of posts

: 42


Age

: 50


Registration date :

2008-12-27



Hi Albert
Not sure about that,but Gold if its big enough might retain heat better than the ground and maybe if you wear infrared glasses or use a smartphone you might see it in the dark.
Steve

deutran

Contributor Plus





Number of posts

: 1658


Age

: 55


Registration date :

2009-09-26



Nothing supernatural about gold Albert. It was in existence when the earth was first created & it will be here long after we're gone.  Immortal element, would be a better word for it.
As for the pale pale glow (as you say) it gives out, I don't know, I can't say, for I'v never had the opportunity of seeing it accumulated, in large amounts all in one spot. What I have seen & can tell you about is, the "Glint" in ones eye & the trembling sensation it creates, followed by the adrenaline rush one experiences, upon first discovering it.

Cheers Kon.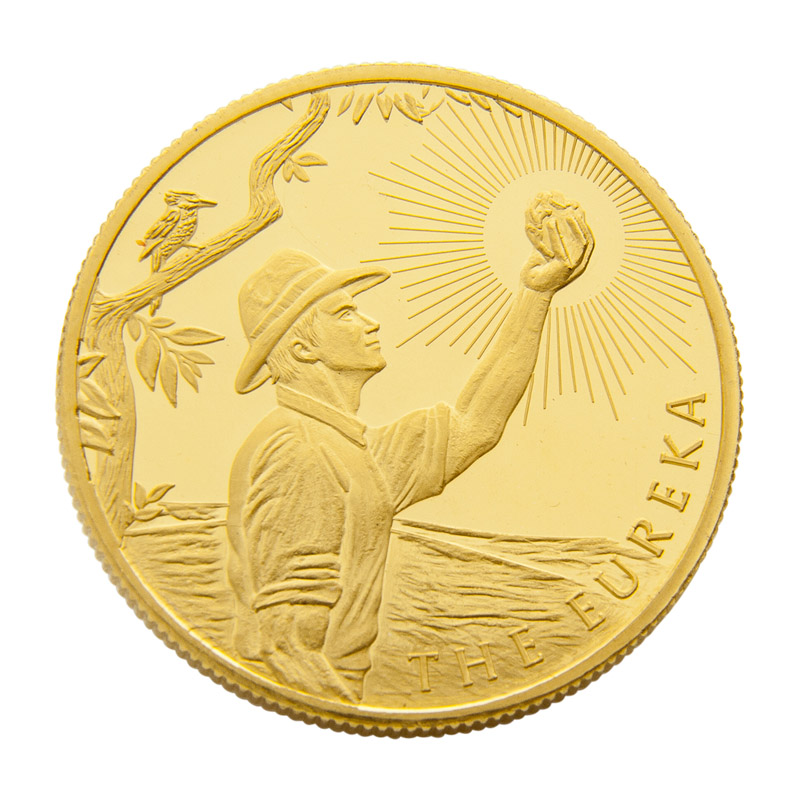 The use of a "Glowing Halo" around a gold nugget by the Mint to portray the gleaming valuable properties of Gold on a coin
Some fluorescent minerals can give away the position of other minerals that wouldn't be seen during daylight hours.  Using a blacklight (UV flashlight) you can find such minerals in the dark and mark the areas for exploration during the daylight hours.
But gold doesn't florescence at all (even under a UV light) since it lacks the chemical compounds to do so. And it can't glow by itself without fluorescent or bio-luminescent organic compounds. Gold and Plantinum are two of the least reactive metals in the world.   It can form an amalgam when it comes into contact with mercury.  But even then, the gold remains disassembled but unharmed and the mercury can be boiled off to extract the gold.
.
Gold is also considered chemically inert, only reacting to chlorine and bromine to form trihalides.  It reacts to iodine to form a type of monohalide.  Incidentally, these three items (chlorine, bromine and iodine) are used to make plasma discharges much brighter in the displays used for Museums.  Gold will also react to aqua regia (a mixture of nitric acid and hydrochloric acid) but won't react to nitric acid alone, nor will it react to hydrofluoric, hydrochloric, hydrobromic, hydriodic or sulfuric acid. Gold doesn't give off vapors so it can't be detected with chemical sensing equipment.  It can reflect sunlight and moonlight and I've been able to spot very small nuggets in my pan in creek this way under a half-moon at night. The way gold "shines" in shadow when gold panning is often used to determine whether or not it is Fool's Gold (mica or pyrite).  Pan with your shadow over the pan and your gold should look bright, even in the shade... because the metallic aspect is still reflecting light, even from the shade.  This gives the impression the gold might "glow".
I seem to remember people in the 1940s seeing Mercury in thermometers and the Phosphor dials on watches as being magical and it's very likely people have confused the luminous properties of Phosphor with Mercury... which was often associated with gold mining.  In the 1960's the two coolest things you could get your hands on were objects that glowed in the dark or mercury.  A drop of mercury is used in neon tubes and it vaporizes, forming a catalyst that allows the neon tube to conduct electricity more efficiently through the gas in the tube.  Without mercury, these tubes would struggle to turn on.  Mercury Vapor lamps are often used to illuminate carparks and sports ovals.
People trying to dry-wash for gold in the US will sometimes try to look for Scheelite - which is a calcium tungstate mineral often found in North American goldfields.  Prospectors occasionally look for it with a Shortwave UV lamp because Scheelite will fluoresce under a shortwave UV light.  Note that most UV LEDs are Longwave so you'll need the phosphor coated neon tube variety to find Scheelite.  Placer gold (an American/Spanish term for Alluvial gold that has washed away from its host mineral and built up in gravels elsewhere - usually on a streambed) will often form deposits mixed liberally with Scheelite although this really only applies to North American prospecting. In Australia, Scheelite might be possible to find since it's from the Wolfram mineral family and that one does occur here although I don't know what the level of fluorescence is.
That would be the only incidence I can think of where fluorescence (of the Sheelite) would be associated with Gold.  The only time gold will emit any form of glow or illumination is when you heat and try to melt it.  If it glowed under any other circumstance we'd all be out there looking for it in the dark.  I'm not sure that's a good idea in the Australian bush!

nero_design

Contributor Plus





Number of posts

: 2014


Registration date :

2008-11-18



Great reply Nero,I really enjoy learning "STUFF" about minerals and how they are found/detected and their properties.
Thanks for putting in the time to write a reply like that.

cheers moredeep

moredeep

Management




Number of posts

: 284


Age

: 58


Registration date :

2018-05-23





Similar topics
---
Permissions in this forum:
You
cannot
reply to topics in this forum