Thought I'd post a few photos of some gold I found a fair time ago, when I was living in Kalgoorlie.

Had rotten luck with my first detector an XT17000, and eventually bought an SD 2100. I had such trouble with the 17000 that when the SD2000 came out I was so pi**ed off I thought, "I've blown $1500 on that detector, I'm not wasting another $3200", which was a lot of money for me back then. Well, What a mistake that turned out to be, not to worry I got an SD2100, which also turned out to be somewhat of a dud! Later when I tried to use coiltek coils I found I had no luck, crap depth and just no signal strength. Turned out there was a batch that had some coating on the circuit boards that affected how they perfomred, or so was the story I got. However, I did manage to find some gold with the SD2100, and I found some deep stuff too.

On the 10th day of owning the detector I was out trying some new ground about 500 metres from where I'd found my first two pieces, totalling ~2.5g with the detector a few days earlier.  At about 4.30pm, I found a sunbaker of ~2.7g on some disturbed ground. Took a while longer to find any more and then they started, my mate got a 7 grammer, then I got a 5 grammer and then I got a 62 grammer! I could not believe it a 2 oz nugget! We continued to find pieces, including a 38g nugget which must've been just 20cm of my first pass through the area. In fact it seems I managed to walk right through the patch that first pass, and somehow did not ping a piece, and that going slowly, after finding the first piece too.
Then at about 11.30pm, I got a good signal under a dead bush. I said to my mate, its good, and its deep. It turned out to be a 122g nugget cemented in solid calcrete (caliche), and took about 2 hours to dig out. After typing every tool we had, picks, shovels, crow bars, rock hammers, we resorted to a 16 lb sledge hammer, which did the trick. By then there was a very large hole dug in order to brerak up the calcrete wide enough of the nugget. Elated, we walked the 30m to the vehicles, lit up a fire and put the billy on. Having a cup of tea at 2 am, looking at the gold we'd found was a sensational moment.
I had to dissolve the calcrete and dirt off the gold over several days in HCl, but it revealed a very unusual nugget. It appears to have formed in the calcrete and is a very rough hackly piece, but quite beautiful. Final weight of the main piece is now ~203g, with another piece of ~12g coming off in the process, plus a lot of very fine gold.


Last edited by GoldnQuartz on Wed Aug 30, 2017 6:48 am; edited 1 time in total (Reason for editing : cant attach photos?)

GoldnQuartz

Contributor





Number of posts

: 46


Registration date :

2016-04-07



Can't seem to upload any photos? Hints?

GoldnQuartz

Contributor





Number of posts

: 46


Registration date :

2016-04-07



What a memorable hunt that was with all that gold found...you just never know until you dig it up. Days like that do happen, and you never forget it...lol. Looking forward to the pictures..one things for sure if you keep looking you will find gold.

California

Seasoned Contributor





Number of posts

: 145


Registration date :

2016-05-08



_________________
Live long and prosper.  


Mike54

Management




Number of posts

: 384


Age

: 65


Registration date :

2017-06-16



Thanks Mike, I got 'em loaded. For some reason when I tried this last time it didn't work, but its worked now.



GoldnQuartz

Contributor





Number of posts

: 46


Registration date :

2016-04-07



Not yet, it hasn't.


hiluxer

Contributor





Number of posts

: 22


Registration date :

2017-06-04



Good yarn
 waiting on pics
Wayne.


Digginerup

Contributor Plus





Number of posts

: 2400


Registration date :

2012-05-17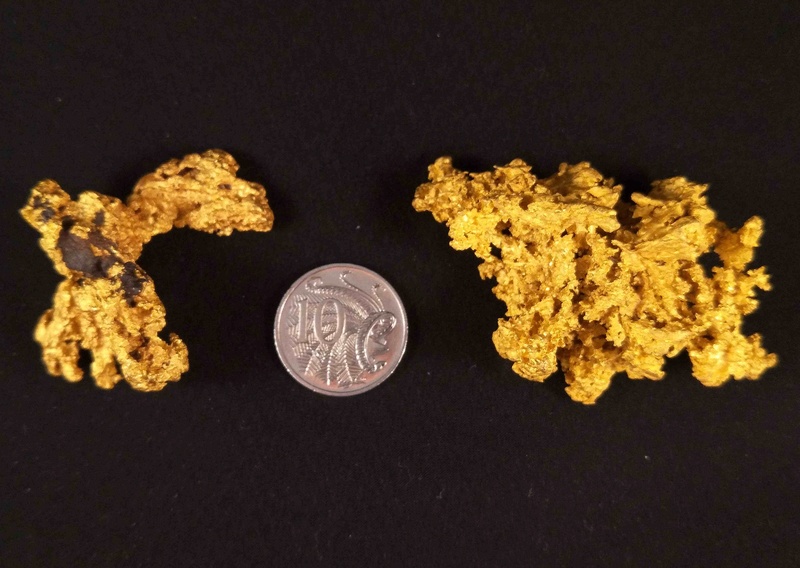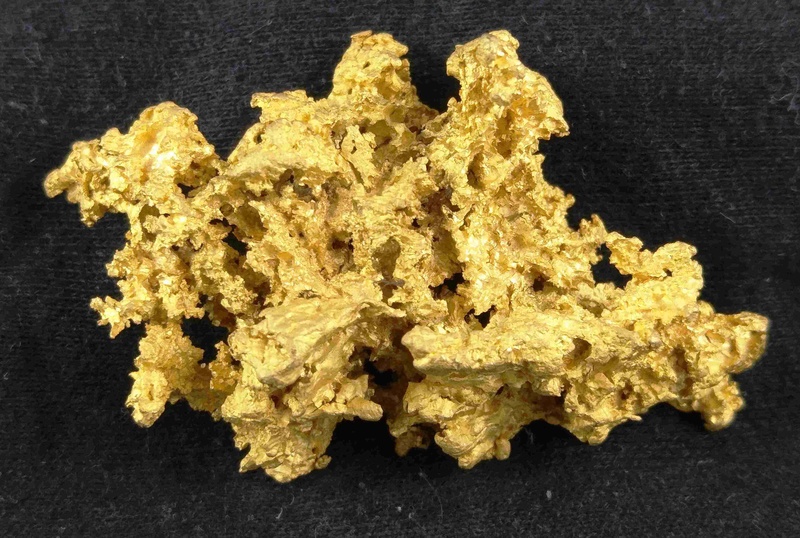 Finally, the pics. Think I'm getting the hang of it now.
These are the largest of the two pieces I found that day. Was an amazing start to 'real' detecting. I'm getting keen on getting out thee again and hoping to find some more, but 20 years on, it seems these spots are much harder to find.
The 2 oz nugget was loose in the 30cm of soil and clay overlying the calcrete. The larger piece, the main mass, was completely enclosed with just a few wisps showing through here and there. After some time of studying it, I decided in this case the best course of action was a slow acid wash, and being primarily carbonate-cemented clay (calcrete), that HCl would be the best acid to use. It then took several baths and changes of acid solution over a couple of weeks to get it looking like this. I ended up with another 12g piece coming off the side, and several grams of very fine to extremely fine flour gold.
The 2 oz piece is cleaned only water and dishwashing liquid. "Palmolive, gentle on hands, gentle on nuggets" maybe that's how they could market it!
Cheers,

GoldnQuartz

Contributor





Number of posts

: 46


Registration date :

2016-04-07



Very nice nuggets there GoldnQuartz.
Good to see you persisted with your photos and thanks for sharing them with us.
Cheers.
Mike.
_________________
Live long and prosper.  


Mike54

Management




Number of posts

: 384


Age

: 65


Registration date :

2017-06-16




---
Permissions in this forum:
You
cannot
reply to topics in this forum