Hi all been doing another clean out at the mother inlaws and this is what l found a set of 3 Crystal palace medalions from 1854. here is a link for info on the Crystall palace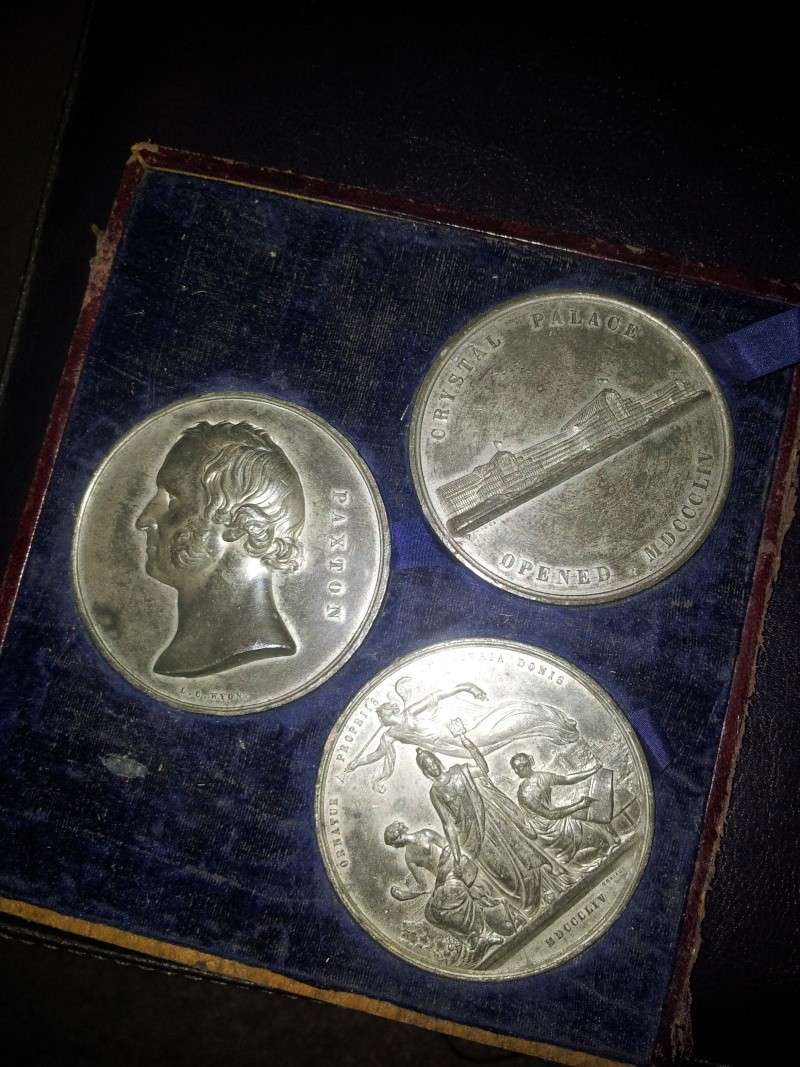 http://en.wikipedia.org/wiki/The_Crystal_Palace
Nice finds mate and everyone makes jokes about their Mother Inlaws

Here mate is a bit more info :-
navigation, search For other uses, see Crystal Palace.
The Crystal Palace
The Crystal Palace at Penge (1854)
General information
Town or city London
Country United Kingdom
Coordinates Coordinates:
Click the blue globe to open an interactive map.
51°25′20.26″N 0°4′32.84″W / 51.4222944°N 0.0757889°W / 51.4222944; -0.0757889
Design and construction
Architect Joseph Paxton
The Crystal Palace was a cast-iron and plate-glass building originally erected in Hyde Park, London, England, to house the Great Exhibition of 1851. More than 14,000 exhibitors from around the world gathered in the Palace's 990,000 square feet (92,000 m2) of exhibition space to display examples of the latest technology developed in the Industrial Revolution. Designed by Joseph Paxton, the Great Exhibition building was 1,851 feet (564 m) long, with an interior height of 128 feet (39 m).[1] Because of the recent invention of the cast plate glass method in 1848, which allowed for large sheets of cheap but strong glass, it was at the time the largest amount of glass ever seen in a building and astonished visitors with its clear walls and ceilings that did not require interior lights, thus a "Crystal Palace".
After the exhibition, the building was rebuilt in an enlarged form on Penge Common next to Sydenham Hill, an affluent South London suburb full of large villas. It stood there from 1854 until its destruction by fire in 1936. The name Crystal Palace (the satirical magazine Punch usually gets the credit for coining the phrase)[2] was later used to denote this area of south London and the park that surrounds the site, home of the Crystal Palace National Sports Centre. A re-working of the building, known as The Garden Palace, was constructed in Sydney in 1879, but this building too was destroyed by fire.
wombat


Wombat

Management




Number of posts

: 4641


Age

: 73


Registration date :

2009-01-30



Thanks for that Wombat, l have been doing a bit of research on these medalions, one is rare but l can't find the other 2 so l say the set is very rare. one site says $100 to $120 for the one with the Crystal palace on it, so l dont know what a set of 3 is worth

mate I would say for the three in their own display box, between $500 & $1000 or may be more.
wombat


Wombat

Management




Number of posts

: 4641


Age

: 73


Registration date :

2009-01-30



Yes that what l was thinking that they would be worth, l love my mother inlaw

, but she didn't have any gold sovereigns or a 1930 penny or a 1923 half penny.

Nice finds there Johnny

Very interesting history as well...
Cheers.
Mike.

you gotta love the Roman Numerals on the coins


---
Permissions in this forum:
You
cannot
reply to topics in this forum